Do You Need Montgomery County, Ohio, Divorce Forms? We'll Show You Where To Get Them!
Can you reduce the stress and costs of your divorce in Montgomery County, Ohio? If you get familiar with the appropriate filing procedures, required divorce papers, serving process, and court and legal fees, you can. Learn what to expect in a divorce to protect yourself successfully!
Are you wondering how to save money that you'd otherwise need to spend on hiring a divorce lawyer? Start by collecting and completing Montgomery County, Ohio, divorce forms on your own.
What Montgomery County, Ohio, Divorce Forms Do You Need?
To file for divorce in Ohio and its counties, you must first gather the required court forms. Depending on whether you have children or not, here's the list of documents you'll need for a Montgomery County divorce:
Divorce
General Divorce/Legal Separation Forms
Uncontested Divorce Forms
Without Children

Complaint
Affidavit of Financial Disclosure
Questionnaire
Request for Service

Petition for Dissolution
Divorce Settlement Agreement
Affidavit of Financial Disclosure
Questionnaire

With Children

Complaint
Affidavit of Financial Disclosure
Parenting Proceeding Affidavit
Questionnaire
Application for Child Support Services
Request for Service

Petition for Dissolution
Divorce Settlement Agreement
Parenting Plan or Shared Parenting Plan
Motion for Shared Parenting
Child Support Computation Worksheet
Affidavit of Financial Disclosure
Parenting Proceeding Affidavit
Questionnaire
Application for Child Support Services
Where To Get Montgomery County, Ohio, Divorce Forms
You can collect the required divorce forms in one of the following ways:
Visit a law office—An experienced lawyer can prepare all divorce documentation for you, but this service will increase the cost of divorce significantly
Use online divorce services—While some websites provide templates for online divorce forms and settlement agreements, you need to check them carefully. They may not comply with state or Montgomery County's specific legal requirements
Get the papers from the court's website—All required divorce packets are available in PDF format on the Montgomery County website
Complete Montgomery County, Ohio, Divorce Forms on Your Own
If you'd like to represent yourself in a divorce, you can gather and fill out the necessary divorce forms alone.
While completing the court forms, you should make sure to:
Fill out the forms online—Keep in mind that you need to have Adobe Acrobat Reader to complete the documents
Print out the forms immediately—You cannot complete the documents and save them for later, i.e., your data will be lost if you don't print the forms as soon as you fill them out
How To File the Completed Montgomery County, Ohio, Divorce Forms
Once you've completed the necessary paperwork, you don't have to hire a lawyer to file the documentation on your behalf. Instead, you should:
Sign all forms
Have the necessary documents notarized
Take or send the paperwork to the local court
Here's where you should bring or mail the documents:
Domestic Relations Court, Public Coordinator, 301 West Third Street, Second Floor, Dayton, Ohio 45422
Keep in mind that the court's staff cannot provide any legal advice. If you need legal assistance but cannot afford to consult an attorney, you could check if you qualify for the Free Legal Advice program.
What To Expect After You File the Divorce Paperwork
The court will review the filed documents, and in case you need to provide some corrections, a clerk will call or send a letter to you.
You should leave your phone number with the divorce paperwork so that a member of the court's staff could get in touch with you fast.
Want To File for an Uncontested Divorce in Montgomery County, Ohio?
Another way to save money in the process is to opt for a no-fault and uncontested divorce. Check out the following table to see what steps you should take:
Do you need reliable assistance with the preparation of your divorce settlement agreement? Register for DoNotPay, and we'll ensure your document meets all legal requirements and fulfills your and your spouse's agreement terms.
Use DoNotPay's Efficient Divorce Settlement Agreement Product
Our AI-powered app—a reliable pocket-friendly lawyer—can prepare the necessary divorce settlement agreement for your uncontested divorce in minutes!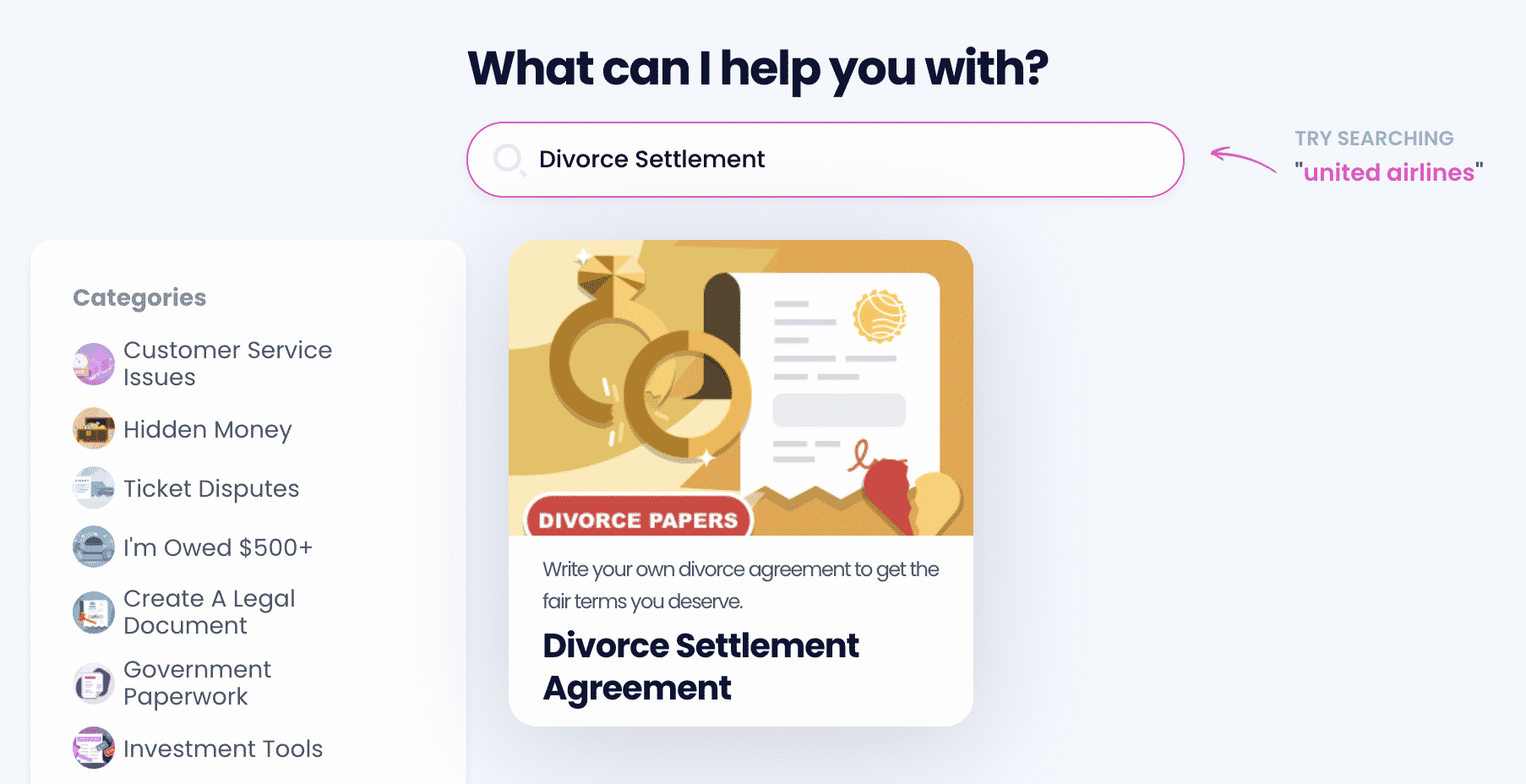 Sign up for DoNotPay and:
Access our Divorce Settlement Agreement feature
Provide the information about divorce matters you and your spouse agreed upon
Let us know if you want the document to be notarized online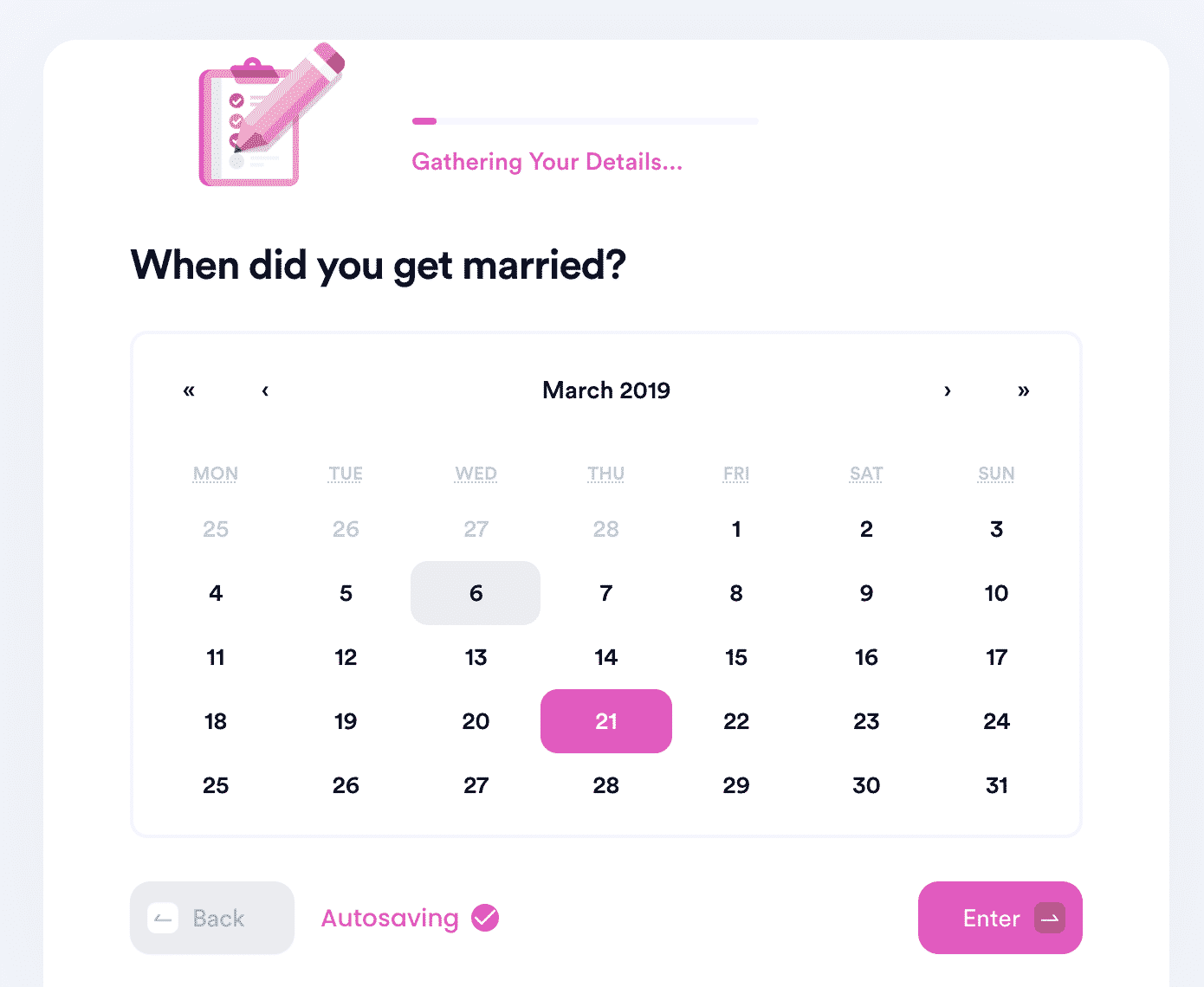 Once you've finished the above-listed steps, we'll generate the agreement that complies with state laws and meets your needs.
Would You Like To Expand Your Divorce Knowledge?
Exploring our website will provide you with relevant divorce-specific data. To get a better understanding of what we offer, here are some articles you could read to learn:
Stuck in a Bureaucratic Mess? DoNotPay Is Here To Help!
Since handling dull administrative tasks is a burden and no one likes doing them, DoNotPay developed a variety of neat features to ease many processes! With our nifty app, you can:
Deal With Companies Like a Pro
We all love shopping, but it's no secret that companies sometimes turn a fun experience into a nightmare, especially when they refuse to cooperate. DoNotPay is here to help you reach customer support without the hour-long wait and sue an uncooperative merchant in small claims court if necessary!
Need a refund? We can show you how to get your money back from any company in a snap!
Should you need to file an insurance or warranty claim and request gift card cash back or an item return, you can count on our app to assist you! DoNotPay can also show you how to discover any unclaimed funds under your name so that you can continue shopping like a pro.