DoNotPay Tells You All About the Montgomery County Divorce Forms
Getting lost in all the paperwork when filing for divorce is nothing unordinary. The process can get complicated, especially if you aren't familiarized with it. Don't worry, though—DoNotPay is here to make your life easier!
We'll present all the Montgomery County divorce forms you need, tell you where to get them, and explain how to file them hassle-free.
Montgomery County Divorce Types
Before getting into divorce papers, you will need to know which types of divorces Maryland state laws recognize. In Montgomery County, you can get:
A limited divorce—This is a legal recognition that the spouses are separated but still married. In limited divorce cases, the court can issue orders regarding alimony, child support, and parenting time but cannot determine or divide marital property. This type of divorce can be terminated by spouses or converted into an absolute divorce
An absolute divorce—This divorce type is permanent and final. Once the decree is issued by the judge, both spouses can remarry
How To Get an Absolute Divorce in Montgomery County
To end your marriage in Montgomery County, you will first need to have grounds (reasons) for divorce. See the table below for details:
No-Fault Grounds
Fault-Based Grounds
Maryland recognizes no-fault divorces, which means that neither spouse has to take the blame for the dissolution of marriage.

A no-fault divorce is generally easier as you and your spouse can file for a mutual consent divorce

A fault-based divorce is more complicated as it requires you to provide proof of:

Adultery
Willful desertion of one spouse for a year
Conviction of a felony, which resulted in a prison sentence of three years
Insanity
Cruel treatment
Vicious conduct
The best way to get divorced in Montgomery County is to opt for a mutual consent divorce. It's cheaper, and on top of it all, you won't need a lawyer.
How To Get a Mutual Consent Divorce in Montgomery County
To get a mutual consent divorce—also known as an uncontested or friendly divorce—you will need to agree on the following issues with your spouse:
If you can't reach a compromise with your spouse, try divorce mediation. It's a process that helps couples come to an agreement on the terms of their divorce.
Once you agree on these issues with your spouse, you will need to:
Complete the necessary forms
Sign the papers
File the papers
Attend the hearing
Completing the Necessary Divorce Forms
All the necessary divorce forms are available at the Circuit Court Family Department or Maryland Judiciary website. You will need to complete a:
Civil-Domestic Case Information Report
Complaint for Absolute Divorce
You will also need to create a marital settlement agreement. This is a crucial document that needs to be signed by both parties. It addresses all divorce-related aspects, such as alimony and property distribution. If you don't want to risk making a mistake while writing the agreement on your own, you can hire a lawyer. Their fees are usually sky-high, but there are alternatives.
To get a professionally drafted divorce settlement agreement that won't break the bank, . We'll create this document for you in no time and without leaving you penniless.
Serving Your Spouse
Once you complete the necessary forms, you will need to serve the papers to your spouse. If you are in full agreement about your divorce with them, the serving will only be a formality. In such cases, the served spouse can file a Complaint and an Answer with you.
Filing the Papers
Before filing, you will need to print three copies of the papers. One will go to the court, one to your spouse, and the last one is for you to keep. After you've copied the forms, file them with the Family Department window (room S-1 460).
Keep in mind that you will have to pay $165.00 to the court clerk for the filing.
Attending the Hearing
After you've filed the papers, you will need to attend the hearing within 45 days.
Need a Professional Divorce Settlement Agreement? DoNotPay Can Help!
Subscribe DoNotPay if you want a divorce settlement agreement that will:
Comply with all the state laws
Be customized according to your needs
Not cost a fortune
Ensure you get divorced on fair terms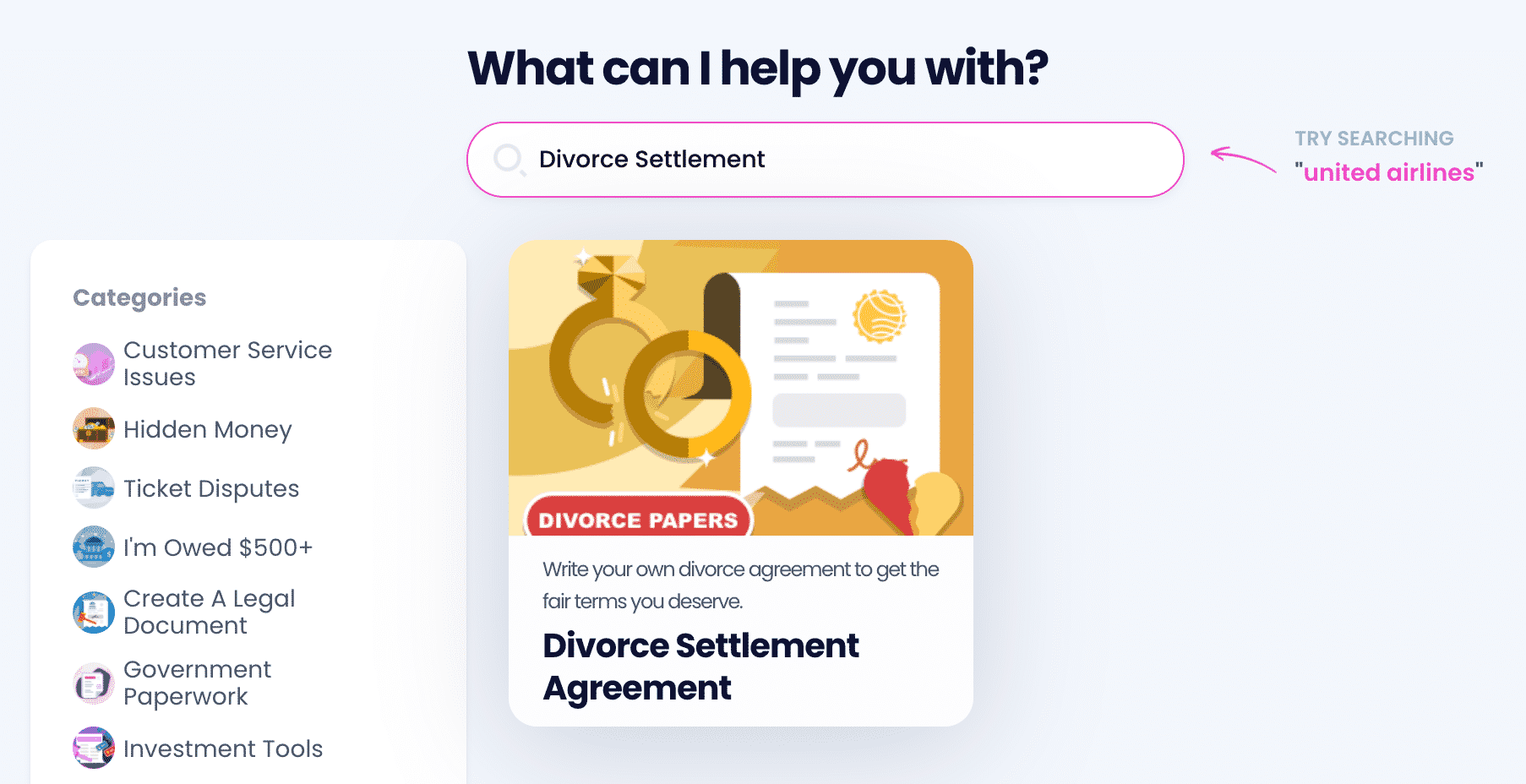 We will draft this important document for you in no time, and all you have to do is:
from your preferred browser
Select our Divorce Settlement Agreement product
Answer our chatbot's simple questions
Choose whether you want to get your document notarized online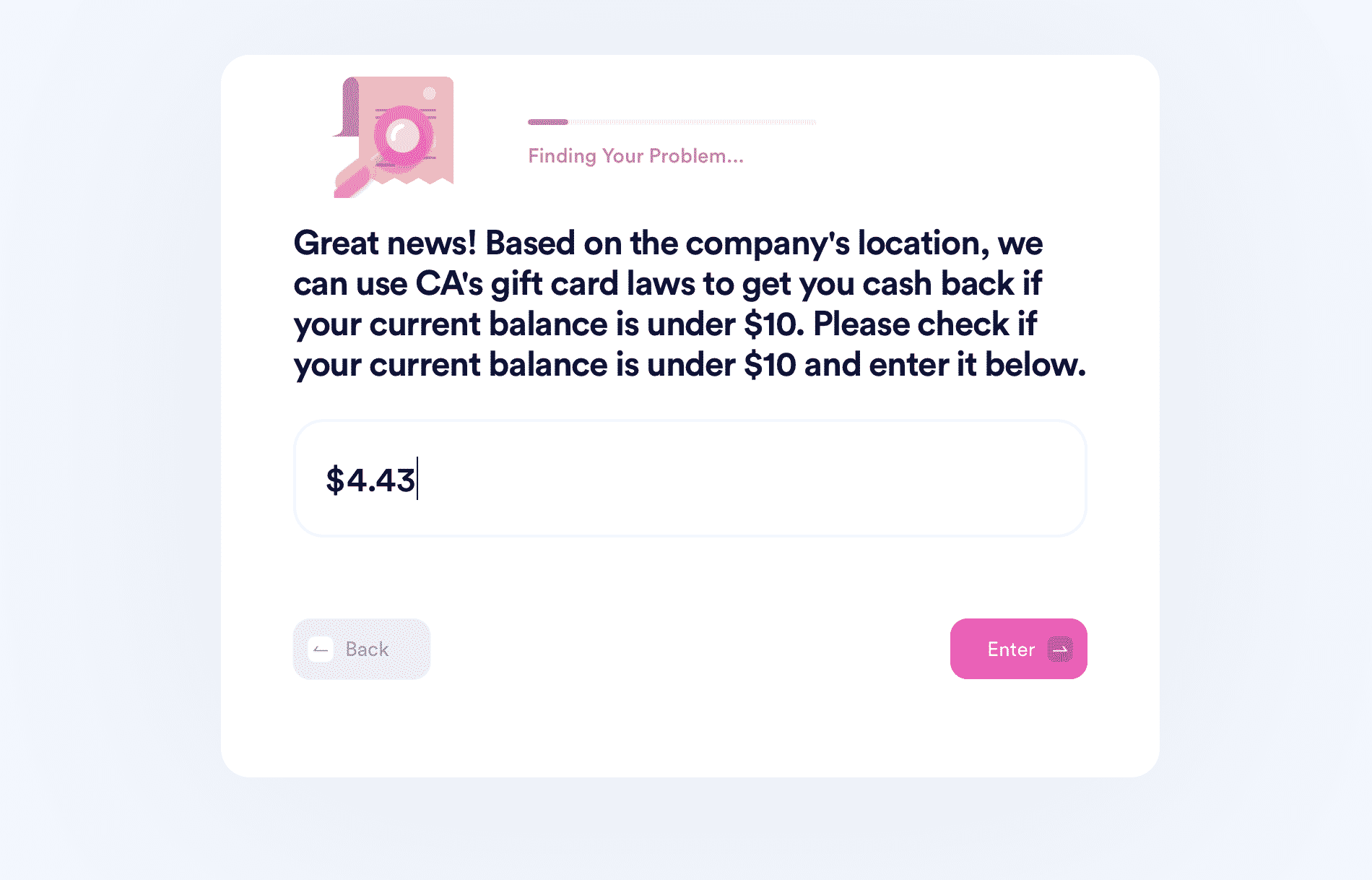 Once we process your request, we will send you a tailor-made divorce settlement agreement. Opted for online notarization? Follow the link we send you via email and book an appointment with an online notary.
Need more help with divorces? Consult DoNotPay's learning center:
To Sue or Not To Sue?
Hiring a lawyer to help you sue a company can be helpful, but it can also cost you an arm and a leg. Luckily, you can avoid wasting hundreds of dollars and use our robot lawyer to sue any company in small claims court instead!
DoNotPay offers you a variety of other features you will find quite useful when dealing with bureaucratic issues. Check out the list below to see what else our app can help you with:
Shopping Without Dropping
Whoever said you should shop until you drop didn't have access to DoNotPay's various features. With our app, you can make your shopping experience smooth sailing and stress-free!
Here's a fragment of what you can accomplish by using our neat features: