Montana Rental Agreement
—From A to Z
When creating a rental agreement, it is important to follow the rules specific to the state the property is located in. If you'd like to learn more about the Montana rental agreement, you can turn to DoNotPay for information. 
Our app can create a rental agreement for you in a few minutes, as well as generate other types of legal documents!
Montana Rental Agreement—Info To Bear in Mind
A Montana rental agreement is a legally binding contract between a tenant and a landlord. During a specific time the parties agree on, the landlord will rent their property to the tenant. According to Montana law, a rental agreement needs to be in writing.
The Montana Residential Landlord and Tenant Act governs the rights and responsibilities of the tenant under the rental agreement. 
You should make a distinction between a lease agreement and a rental agreement, also known as a month-to-month agreement. This is the difference between the two:
A lease agreement is a contract in which a landlord agrees to rent property to a tenant, usually for a year

A rental agreement is normally open-ended, and the tenant pays the rent on a monthly basis
A great part of the month-to-month agreement is that both the landlord and the tenant have the right to change the terms of the contract as they wish each month. A landlord can decide to raise the rent, which could be a downside of this type of agreement for the tenant. Still, if not satisfied, the tenant can leave the agreement without much fuss.
Responsibilities of a Tenant and a Landlord in Montana
The Montana Residential Landlord and Tenant Act clearly states the obligations of both parties. Take a look at the table below to see more details:
Responsibilities
Landlord
Tenant

Taking care of the property in accordance with the state housing codes

Maintaining electrical, heating, and plumbing

Keeping the halls, stairways, and lobbies clean and safe

Stepping in whenever there is a need to make repairs and ensure the tenant's safety

Informing the tenant of their name and address (or their agent's if they have one)

Making sure the property has smoke detectors when the tenant moves in

Paying the rent and utilities as agreed on

Making sure the space they are residing in is clean and sanitary

Disposing of garbage and waste regularly and properly

Using electrical, plumbing, and heating systems the correct way

Maintaining smoke detectors and replacing their batteries regularly
What Every Montana Rental Agreement Should Include
When making a Montana rental agreement, you need to know what info to include. The most important parts are:
Personal info of the tenant and the landlord

The length of the agreement

Security deposit

Rent info

Payment form

Utility payment

Pet policy

Parking details

Termination clause

Signatures of both parties
You can find numerous contract templates for rental agreements online, but they are not reliable. This is because such templates are generic and not made specifically for your case. If you want to have a Montana rental agreement tailored for your needs, you should use DoNotPay!
Need a Montana Rental Agreement Fast? Use DoNotPay To Create One!
DoNotPay is the best option for creating a rental agreement when you need it done properly and fast. You don't have to wonder how to write a rental agreement by yourself. The entire procedure is simple, and it takes a few minutes to complete our questionnaire. If you wish to make a rental agreement using our app, you only have to follow these three steps:
Enter the document's name

Provide certain information about yourself that will help us tailor the document to your needs
After you receive your legal document, you should find out whether additional steps are necessary to make it official. Signing the document is usually enough, but you may need to notarize it too.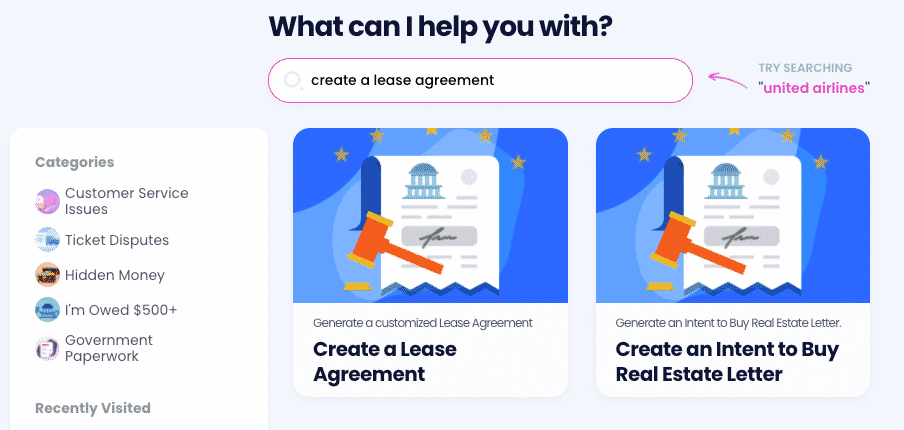 DoNotPay has all the information you need to know about various contracts. Learn more about the:
DoNotPay Makes Creating Various Other Documents Possible
DoNotPay is the app that can help you make a legal document you need in a matter of minutes. We already have an extensive database of agreements we can create, but we are constantly adding new ones. Open our app in your web browser in case you want a personally tailored:
Quitclaim Deed

Promissory Note

General Affidavit

Estoppel Certificate

Intent To Purchase Real Estate

General Business Contract
Using DoNotPay to create any of these documents is the most efficient way that will ensure you save your money and time!
DoNotPay Is the Champion of Customer Advocacy
If you've never experienced an issue with a purchased item, you should consider yourself extremely lucky. When shopping goes wrong, you usually have to brace yourself for unpleasant and annoying exchanges with customer support centers. 
DoNotPay is here to make exercising your consumer rights easy. Long holds when calling customer service reps and incessant marketing spam emails can stay in the past. We will help you avoid irritating text messages from online retailers by teaching you how to bypass phone verification when signing up. 
Ask for refunds, claim warranties, fix credit card issues, or sue retailers in small claims court—these are just some of the services our platform provides. 
With DoNotPay, you can start free trials for new services risk-free. If you want to get out existing subscriptions, canceling them has never been easier!
Wait, There's More!
Our full portfolio includes features as diverse as contacting inmates and requesting college application fee waivers for students from low-income families. 
If you have a problem with bureaucracy, the chances are DoNotPay knows how to fix it with your minimal involvement. 
Leave the grunt work and unnecessary expenses behind. We will help you pass various government tests with flying colors, find unclaimed money in all states, or get out of parking tickets before you know it!