Do You Qualify for a
Montana Property Tax Exemption
?
Are you looking for a way to lower your property taxes? You can try various methods to achieve this. The most efficient ones involve property tax exemptions and appeals.
Find out if you meet the criteria for a Montana property tax exemption with DoNotPay's help! Our app can also assist you with appealing property tax assessments.
Crucial Info About Property Tax
People who own a home are familiar with the annual expense they need to pay in property taxes. This cost is a necessity because it funds schools, hospitals, libraries, and other important institutions needed for the state to function properly.
How much you have to pay in property taxes is based on various factors regarding your property—including its size and age, location, and neighborhood—all of which affect its assessed value and your property tax bill.
How Is Property Tax Calculated?
Besides the assessed value of your property, your property tax depends on the current property tax rate in your state or county. The number you see on your tax bill is reached by multiplying the value of your property by the tax rate in Montana, which currently sits at 0.83%.
Another important factor that plays a role in the calculation of your taxes is your eligibility for property tax exemptions. If you qualify for any tax exemptions, tax relief, or tax discounts, it will impact your annual tax bill and lower it significantly.
Ways To Lower Property Taxes
Even though property taxes are a constant expense, there are several ways you can reduce them:
Applying for property tax exemptions

Filing

property tax appeals

Reporting any mistakes on your tax bill

Not renovating your house before the assessor visits and makes the evaluation because remodeling could lead to a higher assessment and higher taxes
The first two options are sure ways of lowering property taxes, and DoNotPay can help you with both!
What
Montana Property Tax Exemptions
Exist?
Citizens of Montana have several property tax exemptions available:
The disabled American veterans exemption

The elderly homeowner/renter credit

Abandoned mobile home tax exemption

Business incubator exemption

Temporary tribal tax exemption
The Disabled American Veterans Exemption
This exemption provides annual property tax relief for 100% disabled veterans. The disability needs to be service-connected and rated as a total disability by the U.S. Department
of Veterans Affairs. Surviving spouses of qualifying veterans have the right to use this exemption as well.
The Elderly Homeowner/Renter Credit
The Renter Credit for the elderly is a property tax refund administered via the income tax system. To qualify for this credit, the person needs to be 62 or older and have a household income of less than $45,000. They also need to have lived in Montana for at least nine months (six of which in the same house).
Abandoned Mobile Home Tax Exemption
This exemption can apply to an uninhabited abandoned mobile home that is no longer fit for humans to live in. The property should not be used for keeping livestock or any other productive use either. This house needs to have a separate assessment from the land it stands on to be eligible for the abandoned mobile home exemption.
Business Incubator Exemption
To meet the business incubator exemption requirements, a facility needs to share business services and assistance to help businesses succeed. You must get approval from the local government for this exemption.
Temporary Tribal Tax Exemption
Tribal lands have the right to use a temporary tax exemption if the United States Department of the Interior and Bureau of Indian Affairs decide the tribe's request is complete. The tribe also needs to submit a Temporary Tribal Tax Exemption Application.
What You Should Know About the
Montana
Property Tax Relief
Montana has a Property Tax Assistance Program (PTAP) that helps residents with lower income reduce the property tax rates on their homes. This program applies solely to the first $200,000 of the primary residence's market value. 
The reduction depends on the individual's income and marital status. Single and married people have different relief options. There are also other requirements that you need to meet to be eligible for PTAP. You need to:
Own a mobile or manufactured house

Be under a contract to buy mobile or manufactured home

Reside in the house as your primary residence for at least seven months annually

Have a Federal Adjusted Gross Income (FAGI)—without capital and income losses—not more than:

$19,625 (single persons)

$26,167 (head of the household or married persons)

Make sure that your spouse's income is a part of the FAGI, even if he or she is a co-owner of the home
DoNotPay Is the Way To Find Out Whether You Can Get a Property Tax Exemption
DoNotPay can help you see whether you are eligible for a property tax exemption in no time. We made the otherwise complicated process as simple as possible. You will know whether you meet the requirements for lowering your property taxes in a few clicks if you use our app.
Proceed as follows:
Sign up for DoNotPay

in any web browser

Find and open the

Property Tax

feature

Provide us with your personal info, such as your name and address

Answer some questions about the property you own
Once you complete the simple questionnaire, you'll know what property tax exemption you can apply for. DoNotPay will be there for this part of the process as well. We will help you by listing the necessary documents and explaining the application process.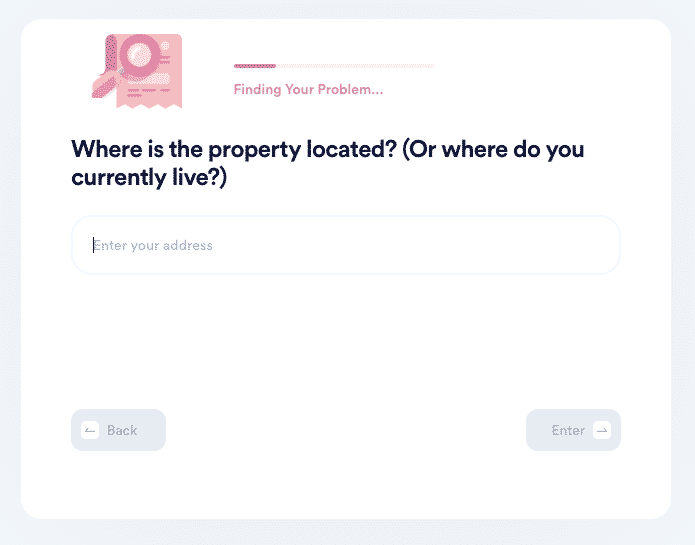 If you wish to know more about states with low property taxes in case you plan on moving and purchasing a home elsewhere, you will find the following info useful:
You can also find out everything about property tax exemptions for senior citizens, veterans, or people with disabilities in these states:
Use DoNotPay To File Property Tax Appeals Easily
In case you are looking for other ways to lower your property taxes in addition to property tax exemptions, you can try appealing property tax assessments. You may notice a mistake that a tax assessor made, in which case you'd need to file an appeal.
The good news is that DoNotPay can help you with this as well! You only need to open our app and find the Property Tax feature. We will assist you in collecting evidence and negotiating with the property tax assessor.
Keep Your Money in Your Pocket and Save Time
With our assistance, you can also appeal parking tickets in any city, get help with bills, make an appointment with the DMV, protect your copyright, and avoid phone number verification!
If you feel like you were wronged either by a faulty product or a delayed or canceled flight, DoNotPay will also help you request a refund from any company or airline hassle-free.
Being on a tight budget isn't easy—knowing that, we've developed features that will get you free trials, unclaimed money, extended warranties, college application fee waivers, and so much more!
Fend Off Scammers With DoNotPay's Help
Are you sick of having a cluttered inbox or getting robocalls? So are the majority of Americans. If you want to get rid of email spam, text message spam, or annoying robocalls, DoNotPay can help you put a stop to them once and for all.
Do you feel like serving justice to companies that wronged you or stalkers and harassers that won't give you a break? Use our AI-driven app to fight for your right!