The Ins and Outs of the Montana Power of Attorney
A Montana power of attorney (POA) can be a bit confusing, and drafting one is tricky if you don't know where to start. Hiring a lawyer to create this document for you is an expensive solution, and doing it yourself is a tedious process. Don't worry, though—DoNotPay will make it easy!
We will break down power of attorney documents for you and show you how to draft one in minutes using our handy Power of Attorney feature.
Power of Attorney in Montana Explained—The Basics
A power of attorney document lets the principal authorize a trusted person (the agent) to make important decisions in their stead.
Powers of attorney in Montana are governed by the Montana Uniform Power of Attorney Act (in effect since October 1, 2011). Under this act, a POA in Montana is durable by default, but it can also be springing if stated otherwise.
Durable Power of Attorney
A durable power of attorney gets activated upon the signing of the agreement and remains in effect even after the principal's incapacitation.
Springing Power of Attorney
A springing power of attorney comes into effect when:
The agent determines that the principal is incapacitated (if authorized by the POA document to do so)
A judge or an attorney confirms that the principal is abroad and is unable to return
A physician confirms that the principal is incapacitated due to their inability to communicate or make decisions for themselves
How Long Does a Montana Power of Attorney Last?
According to the Montana state laws, a POA is terminated upon the principal's death or if:
The principal cancels the POA
The purpose of the POA is fulfilled
There is no replacement for the agent if they die, resign, or become incapacitated
The agent divorces the principal in case they were married in the first place
The POA agreement states that it's terminated if the principal becomes incapacitated
What Powers Does a Montana POA Give?
A POA agent in Montana has the authority to act in the principal's stead regarding:
Real estate
Personal property
Stocks and bonds
Commodities and options
Banks and other financial institutions
Operation of entity or businesses
Insurance and annuities
Estates, trusts, and similar interests
Claims and litigation
Family maintenance
Benefits from Civil or Military service or Governmental Programs
Retirement plans
Taxes
Creating, amending, revoking, or terminating revocable living trusts
Making gifts
Creating or changing rights of survivorship
Disclaiming property
How To Grant Power of Attorney in Montana
Granting power of attorney in Montana isn't hard if you follow the next steps:
Steps
Details
Choose an agent
An agent has to be trustworthy and loyal. They should do everything that's in the best interest of the principal
Add a title
The title must be straightforward so there's no confusion later on
Include dates
Dates need to be added, including the effective and the signing date of the POA
Add names
Names, addresses, and contact info of both signing parties have to be included
Give your agent powers
A power of attorney letter has to contain a clause specifying what powers the agent has
Sign and notarize the POA
Montana state laws require the POA to be signed in the presence of a notary. The notary will:

Add legal weight to the document by adding their stamp and signature
Make sure that all parties are signing the POA by their own free will
Ensure that the signers are of sound mind and not under any influence
Don't want to go through the hassle of creating a POA on your own? Use DoNotPay, and leave all the work to us! We will generate a professional power of attorney document in your stead in a matter of minutes.
How To Draft a Durable Power of Attorney in Montana With Ease Using DoNotPay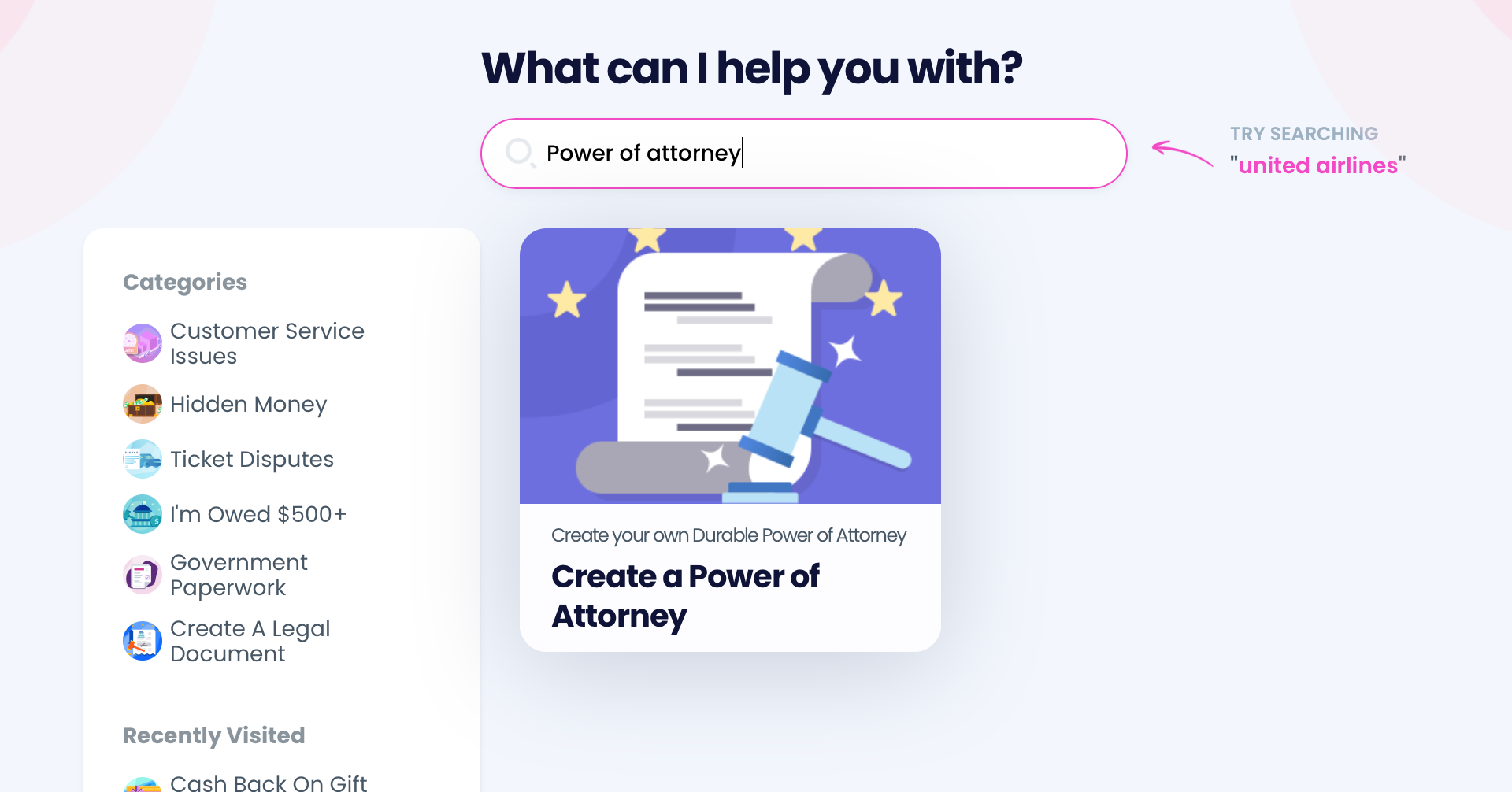 DoNotPay offers the simplest and most effective solution for creating POAs, saving you time, money, and nerves. With our Create a Power of Attorney feature, you'll be able to draft a personalized POA in just a few clicks.
Here's how it works:
Click on the Create a Power of Attorney feature
Fill in the details you want to be included in your POA
List the powers you want your agent to have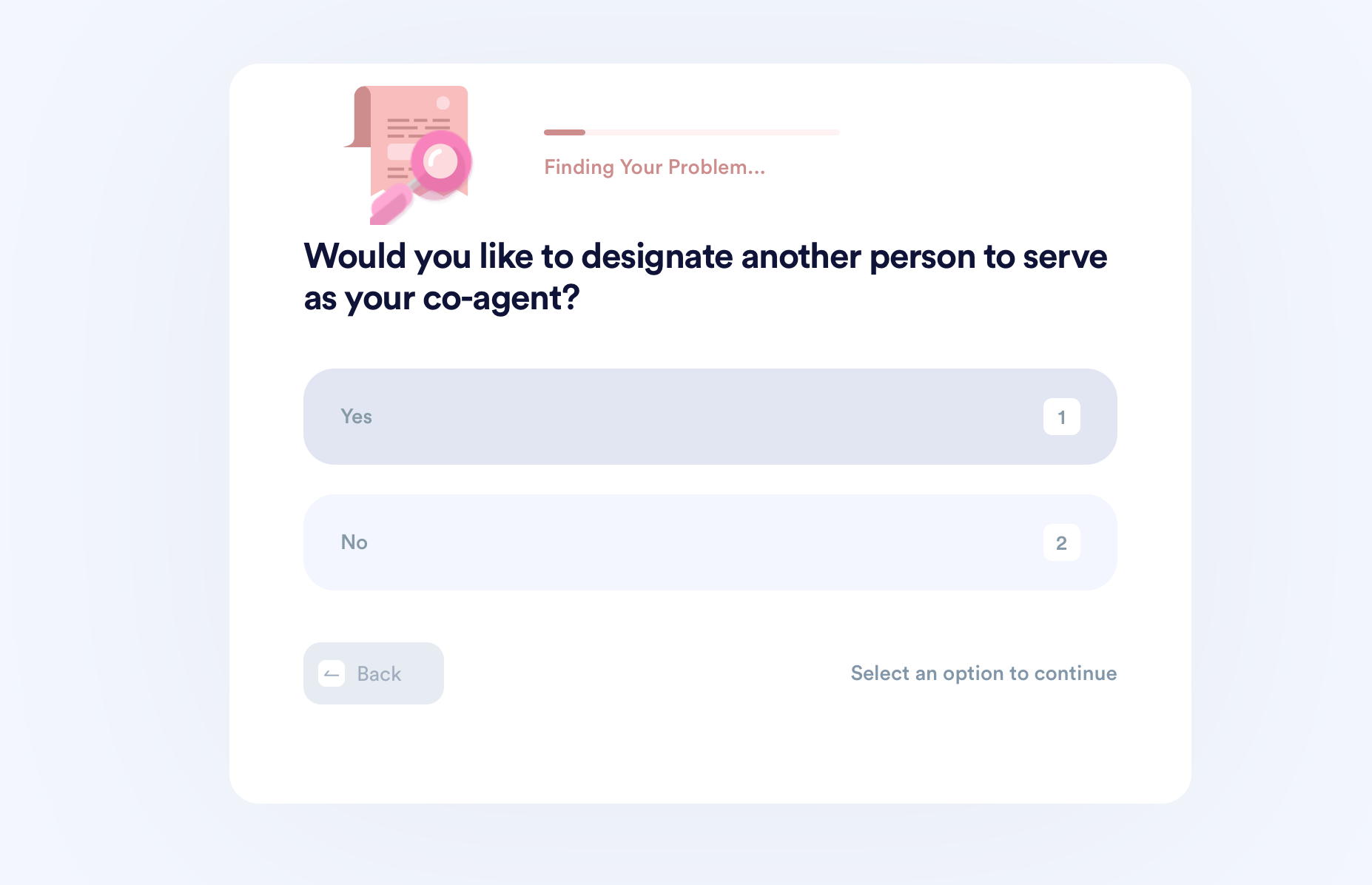 Once you submit your request, DoNotPay will do the rest. We'll generate your POA document and add two notices for you and your agent to read before signing.
As soon as we draw up your POA, you can choose to get it notarized remotely with the help of our app. We will send you an email containing a notary's schedule, and then you can pick a date that suits you best.
Need answers to other power-of-attorney-related questions? Check out DoNotPay's learning center to find out how to:
Manage Your Tasks Easily With Our Help
DoNotPay is the perfect solution whenever you need to resolve legal or bureaucratic matters. Here's a fraction of what our AI-driven app can help you out with:
No Matter What You Need, DoNotPay Is by Your Side
Do you have a bunch of subscriptions that you waste money on but don't even use? We can help you cancel them effortlessly! After that, our app can initiate a refund request and make sure you get your money back.
Facing financial difficulties? DoNotPay can help you lower your bills, get free raffle tickets, get gift card cash back, find your missing assets, and so much more!
For a low monthly fee, you'll get access to our impressive range of products, so sign up now!