Montana Living Will—Everything You Should Know
Expressing your wishes regarding medical treatments in a legal document will ensure there is no confusion in case you can no longer communicate. You can provide your instructions in a living will.
The requirements for making this document vary throughout the U.S., so make sure to check your state's laws and abide by them. This article provides information about a Montana living will and explains how you can create it with zero effort if you sign up for DoNotPay.
What Is Considered a Living Will in Montana?
In Montana, a living will is referred to as a declaration. A living will is a type of a health care directive that governs the withholding or withdrawal of life-sustaining treatment according to your choice.
When Does Your Montana Living Will Become Effective?
As long as you are able, you can make decisions regarding life-sustaining treatments. Your living will becomes operative if these two conditions are met:
Your doctor or attending nurse determines that you are in a terminal condition
You no longer can make decisions about the administration of a life-sustaining treatment
Who Can Create a Montana Living Will?
According to the Terminally Ill Act, any person who is at least 18 years old and of sound mind can create a living will in Montana.
How Can You Make a Living Will Valid in Montana?
To make your living will legally binding, you and two individuals who serve as witnesses need to sign it. Another person can sign in your stead if you are unable to do so yourself.
There is no need to have your living will notarized in Montana.
What Happens if You Change Your Mind About a Living Will in Montana?
You have the right to revoke your living will at any time:
The revocation becomes effective when you inform the attending physician of your wish. You should also have a witness for this process, and the revocation should be made a part of your medical record.
Ways To Create a Living Will in Montana
You can create a living will in a few ways in Montana, but note that not all of them will provide you with the same quality and price. Consult the table below for more details:
| How To Create a Living Will | Details |
| --- | --- |
| Download a living will form | While widely available and often free, online forms are not the best choice as they are generic and not tailored to your needs |
| Hire a lawyer | You will get a well-written document, but be prepared to set aside a large amount of money |
| Use DoNotPay | Our budget-friendly app will make sure you get an airtight living will in no time |
Making a Living Will in Montana Is Simple With DoNotPay
You don't have to waste time customizing online forms and money on attorneys when you can opt for DoNotPay. Our AI-powered app will generate this legal document in minutes! We'll make sure it contains all the relevant information and complies with your state laws. Here is all you need to do:
Type in Advance Health Care Directive in the search box
Choose your health care agent and appoint them the powers you want
Enter the names of the witnesses who will see you sign the document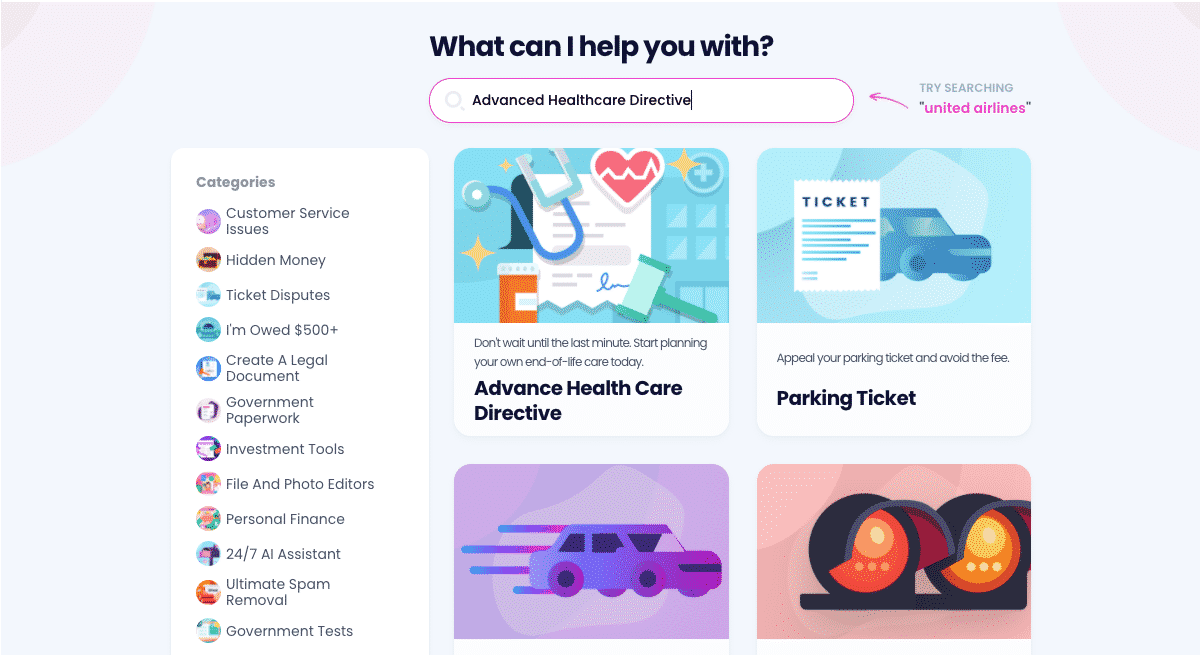 Can You Have a Medical Power of Attorney in Montana?
Aside from a living will, you can also create a medical power of attorney in Montana. This type of advance directive is used to appoint a health care agent who will be in charge of making medical decisions on your behalf.
A medical power of attorney is known by other names, including:
Medical directive
Health care power of attorney
Keep in mind that some states recognize subtle differences between a health care proxy and a medical power of attorney.
Administrative Issues Are No Longer a Problem With DoNotPay
By signing up with DoNotPay, you can say goodbye to tiring bureaucracy and:
Our App Generates Legal Documents and Letters in Your Stead
If you need some important paperwork, DoNotPay can generate it for you in record time! Our tools can assist you in drafting the following categories of documents:
| Legal Documents | Appeals and Letters |
| --- | --- |
| | |
All legal documents you create can also be notarized and faxed online in our app!