Montana Jury Duty Pay—How Much Should You Expect?
Curious about Montana jury duty pay? It's a valid concern.
To fulfill your important civic duty as a juror, you will likely need to miss at least a few days of work. That's time when you won't make your regular income, which can be difficult to accommodate on a tight budget.
The good news is that all states offer pay for jurors. How much you are entitled to and whether your employer will pay your usual daily wages depends on the state in which you serve as a juror.
In this article, DoNotPay breaks down Montana jury duty pay and helps you draft a leave request to send to your employer hassle-free.
An Overview of Montana Jury Duty Laws
You are required to do jury duty as a U.S. citizen. Those who skip jury duty face two severe penalties:
Being held in contempt of court
Paying fines
Prospective jurors get selected through a random draw of Montana residents that meet the following criteria:
U.S. citizens
18+ years of age
Residents in the area in which they are summoned for at least 30 days
No convictions for malfeasance, felonies, or other high crimes
Active jury duty can last up to two weeks, but you should expect to be on call for up to four months. The court may ask you to return and hear new evidence after the initial period.
Under state laws, you can be called for jury duty no more than once per year.
How Much Are You Paid for Montana Jury Duty?
Montana jury duty laws stipulate that jurors are entitled to the following compensation:
| Expense | Amount |
| --- | --- |
| Time in court | $12/day |
| Travel | $0.54/mile |
The court will compensate you for a range of other expenses associated with your jury duty, including:
Parking fare
Toll fees
Overnight accommodations
Federal jury duty is subject to different regulations and pays $50 per day.
Does Your Employer Have To Pay You During Jury Duty?
No—employers in Montana are under no obligation to compensate their employees while they serve on a jury.
Based on the usual length of a court case, you will make around $120 over the course of a case, which is likely not as much as you would earn at your day job.
Montana jury duty laws are limited in comparison with other states and offer no protection for employees that are penalized or dismissed as a result of their work absence during jury duty. If you are fired while serving as a juror, you can sue your employer based on the Jury Systems Improvement Act.
What To Do Once You've Received Your Montana Jury Duty Summons
If you'd like to request an excusal, be ready to detail your grounds for excusal during questioning in jury selection—exemptions are often granted for:
Breastfeeding mothers
Those with chronic or debilitating conditions (with a doctor's note)
You can request an excusal ahead of time by filling out a jury affidavit.
If you don't qualify for an exemption, start preparing for jury duty by informing your employer about your upcoming absence from work. Give them a copy of your summons so that they can verify your duty and submit a formal leave request letter.
Need Help Drafting Your Leave Request? Rely on DoNotPay
If you're not sure how to word your time off request for jury duty, you should use DoNotPay. Our AI-powered app gives you access to a Request Jury Duty Leave tool to streamline the process.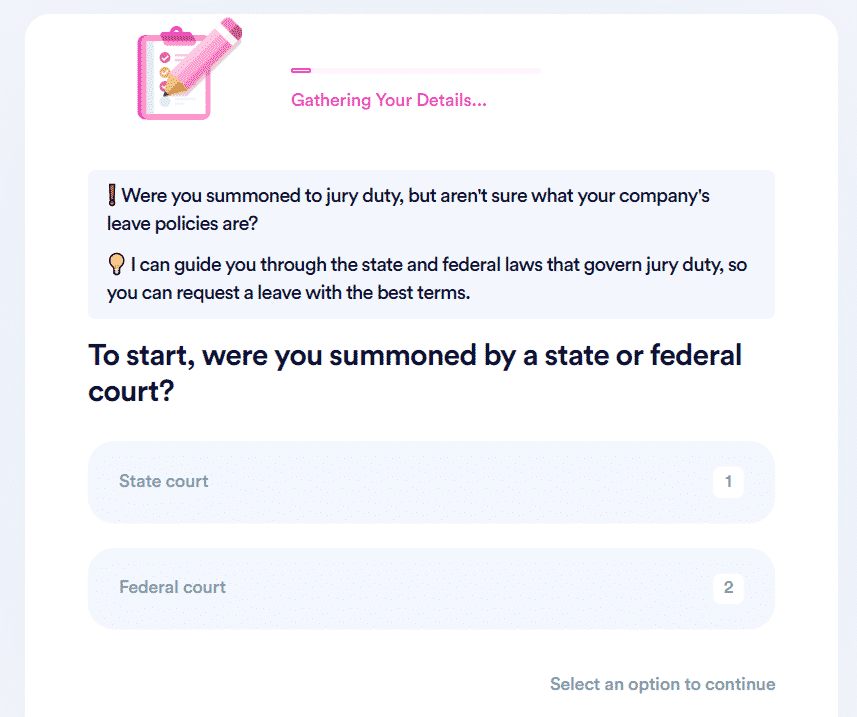 Here is how to get the process started:
Open the Request Jury Duty Leave tool
Provide additional information about the Montana court at which you will serve
Explain which days you will be absent from work
Upload a photo of your summons
Once complete, you can download and send the letter to your boss or have DoNotPay take care of it for you.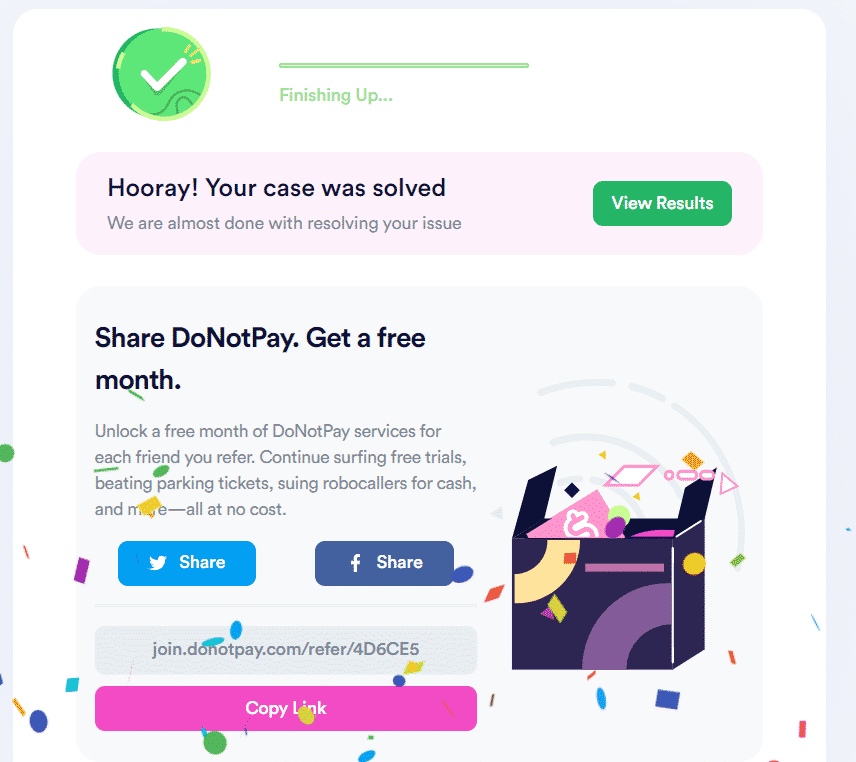 Save Time and Money Using DoNotPay
Being on hold while trying to reach customer service is no picnic. With DoNotPay, you can jump the phone queue and reach a rep with ease. Are you contacting a company to request a refund or cancellation? No need for that! Our app can get it done in a few clicks. We can also help you return an item or handle a late delivery.
Dispute parking tickets, claim your warranty or insurance, set up a DMV appointment, contact an embassy, and deal with any other task with our assistance.
You can also request access to public records, apply for tourist visas, or file complaints with the help of our AI-powered app.
We're Not Done Helping You!
Our multifaceted app keeps getting new features that can streamline numerous tasks and solve all kinds of problems.
Would you like to join sweepstakes or giveaways? Are you up for participating in clinical trials and earning some money? Are you interested in sending mail without visiting the post office? We've got it covered!
We will help you protect your privacy by putting an end to spam emails, incessant text messages, and robocalls. If you think you're being stalked, you can count on our assistance. You can also use our app to perform a sex offender search, fight workplace discrimination, and handle annoying neighbors.