Money Agreement Between Two Parties Made Simple
Lending or borrowing money is a tricky business, and there's always a chance that something may go wrong. Regardless of whether you are a lender or a borrower, you will want to secure your rights and agree upon the conditions of the loan with the other party. For this purpose, you need a specific legal document—a money agreement between two parties—to seal the deal in the right way. 
Since writing such a contract yourself can be difficult, we will walk you through some essential tips for making one yourself. Read our guide and find out everything you should know about this agreement but were afraid to ask!
What Is a Money Agreement? 
A money agreement, also known as a payment agreement, is a contract that stipulates the rules and conditions of performing a specific money transaction—usually a loan. Once the borrower's loan request is approved, the parties negotiate the terms that will be beneficial for both of them and put them into writing. With such a document, both the lender and borrower are more aware of their duties and able to resolve any misunderstanding by referring to the contract clauses.
When Should You Sign a Money Agreement?
You may need a money agreement between two parties if you:
Need to borrow a specific sum from somebody

Want to lend somebody a certain amount and be sure that it will be returned accordingly

Must make a schedule of amortization

Strive to keep track of your monthly payments and interests that await you
How To Compose a Money Agreement Between Two Parties
Here's a table showing the methods you can use for drafting a money agreement:
Option
Explanation

Drawing up an agreement by yourself

Each money agreement differs depending on the case, but there are some recommended sections you can always use while composing a contract yourself. You should cover:

Information about the signing parties, including names and physical addresses

Effective date

Purpose of the contract

Terms of the agreement, including:

Payment amount

Payment schedule

Interest rates

Collateral clause

Penalties for late or missing payments

Warranty information

Termination clause

Applicable laws

Signatures of both signing entities

Looking for online

contract templates

You can find various online samples and templates, but not all of them are always suitable for a specific case. They are often too generic, or they don't contain all the clauses you need. If they were posted to the platform a while ago, there's a chance that they may even be outdated

Hiring a professional to draft the document for you

Lawyers know how to create a valid and complete agreement since they are familiar with the applicable laws and specific language. The bad news is that this service isn't the best option if you have a tight budget. It may take several hundred or thousands of dollars from your pocket
Create High-Quality Legal Documents Hassle-Free With DoNotPay
Trying to write a contract or any other legal document by yourself can be quite frustrating unless you are acquainted with related legal terms and governing laws. If dealing with the matter on your own makes you anxious, it's time for you to try out DoNotPay and forget all other solutions!
We have come up with an AI-based app that can help you get various fully customized contracts and other legal documents in a few taps! Don't spend hours drafting your agreements manually and risk compromising the validity of your document with the slightest error. Once you provide us with a few essential pieces of information, our AI bots will generate a proper personalized document according to all applicable state laws.
You can choose between many real estate, business, and other legal documents, including:
Intent To Purchase Real Estate

General Business Contract

Promissory Note

Quitclaim Deed

General Affidavit

Child Care Authorization Form
How To Generate a Legal Document With DoNotPay
Here's how to try out this feature:
and log in

Search for the desired document and click on the result 

Add some details related to the contents of your contract
After getting your ready-made agreement, make sure you sign it or have it notarized if necessary!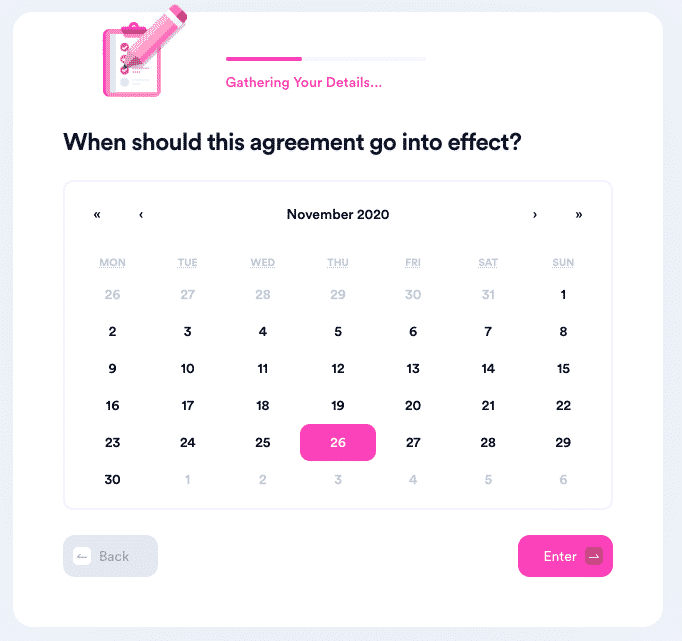 Turn the Notarization Procedure Into a Breeze With DoNotPay
Another handy feature we offer is the Notarize Any Document service that helps you schedule a meeting with a remote notary hassle-free by picking the time that works best for you. You don't need to adapt to the notary's schedule anymore. We can connect you with the authorized officials that work 24/7 and can notarize your documents whenever you need them!
To book a meeting using our app, follow these steps:
Go to

Notarize Any Document

Upload the e-version of the document that needs notarization

Type in your email address
We'll send a link to a timetable to your inbox—all you should do is mark the desired time!
Rely on DoNotPay To Solve Your Administrative Issues
Getting your documents notarized, drawing up legal paperwork, appealing parking tickets, and similar activities usually require a lot of effort. DoNotPay offers various useful products that can help you deal with administrative problems quickly and save a lot of time. We can assist you with:
Protect Your Consumer Rights With DoNotPay
Companies complicate cancellation and refund processes intentionally, hoping that consumers wouldn't want to spend hours trying to solve the issue they're having. DoNotPay knows how important consumer rights are, and that's why we created numerous products that can help you:
Many people forget to cancel their free trials on time and end up paying for the services they don't even use. To prevent that, DoNotPay has developed a nifty virtual credit card that will allow you to enjoy free trials risk-free. Our virtual credit card will also help you avoid spam email notifications by generating a random email address that you can use when signing up for a free trial.