How to Start monday.com Free Trial Without Using a Credit Card

If you've ever enrolled on a  you must understand how appealing free trial offers can be. Businesses know that providing "free" trials is a guaranteed way to persuade new customers to sign up, whether it's a streaming service like Netflix or a subscription like Amazon Kindle. However, there is one significant snag; you will almost always be required to submit your credit card credentials.
Monday.com (spelled monday.com in lowercase) is a cloud-based application that lets you build your own apps and job management tools. The platform is designed to help organizations streamline operations by monitoring projects and procedures, visualizing data, and collaborating as a team. It offers interfaces with other work optimization apps and has functionality.
This can be quite the headache, but DoNotPay is here to save you all the hassle. With our virtual credit cards feature, you can reap the best off your free trial without any worry.
How Can I Get a monday.com Free Trial?
You can register for a  by simply registering on the website. Monday.com will request your credit card info before you proceed. The trial, which lasts 14 days, is the most advanced P.ro plan.
monday.com Pro Plan Features
Shareable Boards
Shareable Boards on monday.com are boards that allow you to collaborate with other site users or guests. These boards will enable you to share projects with external users without allowing them full access to your account.
Private Boards
This feature allows viewing by only the user and any parties invited by the user. This is useful for creating a project, a to-do list, or a strategy before presenting it to your team.
The Formula Column
You can use the formula column to perform computations with other columns. It progresses from elementary mathematical formulas to more sophisticated functions and equations.
The Time-tracking Column
This feature allows you to track the time you spend on each task comprehensively.
The Calendar View
The calendar view lets you see all your tasks in a calendar through a date/timeline column. You can change the view of your calendar on a daily, weekly, or monthly basis. You may also choose which columns to display on your calendar.
The Map View
This feature lets you see your team's location and country columns on one map. This enables businesses to handle transport logistics efficiently.
25,000 Automations and Integrations
This feature allows you to automate your operations and eliminate any manual steps. If you wish to link monday.com to other platforms, you will have up to 25,000 automations and 25,000 integration actions on the Pro plan.
10 Boards and Dashboards
Dashboards are a terrific way to keep track of every vital information in one location. monday.com users can now check work progress, budget, assess team workload, and more with the 15 available widgets. With the Pro free trial, users can add as many widgets and dashboards as they wish.
How Much Does monday.com Cost After the Free Trial?

After your free trial, you will choose from 3 paid plans:
Paid Plans
Description
Monthly Price
The Basic Plan

Unlimited items
Unlimited free viewers
Prioritized customer support
A dashboard based on one board

$24
The Enterprise Plan

Calendar View
Timeline views
250 integrations and automations monthly
5-board dashboard combinations
Guest Access

$30
The Pro Plan
All standard features and others listed in the Pro free trial.
$48
The Enterprise Plan

Tailored Onboarding
Advanced analytics and reporting
Enterprise-level automations and
Multi-level permissions

N/A
How to Avoid Automatic Renewal With DoNotPay Virtual Credit Card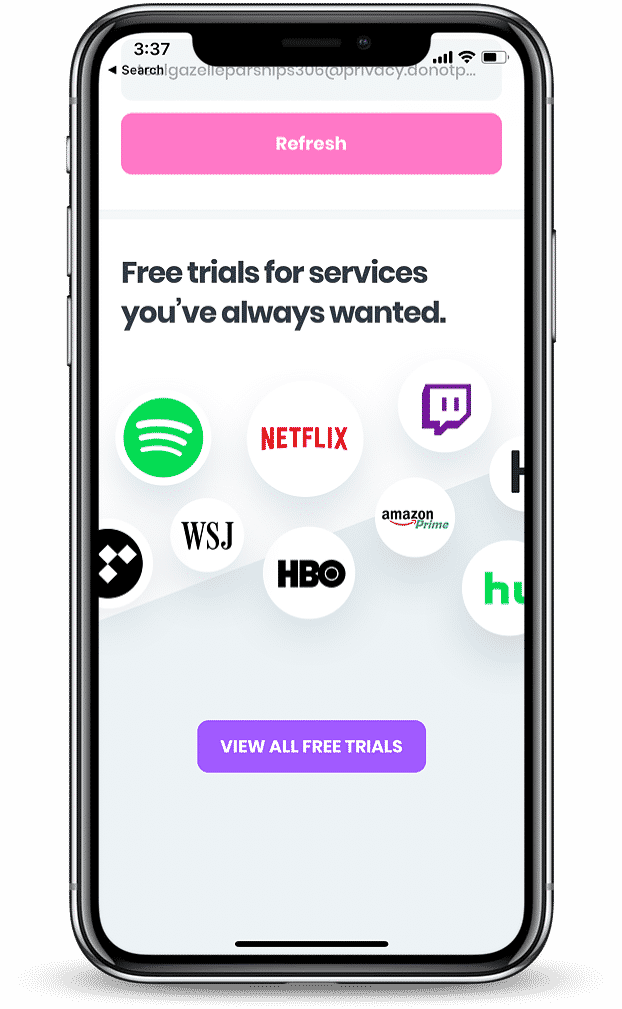 In some cases, companies may bill you for the billing period following a free trial. This is particularly disturbing if you forgot to cancel your subscription. Fortunately, DoNotPay offers a virtual credit card product that you can use to enroll for free trials. Since the card is virtual, it essentially contains no money, and you won't run into any unnecessary losses if you fail to cancel. You won't make purchases with the card, but it saves you any unwanted billing.
What are the Most Popular Alternatives to monday.com?
Trello
Trello is an excellent choice if you're searching for a business productivity program with a visual flair. Trello allows you to organize activities on a colorful and vibrant digital bulletin board, making it easier and faster to complete projects on time. The highest pricing is $20.83 a month.
Freshservice
Freshservice is a web-based program that specializes in the management of IT services. The program is specifically established to support IT teams in improving collaboration in the project life cycle. It costs a maximum of $70 a month.
What Else Can DoNotPay Do?
Reach out to us today. We will get you sorted.