Moldova Tourist Visa—Let Us Help You Travel to Bessarabia Worry-Free
Moldavia has a rich history and tradition despite being landlocked and not being considered a hot tourist destination compared to other nearby countries. If you're visiting this unjustly underappreciated country, you need to research everything about the Moldova tourist visa and determine whether you need to obtain it before your trip.
DoNotPay can give you all the answers fast! Sign up for our service if you want to prepare for your trip without having to spend hours trying to figure out whether you need a visa.
Do Americans Need a Tourist Visa for Moldova?
U.S. citizens with valid passports do not need to have a tourist visa to visit Moldova.
Americans can stay in Moldova for up to 90 days in a period of six months. Those who wish to stay in Moldova longer than that will need a residence permit from the Bureau for Migration and Asylum. The permit can be requested in person at 124 Boulevard Stefan cel Mare in the Moldovan capital, Chisinau.
The government of Moldova doesn't allow anyone to stay in the country longer than 90 days for touristic purposes.
Moldova COVID-19 Information for Foreigners
Moldova has quite lenient rules for foreigners regarding the COVID-19 precautions. They are as follows:
Everyone who enters needs to have a negative PCR COVID-19 test taken up to 72 hours before entering the country
COVID-19 vaccine certificates can replace the PCR test
Proof of recovering from the coronavirus no earlier than 90 days of entering Moldova is also valid upon entry
Antigen tests are not accepted
Quarantine isn't necessary unless you don't have a PCR test or vaccine certification, in which case you need to self-isolate for 14 days
Everyone who enters Moldova is subject to mandatory COVID-19 health screening
Face mask rules apply in all closed public spaces and transportation
Two-year-old and younger children aren't subjected to the mentioned measures
Other Requirements To Enter Moldova
The following registration rules apply to all tourists in Moldova:
Visitors have to register with the government of Moldova, which is done automatically if you enter from Romania or Ukraine
Those who enter from the separatist region of Transnistria have three days to register with the Bureau for Migration and Asylum or one of the border crossing foreigner registration offices
Anyone who wishes to stay in Transnistria has 24 hours to register with the nearest passport division of the Ministry of Internal Affairs
Failure to register can cause problems when leaving Moldova and result in hefty fines
Moldova Tourist Destination Guide for First-Time Visitors
Moldova is relatively small and doesn't get much media attention, but it is a hidden gem that's worth uncovering. Check out the best places to see in Moldova:
| Tourist Attraction | Short Description |
| --- | --- |
| Chisinau | The capital of Moldova is a modern place even though archaic buildings dominate the architecture of the city. It has lots of green spaces, parks, restaurants, spas, and art galleries. It also offers decent options for those who are into clubbing or gambling |
| The Cricova Winery | Close to Chisinau, the Cricova winery is the second biggest underground winery in the world. Wine connoisseurs will enjoy the tour of this astonishing complex with many tasting rooms that are homes to over a million bottles of wine |
| Pădurea Domnească | The most prominent natural reserve in Moldova is perfect for bird watchers and others appreciative of the great outdoors. You can get lost in the tall green grass surrounding the river or have a rest by ancient oak trees |
| Orheiul Vechi | This magnificent archaeological site is relatively close to Chisinau. It has forts, caves, old monasteries, and ruins. The place is well-preserved, and it's a must-see for history enthusiasts |
Use DoNotPay's Tourist Visa Guides and Travel Across Europe Stress-Free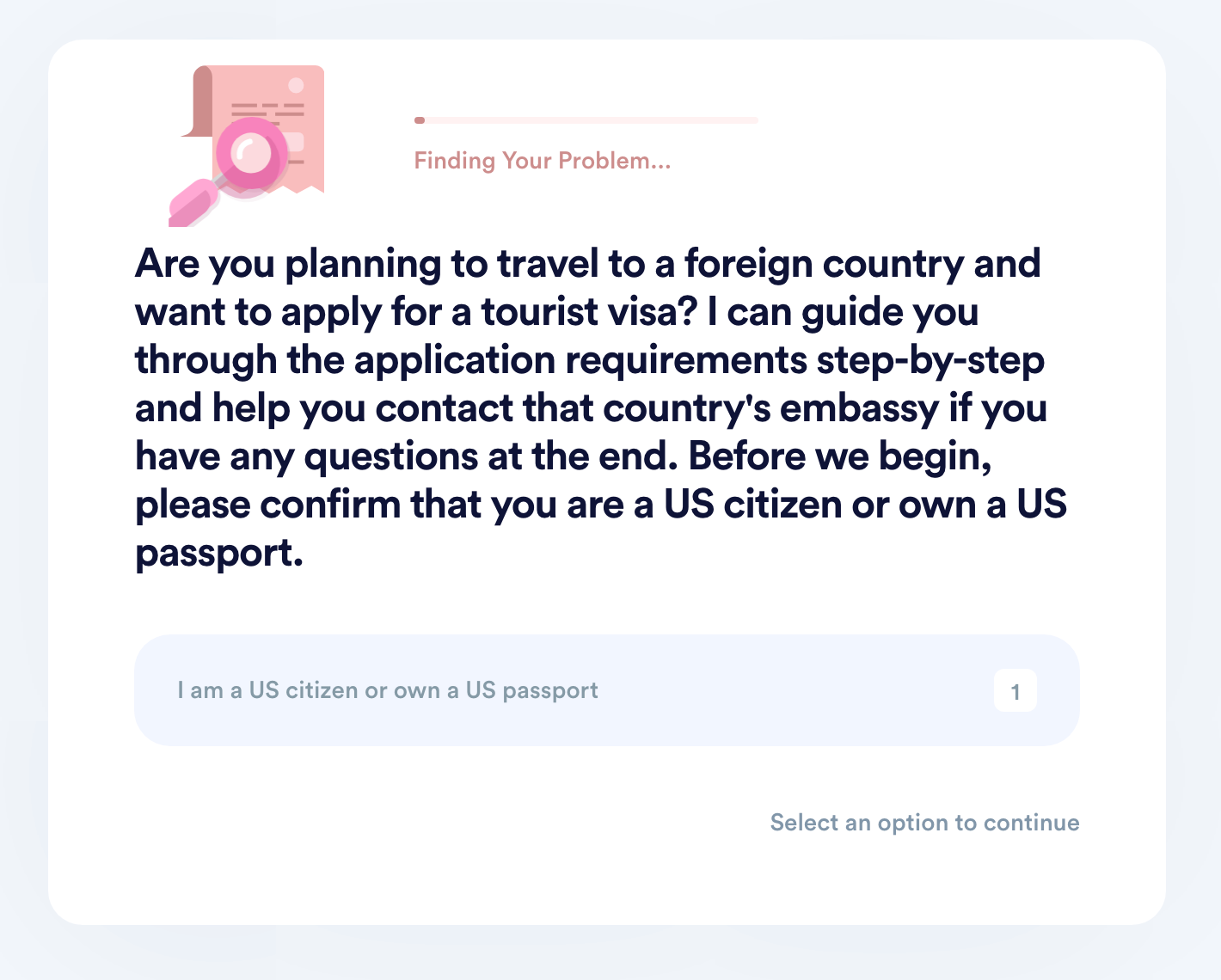 The whole region around Moldova is interesting to visit, and it's not strict with visas either, so you can explore it freely. Still, you do need help with the visa paperwork since some European countries might require you to obtain a tourist visa for your trip, which is where we pitch in!
Look at the table below for detailed info on all of the European visas:
DoNotPay Tells You if a Visa Is Necessary for Your Destination Within a Minute!
U.S. citizens are blessed with visa exemptions in many countries worldwide, but it's hard to predict where you're given a free pass. With DoNotPay, you can forget about the guesswork, nail-biting, and head-scratching when dealing with visas.
DoNotPay can help you by:
Telling you whether you need a visa for your destination country
Providing a link to an online visa application webpage
Composing a PDF guide on other visa requirements
Using our product is easy as it takes only three steps, as shown below:
Sign up for our service and open the Tourist Visa Guide feature
Provide proof that you are a U.S. passport holder
Enter your destination country
That's it! You'll get your visa eligibility status check instantly, hassle-free.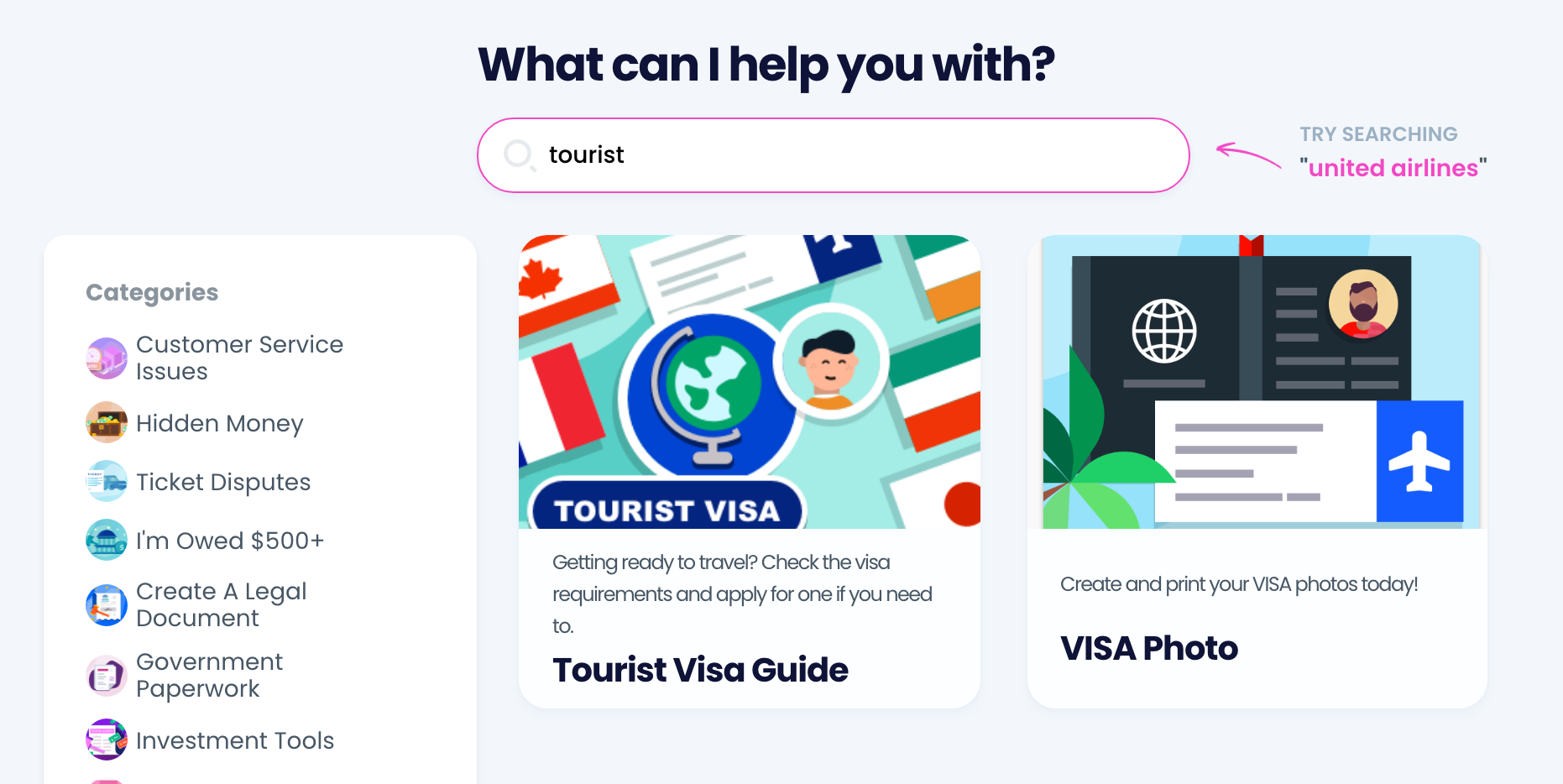 Discover the Entire Spectrum of Our Features
A click or two will be enough to discover the amazing universe of DoNotPay's tools and products. Our app is here to show you the best way to get:
Financial Issues? Let DoNotPay Take Care of Them!
DoNotPay can track down your unclaimed money, submit insurance claims, or request compensation for delayed flights on your behalf. This way, you can save some money and get what you're owed. Our app can also make it easier for you to lower your utility bills, cancel active subscriptions and stop further charges, or appeal parking tickets.