Should You Get a Modeling Contract Template?
If you're an aspiring model, you might find yourself in need of a modeling contract. Creating this document can be overwhelming, but there's a solution for that. One of the options is to find a modeling contract template online and save yourself some time and a potential headache.
Our simple-to-follow article will provide you with all the necessary information regarding modeling contracts and help you get various other legal documents in no time!
What Is a Modeling Contract?
A modeling contract is a document with which a model establishes a working relationship with an agency. It contains the rules, regulations, and guidelines regarding the duties and obligations that both parties have towards each other. There are four common types of modeling contracts that you could encounter:
Mother agency contracts
Non-exclusive contracts
Exclusive contracts
One-time-only contracts
Mother Agency Contracts
A mother agency is the first employer that you'll have a contract with. The agency will teach you all about the industry, help you build your portfolio, and assist you in becoming a successful model. This type of contract allows the mother agency to continue receiving commission even after you are signed by another agency.
Non-Exclusive Contracts
Non-exclusive contracts are usually signed by commercial models and allow them to work with multiple agencies simultaneously. With this document, you don't receive as much hands-on guidance. The main benefit of a non-exclusive contract is that you won't owe the agency any money if you find work on your own.
Exclusive Contracts
Signing an exclusive contract with a modeling agency means that you can only be represented by that agency for the duration of the contract. Exclusive contracts are common among fashion and editorial models, and they give the agencies a lot of power.
One-Time-Only Contracts
One-time-only contracts are used when applying for just one job. They outline how much you'll be paid, how your photos will be used, and whether you're restricted from working with other companies.
What Sections Should a Modeling Contract Contain?
Except for the basics—such as your and the agency's name and address—a modeling contract may contain the following elements:
| | |
| --- | --- |
| Elements | Details |
| The type of the contact | Specifies whether it's a mother agency, non-exclusive, exclusive, or one-time-only contract |
| Relationship of the model and agency | States the agency can't guarantee models work but that they can guide them and provide them with opportunities |
| Compensation | Discloses both parties' compensation for the job |
| Behavior | Establishes rules that a model must follow so that he or she doesn't harm the agency's reputation |
| The length of the contract | Spells out the length of the contract and details on contract renewals and termination procedures |
What To Bear in Mind When Searching for a Modeling Contract Template
Besides reducing the time needed to draft contracts, templates are also easy to use. If you want to download a modeling contract template from the web, you must keep in mind two things:
Not all of them will include the info you need
They only contain general terms
To find an adequate modeling contract template, you will have to:
Be patient—Think about whether the modeling contract template you find meets your needs
Pick a contract template from a professional website—Avoid amateurish looking websites, as they're often full of grammatical errors and lack elements that are key to the contract
Check for any hidden costs—Watch out for hidden charges that a vast number of websites offering free templates have
In case you find a modeling contract template that works best for your situation, you should:
Check if it includes all of the sections listed in the table above
Consider hiring a lawyer so you're 100% sure of what you're signing
If you ever need a different type of business contract, you can sign up for DoNotPay!
DoNotPay Makes Creating Business Contracts a Breeze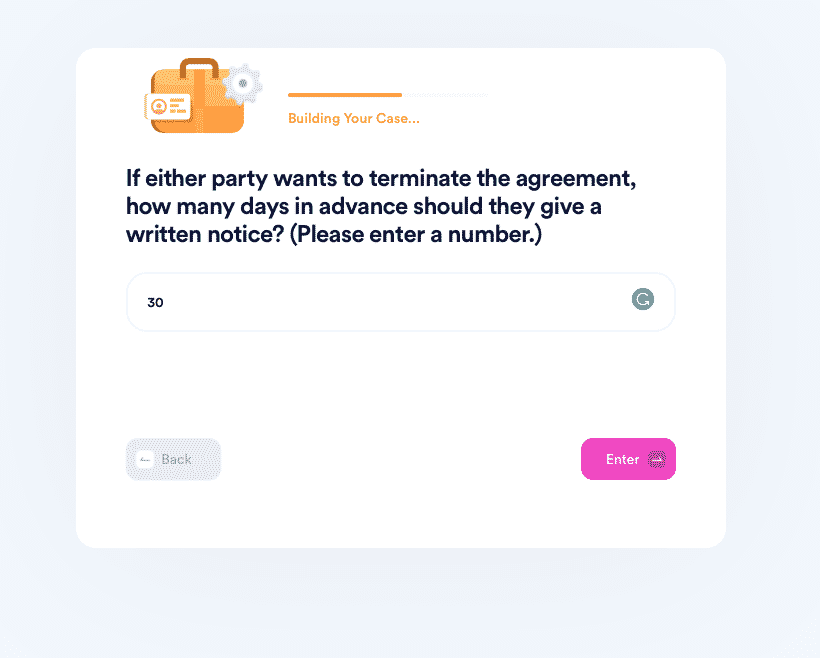 Do you need a legal document, but you don't want to break the bank or waste time learning how to write one yourself? If that's the case, DoNotPay is here to help by generating various legal documents for you in a flash! To get a personalized contract, you have to follow these steps:
Type in the name of the document you want to create
Answer our chatbot's questions regarding the document
You will receive a contract that you can print and sign. Then you can fax it and get it notarized with our Notarize Any Document and Online Fax products.
Find Out Which Documents DoNotPay Can Create in Your Stead
DoNotPay can generate a plethora of personal, real estate, business, and other types of legal documents for you, including:
General Business Contract
Intent To Purchase Real Estate
Promissory Note
General Affidavit
Quitclaim Deed
Besides drawing up legal documents for you, we can also provide useful information about:
DoNotPay Has the Most Convenient Solution to Most of Your Problems
Whether you want to cancel subscriptions, request refunds for services, purchased items, or late delivery, or enjoy free trials without being charged, DoNotPay has a product for you.
We strive to help you users solve their issues as quickly and effortlessly as possible. With us, you can enter various raffles and sweepstakes, claim warranties or insurance, report copyright infringement, and reduce your property taxes in less than five minutes.
Protect Your Privacy With DoNotPay
Protecting your privacy can be challenging nowadays since most platforms require your phone number and email address upon registration. DoNotPay is here to ensure your personal info stays as secure as possible. Choose our Burner Phone product to register for services without phone verification or our virtual credit card if you want to use a randomly generated email address and payment details.
By using a fake phone number and email address, you can also avoid receiving annoying spam emails, text messages, and shady robocalls. DoNotPay can even make correspondence with inmates safer. If you don't feel comfortable sharing your address with an inmate, DoNotPay can receive the letters for you, scan them, and forward them to you risk-free.