Manufactured Bliss With a
Mobile Home Purchase Agreement
With DoNotPay's Help
A mobile home is an easy way to get your foot on the property ladder without the expense of a mortgage and is increasingly popular among younger first-time buyers.
The most important step in purchasing your new home is the agreement that seals the deal.
DoNotPay helps you understand what you need to do to secure your piece of the mobile home dream with a safe mobile home purchase agreement.
What Needs To Be in a Mobile Home Purchase Agreement?
If all your checks have satisfied you that you've found what you're looking for, you can prepare a mobile home purchase agreement.
We understand that many people feel insecure about legal documents and do not know how to write a contract. Here are our tips for what needs to be included in your mobile home purchase agreement:
Personal details

Description of the mobile home

Buyer acceptance of property condition

Delivery method

Risk of loss

Delivery date and approximate time

Buyer inspection after delivery

Warranty of title

Financing

Governing law
Personal Details
This is an agreement, so both you and the seller should include all your personal and contact details.
Description of Mobile Home
Your description should be as comprehensive as possible, including:
Model

Year of manufacture

Serial number

Number of bedrooms

Dimensions

License number

Color

Purchase price
Buyer Acceptance of Property Condition
You should state that you have inspected the mobile home and that you are satisfied with the condition of the dwelling in all regards. This indemnifies the seller against any future claims.
Before you sign the agreement as the buyer, you should have carried out a thorough inspection of the mobile home, including a(n):
Physical walk-through

Inspection of the license, serial number, and registration paperwork

Check of the water, sewerage, and electricity connections
Delivery Method
If a new mobile home is being delivered to a plot, you can stipulate the delivery method while the seller agrees to reimburse reasonable delivery costs. 
Risk of Loss
If the mobile home is to be delivered, the seller accepts all risk until the mobile home has been delivered.
Delivery Date and Approximate Time
Delivery details can be agreed on in this clause. You can also stipulate reasonable leeway in the exact delivery time, depending on how far the mobile home has to travel.
Buyer Inspection After Delivery
You are entitled to perform a walk-through inspection of the mobile home after delivery to ensure no damage has occurred during transit.
Warranty of Title
The seller guarantees that they are the legal owner of the mobile home and that no liens exist.
Financing
If you depend on a loan to finance the purchase of your mobile home, you can include details of the:
Loan amount

Interest rate

Term of the loan (how long until it is paid off)

Whether or not finance has already been secured
In many cases, you are allowed to pull out of the deal if you are unable to secure the necessary finance. If you have not secured finance yet, you should make it clear that the purchase is subject to your getting a loan.
Governing Law
The agreement should determine the state law under which it is made. This will usually be the state in which the mobile home is to be placed.
Both parties should sign the agreement and have it notarized to make it legally binding.
Optional Clauses in Your Mobile Home Purchase Agreement
If your mobile home is already subject to a lease agreement on a plot, you may want to include details of the lease in your purchase agreement. The most important details to include are:
| | |
| --- | --- |
| Lease Terms | Explanation |
| Agreement by the plot owner | The plot owner needs to give written consent for you to purchase the mobile home and take over the plot lease. In most cases, this is a formality |
| Acceptance of the terms of the plot lease | The agreement should confirm that you—as the buyer—accept the terms of the plot lease |
| Acceptance of the regulations of the park | You should include a clause stating that you accept the rules and regulations of the park in which your mobile home is standing and that you have received a copy of those rules and regulations |
How Can DoNotPay Help You With Legal Documents?
DoNotPay is your go-to resource for legal documents and contract templates. If you are looking for help, you can check what we have to offer by doing the following:
Find the document you need using the search bar

Give us the details you want in your document

Wait while we create your customized solution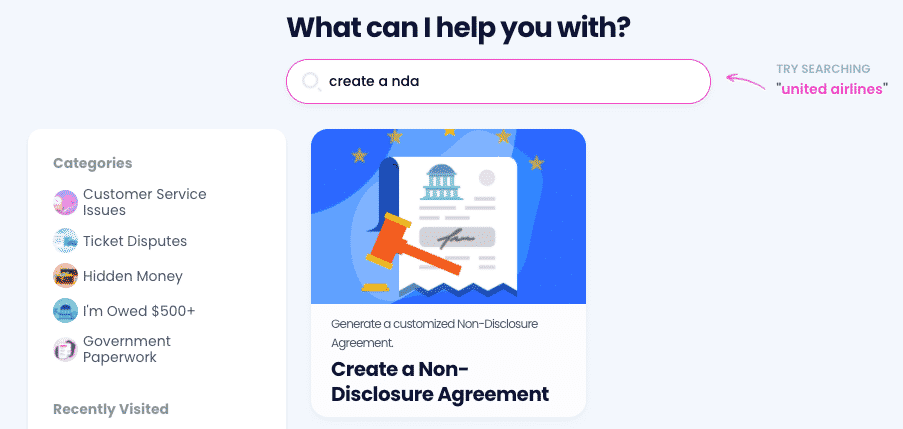 What Other Documents Does DoNotPay Offer?
Our list of available legal documents is growing all the time, and here is a selection of what we have for you:
Property
Intent to purchase real estate letter

Quitclaim deed
Business
Personal
Sign up for a DoNotPay account to create any legal document you need!
DoNotPay Breaks Down Communication Barriers
Communication and new technologies walk hand in hand, and DoNotPay can smooth out any bumps on that road. On our platform, you can find useful tools for avoiding phishing emails and text messages, sending faxes online, stopping annoying robocalls, or signing up for new services without phone verification.
Contacting customer support is no party, but DoNotPay can make the process so much easier, whether you need to request a refund, demand compensation for a canceled flight, or file a warranty claim.
You can even use our platform for locating your loved ones in prison and sending them letters the proper way!
Can Your Virtual Assistant Do This?
Hey, Siri! Make me ready for my upcoming small claims court appearance. No luck? OK, Google! Prepare a DMCA notice for that website that uses my photos without authorization. Still nothing?
DoNotPay is the virtual assistant that won't back away from issues that require legal expertise. Our lawyer bots work around the clock to get you due date extensions for utility bills, reduce your property taxes, or stop stalking and harassment before it gets ugly.
The world's first robot lawyer will provide assistance even with securing compensation for victims of crime!