Mobile Home Lot Rental Agreement
Explained
Owning and leasing property involves numerous legal documents and agreements that you need to sign to protect your home. If you want to learn more about how the mobile home lot rental agreement functions, you can get answers from DoNotPay. 
Your new virtual assistant can help you understand various legal documents and create numerous other contracts.
What Is a
Mobile Home Lot Rental Agreement
?
A mobile home is a handy type of property, and it comes with specific renting rules and regulations. There are two possible scenarios when it comes to renting mobile homes:
A landlord can rent both the mobile home and the land it stands on

A homeowner may rent only the lot the house is located on
You can normally find such lots in mobile home parks.
A mobile home lot rental agreement is a contract between a tenant and a landlord that explains the rules of renting the lot the mobile home stands on. Both parties need to have clear obligations and expectations and agree on them before signing the document and making it official.
What Is the Info Every Mobile Home Lot Rental Agreement Should Contain?
To make sure the mobile home rental agreement is properly created, you need to know what information it needs to include. Check out the table below for more details:
Info To Include

Details

Personal Info of Both Parties

Names

Addresses

Email addresses

Phone numbers

Fees and Costs

Rent cost

Additional fees

Utilities

Charges for late payments

Info on refunds

Changes of fees or payments

Agreement Terms

Length of the lease

Property details

Lease termination

Lot Rules and Regulations

Parking

Pet permission

Mobile home park rules

Tenant's and Landlord's Duties

Upkeep

Maintenance and repair
What Should You Not Include in Your Mobile Home Lot Rental Agreement?
As it is important to know what info you need to include in your mobile home lot rental agreement, you also need to know what to avoid. Make sure not to include:
Outdated info

Incorrect info

Illegal conditions or provisions

Improper language use
How Much Does Renting a Mobile Home Lot Usually Cost?
The amount of money you will need to pay for renting a lot is based on the market where the home is located. These costs vary depending on whether the dwelling is in a big city or a rural area. The rent also depends on the type of the mobile home community, no matter where it is located. 
You'll need to pay more if the mobile home park has a pool, clubhouse, walking trail, or workout facility. Here is how much an average lot rent is in certain states:
California—$866

Utah—$583

Florida—$512

New York—$455

Michigan—$426
Since you have a mobile home, you have the option of moving to another state where the lot rent is more affordable.
DoNotPay Is Here To Generate Legal Contracts for You
If you need a legal document but don't have the funds to pay for a lawyer, you can count on DoNotPay for help! You should not try and make these important agreements on your own if you do not have proper legal knowledge. To get a safe and easy solution, follow these three steps:
Access DoNotPay

from your web browser

Enter the name of the agreement you need

Type in some of your personal information
Remember that even with this personalized agreement, you may still need to bring the document to the notary to make it official.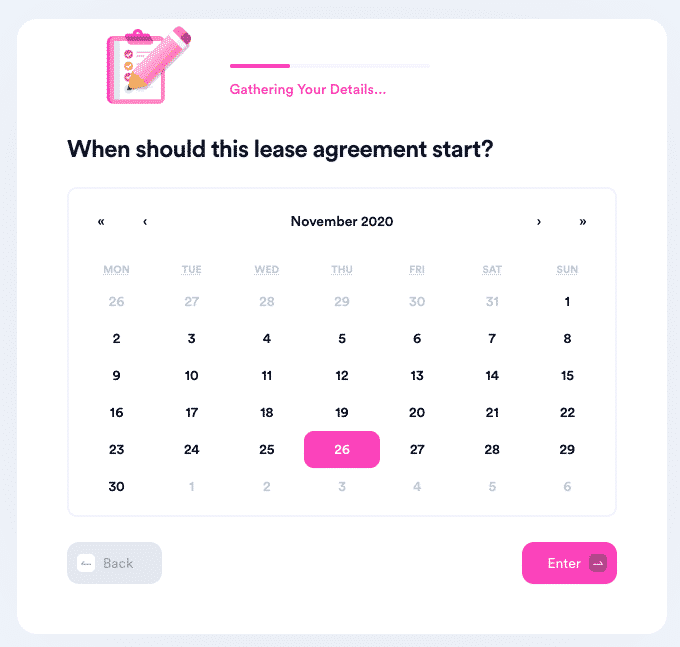 DoNotPay is a great choice when dealing with various real estate documents. See more details in the table below:
Real Estate Agreements
We Can Create
We Can Tell You More About

Quitclaim Deed

Intent To Purchase Real Estate

Estoppel Certificate
DoNotPay also has the scoop on various other legal documents from different fields. If you'd like to know more about other contracts, check out our guides to:
What Are Other Legal Documents DoNotPay Can Create for You?
DoNotPay is a useful tool for creating various other agreements in addition to real estate contracts. We're here to help you with business and personal legal documents. Let your virtual assistant know if you need help with generating a:
Promissory Note

General Affidavit

General Business Contract 
We have all the info about contract templates you may find online and the reasons why they are not a good choice.
DoNotPay Is Your Pocket-Sized Treasurer 
To pay or to DoNotPay—that is the question! Our nifty app finds money where you didn't even know you had it.
With our app, you can avoid college application fees, cancel unused subscriptions, explore free trials, and get out of paying for unfair parking tickets. 
We can also help you with high bills by composing due date extension letters or reducing property taxes, just as we can locate missing money that you can reclaim in any state you've ever lived. 
To top it all, we'll even assist you in requesting compensation from any airline—whether it is for poor in-flight Wi-Fi, a delayed, or a canceled flight.
Can't Find Your Head in All the Paperwork? DoNotPay Sorts It Out for You!
You no longer have to cash out on pricy legal advisors to do simple paperwork for you—our app can draft legal documents for you in a matter of minutes! 
We can write small claims court scripts, dispute letters for chargebacks and refunds, personalized letters to connect with inmates, DMCA takedown notices for copyright protection, and cease and desist letters for stalking and harassment protection. 
If you need to get a DMV appointment before taking a driving exam or any other government test, we're there to schedule it in your stead!