All the Essential Details About MIT Scholarships
The cost of Massachusetts Institute of Technology (MIT) tuition of up to $77,020 can seem too much to handle. Even with financial aid, such a hefty fee can leave you with tens of thousands of dollars in loans.
Is this a reason for you to give up on attending one of the most prestigious universities in the world? If you maximize your gift aid portion with MIT scholarships, you can head off to school worry-free.
DoNotPay will help you discover and apply for scholarships with ease. Learn about the different types of scholarships and the way our app can streamline the research and application processes.
Massachusetts Institute of Technology Scholarships—The Basics
MIT has a progressive scholarship program that successfully meets the needs of many students. In the 2020–2021 academic year, 60% of full-time undergraduate students received a scholarship. The average amount that MIT students got in the previous year was $50,483.
Low-income students have a high chance of attending the school at no cost. The University manages to cover the majority of education expenses for 99% of these applicants.
What MIT Scholarships Can You Apply For?
Whether you are a high school senior, undergraduate, or graduate student, you can get a scholarship at MIT. You can apply for:
MIT scholarships
Private scholarships
MIT Scholarships
The University provides two types of scholarships for its students:
Scholarship
Basic Information
MIT Scholarship

The aid is rewarded based on financial need
Students who apply for financial aid will be considered for this scholarship automatically
The amount can cover the majority of the tuition cost and other school expenses

First Year Grant

The aid is awarded to low-income students
First-year students can apply
The amount is $2,000—divided between the fall and spring semesters
The amount of an MIT scholarship depends on your family income. When the scholarship decreases your overall expenses, the remaining amount you have to cover is the average net cost. To get an idea of what you can expect from an MIT scholarship, review the table below:
| Family Income Range | Average MIT Scholarship | Average Net Cost |
| --- | --- | --- |
| Under $65,000 | $71,608 | $4,839 |
| $65,000–$90,000 | $63,453 | $10,937 |
| $90,000–$125,000 | $58,617 | $15,676 |
| $125,000–$175,000 | $47,700 | $26,295 |
| $175,000–$225,000 | $34,398 | $39,508 |
| Over $225,000 | $22,326 | $51,548 |
Private Scholarships
Don't rely solely on MIT funds as you can also get scholarships awarded by private organizations, foundations, corporations, and institutions. Here are a few additional scholarships you should consider:
MIT THINK Out of the Box Scholars Program
Lemelson–MIT Student Prize
OMEGA: Opportunities for Multigenerational Engagement, Growth, and Action
Joyce Ivy Summer Scholars Scholarship
Based on the field of study at MIT, you should also look into outside scholarships, such as:
Expand your scholarship opportunities by finding categories you fall under. You can lower the overall cost of your education if you apply for less competitive scholarships—for example:
Where To Look for MIT Scholarships
The official MIT website stores all information you need about school-specific scholarships. To learn about general government and state scholarships, you can turn to their agencies.
When it comes to awards funded by foundations, companies, organizations, and similar, you can try these sources:
The MIT financial aid office
High school counselor
Offices of foundations, religious or community organizations, or other potential aid issuers
Former or current MIT students
Wondering where you can find all potential scholarships for MIT? The answer is DoNotPay. Sign up for the app, and you'll get a full list of grants and scholarships you can apply for as a current or future MIT student. We'll base the search on your answers about the education level, interests, field of study, and other. If there is any unique aid you are eligible for, we will find it!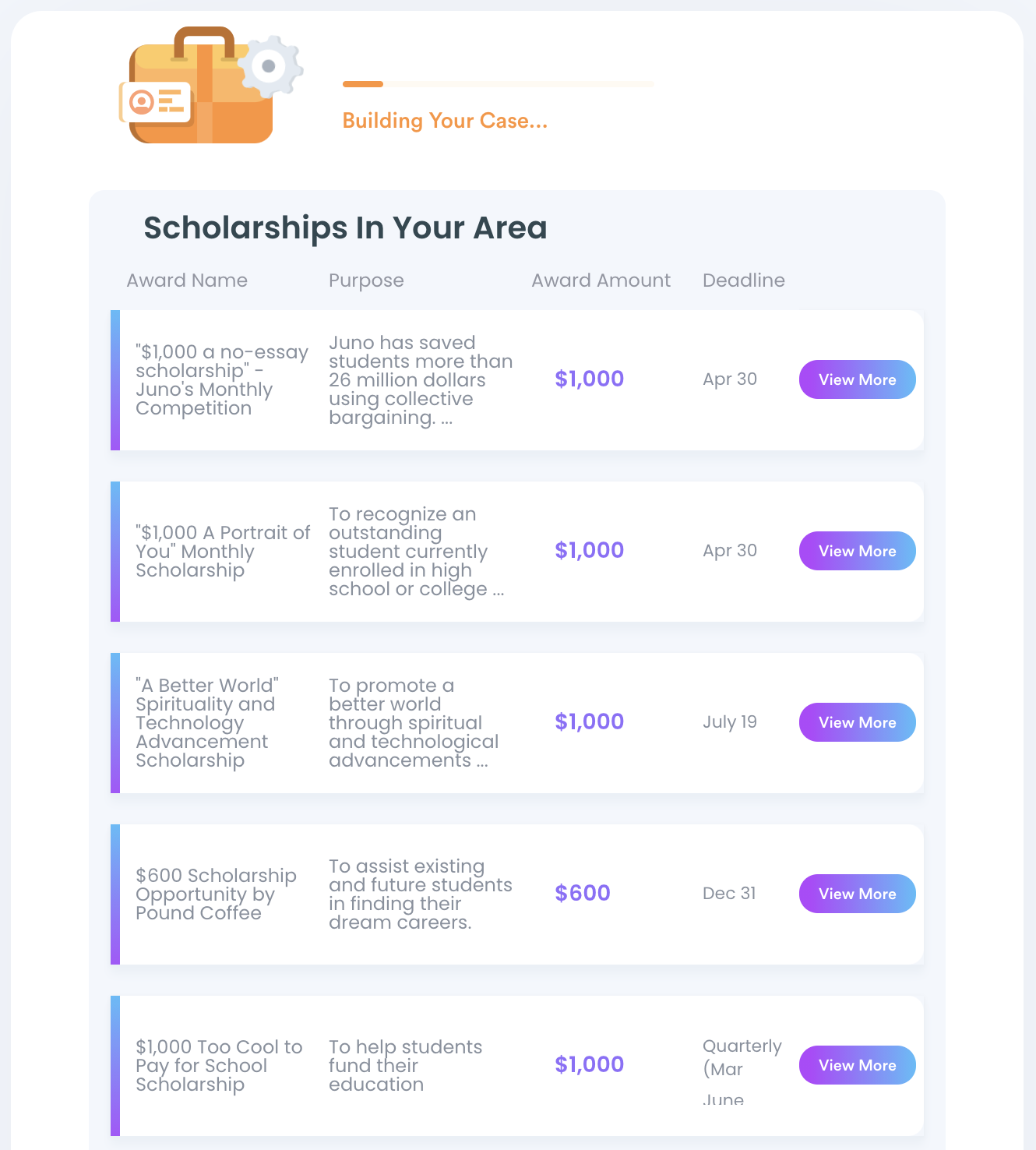 The Application Process for MIT Scholarships
What you will need to do to apply for MIT scholarships is:
Submit the Free Application for Federal Student Aid (FAFSA) form
Fill out the College Board's College Scholarship Service (CSS) Profile
Supply the parental tax returns or income documentation through the Institutional Documentation Service (IDOC) College Board
The application comes with a fee, but since you probably don't want another expense, learn how you can avoid paying it.
Both domestic and international students should respect these application deadlines:
Early application deadline—November 30
Regular application deadline—February 15
Deadline for continuing students—April 15
For private scholarships, you will need to complete an Outside Award Reply Form—in addition to the set application steps by the issuers. Many outside organizations ask for a scholarship essay and letters of recommendation as well.
How To Get a Scholarship to MIT With DoNotPay's Help
Combing through the scholarship opportunities can be exhausting. You don't need to waste your time on this dull task because DoNotPay will do it for you. Our app will help you assess your options by surfacing every scholarship you are eligible for as an MIT student.
Here's what you need to do:
Navigate to the Apply for Scholarships tool
Answer the chatbot's prompts
To speed up the process some more, apply for no-essay scholarships without leaving the app.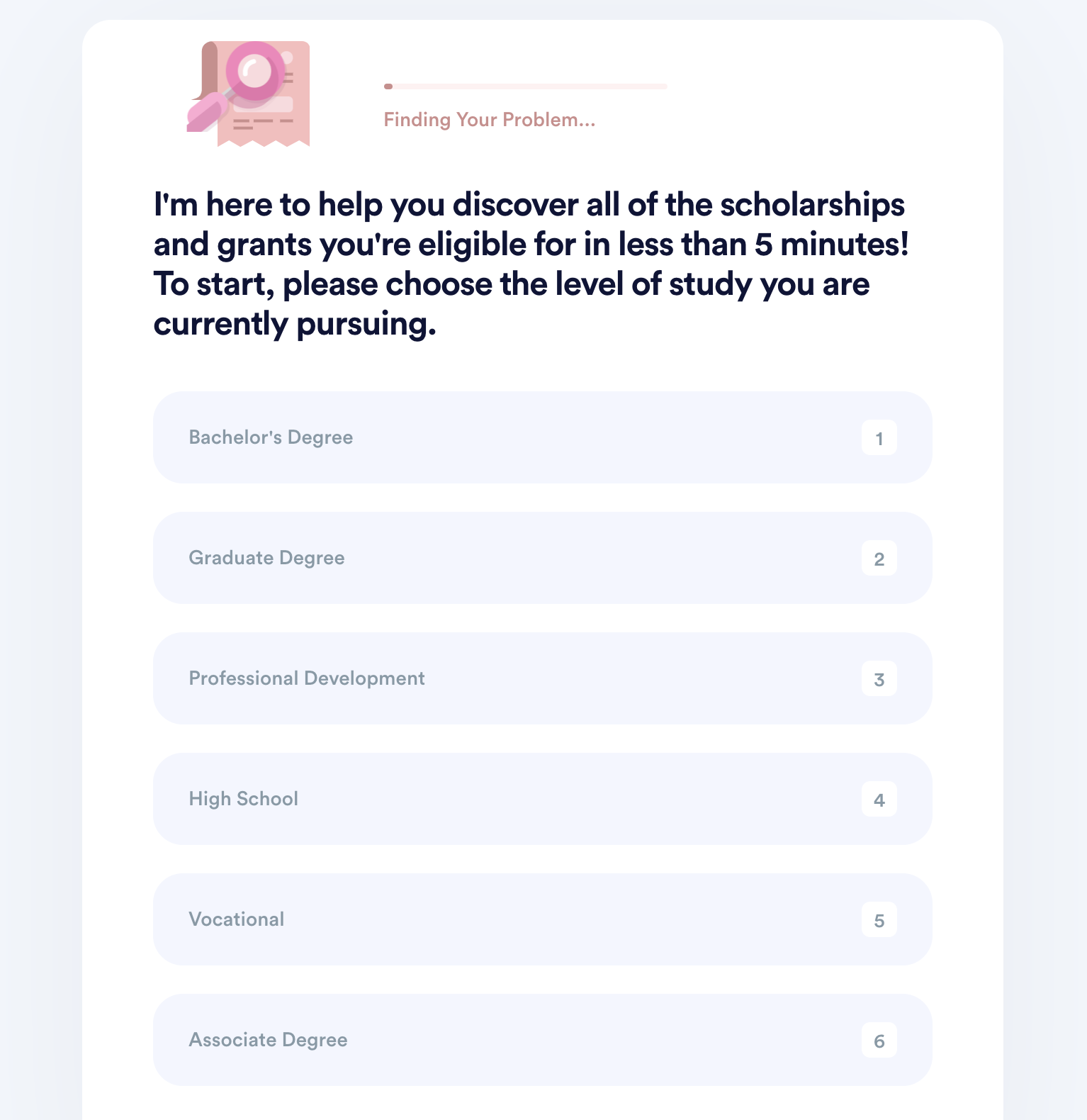 Managing Everyday Tasks With DoNotPay Is a Breeze
Completing mundane tasks doesn't have to be a nightmare! With our help, you can relax and finish them in a few taps! All you need to do is register for DoNotPay and let us help you with:
Have Your Documents Drafted and Notarized With Our Help!
If you need to draft a legal document, such as a divorce settlement agreement, power of attorney, or a child consent form, hiring a lawyer to assist you is probably the first thing that comes to mind. What if we told you that spending hundreds of dollars on legal services is unnecessary? Not only can DoNotPay draft contracts and agreements in a few minutes, but it is also your most affordable and effortless option!
The benefits our app provides don't stop there! After we generate your document, we'll connect you with a remote notary and show you how to get it notarized online without leaving the comfort of your home! You can even fax the document online and skip dealing with outdated fax machines.