A Practical Guide to Securing Missouri Scholarships
If you've decided to get your undergraduate or graduate degree in the Show Me State, you will have over 130 colleges, universities, and trade schools to choose from. The cost of higher education isn't cheap, though. You will need tens of thousands of dollars to finance your studies. The good news is that you can get Missouri scholarships to cover the expenses.
What many students struggle with is finding scholarships that they're eligible for. With numerous public and private awards, searching for the right ones is like looking for a needle in a haystack. DoNotPay will make this mission easier for you.
Learn what your options are and where to look for the best scholarships and grants in the State of Missouri.
Available Scholarships in Missouri
The scholarship opportunities for high school seniors, undergraduates, and graduates in Missouri are widespread. International and transfer students also have many options at their disposal.
The state makes sure that anyone who wishes to enroll in its universities can afford it.
You can get financial aid based on groups you relate to—such as scholarships for women, veterans, moms, minorities, football players, and more.
The Best Scholarships in Missouri
If you want to check out what Missouri has to offer, revise some of the best gift-aid opportunities and the requirements you need to meet to get the funds:
Scholarship
Amount
Basic Eligibility Requirements
Purdy Emerging Leaders Scholarship
From $2,000 to $5,000

Be a full-time college sophomore, junior, or senior
Enroll in a Missouri public four-year or technical college
Have a 3.0 GPA or higher
Show unmet financial need on the Student Aid Report (SAR)

Missouri Mayflower Society Scholarships
Three scholarships in denominations of $1,500, $1,000, and $500

Be a Missouri resident
Graduate high school with a 2.0 GPA or higher
Attend the Missouri Mayflower Society Spring Luncheon

Missouri Minority Teaching Scholarship
$12,000 in total—$3,000 per year
Robert C. Byrd Honors Scholarship
From $1,100 to $1,500

Be a high school senior
Graduate in the top 10% of your high school classes and score in the top 10% on ACT standardized testing

Tortoise Young Entrepreneurs Scholarship
From $1,000 to $3,000

Be a Missouri or Kansas resident or full-time student
Have a 3.3 GPA or higher
Enroll in programs such as entrepreneurship, marketing, computer science, economics, and similar
Prepare a business plan
How To Find Missouri College Scholarships
Missouri scholarship programs can be national, federal, state, college or university-specific, and private. The variety of sources comes with a downside—information about the requirements is scattered. You need to spend a long time gathering all relevant application, eligibility, and deadline info.
Some resources you can resort to are:
Federal and state agencies
High school counselors
Financial aid offices of your desired schools
College department you enroll in
Different religious or interest-specific organizations and groups
Internet
DoNotPay
The easiest option for finding scholarships is to and let our app take care of it. Let us know what your level of study, educational interests, and special qualifications are, and you'll get a custom-made list of awards you're eligible for before you know it.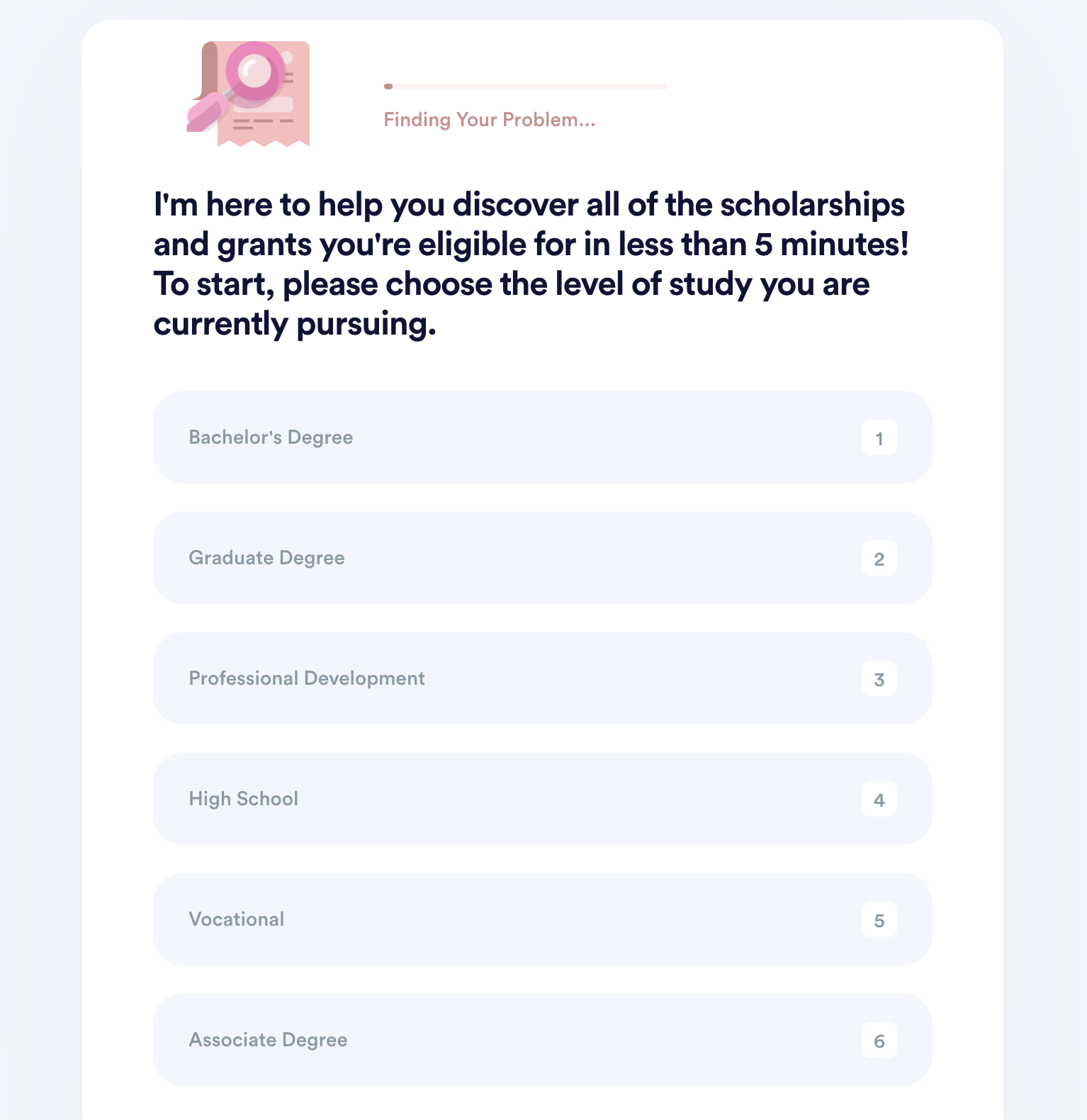 How To Get Scholarships in Missouri
To have a successful application, you need to follow the issuer's requests. The procedures can differ, so you need to check what each one demands.
Most scholarship programs require students to take these steps:
Fill out the Free Application for Federal Student Aid (FAFSA) form
Complete the College Scholarship Service (CSS) Profile
Apply on the official scholarship program website
Write a scholarship essay
Provide letters of recommendation
Put together a student resume
You can also follow these helpful tips to ace your application:
Start researching and applying for scholarships early
Send a request to as many programs as you can
Personalize essays for different aid, even if the topic is the same—You might need to write about what your career goals are or why you deserve the aid more than once
Read the requirements with care and don't apply unless you meet them all
Collect the necessary documents ahead of time
Write down the deadlines in a calendar
Want To Take the Shortest Route to Missouri Scholarships? Use DoNotPay
and apply for any college scholarship you qualify for hassle-free. We will consider your qualifications and preferences and single out all available awards you can apply for. You won't have to worry about missing out on a great opportunity as nothing can get past our AI-powered app.
To put the process in motion, you should:
Open the DoNotPay app in any web browser
Enter Scholarships in the search bar and select the Apply for Scholarships feature
Answer a few basic questions
In less than three minutes, your tailored list will be in front of you. Another benefit of using DoNotPay is that you can apply for no-essay scholarships automatically. You don't even need to leave the app—a click here and there, and your application will be sent!
Administrative Issues? We Don't Know Them!
Forget about getting frustrated and overwhelmed by the administrative tasks waiting for you to complete them! With DoNotPay's numerous tools, you can easily resolve such tasks in a heartbeat! All you need to do is sign up for our app, and you'll be able to:
Get
Create
File

Divorce settlement agreements

Powers of attorney
Use DoNotPay To Protect Yourself at All Times
Are pesky robocalls and email spammers working your last nerve? Don't despair—we are happy to help you get rid of them! In a few clicks, you can also stop text spam and avoid the incessant phone buzzing!
You can use our app to protect your privacy by creating burner phone numbers and virtual credit cards. That way, you don't have to disclose personal info when subscribing to online services.
In case you're looking for a way to keep yourself safe from stalkers or work discrimination, we'll help you report the case and walk you through the entire process!
Protecting your work from copyright violation and asking for violent crime compensation in your stead is also something DoNotPay can do!