Make a Missouri Residential Lease Agreement Fast
Signing a lease or rental agreement is unavoidable to maintain a smooth relationship between a landlord and tenant. It's a legal document helping both parties to establish lease-related rules and determine the best way to solve disputes if they arise.
Unfortunately, writing a contract isn't a no-brainer. It often requires a lot of effort, especially if you are starting from scratch.
This article explains what a Missouri residential lease agreement covers and teaches you how to create it with zero fuss.
What Are the Main Reasons for Signing a Missouri Lease Agreement?
Verbal agreements may seem convenient, but they are quite hard to enforce if a lease-related dispute arises. This is why creating a written contract is a more recommendable option.
Here's why you shouldn't miss this step:
The contract brings you peace of mind

. Outlining the rules in a legally binding document will provide a high level of protection. In case the other party violates any terms, the contract will safeguard your rights and interests

Both parties will know what their duties are

. If all participating entities have their obligations and responsibilities noted, it's unlikely they will forget about or misinterpret them

Such a document clarifies all ambiguities

. If you aren't sure whether the other party has the right to behave in a certain way or don't know what to do in a particular situation, this contract provides straightforward answers

The contract can serve as evidence in court

. A valid lease agreement can help you win the case if something goes wrong or the other party stops cooperating
Should You Have Your Missouri Lease Agreement Notarized?
Missouri doesn't require the notarization of lease contracts. You can do it if you want additional legal protection, but the signatures of both parties are enough.
What Should a Lease Agreement in Missouri Cover?
Each residential lease agreement in Missouri must align with state-specific rules regulating the landlord-tenant relationship. As long as they follow these regulations, the parties can add any clause they consider significant to make their collaboration transparent.
According to Missouri laws, a valid lease contract should include:
Date of signing

Legal names and physical addresses of the landlord and tenant

Occupancy limits—a maximum number of occupants

Lease term

Address and description of the premises

Rent details—monthly amount, payment schedule, and payment method

Security deposit details—amount, coverage, and return period

Late fee penalties

Property maintenance

Landlord's entry rules

Early termination rules

Pet, noise, and smoking policies

Additional restrictions

Mandatory disclosures:

Lead-based paint

Methamphetamine contamination
Most online lease agreement templates are incomplete, containing only a few of the above-mentioned terms, which is why they aren't the best choice. Another option to create a contract is with professional assistance, but it may cost a fortune.
If you want to avoid these options and find a simpler solution, you can do it by taking advantage of DoNotPay's customizable legal documents.
How To Rock Your Missouri Residential Lease Contract With DoNotPay
You don't need to be a professional to make a flawless lease agreement. DoNotPay can create it for you within minutes, leaving unsuccessful drafts in the past.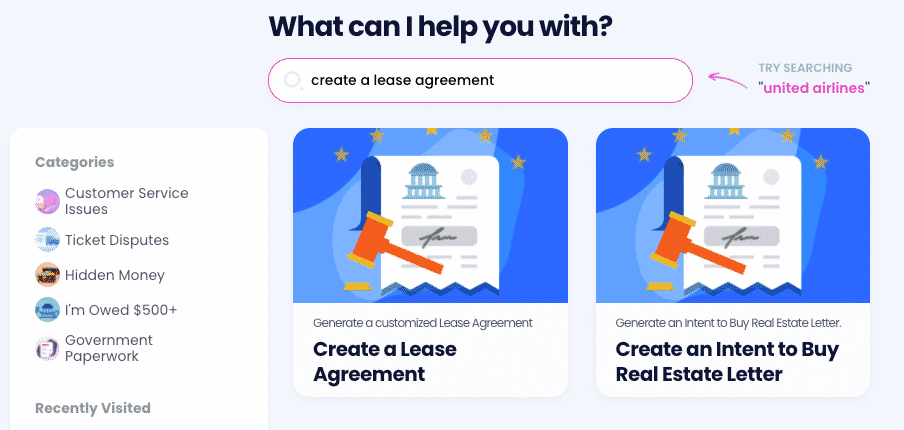 Our app is the simplest and most affordable option on the market. We need a few essential details to create a personalized contract based on Missouri laws!
Here are the steps you should follow:
using your preferred web browser

Pick the desired document

Customize the template by entering the details you want to cover in your contract
Once you are done, you will get a valid document matching your needs better than any online contract template! The last step is signing your agreement with the other party or having it notarized.
With our app, you will be able to create many different legal documents, including:
General Affidavit

Promissory Note

Quitclaim Deed

Estoppel Certificate

Residential Lease Agreement

Child Care Authorization Form

Intent To Purchase Real Estate

General Business Contract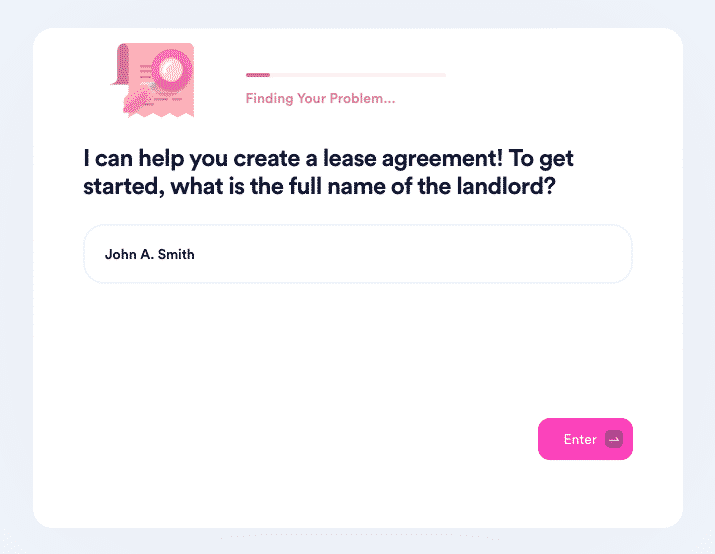 Let DoNotPay Teach You About Other Contracts
makes excellent guides to help you understand any agreement and learn the rules you need to follow while drafting it.
Here are some articles you may find useful:
| | |
| --- | --- |
| Other Lease Contracts | Miscellaneous Documents |
| | |
Check out our learning base to find out more about residential lease agreements in:
DoNotPay Offers a Variety of Services
DoNotPay is the ultimate virtual assistant that takes over all those annoying tasks you don't want to deal with!
Need to schedule your DMV appointment? Want to get your college fees waived? Have to draft a legal doc quickly?
We can do all that and much more!
Our app waits on the phone line with customer service of any company for you, reports robocalls, and helps you file lawsuits in small claims court.
We can also help you deal with your parking tickets, get rid of spam emails and texts, or find and sign up for reputable clinical trials!
Keep Your Money in Check With DoNotPay
How often do you sign up for a free trial and then forget to cancel it before it expires? Unexpected charges are the worst, but you can prevent them if you use our free trial card. DoNotPay's virtual credit card is not connected to your bank account, which means that no money can be taken from it.
We can also help you get refunds for unsatisfactory purchases or compensation from airlines for delayed or canceled flights.
In case you are struggling with warranty claims, bill payments, insurance, or tax reduction, DoNotPay can solve these issues as well.
Our app also has the largest database of unclaimed assets in the United States, so you can find and claim your lost funds quickly.