What Kind of Missouri Property Tax Exemptions Can You Apply For?
Since the level of property taxes in Missouri is the third-highest in the whole country, it's no wonder you want to learn about the Missouri property tax exemptions.
While Missouri isn't a state with a low property tax rate, it does offer a useful tax exemption program that citizens can apply for. The issue is that learning about the exemptions you are eligible for takes a lot of time and research.
DoNotPay can help you not only apply for a tax exemption you are eligible for but also appeal your tax assessment! 
Property Taxes in Missouri—The Basics
Most people accept that they need to pay property taxes to their government without examining the whats and the whys. This is why the majority of citizens don't know that they can lower their taxes if they try.
When you understand how property taxes work and why you need to pay them, you can find ways to apply for tax relief programs or learn tricks to use during the evaluation of your property so that your taxes aren't as high as they would normally be.
When a tax assessor comes to your home, they calculate its market value. They take the following into consideration:
Property's size and value

Your location

Square footage

Property usage

Construction type
The market value of your property is then multiplied by the tax rate of your county or state to determine the amount on your tax bill. If you are granted any tax exemptions, the amount is included in the calculation to lower your tax bills. 
What Is Property Tax Money Used For?
The Missouri Department of Revenue collects property taxes from all citizens who own some kind of property, whether a house or an apartment. Property taxes are the primary source of revenue for the state to fund its:
Educational system

Construction works

Road maintenance

Green areas

Law enforcement
Missouri Homestead Property Tax Exemption—What Exemptions Does Missouri Offer?
If you've already looked into the types of tax reliefs, you will be familiar with these exemption programs:
Homestead exemption

Disabled citizens tax exemption

Military veterans exemption
You may be surprised to learn that Missouri doesn't offer tax relief programs that align with these popular types.
The Missouri Property Tax Credit Claim—the MO-PTC for short—is a single program that the state offers to certain citizens who wish to lower their tax bills.
The credit is a type of refund you get for the property taxes you pay. Here's the maximum amount you can get in credit if you apply:
| | |
| --- | --- |
| Taxpayers | Amount |
| Renters | $750 |
| Owners | $1,100 |
The specific credit you get is determined based on the amount you pay in taxes—both for renters and owners—and your household income (both taxable and nontaxable).
Tenants who rent from someone who does not pay property taxes in the first place are not eligible for the MO-PTC.
You can apply for the exemption online or in person. Here's the contact information you need:
MO-PTC Contact Information

Email address

PropertyTaxCredit@dor.mo.gov

Phone number

(800) 877-6881
You can order an application form by calling the number in the table above or download it from the Missouri Department of Revenue website.
Can You Get a MO State Personal Property Tax Refund for Senior Citizens?
Senior and disabled citizens have the upper hand when it comes to getting a refund through the Missouri Property Tax Credit Claim, but age is not the only criterion.
Here is the income threshold for citizens who wish to apply for the MO-PTC:
| | |
| --- | --- |
| Citizen | Maximum Total Household Income |
| Single renter or part-year owner | $27,500 |
| Married renter or part-year owner | $29,500 |
| Single owners | $30,000 |
| Married owners | $34,000 |
Other eligibility criteria for Missouri Property Tax Credit Claim include being:
An owner who pays real estate taxes

A tenant who pays rent on the home they occupy and whose landlords pay property taxes

A 100% disabled veteran whose disability is service-related
If you are applying for the MO-PTC based on the senior, veteran, or disability status you or your spouse have, you need to know which boxes to check in the form. Take a look at the table below for concrete information:
The Box You Should Check

You or Your Spouse Is 

Box A

65 or older as of December 31 of the preceding year

A resident of Missouri for the entire year

Box B

A veteran with a 100% service-related disability

Box C

100% disabled

Box D

60 or older as of December 31 of the preceding year

A claimant who is receiving surviving spouse social security benefits 
Confused by the Missouri Property Tax Exemptions? Let DoNotPay Do the Work for You!
If you need help with your property taxes, DoNotPay has your back!
Even though states exempt certain citizens from paying a portion or the entirety of their property tax bills, most people don't use this advantage. This is not strange as getting the information about how to apply, what exemptions you're eligible for, and what documents you need to submit is all over the place.
DoNotPay has designed a platform that collects all the important information you need and stores it in one centralized place! By using it, you can find out what tax relief programs you are eligible for and apply for them right away instead of spending months researching the topic.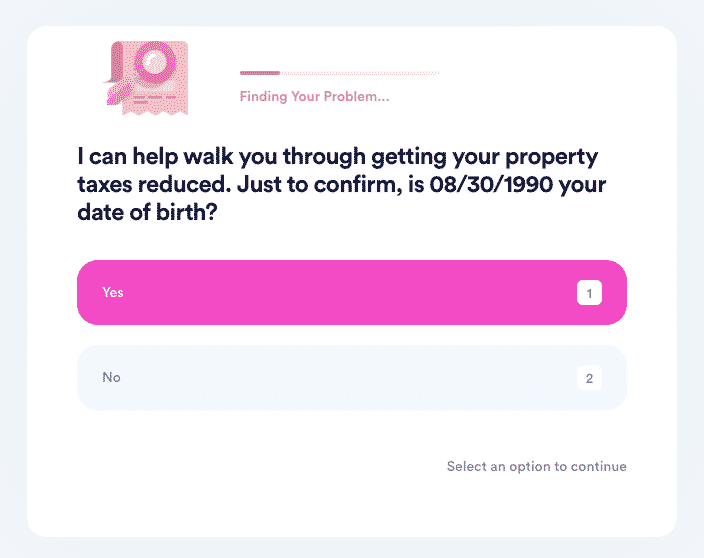 All you need to do is:
Go to your DoNotPay account

using any web browser

Enter

Property Tax

in the search bar

Give our chatbot essential information about you and your property
Our app will generate a clear-cut guide on which exemption programs you are eligible for, how to fill out the forms, and when you should apply!
If you don't get a MO-PTC refund, no worries! The same feature in our app teaches you how to appeal your tax assessment without hassle! 
Outsmart Scammers With DoNotPay
Are you troubled every time you think about subscribing to a service because you fear your personal information will leak and your privacy will become invaded?
There's no need to fret anymore as DoNotPay has come up with a way to shield you from hackers, scammers, and identity thieves alike. 
Check out how you can use DoNotPay and browse the internet care-free:
Open DoNotPay in your web browser

Locate our

Virtual Credit Card

generator

Use the made-up card number to sign up for any

free trial

Move forward to our

Burner Phone

product

Use the temporary phone number to verify any online account

Enjoy the trial without worrying about

canceling it

—the service will do it on its own
Signing up for services with DoNotPay's hacks frees you from ever falling victim to a serious crime, such as identity theft, and liberates you from the bothersome and never-ending spam calls, texts, and emails that you never explicitly agreed to receive.
What Else Is Hot About DoNotPay?
DoNotPay does wonders in protecting your online privacy, but it can do so much more for you! 
With our assistance, you can claim compensation for canceled or delayed flights, request refunds and chargebacks for unsatisfactory purchases, file warranty claims for defective products, and even overturn unjust parking tickets!
Our app can locate unclaimed funds that exist under your name, the best clinical trials for your needs, and public records that you couldn't identify on your own.