Missouri Jury Duty Exemptions—All You Need To Know
Jury duty summonses seem to come at the most inconvenient moments, but you must do jury duty unless you want to be penalized for skipping it. Is it possible to get out of jury duty in Missouri? Yes, if you have a valid reason to be excused, you won't serve on a jury. This article will tell you all about Missouri jury duty exemptions so you can request to be excused from this important civic duty.
If you decide to do your jury duty, you will have to inform your employer—, and we'll help you create a professional jury duty leave request letter in a few minutes.
Jury Duty in Missouri—The Basics
The table below contains answers to typical questions about jury duty in Missouri:
Question
Answer
How long does jury duty last in Missouri?
The duration of your jury service will depend on the complexity of the case, but the judge will give you a rough estimate of how long you'll have to sit in court
Who qualifies for jury duty?
To qualify for jury duty, you will have to be:

A resident of the summoning county and a U.S. citizen
Able to read, write, and speak English
At least 21 years old

You won't qualify if you:

Were convicted of a felony
Have a medical or physical condition that prevents you from serving

How frequently can you be called?
You can be called for jury duty at any time, but if you served in the preceding two years, you can request to be exempt
How much will you be paid?
Each state has a different set of rules about the compensation for jury duty, but Missouri typically pays state jurors $6 per day for every day they serve—some counties pay more, so always check the information on your county court's website
How can you prepare for jury duty?
Here's how to prepare:

Choose appropriate attire and show up in court on time
Answer a few questions about yourself so that the court can decide whether you can be objective
Be ready to be called for any trial
What Are the Missouri Jury Duty Exemptions?
You can be excused from jury duty if you:
Are 75 years old or older
Served on a petit or grand jury in the last three years
Are a nursing mother (you need to have a physician's note supporting this)
Can prove that absence from your work would affect the public safety, health, welfare, or interest
Are a licensed healthcare provider (you need a written statement supporting this)
Are an employee of a religious institution, and your religious obligations prohibit you to serve
Can prove that serving on a jury would cause you significant physical or financial hardship
What Happens if You Miss Jury Duty?
Skipping jury duty can have serious consequences, such as:
A fine of no more than $500
Community service
Use DoNotPay To Get Time Off From Work Easily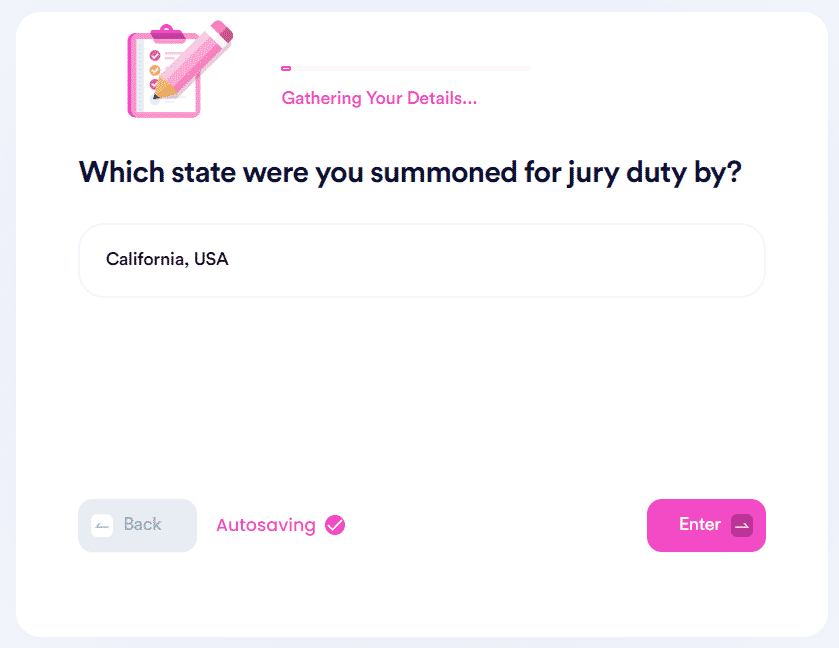 According to Missouri law, your employer must give you time off for jury duty service, and they cannot fire you for serving. If you aren't familiar with jury duty laws and don't know how to write a leave request letter on your own, DoNotPay can help you.
Our app will use Missouri jury duty laws and create an official leave request letter in a few steps. Here's what you need to do:
and select the Request Jury Duty Leave feature
Answer a few questions regarding:

The court that summoned you
Your company's name
The date when you have to report for jury duty

Upload a photo of your jury summons
After we create your letter, we can send it to your employer on your behalf. That's not all DoNotPay can do—we have a learning center that can provide more information on how a federal jury works and how much it pays or explain the jury duty laws in Jackson County.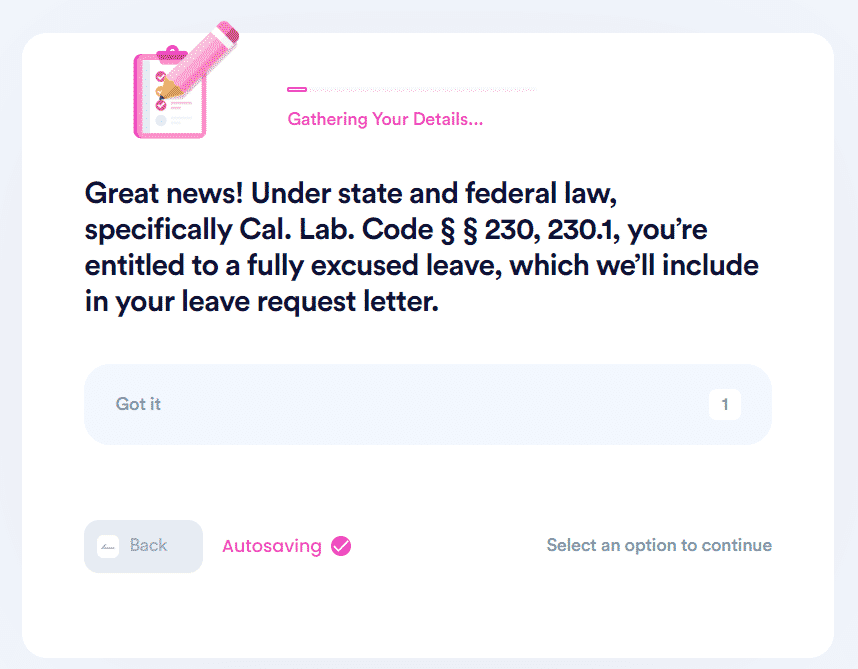 Administrative Issues Are No Longer a Problem With DoNotPay
By signing up with DoNotPay, you can say goodbye to tiring bureaucracy and:
Our App Generates Legal Documents and Letters in Your Stead
If you need some important paperwork, DoNotPay can generate it for you in record time! Our tools can assist you in drafting the following categories of documents:
| Legal Documents | Appeals and Letters |
| --- | --- |
| | |
All legal documents you create can also be notarized and faxed online in our app!