A Detailed Guide to Making a Missouri Advance Directive
Thinking about and preparing for potential medical emergencies is not comfortable, but it is essential. If you think ahead and make a legal document stating your wishes and instructions, you can avoid many issues.
This document is called an advance directive, and you need to make it in accordance with the rules that apply in your state. DoNotPay is here to offer all the relevant information about a Missouri advance directive.
What You Should Know About a Missouri Advance Directive
In Missouri, you can create two types of advance directives depending on your needs, including:
Living will (health care directive)
Consult our table for more information:
Advance Directive Type
Details
Medical power of attorney

Allows you to appoint an individual (health care proxy) to make health care decisions if you lack the capacity to do so
Outlines instructions to your legally appointed surrogate about the medical treatments you want and the ones you don't

Living will

Specifies your preferences about health care treatments if you have a terminal condition and cannot communicate
Allows you to make choices regarding organ donation
Who Can Complete an Advance Directive in Missouri and When?
Anyone older than 18 can make an advance directive in Missouri. The best time to create it is before it is needed. This will leave you with enough time to consider the options carefully and discuss them with your loved ones.
When Does an Advance Directive Become Effective?
In Missouri, an advance directive becomes effective when the doctor determines you are incapacitated. A properly created advance directive does not expire. You should still review your directives periodically to be sure they are in alignment with your current wishes.
How To Make an Advance Directive Valid in Missouri
If you wish to make your health care directive legally binding in Missouri, you need to sign it in front of two adult witnesses. These individuals need to sign the document and attest that you are of sound mind during the process.
Keep in mind that you cannot use your health care proxy as a witness.
If you decide to make a medical power of attorney, you will need to sign the document in front of a notary public as well.
How Can You Create an Advance Directive in Missouri?
You can choose between several methods of creating an advance directive, but some will yield better results compared to others. You can:
Fill out an advance directive form—Online forms are generic and don't provide room for specific requests and instructions
Create the document from scratch—It's best not to attempt making a legal document on your own if you lack the required knowledge
Hire an attorney—This option will require you to set aside a large sum of money for lawyer fees
Use DoNotPay—Our AI-powered app will make sure you get a well-written advance directive that meets your needs and complies with your state laws
Make an Advance Directive in Missouri With DoNotPay's Assistance
The simplest way of ensuring your document contains all the necessary information is to let DoNotPay generate it for you. Our app will make sure that all Missouri rules and requirements are followed. Here's what you should do:
Find the Advance Health Care Directive product
Appoint your health care agent
Inform us which powers you want to transfer to your agent
Do you want to learn more about advance directives? Our knowledge base contains information about making a living will, including the forms you can use and the cost it entails. We can also explain the differences between certain documents throughout the states, such as a health care proxy and power of attorney.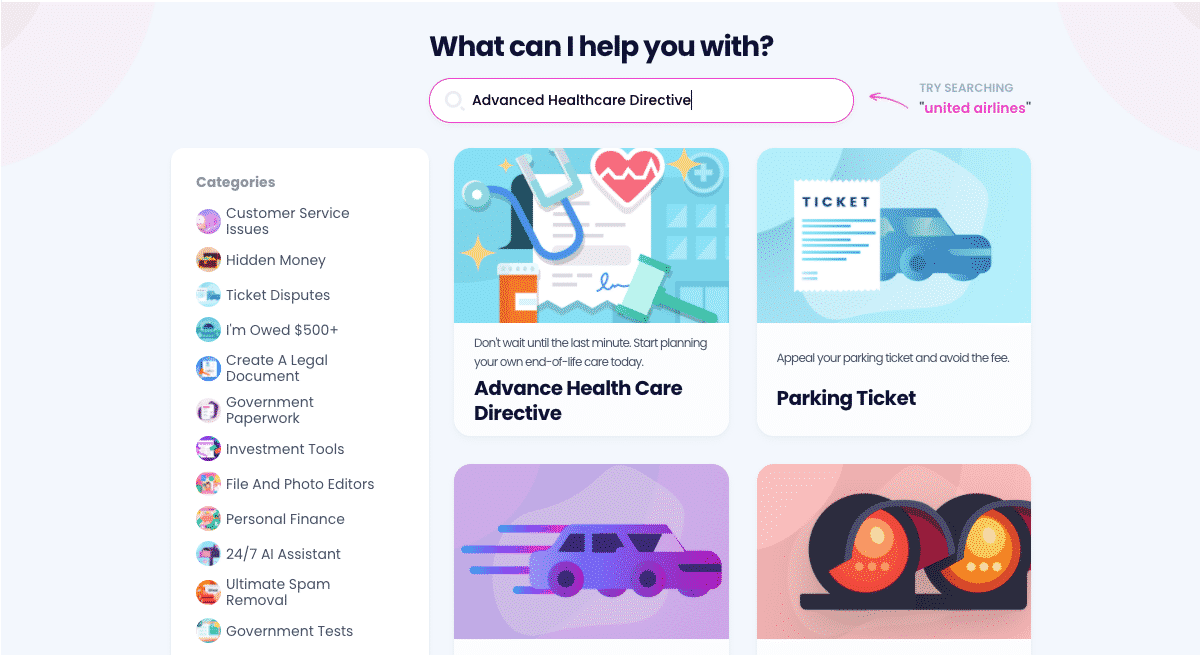 Can You Revoke an Advance Directive in Missouri?
The Show-Me State allows you to revoke your advance directive whenever you want. You can also change your health care proxy if you decide they are no longer suitable for the role.
Get the Best Solutions for Everyday Tasks With Our App
DoNotPay has come up with multiple handy products whose purpose is to make your life simpler and more enjoyable! Don't hesitate to check out the features that will help you:
Complaints and Appeal Letters Have Never Been Easier To Draft With DoNotPay
Dissatisfied with a delivery? Use DoNotPay to file an item return request and get a refund from the merchant if the product didn't meet your expectations! We can also help you apply for a late delivery refund or help you claim your warranty or insurance if the product you purchased gets damaged or breaks down. Our multi-functional app also allows you to appeal potentially inaccurate property tax assessments, banned accounts, and seatbelt or parking tickets.
If you subscribe to our platform, you will have a chance to file anonymous HR complaints and prevent discrimination at work more effectively.