Learn To Search the Mississippi Sex Offender Registry and Be Aware of Possible Threats
If you want to stay safe from sex offenders, you must check your state's sex offender registry regularly to keep track of their whereabouts. The Mississippi Sex Offender Registry is the most reliable source of information if you want to stay up to date. Searching the database manually is a time-consuming task, though, which is why many people fail to inform themselves about possible abusers lurking in their neighborhoods.
Having up-to-date information is crucial in your efforts to keep your loved ones protected, and that's exactly what we bring to the table. Once you sign up for DoNotPay's automated sex offender search, you will be able to stay alert at all times.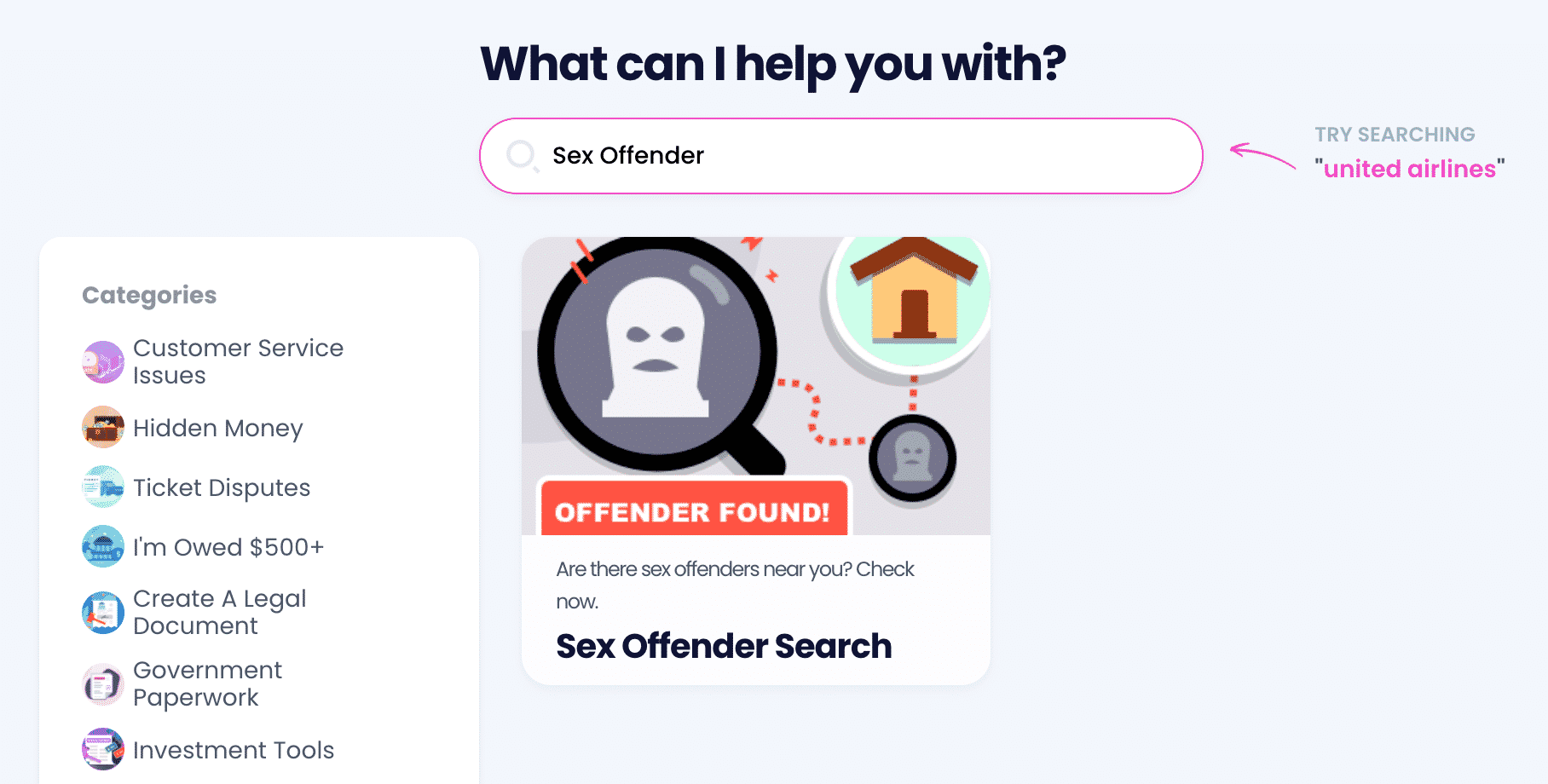 How Are Mississippi Sex Offenders Categorized?
Under the Mississippi sex offender law, registered sex offenders are classified into three tiers.
Tier I
If the convict committed any of these crimes, he or she will be found in the first tier of offense:
Spreading obscene material of and to children
Conspiring to commit, being an accessory to the crime, or attempting to commit any of the tier's crimes
Exercising voyeurism if the victim is under 16
Committing sexual misconduct between a teacher and a pupil
Committing any offense that led to a conviction in any state
Having electronic communication that includes using vulgar language or sharing pornographic materials
Tier II
Upon committing any of these crimes, the offender will be registered in the second tier of offense:
Exploitation of children and minors
Any kind of unnatural intercourse, including incest
Accessory to committing or attempting to commit any of the crimes listed in the tier
Unauthorized filming of a person
Sexual intercourse between people in positions of trust or authority, such as healthcare employees and patients or law enforcement or correctional personnel and inmates
Breaking a similar law in another state
Any conviction of a tier I offense if it's the offender's second or subsequent conviction or a registrable sex offense
Tier III
Tier III consists of offenders who committed any of these crimes:
Rape and assault with intent to do harm
Sexual battery
Child abuse
Luring children into concealment, marriage, or prostitution
Sexual intercourse with a stepchild, adopted child, or a child of a cohabiting partner
Kidnapping of minors
Minor slavery
Any conviction of a conspiracy to commit, accessory to commission, or attempt to commit any of the offenses listed in this tier
Aiding, abetting, or conspiring to commit sex trafficking
Touching of defenseless people (children or mentally defective or physically helpless individuals) encouraged by lustful motives
Sexual abuse of a vulnerable person by a health care professional or people in a position of trust or authority
Negligence of a child that was sexually abused or victim of a felonious abuse
Murder caused by any of the crimes in the tier
Any conviction of a tier II offense if it is the offender's second or subsequent conviction
Mississippi Sex Offender Laws and Regulations
According to sexual offender registration laws in Mississippi, sex offenders face certain restrictions and have a set of obligations. We will answer some of the most common questions regarding what sex offenders are not allowed to do and what their rights and responsibilities are below.
Who Is Required To Register as a Mississippi Sex Offender?
People that have been:
Convicted of a sex offense or attempted sex offense
Acquitted by reason of insanity for a sex offense or attempted sex offense
Adjudicated delinquent for any sex offense or attempted sex offense
These groups also have to register:
Juveniles convicted as adults and juveniles adjudicated delinquent in court for offenses such as rape, sexual battery or conspiracy, or accessory or attempt to commit any of these offenses
Residents who lodge, abide, or reside in Mississippi temporarily, during a period of seven or more consecutive days
Nonresidents that work in Mississippi, students, and volunteers
Military personnel on assignment
What Information Must Sex Offenders in Mississippi Provide?
Upon registering, offenders must disclose the following information:
Name, as well as the former name if they had it legally changed
All aliases used
Social Security number
Birthdate
Age, sex, race, height, weight, hair and eye color, and all other identifying factors
Photograph
Street address of all current and temporary residence within or outside Mississippi
Date, place, and address of employment
Date and place of conviction, adjudication, or acquittal by reason of insanity
Short description of the offense(s) they committed
Driver's license or state identification card number
Vehicle identification number, license tag number, registration number, and vehicle description if the sex offender lives in a motor vehicle, trailer, or mobile or manufactured home
The hull identification number, manufacturer's serial number, registration number and description, and the name if the registrant resides in a vessel or houseboat
Offense history
Fingerprints and palm prints
Medical records if the person was treated for mental abnormality or personality disorder
Biological sample
Copy of the conviction or sentencing order for the sex offense(s)
Parole, probation, or supervised release status
Arrest warrants
Every online identity, screen name, or username registered or created by the offender
What Is the Registration Deadline?
Sex offenders that are:
Convicted, adjudicated delinquent, or acquitted by reason of insanity must register in three business days from the day of judgment unless they're immediately confined
Released from prison or placed on parole or supervised release must register before they're released and personally appear at a driver's license station in three days from the release
Placed on probation must register with the court at the time the order is entered and personally appear at the driver's license station in no more than three days of the order entry
Not incarcerated, detained, or committed at the time of the duty to register must register with the sheriff of the county where they're located in less than three business days and personally appear at a driver's license station
Moving to or returning to Mississippi must notify MDPS ten days prior to moving or returning, and they have to register with the sheriff of the country within three business days and appear at a driver's license station in less than ten days
Do Sex Offenders in MS Have To Notify the State About Possible Changes?
Yes. Offenders are required to report:
Address changes by personally appearing at a driver's license station no less than ten days before changing the address
Changes in status of enrollment, employment, or vocation at any education institution by personally appearing at a driver's license station in less than three business days of the change
Name change by personally appearing at a driver's license station within three days of the change
People convicted of sex offenses that:
Volunteer for an organization in which they have direct or unsupervised contact with minors must notify the organization in writing of their conviction prior to volunteering
Are employed in any position with a person they provide personal services to where they will be in close regular contact with children must notify their employer of their sex offender status in writing
How Long Do Registered Sex Offenders in Mississippi Have To Register For?
It mostly depends on the tier they belong to:
Tier I requires registration for a minimum of 15 years
Tier II required registration for a minimum of 25 years
Tier III requires lifetime registration
All registrants have to appear personally at any driver's license station in the State to re-register every 90 days. They must be photographed and verify their home addresses and telephone numbers, names, and addresses and phone numbers of their workplaces.
What Happens if a Mississippi Registered Sex Offender Fails To Complete the Duty To Register?
The failure to re-register is punishable by:
A fine of up to $5,000
Imprisonment in the state penitentiary for a maximum of five years
Both fine and imprisonment
Driver privilege suspension
Are There Any Travel Restrictions for Sex Offenders in Mississippi?
If you're wondering whether sex offenders travel to other states, the answer is yes, but only if they notify the State. Failure to do so is considered a crime.
Can a Person That's on the MS Sex Offender List Live Near Schools and Daycare Facilities?
No. Sex offenders in Mississippi are prohibited from residing within 3,000 feet of:
Elementary or secondary schools
Childcare facilities
Residential child-caring agencies
Children's group care homes
Playgrounds, ballparks, or other recreational facilities for people under 18
How To Search the Mississippi Sex Offender List
Although many of the crimes are never reported, and a lot of sex offenders remain unregistered, there are more than 9,000 entries in the Mississippi Sex Offenders Registry. Most of the cases are registered in the following counties:
Hinds
Harrison
Rankin
Jackson
Lauderdale
Thanks to Megan's Law, the State of Mississippi is required to make the information in the Sex Offender Registry available to the public. You can access the database yourself, but you have to accept a disclaimer agreement before you proceed with the search. The agreement explains that the Registry:
Has informational value
Is updated regularly but may not reflect accurate information
Shouldn't be used to commit a crime against any offender
Forbids selling sex offender information
Once you accept the agreement, you can use one of the two search methods to scrape the database.
Name search—Enter the last and/or first name in the dedicated fields to search for sex offenders by name
Map search—Enter the offender's street, city, state, and ZIP code and set a one, two, or three-mile radius from the street you provided or within a specific ZIP code or county
You can opt to receive email notifications when a sex offender registers a home, workplace, or school address near the one that you specified. The Community Notification system is not perfect, and there's no guarantee that you will receive timely notice of perpetrators moving to your neighborhood unless you sign up for DoNotPay.
Be Aware of Possible Threats at All Times With DoNotPay
You can search the MS Sex Offender Registry on your own, but after a while, you may forget to check for updates. Believing that a sex offender won't move to your neighborhood is wishful thinking that you can't afford if you care for the safety of your family.
We offer the simplest and most efficient solution with our automated Sex Offender Search feature. All you have to do to start using our product is:
Locate the Sex Offender Search product
Choose whether you'd like to get details on a specific offender or on all registered ones in your area
Set the proximity you want to check—one, two, or three-mile radius
In less than a minute, DoNotPay will generate a report based on the parameters you set. You can also receive weekly reports and timely alerts when our AI-powered app detects a threat in your neighborhood.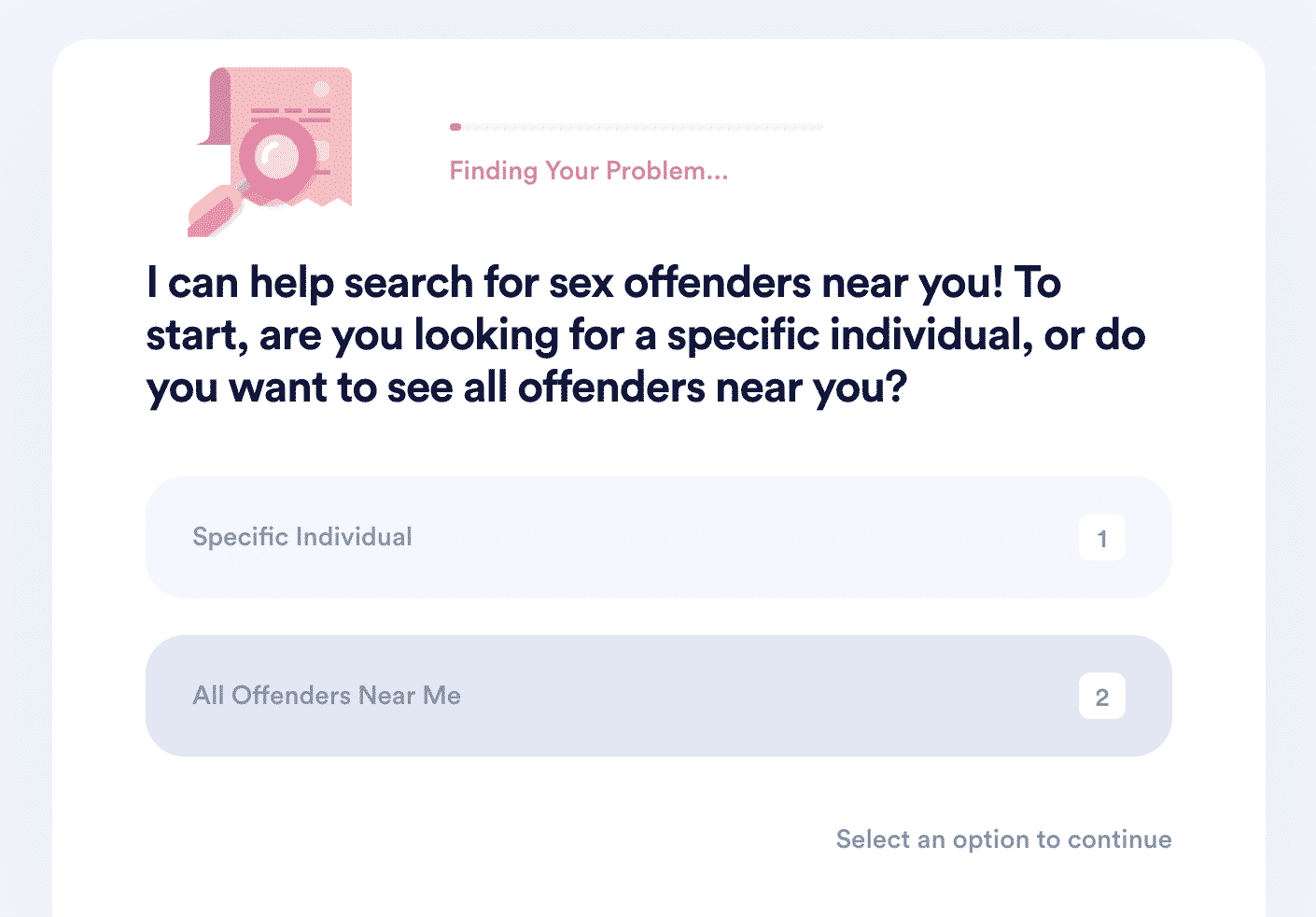 Get an Extra Buck or Two With DoNotPay
Besides being able to assist you with almost any legal issue, DoNotPay can also help you get some extra money! We can cancel any unused memberships and prevent you from being charged after free trial periods are over with our virtual credit card.
Can't claim a warranty or get cash back for a gift card? Subscribe for DoNotPay and consider it done! We can also help you return items to almost any company or even help you get a refund in a few clicks!
Helping you jump the customer service queues is also not a biggie for us, as well as taking the company that wronged you to small claims court!
No Problem Is Unsolvable for DoNotPay
By subscribing to our platform, you get access to a plethora of handy features that can help you with: