What You Should Know About Mississippi Jury Duty
Few people are happy when a jury duty summons finds its way to their doorstep. While nobody denies the importance of jury duty, it's an inconvenience that affects your life.
Still, you have to do it—if you don't attend, penalties come your way.
In this article, we'll show you how Mississippi jury duty works and what punishment awaits you if you don't show up.
If you're employed, you need to notify your employer you have jury duty and should not face any repercussions for being absent. We'll explain how you can do that effortlessly by .
Who Is Eligible for Mississippi Jury Duty?
Jury duty in Mississippi doesn't have an application form—you can't register for it. MS courts take names from voter registration and DMV lists and randomly select 12 people that are eligible for jury duty.
Mississippi law defines eligibility requirements, and it also contains valid excuses for exemption. Take a look at the following table to see who can become a juror:
Eligibility Criteria
Valid Exemption Reasons

Be at least 21 years of age
Have a U.S. citizenship
Have the ability to read and write in English
Reside in a particular county for over a year or be a qualified elector
Have no conviction of:

Infamous crime
Felony
Unlawful sale of liquors

Not have gambling issues
Not be a "habitual drunkard"

Older than 65
Breastfeeding mother (varies by county)
Disabled
Away on military duty
Enrolled student
Financial hardship
Unemployed caregiver
Served within two years as

A petit juror in a litigated case
A grand juror
How Jury Duty in Mississippi Works
Once you receive a summons, you need to go through a selection process before you actually become a juror. You can be summoned to a county, state, or federal court, but the selection phase is usually the same. It consists of the following three steps:
Appearing in court (adequately dressed) on the date indicated in the summons
Answering questions about yourself to determine whether you'll be able to provide a fair and unbiased verdict
Showing up at all court proceedings
If you fail to turn up, the judge may find you in civil contempt of court. They could fine you up to $500 or sentence you up to three days in prison.
Mississippi Jury Duty Pay
As a juror, you'll receive money for your service. Mississippi county and state courts pay $5 per day and cover any travel expenses.
Federal pay is more substantial—you'll receive $50 a day, and the pay will increase to $60 if the duty lasts longer than:
No court in Mississippi enforces employers to pay salaries to employees on jury duty.
Employment and Jury Duty in Mississippi—Can DoNotPay Help?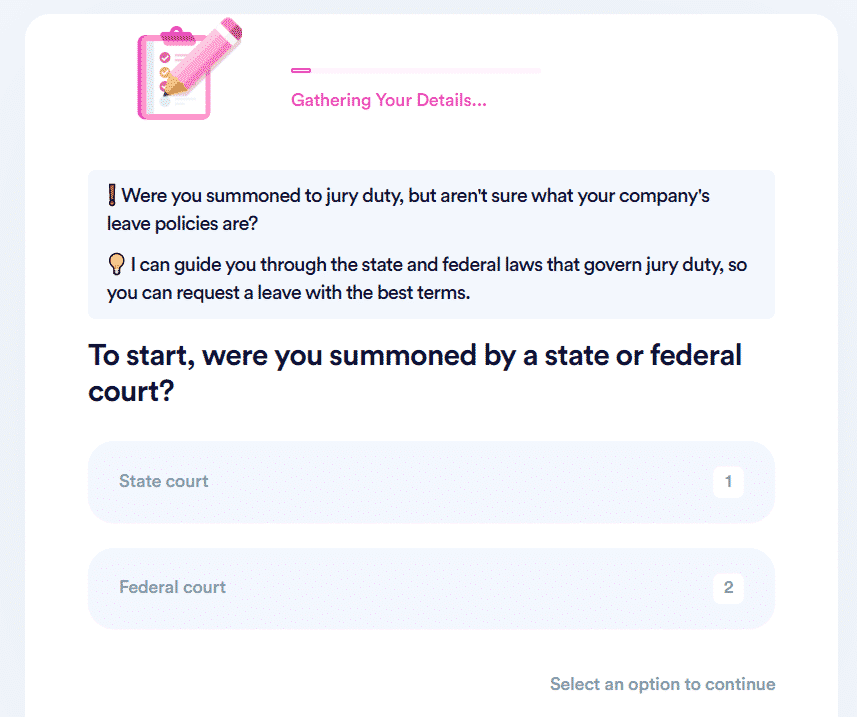 In preparation for jury duty, you'll have to ask for time off and possibly go into your employer's bad books. Although Mississippi jury duty law protects you from being fired or demoted, you should still notify your employer and formally request to be absent.
Every time you get summoned, you need to send advance notice to avoid any trouble in the workplace—DoNotPay can help you do that with ease.
Our app will draft a professional jury duty leave request letter using the information you provide to us. All you need to do is the following:
via any browser
Navigate to the Request Jury Duty Leave feature
Answer a few questions from our chatbot
Upload a photo of your jury summons
When you're done, we'll let you download the letter, or you can instruct our app to email the letter to your employer directly.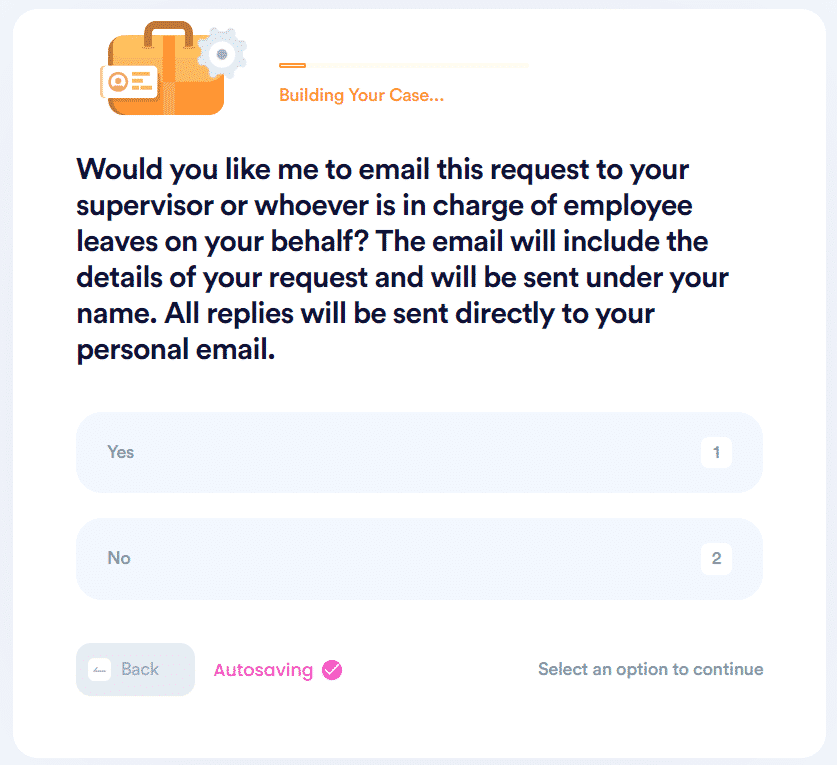 Solved Your Issue? Check Out More of Our Product Range
DoNotPay's forte is its versatility—you can use the app to resolve any problem of legal or bureaucratic nature!
As soon as you subscribe to our platform, you'll be able to:
Our App Helps You Both Save and Earn Money
Want to get more familiar with our extensive product range? Check out how, for one low monthly fee, we can help you both save and earn money by: