How To Comply With Mississippi Home School Laws—DoNotPay Has the Answers!
Homeschooling your child is a great way to ensure they get the education you want them to have.
Taking your child out of school isn't completely straightforward, though—there are laws to be observed and procedures to follow to make sure you do not fall foul of your local school district.
Mississippi is an easy state to homeschool your child in—not much is required to get started, and your homeschooling activities are not heavily regulated.
DoNotPay shows you the ins and outs of the Mississippi home school laws you need to comply with so that homeschooling in the Magnolia State is easy!
What Qualifications and Ongoing Assessments Do You Need in a Homeschool in Mississippi?
As a parent, you don't need any qualifications to teach your child at home.
You are also free to join or form a homeschool co-op, meaning that other parents can also teach your loved one.
Mississippi does not stipulate a particular range of subjects that need to be taught, so the choice of curriculum is entirely up to you. You can also determine your own assessment, progress measurement, and graduation criteria—your child doesn't have to take any standardized tests or be evaluated by an independent assessor. There is also no set number of school hours your child has to attend.
It is a good idea to maintain an annual homeschool portfolio, though. This will provide a record of:
What you have taught in each subject
The awards your child has received
Sequential progress from grade to grade
This can be of use if and when you want to:
How Should You Decide on Your Mississippi Homeschool Curriculum?
One of the most difficult aspects of homeschooling is transforming yourself from a parent into a teacher.
Although Mississippi does not prescribe the subjects you teach, you should make sure that your homeschool student gets the basics of:
English reading, writing, spelling, speaking, and composition
Math
Science
History, including that of the state, the U.S., and the world
Civics, government, and social studies
Physical education
Having decided what to teach, you can start working out how to teach it—your options are:
Designing a Teaching Program Yourself
If you feel confident in your ability as a teacher, you can design your own curriculum.
This gives you the freedom to take account of your child's preferred learning style and incorporate a mix of educational approaches, such as:
Traditional, classroom-based teaching
Active learning
Whichever you choose, your decision should result in you being able to:
Cover the appropriate topics for your child's grade
Keep your child motivated and eager to learn
See steady educational progress
Buying an Off-the-Shelf Curriculum
As a newbie in homeschooling, you may feel more comfortable buying a curriculum package that includes everything you need to teach your child.
While you are often limited to a single teaching approach with pre-packaged curriculums, you can benefit from the convenience they offer.
You can also get specialized curriculums tailored to any special needs or wishes you have, such as:
Cost may play a role in your decision, but you should concentrate on making sure that your child's needs and preferences are catered for.
What Notification Do You Have To Give for Homeschooling in Mississippi?
Before you get started with homeschooling your child, you have to make sure you have complied with the Mississippi notification requirements.
This means telling your school district in advance that you intend to remove your child from school. You can do this at any time in the year, but you should give at least 15 days' notice of your intention.
Your letter of intent needs to contain the following information:
Your child's name, address, and school grade
Your contact details
A description of the curriculum you intend to teach
Getting your letter wrong, leaving out any details, or missing the deadline can result in your homeschooling plans being derailed, but DoNotPay has a solution.
We can and even make sure it is sent to your school district on your behalf!
DoNotPay Keeps You Ahead of the Homeschooling Game in Mississippi!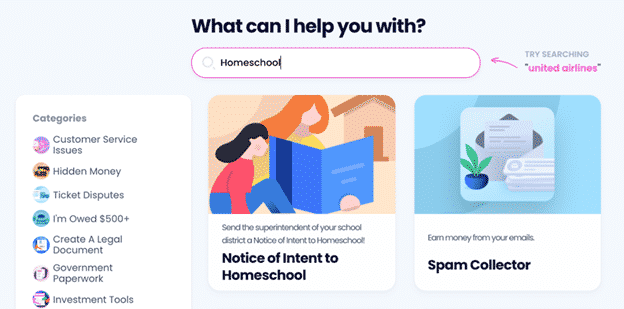 Mississippi homeschool laws may be relatively simple, but you shouldn't have to bother with admin tasks!
Our Notice of Intent to Homeschool feature gives you a correctly formatted and comprehensive letter of intent, ensuring nothing stands in the way of your homeschooling journey.
Here's how it works:
in your web browser
Search for our Notice of Intent to Homeschool product
Give us the details your school district needs
Your letter will be ready to print or have sent in a flash—you can get yourself ready for your homeschooling fun to begin!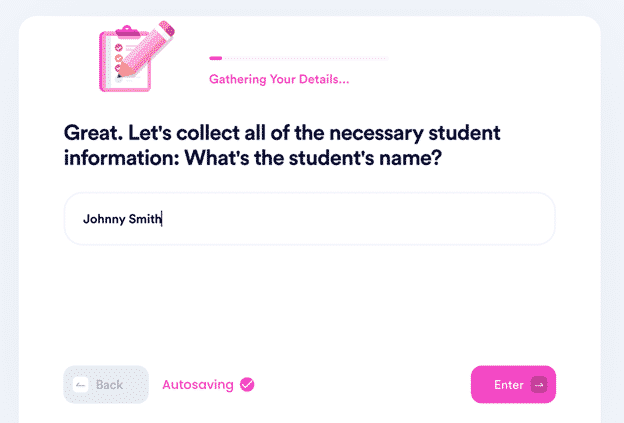 Don't Let Admin or Legal Issues Wear You Down—Hand Them Over to DoNotPay
Do you believe you may have some missing assets? Use DoNotPay's nifty product before the government claims them! Have you ever wanted to enter sweepstakes without purchasing anything? Our app will sign you up for them quickly! Trying to figure out how to reduce your property taxes or utility bills? DoNotPay can show you the way. Want to avoid getting charged for free trials that never fail to auto-renew into paid subscriptions? We'll help you cancel them before they expire.
Anything else you may need? Check out how our app can:
Check Out Our Other Robust Products
It doesn't stop there—DoNotPay can help you send a defamation demand letter, create passport photos, get gift card cash back, get any document notarized, request access to public records, claim insurance and warranty, request a college application fee waiver, appeal parking tickets, and much more.
Sign up now to get access to any of our products for one low monthly fee!