File the Appropriate Mississippi Divorce Papers
Getting through a divorce can be a real hassle if you're not familiar with state law, procedures, and precise steps. The whole process doesn't have to be complicated, time-consuming, or costly if you get the right information.
What Mississippi divorce papers do you need to file to start the process? DoNotPay provides the answer along with additional tips and an efficient Divorce Settlement Agreement tool.
Mississippi Divorce Requirements
To file for divorce in Mississippi, you need to meet the residency requirement first. According to state law, you or your spouse should have lived for at least six months in the Magnolia State before filing for divorce.
The next requirement you need to fulfill is collecting, completing, and submitting the divorce forms in the appropriate county. Here's how you can identify the correct county:
If your spouse resides in Mississippi, you need to file the complaint in either the county where:

Your spouse lives
You lived when you separated

In case your soon-to-be ex-spouse doesn't live in Mississippi, you have to file the divorce papers in the county where you live now
If you're filing for an uncontested divorce based on irreconcilable differences, and you and your spouse live in different Mississippi counties, you can file the forms in either county
Grounds for a Mississippi Divorce
You can file for a no-fault or fault divorce in Mississippi. The following table shows the specific grounds for divorce in both cases:
No-Fault Divorce
Fault Divorce
When filing for divorce, you should:

State irreconcilable differences
Agree with your spouse on all divorce matters, including:

Child custody and support
The division of assets and debts

When filing, you need to state one of the following divorce grounds:

Adultery
Drug use
Impotence
Cruel treatment
Habitual alcoholism
Desertion for a year
Insanity during the marriage
A spouse sentenced to prison
The spouses are closely related
Bigamy
The wife was pregnant with another man during the marriage
Incurable insanity for at least three years
How Does a Do-It-Yourself Divorce Work in Mississippi?
If you want to go through a DIY divorce, you may be able to find free Mississippi divorce forms online. You can have a DIY divorce if you and your spouse:
Have no children
Agree on how to divide your property
Keep in mind that your county court might use additional forms, so you should confirm that you have all the necessary documents before visiting the office to submit the documentation.
Prepare Mississippi Divorce Forms With Ease
To understand how to complete the divorce forms correctly, you need to keep in mind that there are the following two parties in the divorce process:
The plaintiff—the spouse that's filing for divorce
The defendant—the other spouse
If you're seeking a no-fault divorce based on irreconcilable differences, you'll need to prepare the following documents:
Divorce Forms
Steps To Take

Civil Cover Sheet
Joint Complaint for Divorce
Property Settlement Agreement
Affidavit Under Uniform Child Custody Jurisdiction And Enforcement Act (UCCJEA)—You need this form if you have minor children

You and your spouse:

Must sign the Joint Complaint for Divorce and Property Settlement Agreement and have them notarized
Need to take all the forms listed in the left column to your local chancery court clerk's office—Don't forget to settle the filing fee first
Should take the copies of the Joint Complaint for Divorce and Property Settlement Agreement—Your case number and the date of filing are written there
Need to ask the Chancery clerk for your divorce hearing date—You'll need to wait for 60 days after filing
Should write down the hearing date and the clerk's office phone number
Should call the clerk's office before the scheduled hearing to ensure your spouse hasn't withdrawn the permission for the divorce in the meantime
Sign up for DoNotPay to create a reliable divorce settlement agreement for your uncontested, friendly divorce.
DoNotPay Helps You Prepare a Divorce Settlement Agreement
If you and your spouse cooperate fully and agree on all divorce aspects, you don't have to spend money on hefty services. Instead, you can reach an out-of-court settlement or with the help of a mediator to keep the procedure simple and affordable.
DoNotPay can help you create a divorce settlement agreement specifying all the previously agreed divorce matters.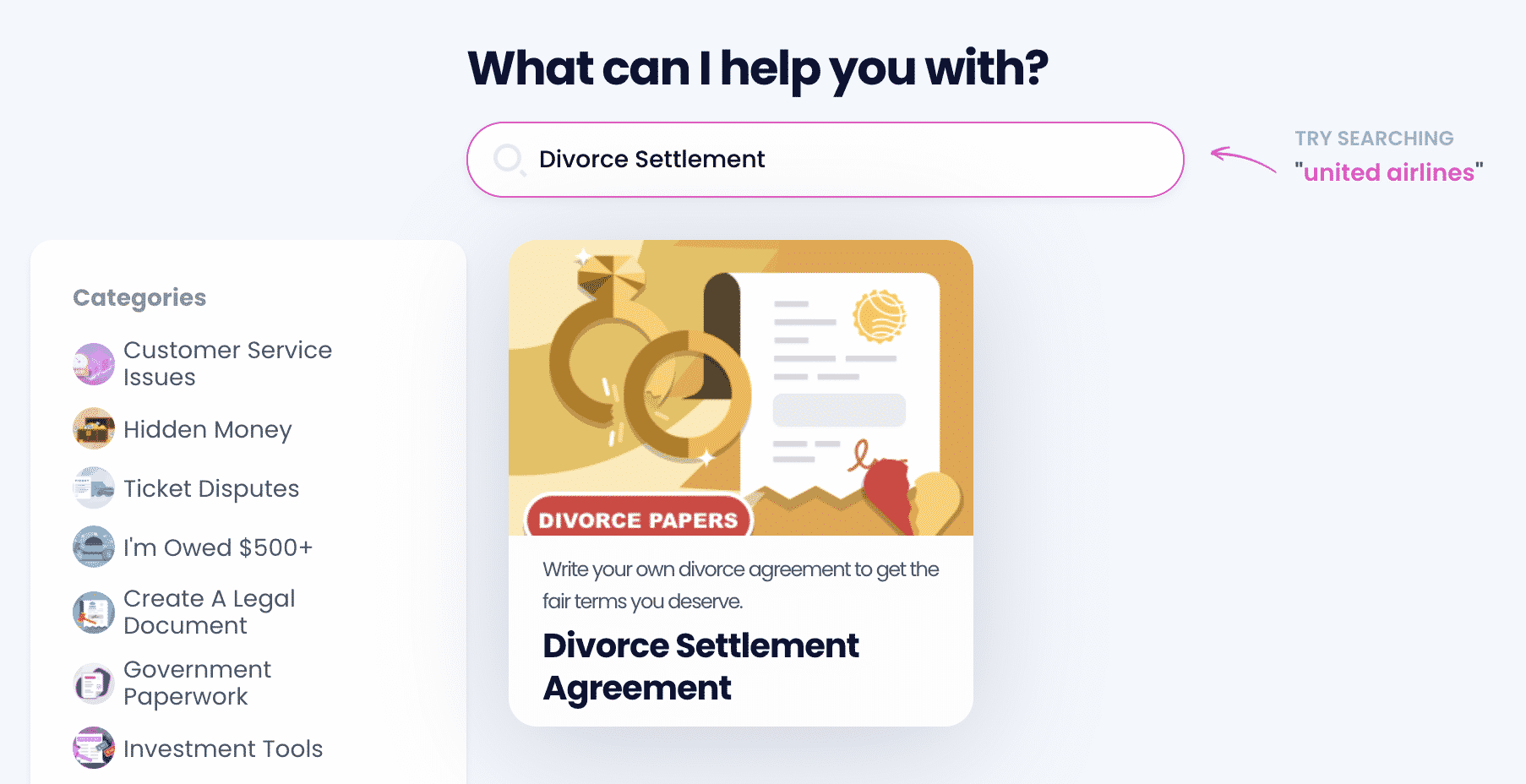 To initiate the process, subscribe to DoNotPay and:
Enter Divorce Settlement Agreement in the search box
Answer our chatbot's questions
Provide information on your assets, debts, and income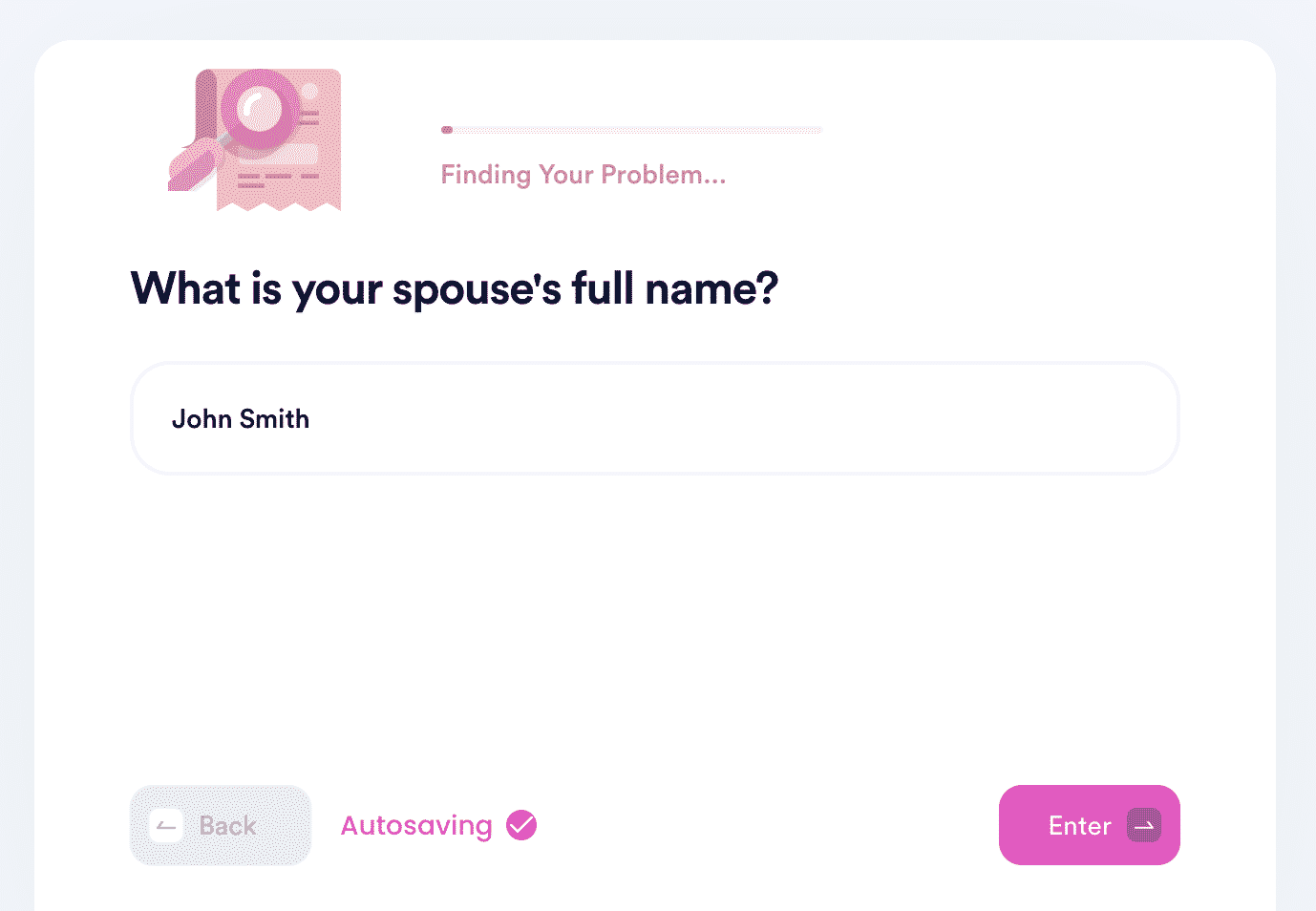 Our AI-powered app checks your state law and regulations to generate a document tailored to your particular circumstances.
Don't forget to have the necessary forms notarized. DoNotPay can also help you with this task by connecting you with one of the remote notaries public we cooperate with. Our notaries provide their services via a live audio-video call 24/7.
What else would you like to know about the divorce procedure? Check out our learning center, and you'll find answers to various questions, including how to:
Let DoNotPay Be Your Virtual Assistant!
Why bother with deciphering legal terminology or figuring out how to write a legal document when you can let us do it for you? You don't have to waste your time any longer. Once you sign up for DoNotPay, we'll do much more than draft your legal documents or help get them notarized!
DoNotPay will show you how to perform a number of tasks with ease, including suing any company in small claims court, filing insurance claims, claiming warranties, creating passport photos, and sending your neighbor a complaint letter!
Should you need assistance with requesting a refund for a delayed flight or fighting workplace discrimination, our virtual assistant shows you how it's done.
There's More We Can Do!
Tired of dealing with mundane tasks and spending hours running dull errands? We offer the perfect solution!
DoNotPay can assist you in completing tedious tasks with ease! The best part is that you will spend significantly less time on them, and you can get them done from the comfort of your home!
Paying bills, getting a free trial, canceling subscriptions, getting revenge on robocalls, requesting refunds, or making a DMV appointment is only a few clicks away!