Need a Minor Travel Consent Form? Look No Further Than DoNotPay!
A minor travel consent form is necessary whenever a child is traveling without parents or guardians. This legal document is not to be taken lightly—an incomplete child travel consent form will likely prevent your child from traveling.
If you want to know what a minor travel consent form should include, you are in the right place!
DoNotPay will explain all there is to know about a minor travel consent form and show you how to create one in minutes!
What Is a Minor Travel Consent Form?
A minor travel consent form is a legal document in which a parent or a legal guardian permits the child to travel alone or with an authorized adult. A child travel consent form should be created when:
The child is traveling alone

One parent is accompanying a child

The child is traveling with a:

Family member (grandmother, uncle, aunt)

Group (for a school trip or sports competition)

Friend

School teacher or a coach

Any other adult who is not the parent
The form typically needs to be signed by both parents when the child is traveling without them. If one parent is accompanying the child, the non-traveling parent must sign the form, except when:
The other parent is deceased

One parent has sole custody of the child
In those cases, a traveling parent has to provide additional paperwork, including:
Death certificate

Birth certificate naming only one parent

Custody papers

A

notarized affidavit

stating that one parent is absent
Rules About Traveling Minors in a Nutshell
When a child is traveling without both parents present, they may need to present a child travel consent form to:
Immigration agents

Customs officers
The rules about creating a child travel consent form differ for domestic and international travels, as presented in the table below:
Rules for Traveling Minors

Details

Domestically

A minor can travel within the U.S. without a child travel consent form. The

Transport Security Administration (TSA)

may still question a child who is traveling without both parents present, so it would be a good idea to carry a minor travel consent form just in case

Internationally

International travels often require a minor to have a child travel consent form if they are traveling alone or with a non-parent adult. Immigration agents and customs officers of many foreign countries—such as

India

,

Canada

, or the

U.K.

—

have the right to ask for a parental consent form.

They will detain the child and the accompanying adult if they have any suspicions
While regulations may not always require a child travel consent form, having one handy will prevent unpleasant situations and ensure that the trip goes smoothly.
Crucial Sections of a Minor Travel Consent Form
Take a look at the crucial elements of a comprehensive minor travel consent form in the table below:
Section of a Minor Travel Consent Form

Description

Parents

This section should include a parent's or legal guardian's name

Child

You should provide the child's:

Name

Date of birth

Place of birth

Passport details

Travel details

This section should specify if the child is traveling to meet an adult or is accompanied by an adult

Trip information

You should include information such as:

Travel dates

Origin/destination details

Purpose of the trip

Contact

This paragraph should provide:

Address of the destination

Emergency contact information

Responsible adult

You should list information about the person or the group accompanying the child

Signature

The parent or the guardian who is not accompanying the child must provide the signature

Notary or witnesses

You may need to provide additional signatures from witnesses and

get the document notarized
If you want to authorize the accompanying adult to make medical decisions for your child on the trip, you have to complete and attach a child medical consent form.
Do I Need To Get the Minor Travel Consent Form Notarized?
You may need to have the document notarized depending on where the child is traveling.
Even if notarizing a minor travel consent form is not required by law, you should do it for extra protection. Notarization guarantees that the signatures on the document are authentic.
You can visit a local notary in your area, but that could take some time since you will need to:
Find a local notary

Schedule an appointment

Bring your ID and the minor travel consent form

Head down to the notary's public office to finish the process
If you want to get the form created and notarized effortlessly, !
How Can DoNotPay Help Me With My Minor Travel Consent Form?
Drawing up a child travel consent form can be complicated. Any mistake can cause a problem at the border for you or your child. If you don't feel like writing the document yourself and having it notarized the old-fashioned way, DoNotPay can help! We will create the form and arrange online notarization for the same price!
All you have to do is from a web browser and:
Find the

Child Travel Consent

product

Type in the information about your child, the trip, and the accompanying adult

Choose whether you want the document notarized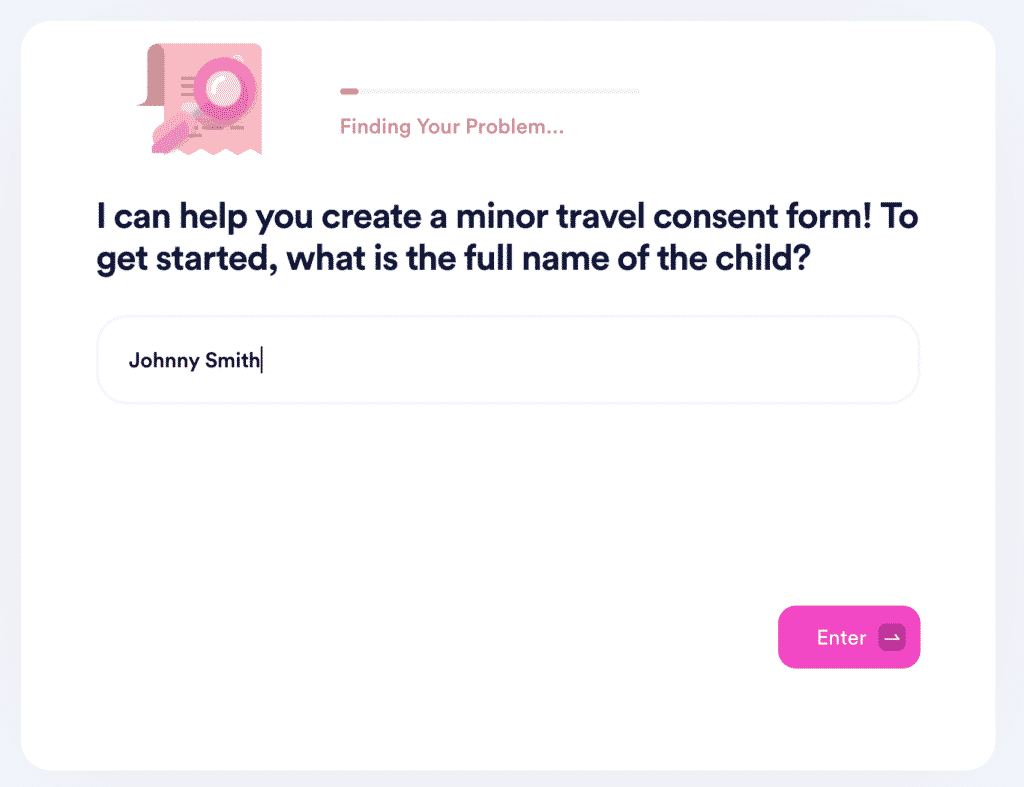 DoNotPay will generate a personalized form based on the information you provided. If you choose to get the document notarized, we will email you a link. By clicking on the link, you will be able to schedule a meeting with an online notary and complete the notarization process.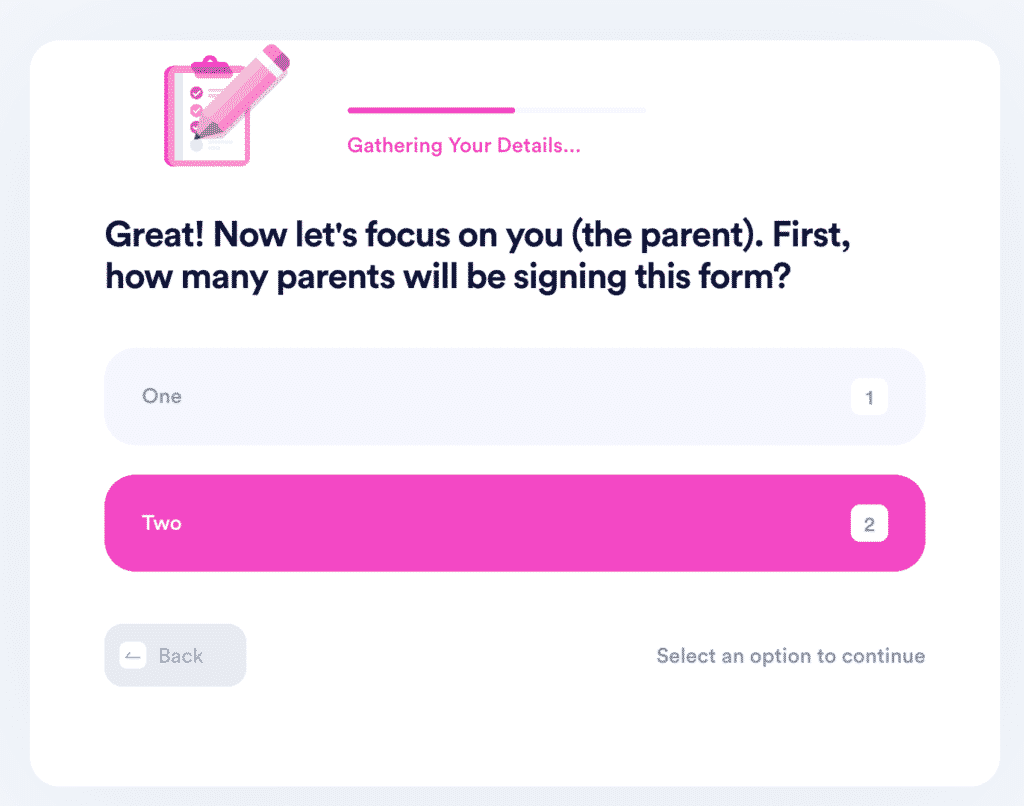 Cutting Down the Paperwork With DoNotPay
DoNotPay can generate your child travel consent form, but what else can you do with our app?
This virtual assistant helps you sort out all kinds of administrative issues without ever leaving your home.
You can:
DoNotPay's Money-Saving Hacks
Generating various legal documents and decluttering administrative mess is not the only help DoNotPay provides.
Our award-winning app is the ultimate cash-saving tool! Check out some of our popular features:
Feature:
Description:

Virtual Credit Card

Sign up for

free trials

without worrying about being charged when the trial ends.

Our VCC is not linked to your bank account, meaning there is no way for the company to charge you for a full subscription

File a Chargeback

Get your money back from greedy companies in a few clicks. Our app lets you bypass the company refusing to issue a refund and requests a chargeback directly from your bank

College Fee Waiver

Get those college application fees waived in a few clicks.

Applying to any university comes with a bunch of expenses, and if you're aiming for more than one school, the amount can go up to a few hundred dollars. Sending fee-waiver applications is easy with DoNotPay

Missing Money

Do you know that there are

almost 60 billion dollars

in the U.S. that are considered unclaimed? You may have hundreds of dollars in unclaimed money to your name without even knowing it.

Find and claim any forgotten assets in any state with our app