How To Fight For Your Minnesota Renters' Rights
The relationship between a landlord and their tenant is often delicate and can degenerate to acrimonious proportions in a jiffy. As a result, federal, state, and local laws are meant to govern such engagements and ensure a mutually beneficial business relationship exists. Minnesota renters' rights exist to ensure tenants residing in the state do not get taken advantage of or suffer at the hands of landlords.
And when the landlord violates these rights,  can follow up on the issue and ensure these rights are enforced. You can also trust us to take care to get back your deposit, file a complaint, sue the landlord and even get them to do those repairs they have been reluctant to take up. 
What Are My Rights as a Tenant in Minnesota?
As a tenant in Minnesota, you are eligible for certain rights such as :
The Right to Privacy
Minnesota laws only allows landlords to obtain access to your unit for reasonable purposes, such as
Carrying out maintenance
Showing the facility to state or local officials inspecting the property
Giving a tour to prospective tenants, buyers, or insurance agents
When there is reason to believe the tenant has violated the lease agreement
The Right to Repair
Landlords must keep the housing unit in reasonable repair unless you have a formal agreement in writing that states otherwise.
Calling an Inspector 
As a tenant, you also reserve the right to call local housing, health, energy, or fire inspection officials to look at the unit. Should they report any violations, a landlord is legally bound to remedy them. You are legally protected from retaliatory actions such as eviction notices.
Putting Your Rent in Escrow
When housing repairs are not forthcoming, even after you have provided written notice to the landlord, you have the right to deposit the rent payment with the court administrator alongside a copy of the notice. However, an escrow action can be effected by depositing all the rent due with a court administrator and paying a filing fee.
Invoking the Tenant's Remedies Act
You also retain the right to sue for health or housing code violation accruing from the landlord's failure to repair repairs even after you've notified them, or for their violation of an oral or written lease agreement.
Here's what you should do before you sue your landlord.
| | |
| --- | --- |
| Negotiate | You could talk with him to find out what the problem is and try to come to a mutual agreement. However, if your landlord doesn't care or is trying to remove you without cause, then you may not be able to negotiate. |
| Take Your Landlord to Small Claims Court | The next step is to get advice about possibly taking them to small claims court. This is going to be a last resort as legal fees can be expensive, and the process can be lengthy. However, this process can be lengthy and time-consuming. When time is of the essence, you need answers now. |
| Use DoNotPay to Protect Your Rights | DoNotPay can streamline the process of sending a letter, filing legal action and more in just a few simple steps. |
Seeking Legal Action For Abatement 
As a tenant, you can also use legal channels to get your rent reduced in part or totality after your efforts to get the landlord to carry out the repairs have proved futile. However, the onus is on you to prove:
The existence of serious safety and health issues that render the dwelling inhabitable.
That you notified the landlord or that they know of the issue that needs repair
The landlord has not made repairs even after being afforded adequate time to carry them out.
Withholding Rent
The law allows you to withhold the rent if there is a serious problem or code violation. You must, however, do the following before withholding.
Inform the landlord in writing, retain a copy of the notice and afford the landlord reasonable time to undertake the repairs.
Inform the relevant authority such as the housing, health, or fire inspector of the landlord's failure to make the repairs.
Get a copy of the inspector's report
Inform the landlord of your decision to withhold a fraction of or the entire rent until all the repairs are made.
The landlord may call upon you to defend your actions in court. You must therefore be in a position to bring the money to the court if summoned, as failure to do so may see you evicted. However, the landlord is not allowed to strike back by issuing an eviction notice as such action would be deemed retaliatory conduct.
Get Your Deposit Back
A landlord in Minnesota has 21 days to refund a tenant the unused portion of the security deposit with accrued interest and a list of the damages deducted. You can have the deposit mailed to you or collect it in person.
The law only allows the landlord to withhold the deposit equal to:
The unpaid rent
Damages to the rental beyond normal wear and tear
Other money owed to them under an agreement
Should the landlord wrongfully withhold your security deposit, they stand to double the amount, an additional $500 in damages and legal fees should it be proven that they did so in bad faith.
Challenges That Come With Fighting for Your Rights on Your Own
Pursuing the legal avenue may not get you the outcome you deserve, at least not within a short time. Legal channels are marred by procedures that can even get more protracted if the landlord decides to pursue legal recourse. The result is an unresolved issue and tons of money spent on legal fees, all for something that can be resolved at the comfort of your home. Well, if we can afford to describe it as that.
DonotPay can help you:
And if it comes to it, we can help you end the lease early.
How to Break a Lease in Minnesota Using DoNotPay
If you want to break a lease in Minnesota but don't know where to start, DoNotPay has you covered in 4 easy steps:
Search for and open the Landlord Protection product on DoNotPay. 
Select which issue applies to you. 
Answer a simple set of questions so our chatbot can collect the necessary information to create your demand letter. 
Choose whether you want DoNotPay to send the demand letter to your landlord or roommate on your behalf. If you already tried sending a demand letter and it didn't work, we can help you start the small claims court process. 
Choose whether you want DoNotPay to send the demand letter to your landlord or roommate on your behalf. If you already tried sending a demand letter and it didn't work, we can help you start the small claims court process.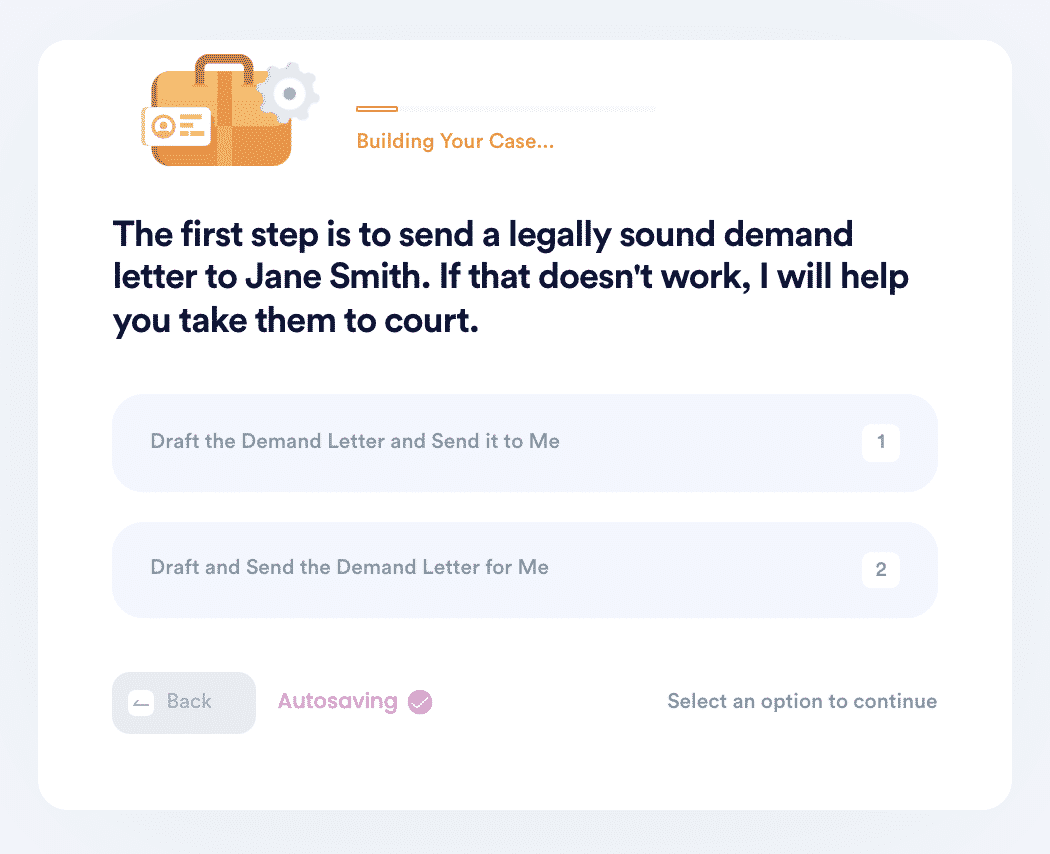 What Else Can DoNotPay Do?
Protecting your welfare as a tenant is just one of the many things we do. Our other offerings include:
Sign up with us to enjoy our many product offerings. There is something for everyone.