The Ins and Outs of Minnesota Jury Duty
Have you been summoned for Minnesota jury duty? We will explain all the North Star State jury duty details, including:
If you don't know how to inform your employer about jury duty, and our app will do it on your behalf.
Selection Process of Prospective Jurors
Prospective jurors are selected from lists of:
Licensed drivers
State ID holders
Registered voters
After you are summoned, you need to appear in court for orientation. During orientation on your first day, you will be asked a series of questions that will help the court determine whether you qualify for jury service.
Qualifications for Jury Duty
The court will establish whether you meet the eligibility criteria for serving on a jury based on the questionnaire you got along with your summons. To qualify for jury duty in MN, you must be:
A U.S. citizen
At least 18 years old
A resident of the county where you received the summons
Able to read, write, and understand English
Mentally and physically capable of serving jury duty
You will not qualify for jury duty if you:
Have been convicted of a felony
Served as a state or federal juror within the past four years
What Happens if You Miss Jury Duty, and Why Do You Have To Do It?
Jury duty is important for the U.S. legal system because it enables a fair and just trial for all. If you fail to respond to summons or appear in court, you risk being fined up to $1,000 or jailed up to 90 days.
How Much Do You Get Paid for Jury Duty in MN?
Check out the table below to see the details about jury duty compensation in MN:
| Type of Jury Duty | Compensation | Traveling Expenses |
| --- | --- | --- |
| State | $20 per day | $0.54 per mile |
| Federal | $50 per day | $0.56 per mile |
Why Can't You Get Fired for Serving on a Jury?
By Minnesota law, your employer isn't allowed to fire or penalize you in any way for serving jury duty. Even though you're protected, you must let your employer know that you'll be serving on a jury well in advance. When you receive your summons, show them to your employer so they can verify your jury duty.
There isn't a Minnesota law that requires employers to pay the employees for time off, though. Keep in mind that exempt employees may get paid for jury service—if you worked any part of the week, you are entitled to your regular wages.
Get Your Leave Effortlessly With DoNotPay
If you keep getting called for jury duty but are afraid you might lose your job over it, let our app help you. DoNotPay creates a leave request letter based on all relevant jury duty laws in Minnesota, which will show your employer why they have to give you time off.
Our AI-powered app will draw up a letter based on the details you provide about your jury duty. We can also send the letter to your employer on your behalf.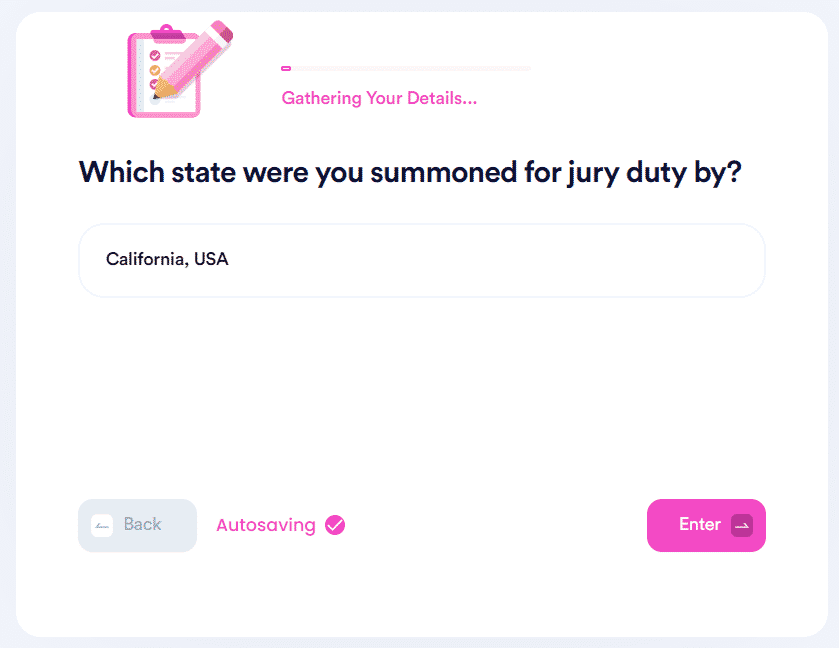 Here's what you need to do:
and select the Request Jury Duty Leave feature
Provide information about:

Type of court
State that summoned you
Company where you work
Name and location of the summoning court

Upload a picture of your summons (which will serve as proof of your jury service)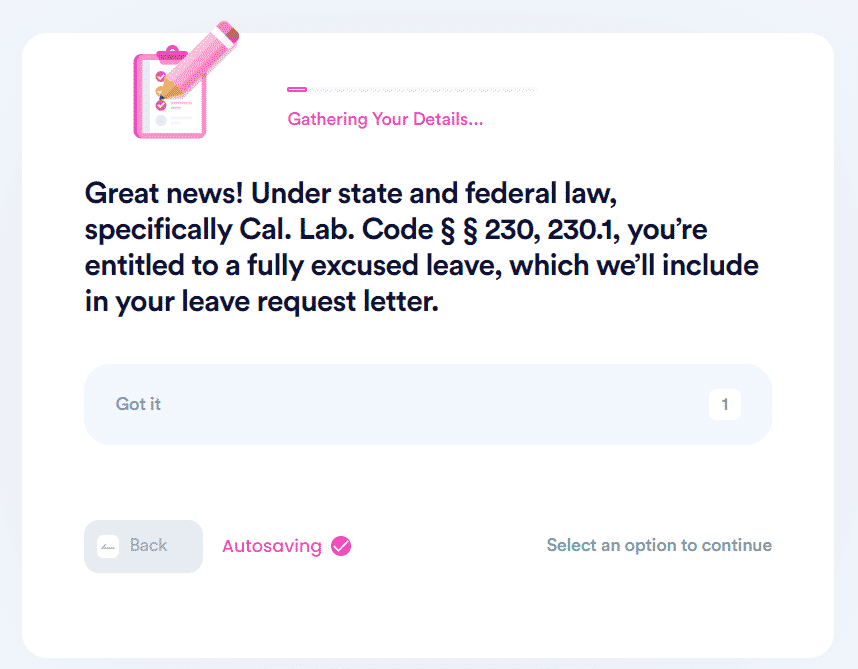 Deal With Administrative Issues With Ease
Drafting contracts and agreements, getting your documents notarized, disputing parking tickets, and creating passport photos will become a breeze once you sign up for DoNotPay.
We can also help you:
DoNotPay Helps You Protect Your Consumer Rights
Don't let companies take advantage of you! With our help, you'll be able to cancel any subscription or membership and request a refund.
As a consumer, you may be overwhelmed with endless steps and piles of paperwork you need to go through to get what you're owed. This is where DoNotPay comes in—let us be your assistant and fast-track the following:
Have you forgotten about a free trial you signed up for? Avoid being charged by using our app! With DoNotPay's virtual credit card, you'll get unsubscribed automatically without the company taking any money from you.
Are you getting spammed via email or text? Get rid of spam for good with our nifty app!