Minecraft Forgot Password: How to Get Your Villagers Back to Work!
Were you playing Minecraft and forgot your password? What a bummer! Don't leave your villagers in limbo. Let DoNotPay help you recover your Minecraft password and get you back in the game.
Sure, you can try to reset your Minecraft password on your own, but heads up—the process is confusing and the instructions differ greatly by platform. If you DIY, expect to have to consult multiple websites and apps just to get a new password. The good news is, DoNotPay can do all the hard work for you! 
In fact, DoNotPay can reset your Minecraft password on any platform: 
Minecraft Java Edition

Minecraft for Windows

Minecraft for Mobile Devices

Minecraft for PlayStation

Minecraft for Nintendo Switch

And more!
DoNotPay can also help you if you've forgotten a password for other games and platforms like:
Grab your iron pickaxe: DIY steps to reset your Minecraft password by yourself
If you want to reset or recover your Minecraft password on your own, start by visiting the Minecraft Help Center. You'll immediately notice that you're about to go on an adventure, as the Minecraft forgot password directions are not in one central location. In a nutshell, here's the process to find the information that you need.  
Determine which Minecraft platform you're on.
Minecraft is played on numerous platforms. How you go about resetting or recovering your Minecraft password will depend on which platform you're using. 
In the Minecraft Help Center, do a search for your specific platform.
Once you know what platform you're using, navigate to the Minecraft Help Center. Do a search for "platform name" + the phrase "forgot password." You'll then need to follow those platform-specific instructions. 
For

Minecraft Java Edition

, you'll need to know whether you have a Minecraft account, a Mojang account, or a Microsoft account. Why? Because each of these accounts has different password reset instructions! 

If you're a student who forgot your

Minecraft Education Edition

 password, you should contact your teacher or your school's IT department.  

For

Xbox, Minecraft for Windows, and most other devices/platforms

, it is recommended that you download the corresponding Minecraft app onto your smartphone. Then, follow the password reset/recover directions on the app. 
Are you ready to cry yet? We don't blame you! But wait, there's more…
Are you stuck? Get help from other Minecraft users.
Your fellow Minecraft players may be able to help you. You can also find countless Minecraft forgot password videos on YouTube. Proceed carefully, as Minecraft password reset instructions you get from unofficial sources may be outdated or just plain wrong. 
Bang your head against the wall. (Just kidding!)
Please don't do anything crazy like throw your gaming system in the trash. Instead, head over to DoNotPay and let us recover a forgotten Minecraft password on your behalf. 
Reset your Minecraft password with the help of DoNotPay
Don't have all day to reset your Minecraft password? Don't want to download apps you may not ever use again? Not even sure what platform you have? DoNotPay lets you recover your password in 6 simple steps:
1. Go to the Recover Passwords product on DoNotPay and select the type of account you are trying to recover, such as email, streaming service, social media, gaming, eCommerce, and more.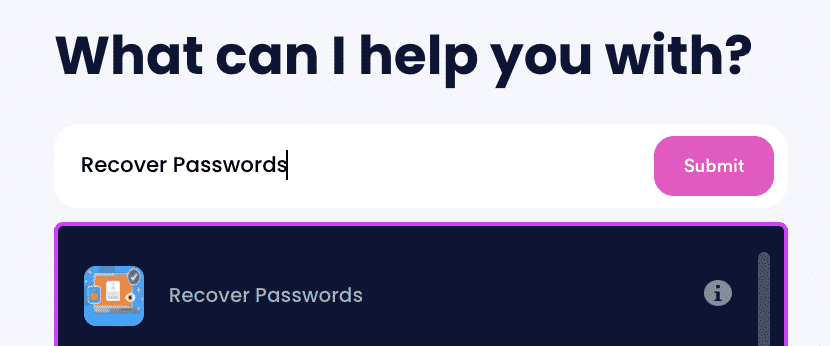 2. Tell us more about your account, including usernames and associated emails and phone numbers.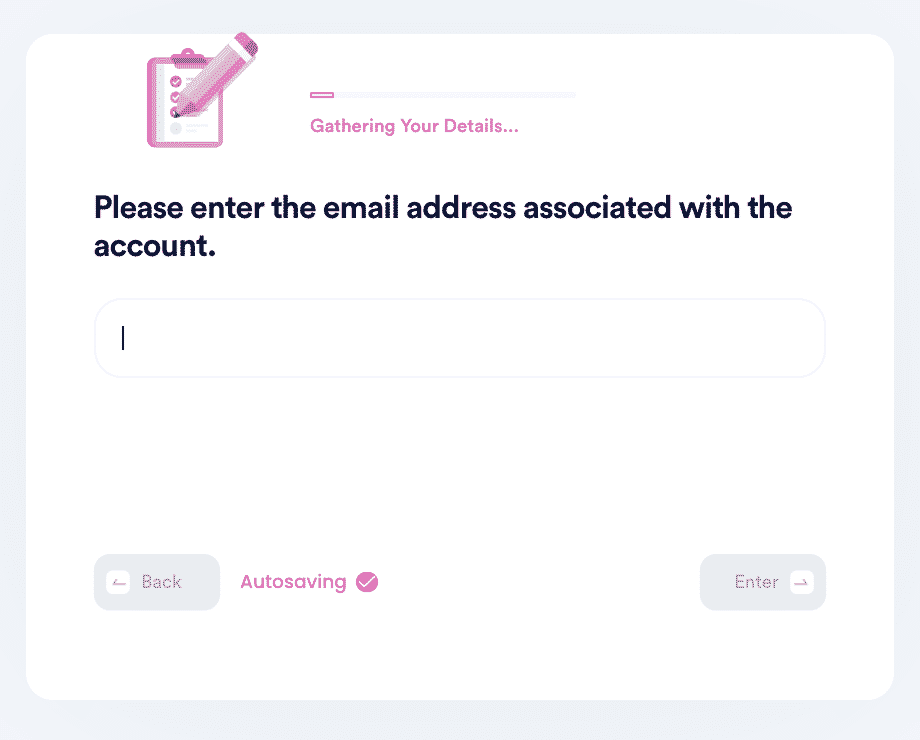 3. Help us verify your account ownership by entering the date you first created the account, when you last logged in, and any payment methods saved under the account.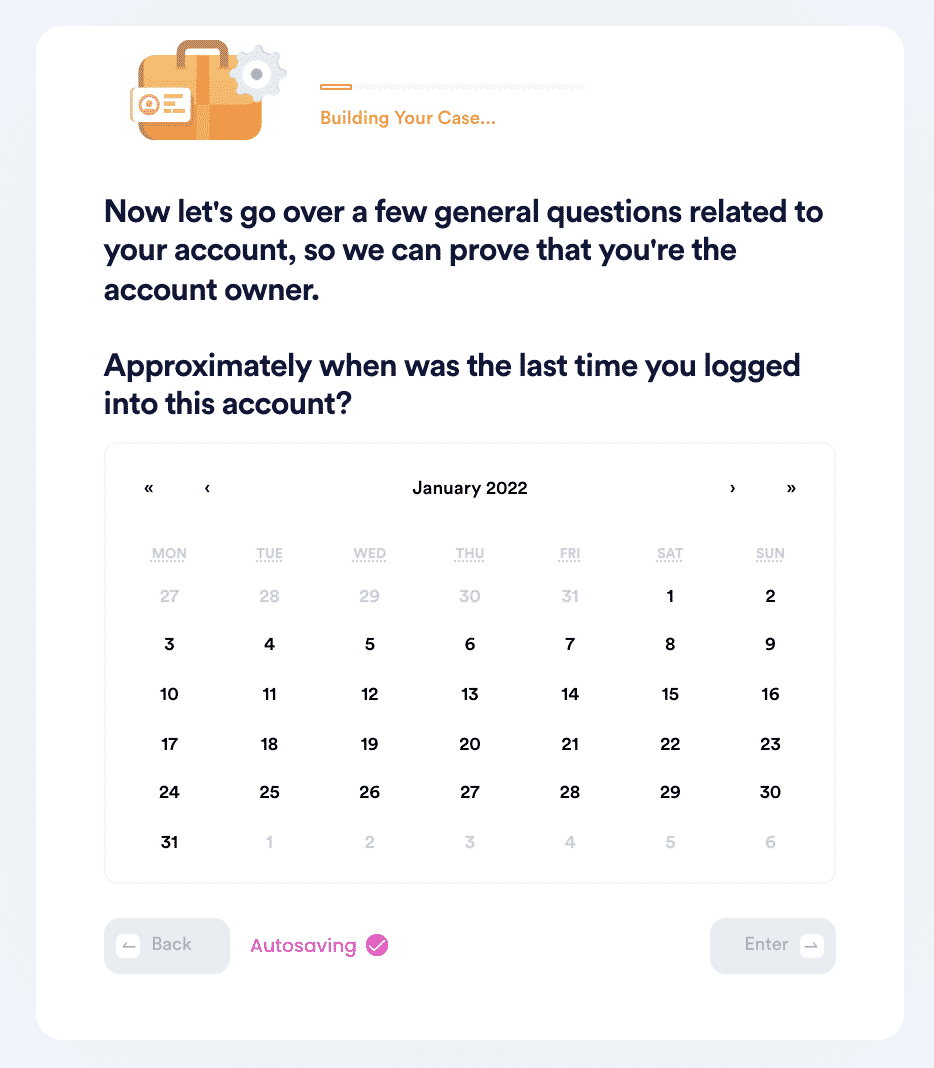 4. Upload photographic evidence if you have any that can help prove your account ownership.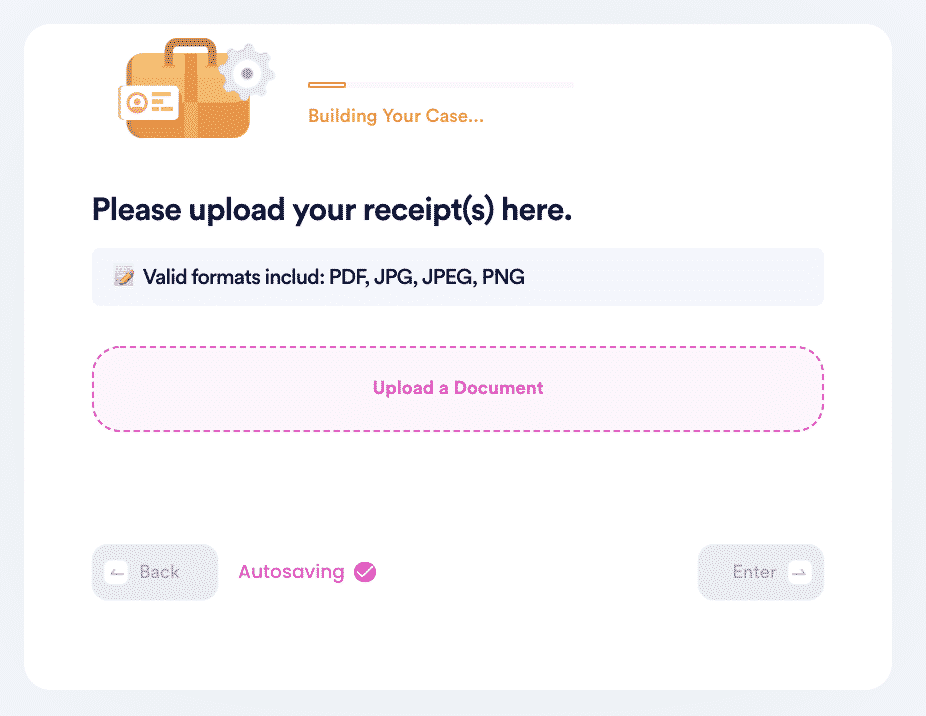 5. Enter any last known or previously used passwords to help verify your identity.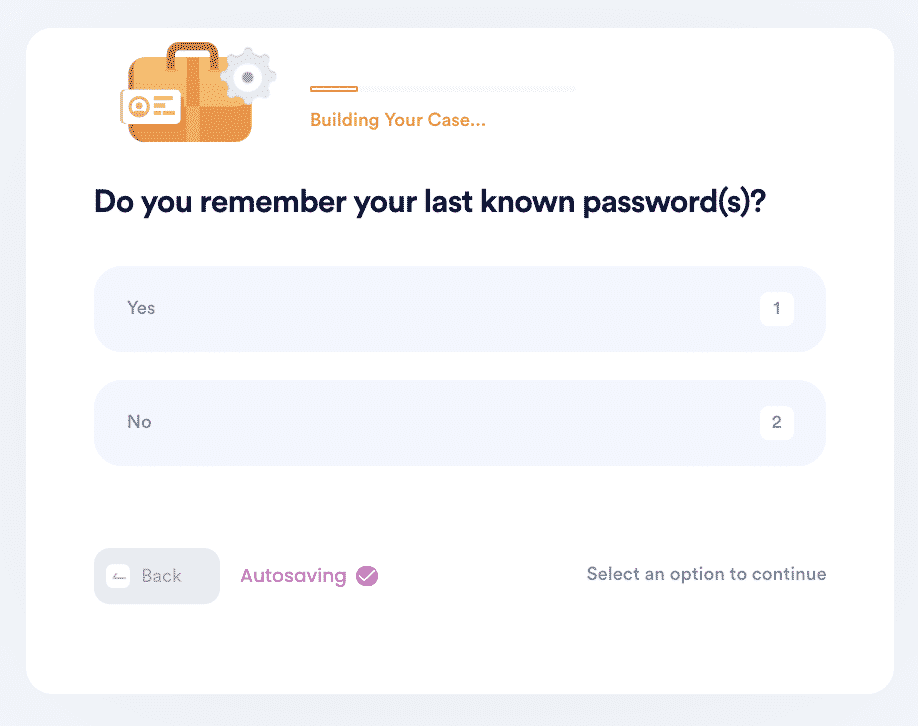 6. Enter your contact information and submit the task!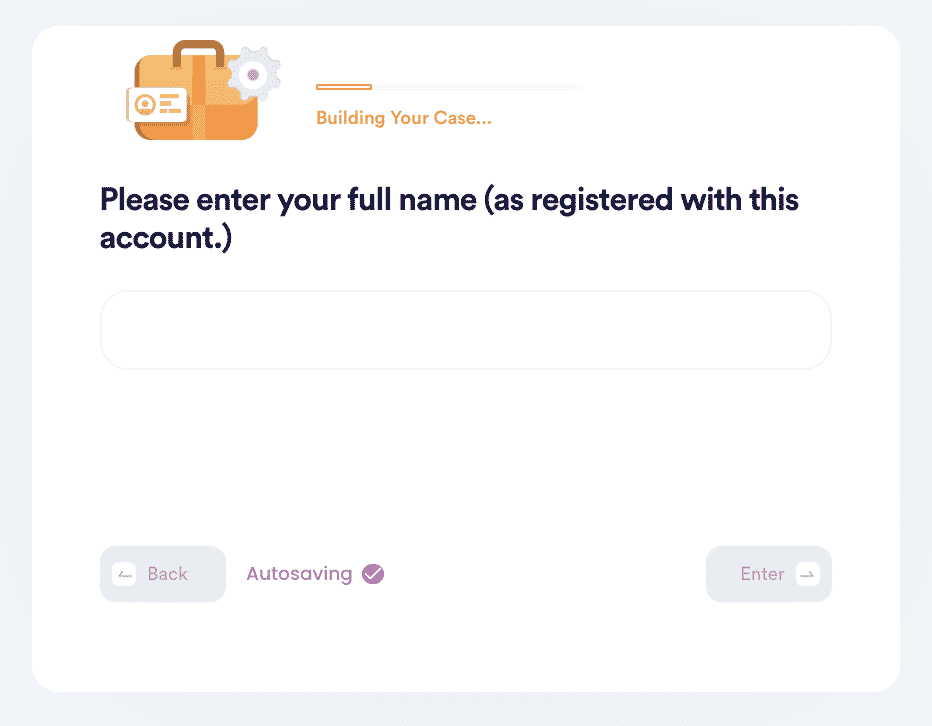 That's it! You don't have to test the limits of your patience (and sanity!) if you forgot your Minecraft password. DoNotPay does the hard work, so you can sit back, relax and plan your next Minecraft strategy.
3 Reasons why you should reset your Minecraft password with DoNotPay
With DoNotPay, you don't have to visit multiple websites or apps to reset your Minecraft password.

 All you have to do is access DoNotPay's app, and you're good to go!

DoNotPay saves you time.

 You've got better things to do then jump through hoops just to reset your Minecraft password. Leave the multiple steps and tedious work to us!

DoNotPay resets Minecraft passwords on all platforms.

When you use DoNotPay, you don't have to sift through endless instructions that don't apply to you.
DoNotPay can reset your WiFi password, too!
If you forgot your WiFi password, playing Minecraft will be the least of your concerns. You need WiFi for work, school, and other important activities. If you forgot a WiFi password, DoNotPay can help you reset or recover it.
What else can DoNotPay do for you?
DoNotPay does more than help reset and recover forgotten passwords. 
Just download the DoNotPay app to get started.