All You Need To Know About Military Spouse Scholarships
Many scholarships exist to reduce the educational costs of active and retired members of the U.S. Armed Forces as a way to thank them for their service. Do military spouses enjoy the same treatment, though?
As a military spouse, scholarships and grants might be available to you. Use this guide to learn where to find military spouse scholarships and how to apply for them!
Military Spouse Scholarships—Where To Find Them
Check the following table to learn about resources that can help you find scholarships for military spouses:
Resource
Details
Government organizations
The Veterans Benefits Administration
Branch aid societies

Air Force Aid Society
Army Emergency Relief
Coast Guard Mutual Assistance
Navy-Marine Corps Relief Society

Spouse clubs
Some of these clubs offer annual scholarships to members of the U.S. Armed Forces and their spouses and dependents demonstrating financial need. Sometimes, you don't even need to be a member to be eligible. Check where your local spouse club is located and get in touch
Private organizations

National Military Family Association
Veterans United Foundation
Pat Tillman Foundation
ThanksUSA
Children of Fallen Patriots Foundation
The Military Spouse Ambassador Network
Paralyzed Veterans of America (PVA)
Disabled American Veterans (DAV) Auxiliary
Tragedy Assistance Program for Survivors (TAPS)
The Rotary Foundation
Society of Military Spouses in STEM (SMSS)
Veterans of Foreign Wars (VFW) Unmet Needs Program
Army Women's Foundation

Online search tools
You can't search for scholarships for military spouses explicitly, but you can search for scholarships for active-duty military members and veterans, which often award dependents and spouses as well
What Are Some of the Best Scholarships for Military Spouses?
Check out the table below to learn more about available scholarships for military spouses:
Category
Award
General

My Career Advancement Account Scholarship
National Military Family Association Military Spouse Scholarship
Post-9/11 GI Bill
Spouse Education Assistance Program
Military Spouse And Caregiver Scholarship Program
Tillman Military Scholars Program

Military spouse nursing scholarships
The Army Nurse Corps Association Scholarship
Scholarships for military spouses in graduate school

American Military Partner Association Military Spouse Scholarship
National Military Family Association Military Spouse Scholarship
Pat Tillman Scholarship
How To Apply for Scholarships for Military Spouses
The application requirements for military spouse scholarships depend on the award you're applying for.
The Application Process for the MyCAA Scholarship
The My Career Advancement Account is a workforce development program specially designed for women who are spouses of active or retired members of the U.S. Armed Forces. Thanks to this program, military spouses can start college or continue where they left off. The MyCAA Scholarship requires a unique application process because you're not only applying for financial aid, but you're also choosing your school, major, and courses.
To apply for MyCAA:
Explore the available career paths
Pick a school and degree or certificate that works for you
Make an Education Training Plan (ETP) that contains all of your potential courses. Keep in mind that once you make that plan, you cannot change it in the future, so make sure to double-check it
Contact the admissions advisor of your chosen school. They will walk you through the final steps of the application process
Submit your application for MyCAA financial aid
Applying for a Regular Federal or Private Scholarship
Besides scholarships that are explicitly for military spouses and dependents, a smart move would be to consider regular scholarships as well. That way, you ensure the most financial relief possible while seeking your degree. If you opt for a scholarship or grant from a federal or private donor, you might need to submit the following documentation:
Free Application for Federal Student Aid (FAFSA) or any of the available applications for state financial aid, for example:

Texas Application for State Financial Aid (TASFA)

College Scholarship Service (CSS) Profile
A resume
High school or college transcripts
Proof of residency
No-Essay Scholarships Application Process
No-essay scholarships are an excellent option for military spouses as they work like a raffle and usually don't require much work around the application process. Some scholarships require additional documentation or a student portfolio, but the requirements for most of them typically entail entering your basic personal information, such as:
Your full name
The name of your school
Your state of residence
Submitting tens of applications like that every day while also being a full-time military spouse can be exhausting, but it doesn't have to be! If you subscribe to DoNotPay, our app will complete those repeating forms for you! While the app works in the background, you can focus on submitting more challenging applications and maximize your chances of getting extra financial aid!
DoNotPay Helps Military Spouses Find the Best Scholarships!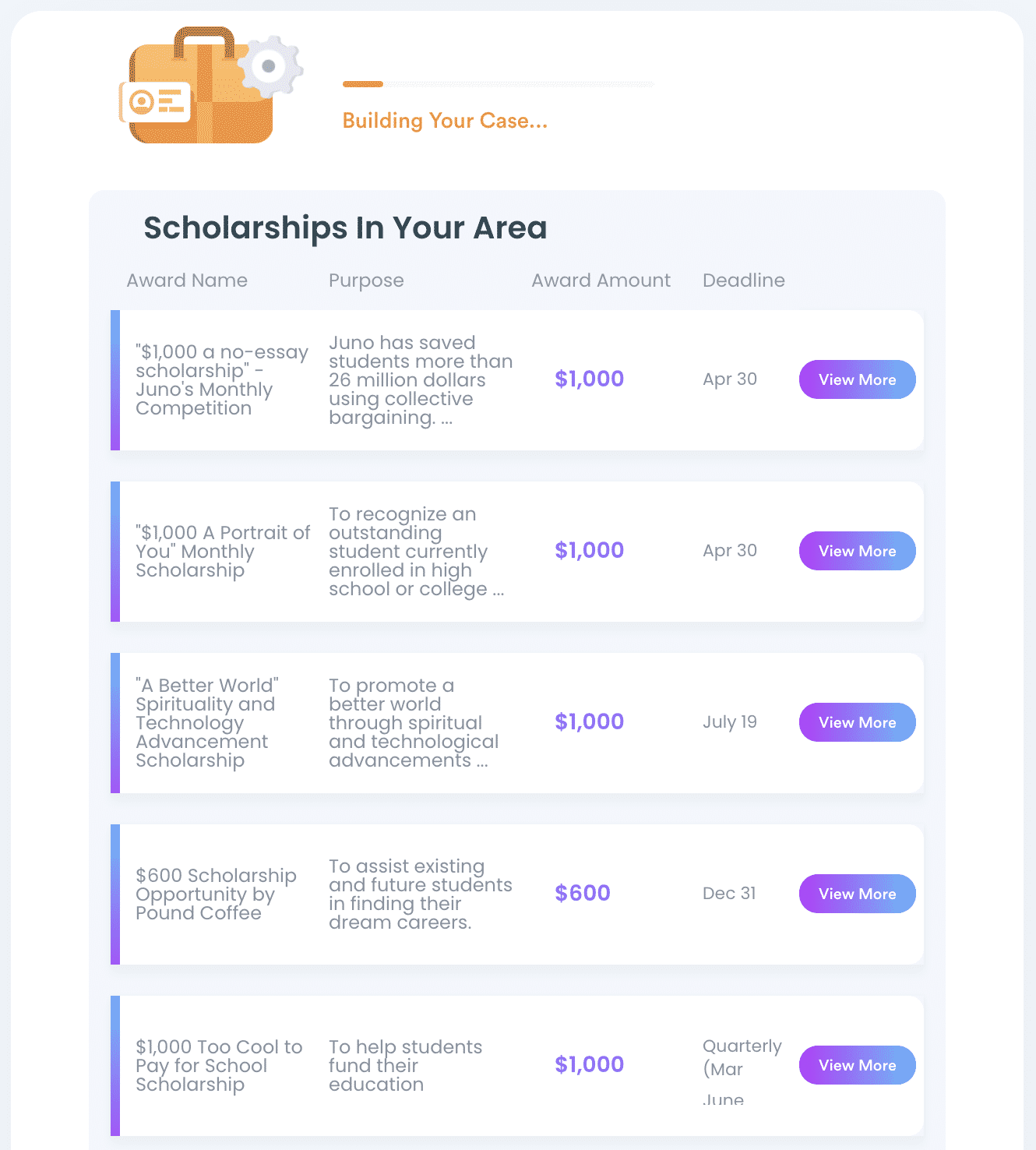 Affording higher education in the United States is already challenging, and being a military spouse makes it no easier. The situation becomes more complicated if you're a mother or a caregiver. That's why DoNotPay offers a way to search for scholarships more quickly and efficiently!
To get started:
Enter Apply for Scholarships in the search bar
Answer a few brief questions about your qualifications
After completing all steps, you will get a list of all scholarships you're eligible for so that you can:
Learn about each scholarship's requirements
Compare awards
Choose the scholarships that work for you
Are you and your spouse foreigners? Check out our guide on scholarships for international students! DoNotPay can also help if your child is a high school senior preparing for college!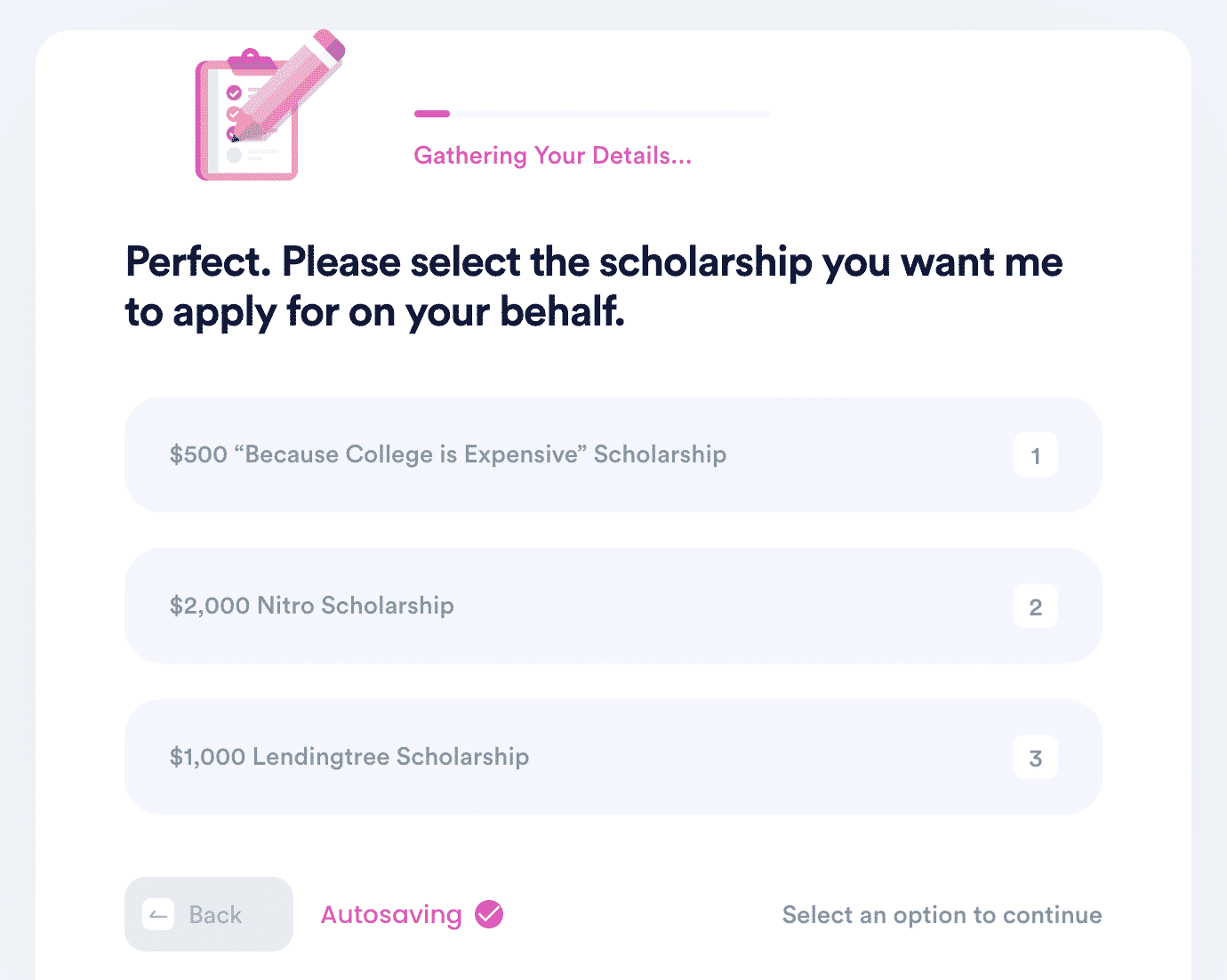 DoNotPay Helps You Run Errands Without Leaving the Comfort of Your Home!
If you're on a tight schedule and you can't afford to spend hours running errands, DoNotPay steps in with a perfect solution! You can skip going to the post office to request an item return or visiting a notary public to get your documents notarized—Our app will help you get it all done without going anywhere!
Visiting your local Walmart to have your passport photo taken is unnecessary since DoNotPay can help you get it at home!
Consult the list below to see what other tasks you can complete using our app:
Unsubscribe From Unwanted Services at Any Time
Companies tend to keep charging their clients monthly subscription fees automatically if they don't end their subscriptions. Stop wasting money on forgotten memberships—DoNotPay will show you how to terminate your subscription in a few clicks!
You can also learn how to sign up for a free trial without getting charged, create a burner phone number or a virtual credit card hassle-free!