How to Find the Best Military Scholarships In Your Area
Are you considering military scholarships as your way of paying for college? Did you put your college education on hold to serve in the military?
Serving your country is a noble decision, and it should not mean sacrificing your dreams of getting a college education.
You can pursue your dream program when in service or after going back to civilian life. Either way, the government and various organizations have numerous military scholarships and grants reserved for active service members, military spouses, children, future members, and veterans.
This guide will show you where you can find and how to apply for the military scholarships you are eligible for with minimum effort.
Types of Military Scholarships That You Can Apply For
The U.S. military has scholarship programs for college and graduate school students regardless of their major—there are even military medical school scholarships.
Most military scholarships can be categorized as follows:
Active duty military scholarships
Military spouse scholarships
Scholarships for military children
Army ROTC Scholarships
Active Duty Military Scholarships
These are scholarships reserved for people who are currently serving in the U.S. military. Some scholarships are available for military members in all five branches, and others are meant for members of a particular branch.
Here are some of the scholarships for military members regardless of their branch:
AFCEA War Veterans Scholarship
Marine Corps Essay Contest
AMVETS National Scholarship Program for High School Seniors
Imagine America Military Award Program
The following programs are offered by specific military branches only to their enlisted members:
Military Branch
Scholarships
Army

Army Scholarship Foundation
The U.S. Army Women's Foundation Legacy Scholarship
Health Professions Scholarship Program

Coast Guard

College Student Pre-Commissioning Initiative

Navy

The Navy Seal Foundation Scholarships

Marine Corps

The Marine Corps Scholarship Foundation
The Frederick C. Branch Scholarship
Women Marine Association Scholarships

Air Force

The Airman Scholarship and Commission Program (ASCP)
AirForce Tuition Assistance Program
Scholarships for Outstanding Airmen (SOAR)
Military Spouse Scholarships
Scholarships for military families, such as spouse scholarships, are a way of giving back to service members and their families for the sacrifices they make. These scholarships are funded by the different branches of the U.S. military, private organizations, and state and federal governments.
Some awards are tailored for spouses of active-duty military members. Others are meant for spouses of the members who died or became disabled while on duty.
Some of the military spouse scholarships include:
Spouse Education Assistance Program
USAA Enlisted Coast Guard Reservist Family Scholarship
ThanksUSA Scholarship
Gold Star Scholarship Program
Scholarships for Military Children
Every branch of the military offers some scholarship programs for children of their service personnel. Most are available to children of active service members, the retired, and the deceased. Such programs include:
General Henry H. Arnold Education Grant Program
The Survivors & Dependents Assistance Program
The Scholarship for Air Force Enlisted Member's Dependent Children
Army ROTC Scholarships
The ROTC programs are available in every military branch and can provide you with college funding in return for your enrollment. These military scholarship programs are an award for service. This means that you must enroll in the military and make a commitment to serve.
The programs are perfect for high school seniors who would otherwise struggle with college expenses. The ROTC programs include:
Army ROTC
Air Force ROTC
Navy ROTC
How To Find the Best Military Scholarships
Your scholarship search strategy may depend on the type of military scholarship fund you are looking for. The following are some of the resources that can help you:
High school counselors—If you are in high school and looking for military scholarships for high school students, your school's counselors can guide you appropriately
Military recruiting officers
Division commanders—If you are already enlisted in the military service, you should consult your commanding officer or division commander for more information on the scholarships offered by your branch
State agencies
Federal agencies
Online search
Various organizations
What if you could get a complete list of the military scholarships you are eligible for in a matter of minutes? You can, with DoNotPay! All you have to do is subscribe to DoNotPay and let the app do its magic.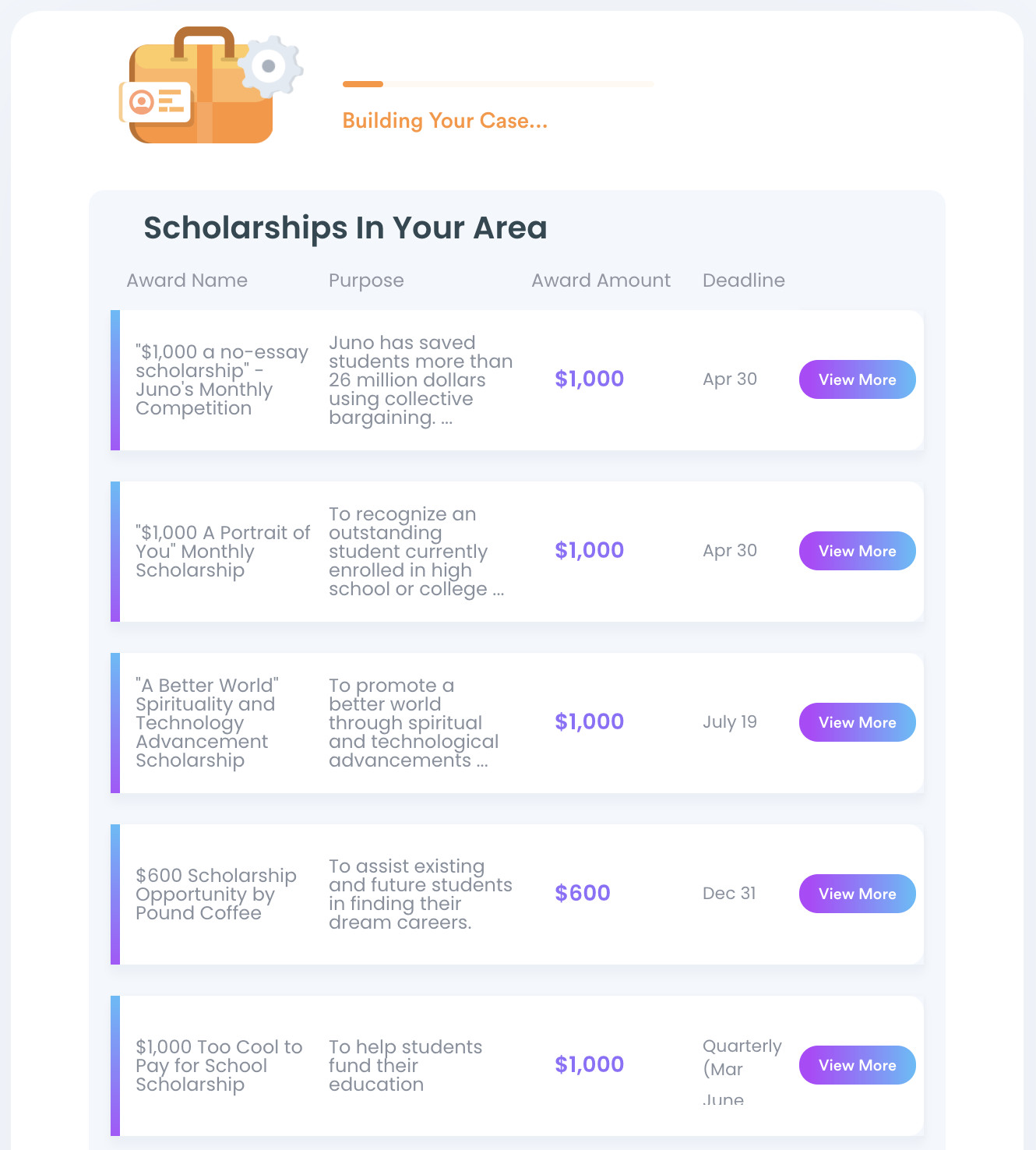 How To Apply for Military Scholarships
Every military scholarship program has its rules on how to apply. Once you have found a program that looks promising, consider these tips for better chances of landing the award:
Research the program thoroughly—Most programs require military service commitment, and you should understand what you are committing to
Plan for the application steps that can take more time, like asking for recommendation letters and writing essays
Keep track of application deadlines
Find Military Scholarships in Less Than Five Minutes With DoNotPay
Would you like to find all the military scholarships you are eligible for in a few seconds? Sign up for DoNotPay and get your personalized list instantly. To proceed, follow these steps:
Open DoNotPay
Go to Apply for Scholarships
Answer a few questions related to your education level and academic interests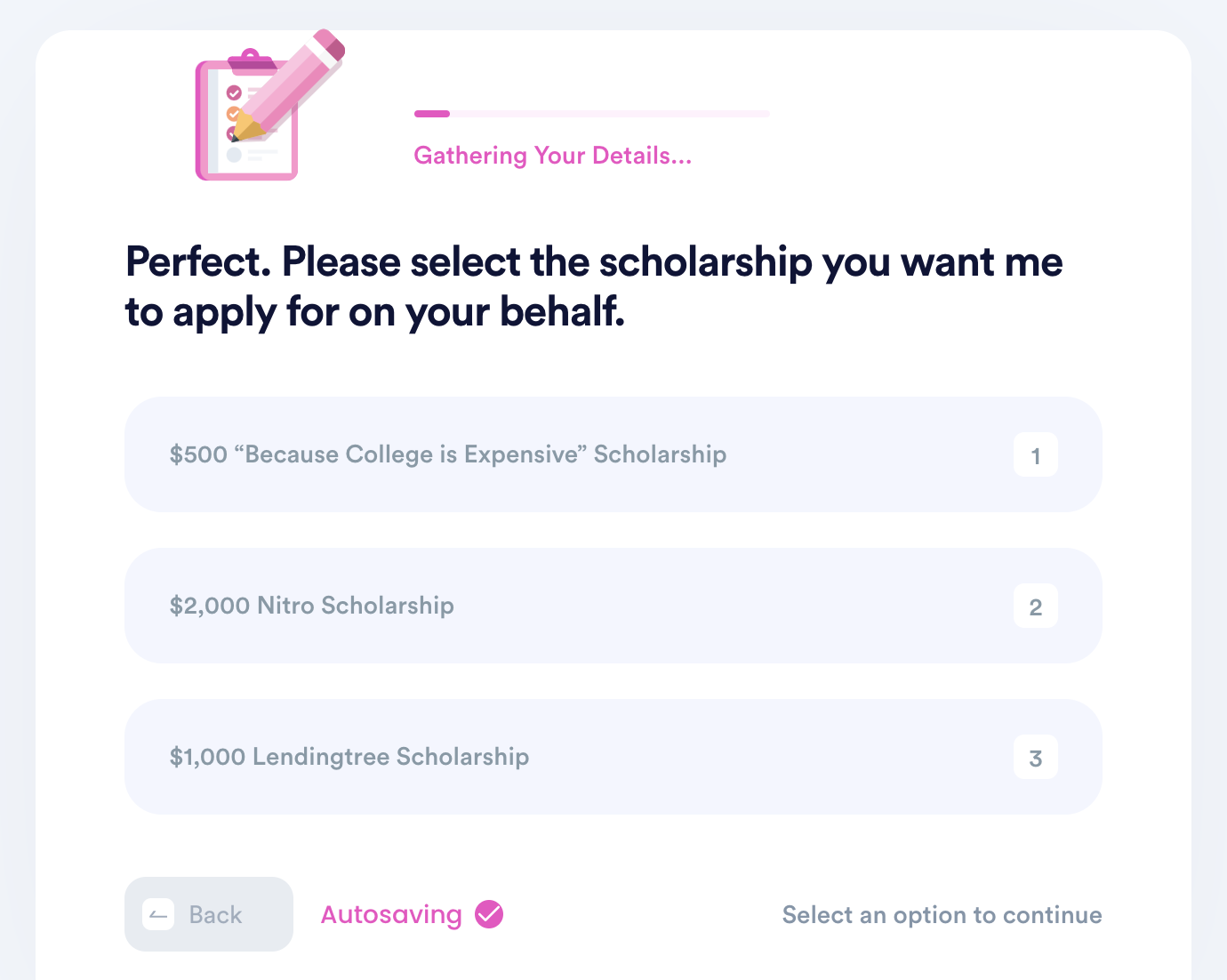 If there are any no-essay scholarships on your list, DoNotPay can send your applications instantly. We can also help you find scholarships based on other search criteria—for international students, women, adults, college freshmen, music, art, and others.
Is Bureaucracy Getting on Your Nerves? We Have a Solution!
We all know that dealing with bureaucracy isn't pleasant, and it often leads to overwhelming frustration. The good news is that DoNotPay has found a workaround! You can now do the following by using our app:
Let DoNotPay Make Your Legal Troubles Disappear!
Drafting contracts and other legal documents isn't a task you should handle on your own. Don't want to spend a fortune on lawyers? That is why DoNotPay—the world's first robot lawyer—is here to take the lead and help you out! Check out the list below to see some of the legal documents that our app can draft for you:
We don't stop there! Cut through the red tape and let DoNotPay assist you in taking anyone to small claims court, getting your documents notarized, submitting anonymous HR complaints, or requesting crime victims' compensation.