Military Power of Attorney From Alpha to Zulu
Military personnel can have a hectic lifestyle because their job is unpredictable and requires constant relocating. An adequate power of attorney can help with keeping the affairs in order. DoNotPay has all the details about making a military power of attorney. Our app can also help you draw up a durable power of attorney in no time!
What You Should Know About a Military Power of Attorney
A military power of attorney is a document that enables a service member to allow another individual (the agent) to handle financial or legal matters in their stead. Depending on the needs and requirements, you can choose between several POA types.
All states recognize and accept military powers of attorney. Federal law makes this document effective regardless of the specific state legislation. If you are on active duty, your legal assistance staff can prepare a general power of attorney based on your situation.
When Would You Use the Military Power of Attorney?
You should make a military power of attorney if you are:
Stationed at a base far away from home
Traveling for training purposes
Deployed overseas
When Does a Military POA End?
The military power of attorney ends in the following scenarios:
The document has a predetermined termination date
The agent or the principal passes away
The principal revokes the POA in writing
What Powers Can a Military POA Grant?
The purpose of the POA is to let the trustworthy person have authority over legal or financial matters. This document usually gives the following powers to the agent:
Managing housing and real estate transactions
Taking possession of the personal property
Accepting delivery of mail in the principal's name
Using motor vehicles in the service member's name
Taking care of banking transactions
Preparing and filing the principal's taxes
Depending on your needs, you can add or remove authorizations from the list or appoint different agents to handle particular matters. Keep in mind that the latter option requires creating a new document for each attorney-in-fact.
What Power of Attorney Types Exist?
POAs can grant different levels of authority to the agent. Take a look at the table below to see what types of powers of attorney exist.
Power of Attorney Type
Brief Explanation
Durable POA

Is in effect the moment the document is signed
Stays in effect even if the principal becomes incapacitated in any way

Springing POA

Becomes effective in specific predetermined circumstances and requires a triggering event to be clearly defined

General POA

Does not allow the agent to make decisions in the principal's stead if they become incapacitated
Is most often used when the principal is out of state

Financial POA

Makes the agent in charge of the principal's financial matters, such as taxes, paychecks, or mortgage payments

Limited POA

Lets the agent act in the principal's stead during a limited period
Provides the agent with clearly defined (limited) authorization
Use DoNotPay To Make a Durable POA in No Time!
Creating a power of attorney on your own can be a tiring and time-consuming task, especially when working in an environment as stressful and demanding as the military. There is no need to trouble yourself with the process—DoNotPay can help! Use our app to generate a power of attorney tailored to your needs! You only need to follow these instructions:
Select the Create a Power of Attorney product
Choose what powers you want to grant to your attorney-in-fact (our chatbot will guide you through the questionnaire)
You won't need to spend a small fortune to get an appropriate and enforceable document because our services are more than affordable.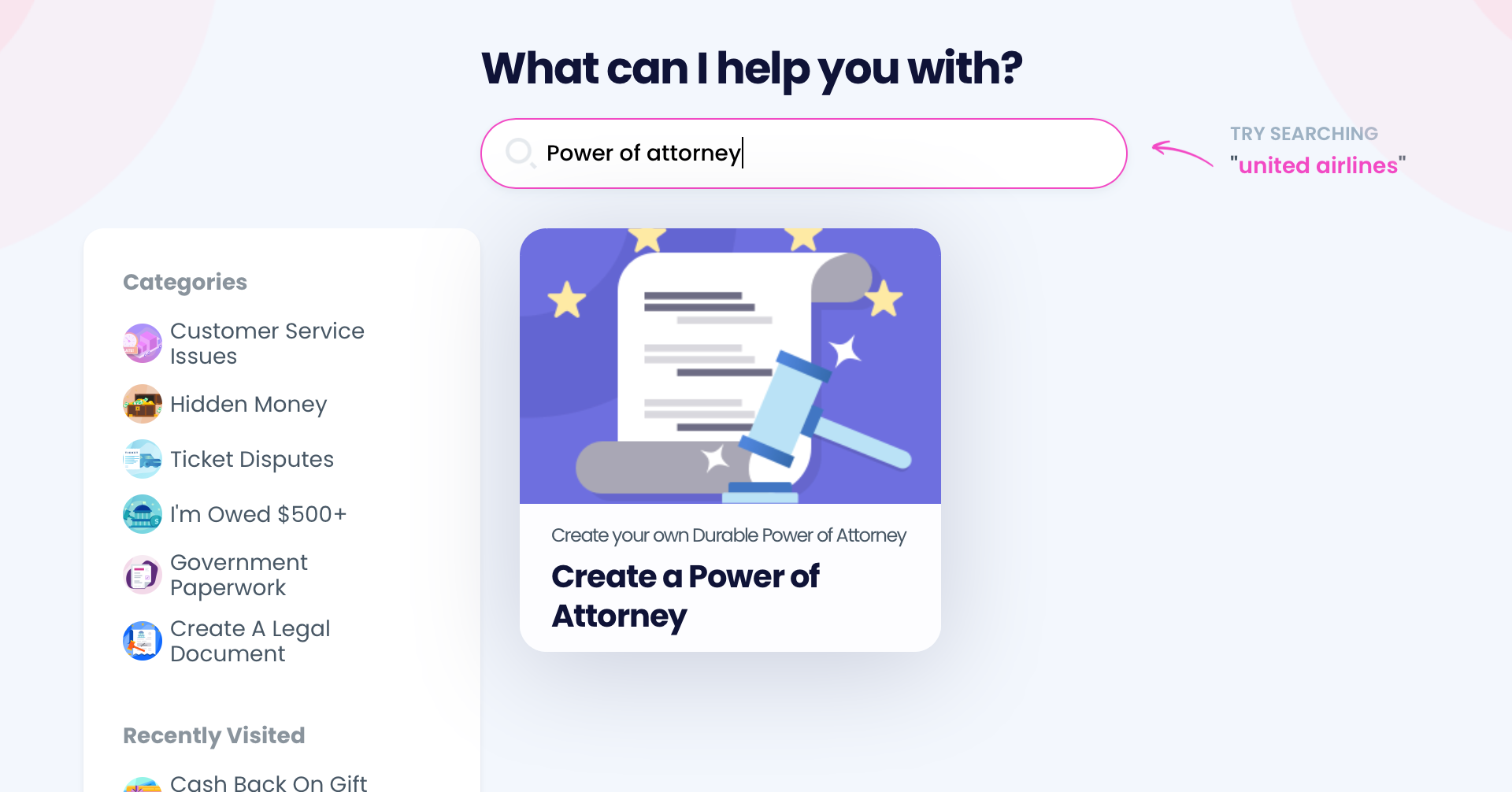 Get Your Power of Attorney Notarized With DoNotPay's Help
Most states mandate POA notarization. Even if it is not necessary, having a notary's signature on the document will add to its legal weight.
Our chatbot will ask whether you want to get your POA notarized while filling out the questionnaire. We will connect you with an online notary, and you'll complete the procedure via a live video call. You can use our Notarize Any Document tool to get any legal document notarized effortlessly.
DoNotPay Has More Information About POAs
DoNotPay's Learning Center overflows with helpful POA-related info. Our app can answer any of the following questions and many more:
Shop Online on Your Terms
Have you ever had to deal with complaints about lost, late, or damaged parcels? Is reaching customer service over the phone always a pain? Don't you wish there was an easier way to request refunds and chargebacks for bad purchases?
Shopping can easily turn into a nightmare, but DoNotPay will take away some of that stress. We can help you with all of these issues and more!
If you need to file warranty claims for any kind of product, our AI bots will make the process painless. Those who like to try out new services will fall in love with our virtual credit cards and foolproof methods of signing up for free trials without risking charges.
When you get sick of your subscriptions, cancel them with DoNotPay. Also, don't throw away your used gift cards with a few bucks left—we can help you get your cash back.
DoNotPay Protects Your Interests
There are already so many ways you can use DoNotPay to improve your daily life, but we keep developing more and more features that will make our subscribers even happier.
On our platform, you can find useful resources to: