Military Divorce in Texas Made Plain and Simple by DoNotPay
Filing for divorce is a huge step, and the process can be fraught with complications.
If you are in the military in Texas or are married to someone stationed in the Lone Star State, getting a divorce needs careful navigation to make sure you keep your costs down and avoid court if possible, whatever your grounds for divorce are.
DoNotPay is here to help with facts, advice, and watch-outs around military divorce in Texas!
How Are Texas Military Divorces Different From Civilian Ones?
If you or your spouse are serving members of the military, you fall under Texas divorce law if:
The service member or spouse has lived in Texas for at least six months before filing for divorce
Your or your spouse's permanent residence is in Texas, although the service member is currently deployed elsewhere
Both your permanent residences are outside Texas, but the service member is temporarily stationed in the state
Both your permanent residences are out-of-state, but the service member was stationed in Texas and has been deployed from there
The process of filing for divorce also differs slightly if one of you is in the military, namely:
Divorce Step
Civilian Case
Military Case
Filing divorce papers
One of you must file a petition for divorce and all the accompanying Texas forms with your county court
Serving the papers
The plaintiff has to arrange for the divorce papers to be served on the defendant using a process server or deputy sheriff. If the defendant cannot be found, the plaintiff can serve the papers via a notice in the media
The plaintiff has to serve the papers in person. This can lead to delays if the military member is currently deployed elsewhere. The plaintiff has to wait until the defendant is available in person
Responding to a summons
The defendant has around 20 days to file a response to the petition for divorce
The defendant can defer the response for up to 90 days as long as they inform the court that they want more time
In military divorces in Texas, there are also different stipulations for:
Child custody, child support, and shared parenting
Division of assets, real estate, debts, and benefits
Alimony or Spousal Support
In civilian divorces in Texas, a spouse is entitled to claim spousal support if they can prove they need the money to maintain a reasonable standard of living or if the couple has been married ten years or more.
In Texas military divorces, the amount claimable is capped at 60% of the military member's pay.
Child Custody, Child Support, and Shared Parenting
In most Texas divorce cases, custody of children is awarded to both parents. If the military spouse is deployed out-of-state, though, the civilian spouse can apply for temporary sole conservatorship while the deployment lasts.
Division of Assets, Real Estate, Debts, and Benefits
Most military divorces treat financial division the same way as civilian cases. The differences in military cases relate to retirement annuities and medical benefits.
The rules for these elements are:
The spouse may be eligible for a portion of the military member's pension if they were married and the military member was serving for ten years or more
If the military member served for 20 years, the marriage lasted 20 years, and the two periods overlapped by at least 15 years, the divorced spouse is entitled to continued military medical cover
All these exceptions cease to be valid if the civilian spouse remarries.
How Can You Make Sure Your Texas Military Divorce Runs Smoothly?
The best way you can ensure your transition from married life to divorced status is as smooth as possible is to work towards a friendly, uncontested divorce with your spouse.
If you can work together, you can reach an out-of-court settlement that will:
The most crucial element of an uncontested divorce is your settlement agreement.
A settlement agreement is a legal document that you sign with your spouse and file with the court. It is a contract that regulates how your married life will be divided after your divorce is granted and will be scrutinized by a judge before your divorce decree is signed.
If the judge is happy that your settlement agreement is fair and equitable, your path to divorce is clear.
Where Can You Get a Settlement Agreement?
You can use the following resources to have your settlement agreement negotiated and drawn up:
DoNotPay can solve your problems, though. We can create a customized divorce settlement agreement online in a few clicks!
DoNotPay's Texas Military Divorce Solution Wins the Battle!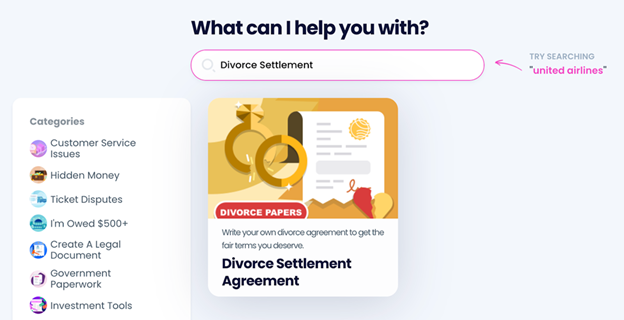 DoNotPay doesn't want your Texas military divorce to be a war zone!
Our Divorce Settlement Agreement product is designed to give you a document that covers all your needs and passes muster with the judge.
No need for lengthy court battles, expensive attorneys, or tiresome mediation processes!
Here's how to set your settlement agreement up:
Sign up with DoNotPay in your web browser
Click on our Divorce Settlement Agreement feature
Give us the details you want to be included in your agreement
After that, we take command—once you have given us the terms of your agreement, we will generate your document in a flash. You and your spouse can sign and have it notarized.
If you're not sure where to find a notary in Texas, we can even organize online notarization for you!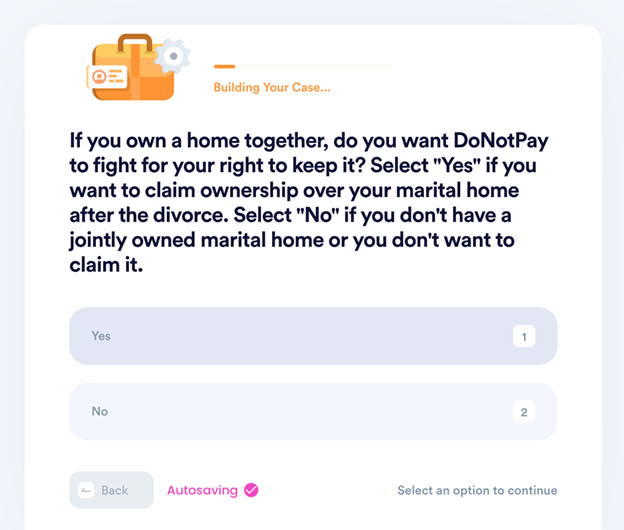 More Texas Help From DoNotPay!
If you need specific info about your county in Texas, look no further than DoNotPay!
Here are a few examples of the help we can give you:
Not sure whether you can get a divorce in TX if you're pregnant? DoNotPay will clarify!
Use DoNotPay To Complete a Variety of Tasks at Any Time
Why waste time and money completing mundane tasks on your own when you can let DoNotPay assist you? Take a look at the table below to find out what our AI-powered app can do for you:
| DoNotPay Can | Services |
| --- | --- |
| Protect your safety and privacy | |
| Draft legal documents | |
| Help you get your money back | |
DoNotPay Has More in Store for You!
Since communication is key, you'll appreciate our feature that helps you get in touch with customer service reps quickly! We'll also show you how to send faxes online and have your documents notarized by an online notary with ease!
Going on vacation? Use DoNotPay to take a valid passport photo at home or get a tourist visa!