The Ins and Outs of a Military Divorce in Florida
Getting a divorce can be a complicated procedure in general—for the members of the army, it can be even more challenging. Some special military regulations don't apply to civilians, and they usually vary from one state to another.
If you're filing for a military divorce in Florida and want to know how the process works, you're in luck! DoNotPay will give you the deets on the military divorce laws, rules, and regulations of the important matters in the Sunshine State!
Florida Divorce Laws for Military Members
Unlike civilians, military members have to abide by both state and federal laws when filing for divorce. While Florida divorce law regulates general issues, such as alimony, custody, and child support, federal laws govern matters specific to military marriages.
Divorcing in the military is regulated by two federal laws in Florida:
Servicemembers Civil Relief Act (SCRA)—This act protects military members from experiencing civil proceedings. Under SCRA, a military member can postpone the divorce hearing if on active duty and prevent the enforcement of a default judgment
Uniformed Services Former Spouses' Protection Act (USFSPA)—The purpose of this act is to provide benefits—portions of medical care, retirement plan, and exchanges and commissaries—to former spouses of military members
Where Can You File for Military Divorce in Florida?
Being on active military duty means relocating often. It makes it hard for army members and their families to determine residency. If you are serving in the army or your spouse is a service member, you should understand your options of where you can file for divorce.
Many states, including Florida, offer residency requirements exceptions for army members serving on active duty and their spouses. This means that you can choose where to file for divorce and find the jurisdiction that works best for your case. If you're military spouses, you can file for divorce in the state where:
At least one of you has a permanent residency
The service member is stationed
You last lived together as spouses
Rights and Benefits in a Florida Military Divorce
An important aspect of military divorces is a military pension. The Uniformed Services Former Spouses' Protection Act (USFSPA) is in charge of governing the calculation and division of the military benefits. There are three unique rules designed for dividing military assets—you should check the table below for an explanation:
Rule
Explanation
Requirements
10-year-rule
The Defense Finance and Accounting Service (DFAS) pays the spouse of a service member their share of military benefits if they meet the criteria
At least 10 years of marriage overlapping with 10 years of service in the military
20/20/20 rule
A non-military spouse is granted a lifetime of military benefits, including:

Full medical care
Commissary exchange
Theater privilege

20 years of marriage or more
20 years of service in the army
20 years of marriage and service overlapping

20/20/15 rule
Under the 10 U.S. Code § 1072, a non-military spouse is eligible for one year of military health care benefits

At least 20 years of marriage
At least 20 years of military service
A minimum of 15 years of overlap between the marriage and service
How Are Important Issues Resolved in a Military Divorce in Florida?
In military divorces, issues such as custody, child support, and spousal support are often more complicated because of the specific lifestyles of these families. Take a look at the following table to understand how Florida law regulates some of the most important matters in military divorces:
| | |
| --- | --- |
| Issue | How It's Regulated |
| Spousal support | The constant moving when the spouse is on active duty often causes or requires the non-military spouse to be unemployed. Since the service caused the unemployment, the military member is responsible for paying alimony |
| Child custody | As in any divorce case with children, the judge must consider the children's best interests. In military divorce cases, the spouse who's in the army is more likely to lose custody because of the long and frequent deployments |
| Child support | Due to long deployments, the spouse who serves in the army might be unable to visit the children often and share parenting responsibilities. Because of that, former spouses of the military members often receive larger child support amounts than it's the case in regular divorces |
Can You Get an Uncontested Military Divorce in Florida?
Yes, you can. To achieve an uncontested marriage dissolution, you and your spouse need to agree on the following matters:
Custody
Child and spousal support
Parenting responsibilities
Division of debts and property
Other case-specific issues
Once you agree on everything, you have to draw up a divorce settlement agreement to define the terms and make them legally binding. You don't need a lawyer for that—sign up for DoNotPay and let us do all the work for you!
If you're serving divorce papers during the spouse's deployment, they are allowed to waive personal service by signing and filing an affidavit. A waiver of personal service is possible only if the divorce is uncontested.
Get an Uncontested Military Divorce in Florida With DoNotPay's Help!
When one of the spouses is on active duty or soon to be deployed, having a time-consuming contested marriage dissolution is not attainable—a friendly divorce is a much better and cheaper option!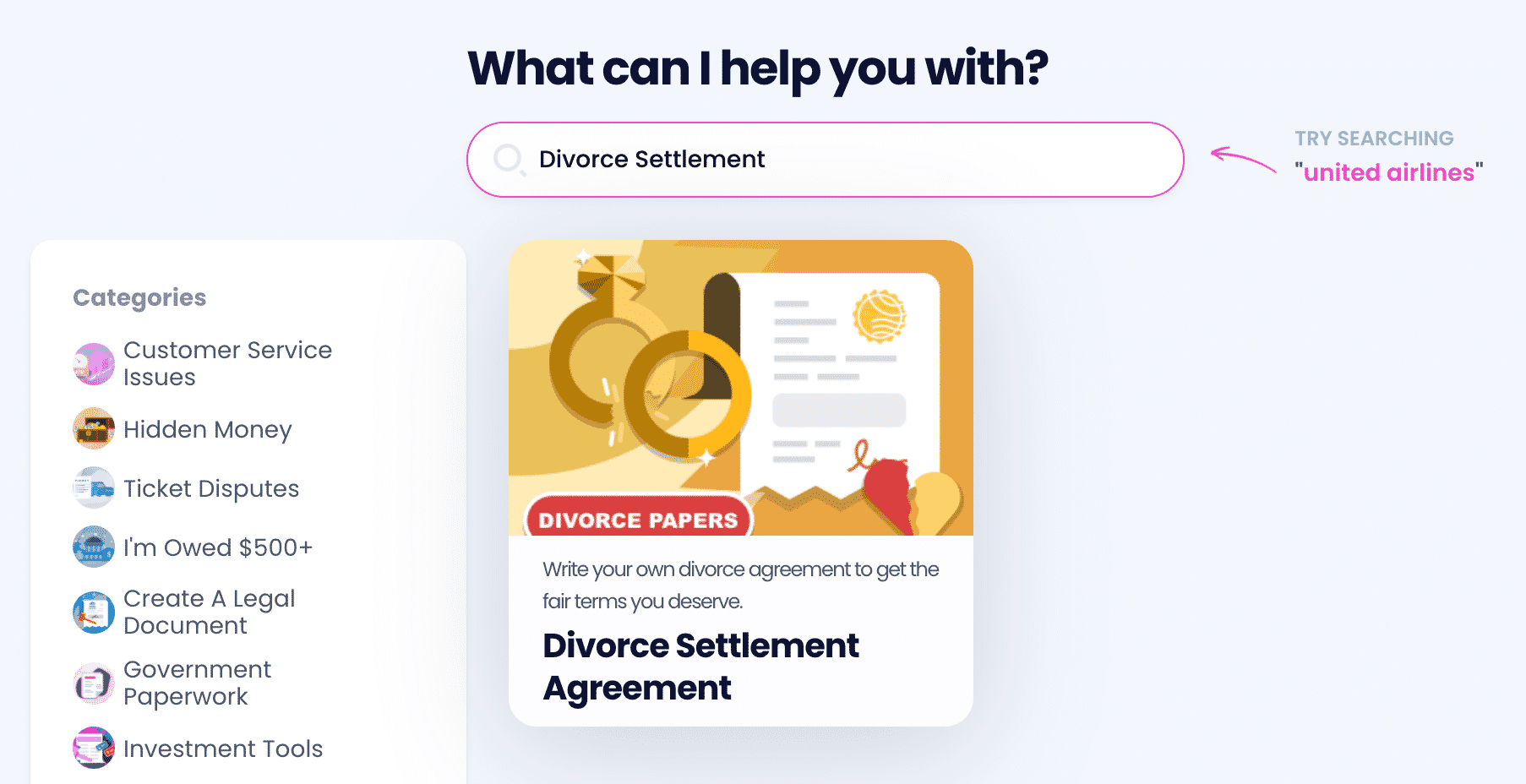 DoNotPay can help you reach an out-of-court settlement even quicker! Here's what you need to do:
Choose the Divorce Settlement Agreement tool
Tell us about your spouse, children, and property
Specify if you need a notary
DoNotPay will draft this uncontested divorce document that complies with your state and federal divorce laws and meets other case-specific requirements.
If you have more questions about divorces, you should check out our knowledge base. We have answers to numerous divorce-related questions, including:
Deal With Your Problems Like a Pro With DoNotPay
Looking for an app that's got enough features to solve any issue you're facing? Look no further—DoNotPay has got your back! Whether you can't sleep from your noisy neighbors or you want to connect with your locked-up relatives, we'll be able to help. We'll bring justice to any person or company that has wronged you and take them to small claims court for you.
The robot-lawyer app can generate numerous legal documents in your name, including:
Once you receive the documents, we can set you up with an online notary so you can get your agreements notarized from the comfort of your home.
Possibilities With DoNotPay Are Endless
DoNotPay stands out not only by the quality of products it offers but by the sheer amount of features it boasts. Check the table below out to see only some issues we can help you resolve: