A Guide to a Military Divorce in California
In military marriages, spouses usually spend months or even years apart, which is why divorces happen frequently. Since families with military members tend to move a lot, filing for divorce can be a complicated process. If you need to learn more about a military divorce in California, you're in the right place.
Filing for an uncontested, friendly divorce is the only way to go through the whole process smoothly and without breaking the bank. We'll provide all the relevant information and help you create a divorce settlement agreement in a few clicks, which will reduce the cost of your divorce significantly. Subscribe to DoNotPay to create your divorce settlement agreement and get divorced without wasting time on court hearings.
What Are the Grounds for a Military Divorce in California?
The grounds for a military divorce aren't any different than those in a civilian divorce. California is a no-fault state. This means that spouses don't have to prove whose fault it is that the marriage is over. They can file for divorce due to:
Irreconcilable differences
Incurable insanity of one spouse
If you file for divorce based on insanity grounds, the court might ask for a support order from the other, legally incapable spouse.
Military Divorce Laws in California
You should be aware of two particular federal laws that govern military divorces in CA. Consult the table to find out more:
| Federal Law | Explanation |
| --- | --- |
| Servicemembers Civil Relief Act (SCRA) | The SCRA protects military members from any civil proceedings, including divorces. While a service member is deployed, no default judgments can be taken against them. If a spouse of a military member files for divorce, the military member won't be obligated to show up at any court hearings until their duty ends. Under the SCRA, any divorce proceedings must be postponed until 90 days after a military member completes their service |
| Uniformed Services Former Spouses' Protection Act (USFSPA) | Under the USFSPA, former spouses of military members get protection. This law allows the state to divide military retirement, medical care, commissaries, and other benefits as marital property |
What Are the Residency Requirements for Military Divorces in California?
For a court to issue a divorce decree, it must have jurisdiction under applicable California military divorce law and the USFSPA. If you want to file for a military divorce in California, you need to meet the following requirements:
One of you must have been a resident of California for at least six months prior to filing for divorce
You must have lived in the county where you're filing for divorce for at least three months prior to filing
You can qualify for a divorce in California if your spouse, a service member, has been stationed there for at least six months
If neither of you meets the residency requirements, you will have to wait until you do to file for your divorce. Another option is to file for divorce in a state where at least one of you fulfills the requirements.
How Is Property Divided in a Military Divorce in California?
Since California is a community property state, all property acquired and debts incurred during a marriage are considered joint property that needs to be divided equally in a divorce.
Child Custody and Support in California Military Divorces
In California, the court won't take a military member's active duty as a reason not to grant them custody.
Child support will be calculated according to California guidelines. Both parties' income, the number of children, and the time a child spends with each parent will also be taken into account. The amount of child support mustn't exceed 60% of a military member's allowances.
Spousal Support and Military Retirement Plan in Military Divorces
In a military divorce, a spouse who earns more will pay spousal support to the spouse who's earning less. A judge will determine the amount during the proceedings. The elements that the judge will consider are:
The length of the marriage
Financial needs of the parties
The obligations of both spouses
The education and skills needed for employment of a dependent spouse
Health and age of both partners
If the couple has been married for less than ten years, alimony will be paid only for half of the marriage length. Alimony will stop if the dependent spouse remarries.
If the marriage lasted for more than ten years, a judge will probably decide to divide the military retirement plan in half.
How To File for a Military Divorce in California
The fastest and most affordable type of divorce is the uncontested one. This process is cheap, quick, and less stressful as it enables you to avoid expensive lawyers and tiresome court hearings. The only requirement is that you and your spouse agree on all divorce matters.
Another advantage of an uncontested divorce is that, instead of letting the judge decide on your divorce-related issues, you and your spouse will be the ones making decisions.
Here are the step-by-step instructions on how to file for a military divorce in California without involving lawyers:
Collect all the necessary documents and fill out all the forms
File the papers with your local superior court
Create a divorce settlement agreement
During your uncontested divorce, you'll need a marital (divorce) settlement agreement—an important document that needs to spell out all the terms of your divorce, such as:
If you and your spouse agree on some points of your agreement, but not all, you might want to consider mediation. A mediator can facilitate communication between you and your partner and help you work through all your differences and finalize the process without going to court.
How To Create a Divorce Settlement Agreement With DoNotPay
The most affordable way to create an airtight divorce settlement agreement is to rely on DoNotPay. We will draft a legally formatted, error-free, and cost-effective document in the blink of an eye.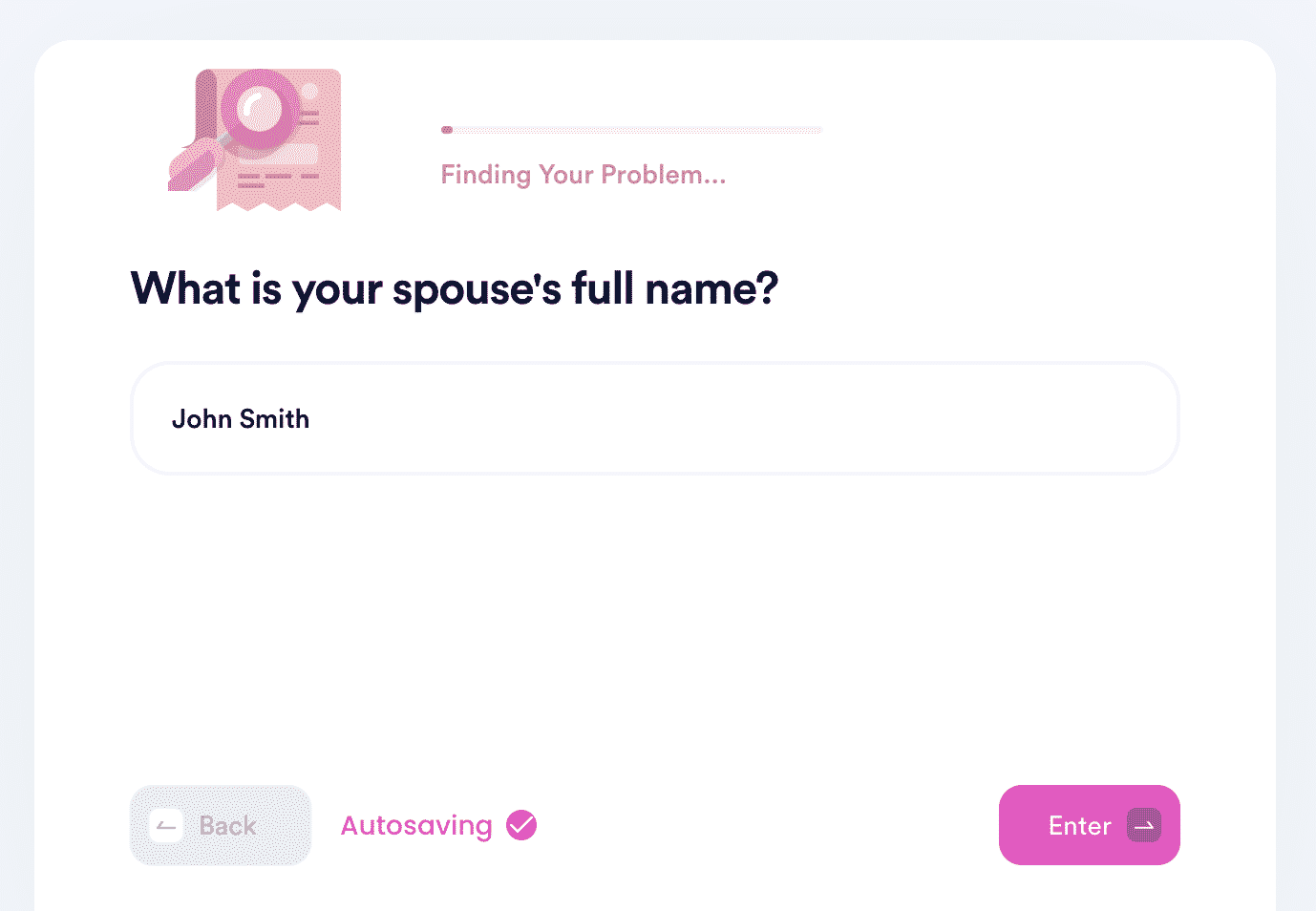 All you need to do is sign up for DoNotPay and do the following:
Open our Divorce Settlement Agreement product
Tell us all necessary information, like your spouse's name, address, phone number, the date of your wedding, etc.
Inform us how you want to allocate your property and assets
We will generate your divorce settlement agreement automatically, and all there's left to do is for you and your spouse to sign it. DoNotPay can also help you get your document notarized. We will connect you with an online notary, and they will witness your signing of the document virtually.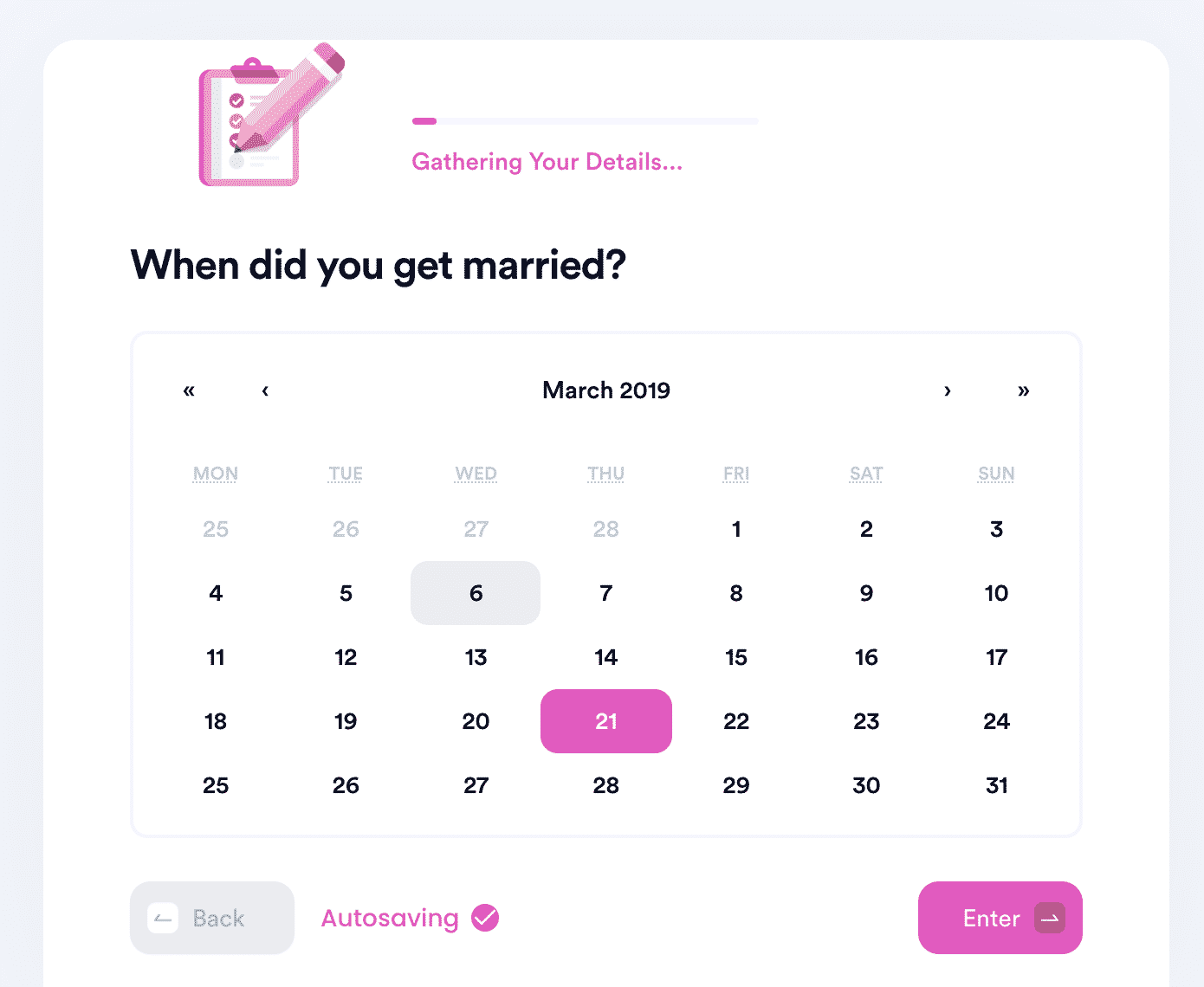 Whether you want to understand online divorces or the difference between separation and divorce, you can consult DoNotPay's learning center and learn everything you need to know.
Find out more about filing for divorce in San Diego or get familiar with divorce laws in specific counties in California, including:
DoNotPay Can Help You With Almost Anything
DoNotPay's goal is to have a multitude of features that can be useful to you with handling various issues. Whether you want to apply for clinical trials, prepare for government tests, or even get in touch with your locked-up friends or family—DoNotPay has got you covered!
For a small yearly fee, our AI-based app will help you:
Want To Save and Earn Money at Once? Subscribe to DoNotPay
DoNotPay can help you earn and save a buck or two. We'll assist you in reducing your property taxes, canceling any unused subscriptions, and signing up for free trials with our virtual credit card.
As if that wasn't enough, we'll save you money and spare you from a headache if you receive any faulty deliveries by filing a refund or an item return request in your stead! This is just the tip of the iceberg of features that DoNotPay has in store for you.