Microdistillery Startup Costs—The Spirit of Adventure Made Possible
The path from spirit imbiber to the connoisseur to hobby distiller is a well-trodden one, but the latest trend is to make the final step to become a microdistiller with a flourishing business.
While making and selling your own craft spirits is a dream for many, those that make the leap into the microdistilling business face some tough startup financing decisions.
Getting these decisions right at the beginning of your journey can make the difference between turning the microdistilling dream into a reality or a nightmare.
DoNotPay is here to help you understand microdistillery startup costs and ways to start your spiritual journey to success.
What Do You Need To Become a Distiller?
Every business wants to set itself up for success, and microdistilling requires both capital expenditure and a fair amount of regulatory hurdle-jumping to launch successfully.
You will face several expenses before the first drop of nectar can even flow from the last pipe. After you have your production process up and running, you will also have to spend time getting people to consume the fruits of your labor.
You need to plan on a long startup phase and a potentially longer time to establish yourself and reach break-even.
The better you budget, the better your chances of becoming the next Koval or Seven Stills.
What Are the Upfront Craft Distillery Startup Costs You Will Incur?
Setting up your microdistillery to beat all-comers in your spirit of choice involves a considerable amount of expenditure on equipment and services.
The main cost elements will include:
Premises
Capital equipment
services
Supply and delivery logistics
Raw materials
Premises
You will need to lease a facility that is:
Large enough to make your production line efficient and economical to run
Conveniently located for suppliers and distribution
Licensable as a liquor-production facility
Capital Equipment
Distilling equipment can be as cheap or expensive as you want, ranging from $5,000 to $50,000 and more.
The exact cost of your equipment will depend on what you want to achieve—do you want to grow rapidly and serve a mass market, or are you more interested in producing a bespoke product for a small, select market?
Your choice of equipment should be based on how big you want to be and the resulting capacity you will require in the coming years.
services
Getting a license to distill liquor depends on your state legislation, but you will need professional help to make the process as quick and easy as possible.
Placing your trust in a lawyer to handle the regulatory side of your business frees you up to concentrate on making your product as sellable as possible.
Supply and Delivery Logistics
Depending on your business model, you may have to invest in transport to get raw materials in and the finished product out of your microdistillery.
Your choice of transport should also reflect your growth projections over the lifespan of the vehicle you choose—it would be senseless to run into transport constraints after six months of trading.
Raw Materials
You will need enough raw materials to see you through until you start seeing profit coming into your business.
You should be prepared for mistakes to be made during your initial production runs, and it will take time for your processes to bed themselves in and become efficient.
You can negotiate with your suppliers to secure longer payment terms, but you should keep a close eye on:
Expiry dates for your ingredients
Storage or warehousing costs if you have bought in bulk
The minimum you should budget for as the startup cost of a distillery is between $30,000 and $50,000—this will give you the best chance of setting yourself up for a successful future.
What About Ongoing Overheads and Other Expenses?
Distilling takes time to get right.
Although you may understand the process and even have experience of distilling for home consumption, producing a spirit that is unique and marketable can be a long process of trial and error.
During this time, you will need to cover overheads and ongoing costs without necessarily generating income.
These costs will typically include:
What Is the Best Way To Finance Your Distillery Startup Costs?
The lucky few can finance distillery startup costs through savings, friends, family, or an existing line of credit. Most budding microdistillers, though, will require third-party finance.
You have several options for securing a small business loan or startup loan to set your microdistillery up, the most common of which are:
Credit unions or other lending institutions
Angel investors or strategic partners
The choice between a small business loan and a startup loan depends on your business model and the terms of repayment.
If you are setting up your distillery as an add-on to an existing business, such as a restaurant, you may have enough financial history to secure a small business loan based on the restaurant's financials. If your distillery is standalone, a startup loan is an appropriate product.
Whatever your choice of product and finance institution, you will have to apply for the loan and show that you are a good risk.
This is where DoNotPay's Business Loan Request Letter product can give you the help you need.
DoNotPay Is Expert at Helping You Secure a Startup Loan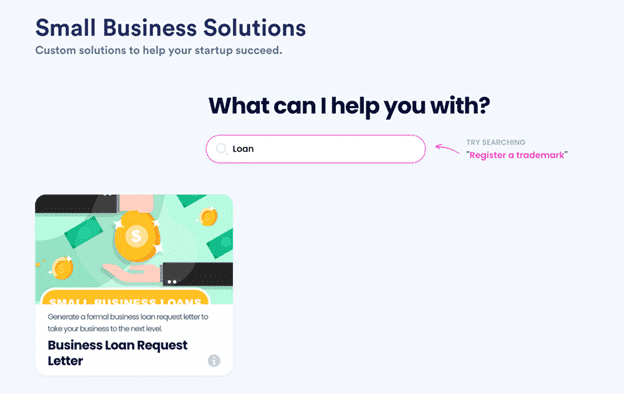 Applying for a loan can be daunting—you have one chance to get it right..
DoNotPay is your partner in making sure your loan application for your microdistillery is watertight—we can help you:
Gather the documentation you need
Get a convincing and comprehensive application letter to send to your financier of choice
Here's how to get your loan application process started:
Click on our Business Loan Request Letter feature
Collect the required documents, including your credit scores and any financials you have, and upload them
Tell us about your microdistillery, the loan you need, and your plans to grow the business
Based on the information you give us, we will generate a request letter for you to submit to the finance house you have chosen. Your microdistillery can take a step closer to becoming a reality!
As an added benefit, we can even source the top three lenders who fit your criteria. Our Find Online Business Loan Lender feature will give you the best recommendations for financiers, including rates, terms, and time to secure your financing.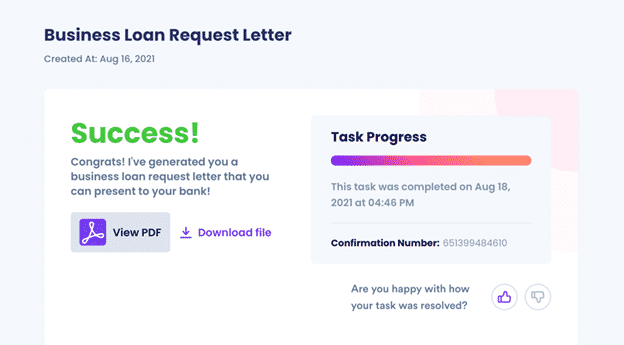 What Other Kinds of Business Can DoNotPay Help Get Loans For?
Microdistilleries are one of many different business types we can help with—if you have a startup dream, DoNotPay can help you realize it.
Other businesses we can help include:
DoNotPay Has Even More To Bring to the Table
There is so much to take care of while running a business. We are here to help you complete different tasks faster so that you can save both time and money.
If you want to join a Privacy Shield Framework, our app can help you with the self-certification process. To save yourself from any future copyright issues, you can designate a DMCA agent and register them with our help.
DoNotPay can also assist you in filing numerous requests and applications, such as:
Small business loan request letter
83(b) election forms
Employer Identification Number (EIN) application
No Issue Is Too Big for Our App
If your clients are causing you a headache, turn to our app for assistance. In case someone has breached a contract and refused to pay, there is something you can do. Use DoNotPay and send a formal demand letter. If worse comes to worst, you can take the issue to small claims court with our help. If you are worried about the incessant back-and-forth, do not worry—use our fax and mail services for smooth communication.
A client or customer may initiate a chargeback for no reason. If you believe a scam is at play, our AI-powered app can help you dispute fraudulent chargebacks.
DoNotPay can even help with removing fake negative reviews.
Before you start solving any problems, you may also want to register and protect your trademark.