How to Perform a Michigan Warrant Search Quickly and Easily
There are many reasons someone might have a warrant, and doing a Michigan warrant search can be a good idea. An arrest can be devastating, especially if it's unexpected. A warrant search for yourself or your loved ones can allow you to be proactive and handle any legal issues you may be facing before they become worse.
Depending on the situation, an arrest can sometimes be avoided entirely. Getting as much information as possible as early as possible through a allows you to take action. You can get legal representation if you're suspected of a crime or prevent a civil issue from turning into an arrest by paying an outstanding fine. Additionally, a warrant search that doesn't turn up anything can give you peace of mind.
Reasons to Do a Warrant Search in Michigan
If you've never had legal trouble, you might not think that a warrant search is relevant to you. However, there are several circumstances in which you or a loved one might end up with a warrant for your arrest without realizing it. Depending on the type of warrant, you may or may not be informed that it exists. Usually, if you are notified, it will be done by mail. This will only be done successfully if the court issuing the warrant has the correct address on file for you.
There are two different types of warrants.
| | |
| --- | --- |
| Bench Warrants | Bench warrants are issued for more minor or administrative problems like failing to attend a court date, failing to appear for jury duty, or failing to pay child support. This type of warrant does not direct the police to actively search for you. However, you will be arrested if you're stopped by the police for something else, such as being pulled over for a traffic violation. |
| Arrest Warrants | Arrest warrants are issued when a court has probable cause to believe that a person has been involved in a crime. These warrants do require the police to actively search for the person. Since arrest warrants can involve more serious crimes, subjects of these warrants are not notified in advance to prevent attempts to flee. |
If you know about a warrant before having contact with the police, you have a better chance of managing the situation successfully. In some cases, you may be able to avoid arrest by simply paying a fine or rescheduling a court date. If you have been accused of a crime, knowing about it before you are arrested allows you to contact an attorney and discuss your options. If a warrant has been issued because of a mistake or a false accusation, getting as much information as possible and contacting an attorney will allow you to resolve the situation more easily.
How to Search for a Michigan Warrant on Your Own
You have three main options to check whether you or a loved one has a warrant in Michigan.
Online Background Check Sites
There are several websites available that allow you to search for criminal and arrest records, including active warrants. Some options in Michigan include michiganwarrants.org and michigan.staterecords.org. Background search sites tend to have a mix of free and paid search options. The paid options are more likely to accurately pull up the information you're looking for, but they can be pricey.
The Michigan Courts website allows you to search its publicly available records, which includes warrants. These records are sorted by county, so you'll need to know if there's a possibility of a warrant in a county other than the one you live in.
Contact Your Local Police Station Directly
The best way to guarantee that the results of your search are accurate is to contact your local police station and ask. The major downside of this option is that putting yourself in contact with the police means you'll need to turn yourself in if it turns out there is a warrant for your arrest.
Easily Do a Warrant Search in Michigan With DoNotPay
Sorting through state and county records to determine if you or a loved one has a warrant in Michigan can be complicated and time-consuming. Getting an accurate picture of these records without giving up your anonymity can be a challenge. To save yourself stress and ambiguity, use DoNotPay's fast, easy, and successful warrant search product.
How to Do a Warrant Search Quickly and Without Frustration in Michigan with DoNotPay:
If you want to do a warrant search quickly and without frustration in Michigan but don't know where to start, DoNotPay has you covered in 4 easy steps:
1. Go to the Check for Warrants product on DoNotPay.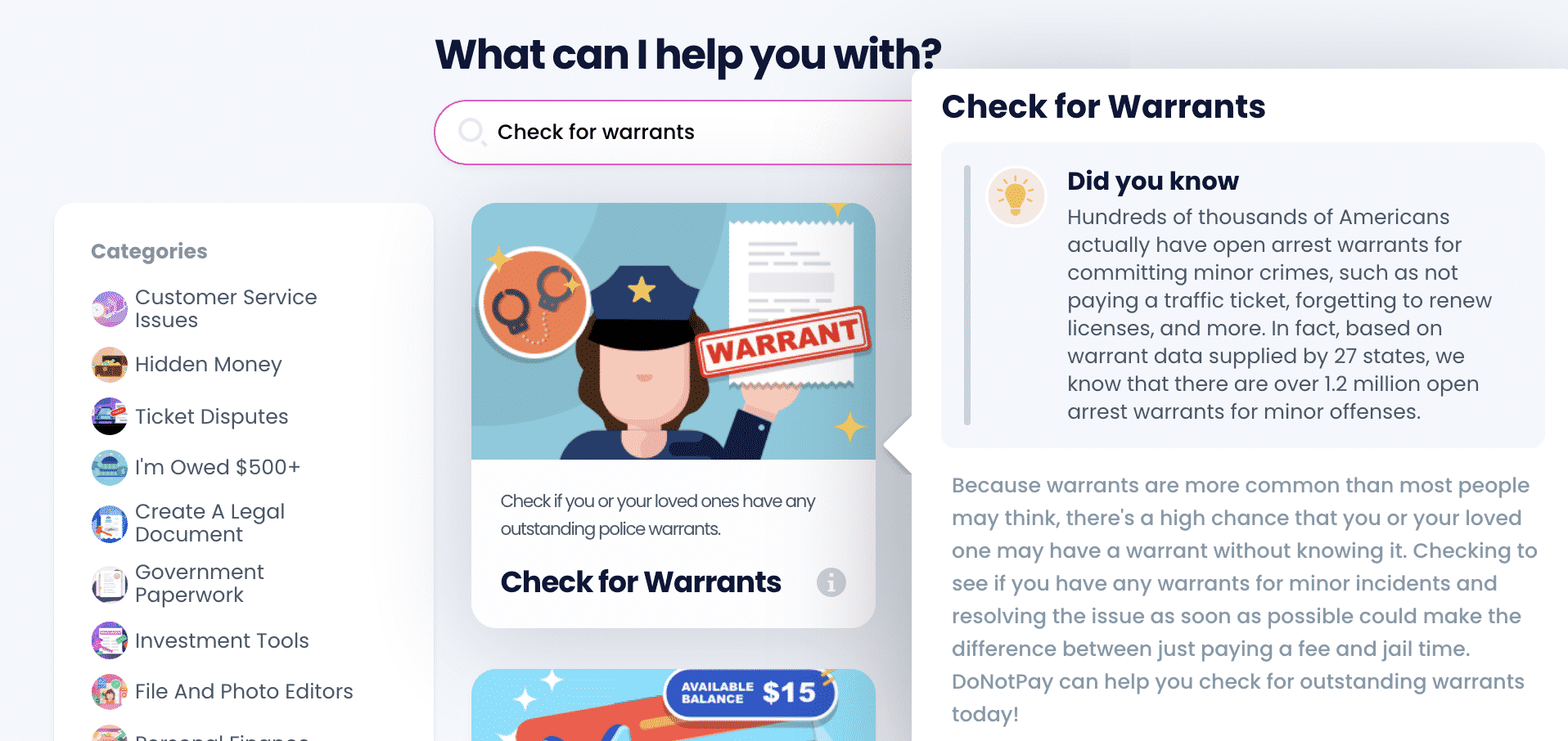 2. Choose whether you want to search for yourself or someone else, and answer a few questions to help us narrow down the search results, including current and previous addresses, age, the names of parents/relatives, and any known aliases.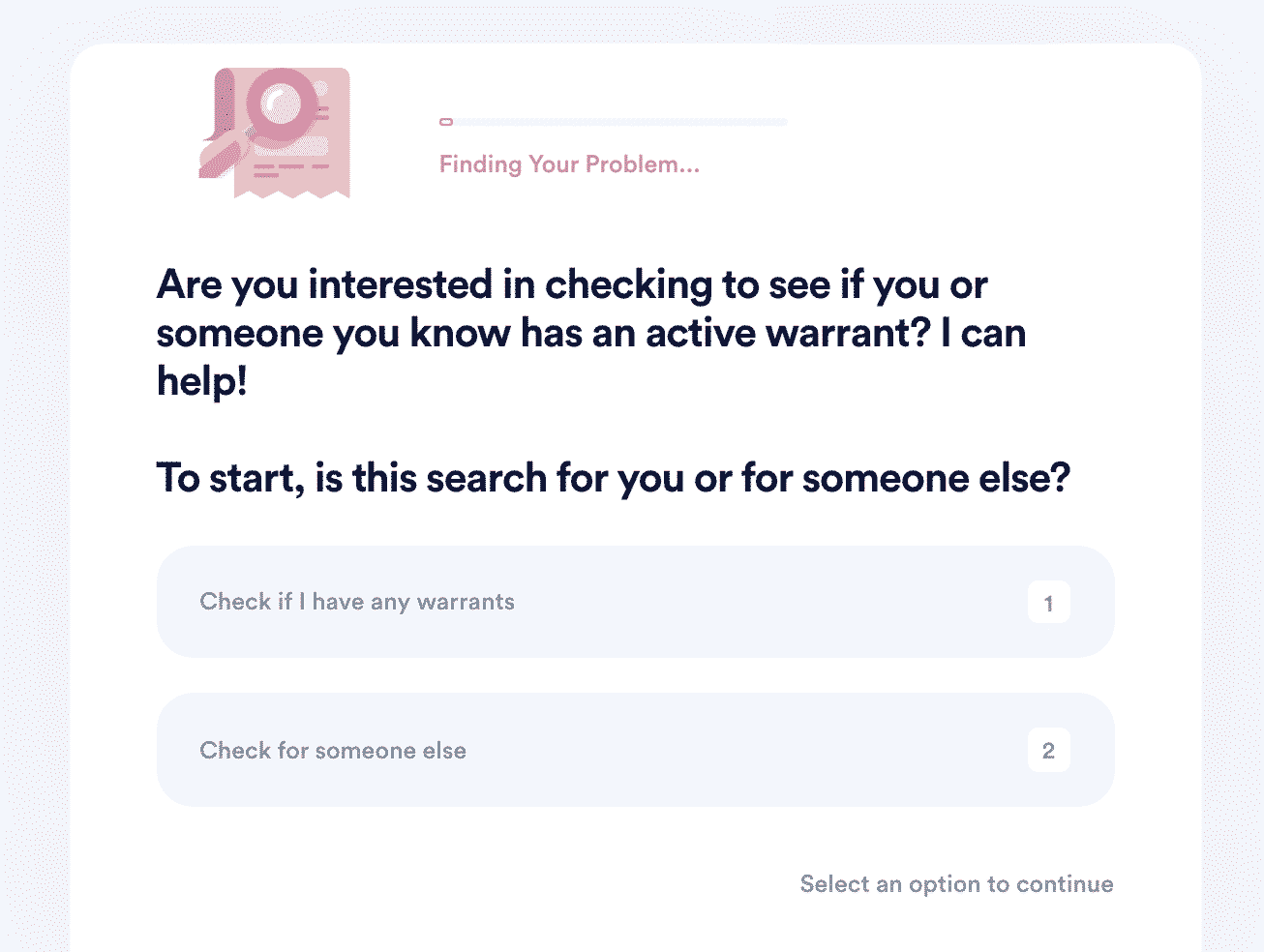 3. Select how you would like to receive the results in the case where we have to contact the police station on your behalf (by mail or email).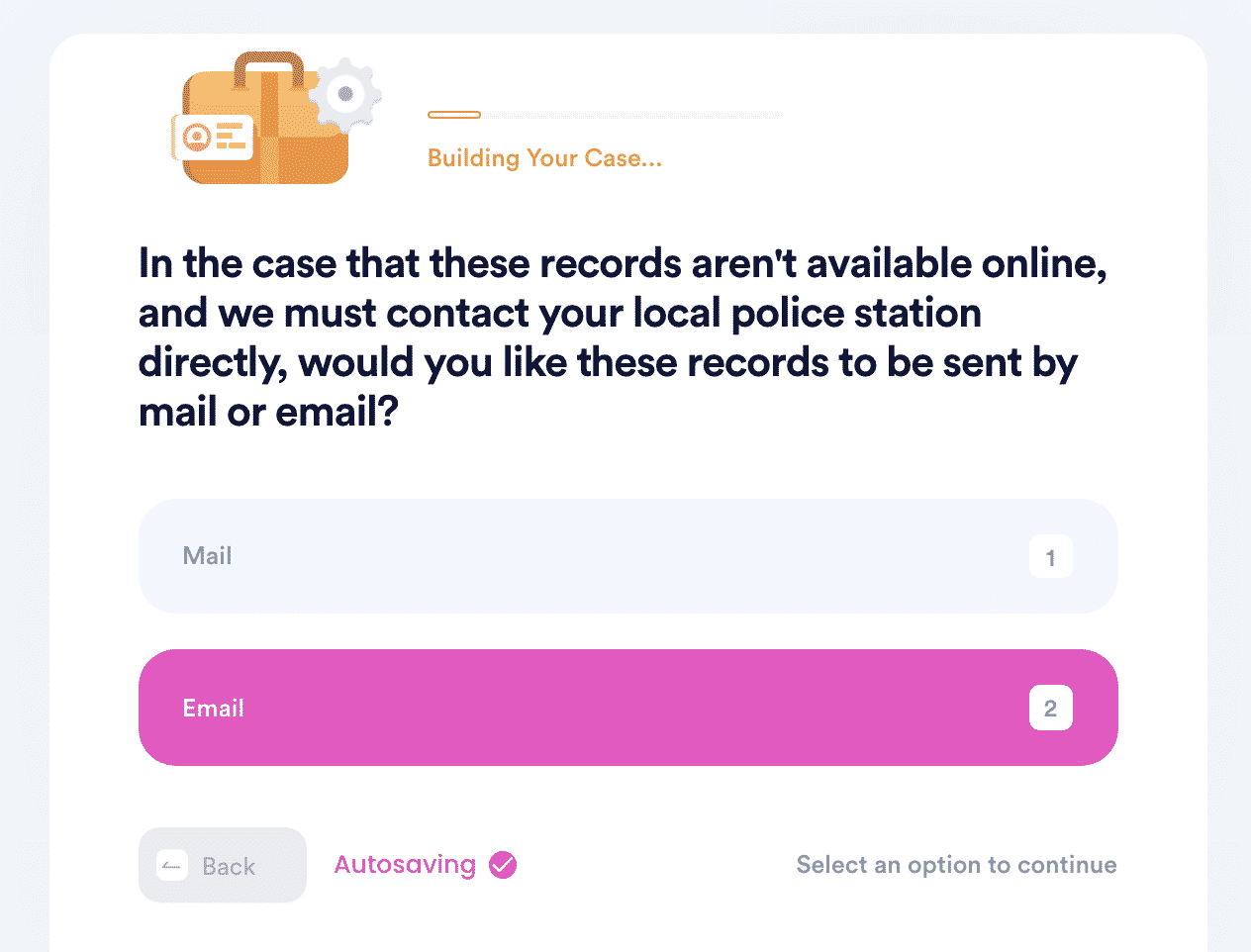 4. Enter your contact information, including email, address, and phone number.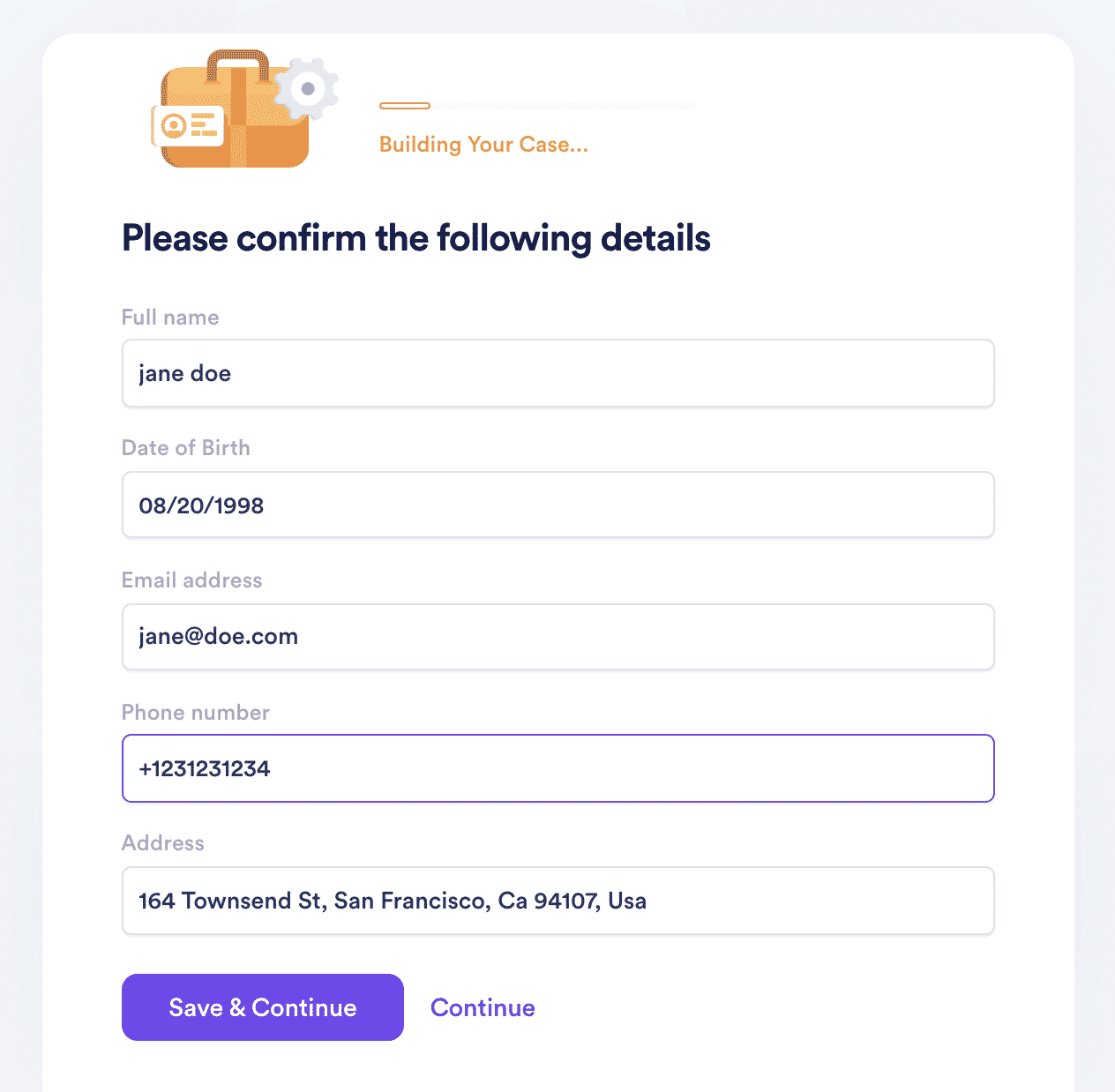 What Else Can DoNotPay Do?
DoNotPay's warrant search product works across all states and counties. These include:
In addition to helping you perform warrant searches, DoNotPay also provides a range of other services, including:
Let DoNotPay help you perform a fast, easy, and successful today.