The Breakdown of the Michigan Veterans' Property Tax Exemption
Michigan's effective property tax rate is around 1.50%, which is well above the national average. That ranks Michigan as the state with some of the highest property taxes in the U.S.
Many Michigan veterans undoubtedly need help paying their property tax bills. If you are interested in reducing your property taxes, you are on the right track. Michigan allows eligible citizens, including veterans, to be exempt from paying their property taxes.
DoNotPay will explain all there is to know about Michigan veterans' property tax exemption!
What Are Michigan Property Tax Regulations?
Michigan property taxes are billed twice a year. The first bill comes in the summer, around July, and the second one in the winter, usually in December. The amount on your property tax bill is higher in July. The state charges you in advance to fund public schools, road alterations, police service, and fire departments.
Your property taxes are defined based on three relevant values. Those are:
Taxable value

State equalized value (SEV)

Assessed value
If you are a homeowner in Michigan, your current property tax bills are based primarily on your property's taxable value. Taxable value is restricted by the tax cap. That means that market inflation is the only factor that can influence the rise in your property taxes. The tax cap will keep your property tax bill under control if the assessed value of your home increases in a hot real estate market. 
Anyone looking to buy a home in Michigan should focus on the state equalized value (SEV) to calculate their future property tax bills.
Any alterations on your home are likely to raise your property's taxable value, and the new property taxes will be calculated according to the new taxable value amount.
Are There Any Michigan Property Tax Exemptions for Disabled Veterans?
If you are a veteran who uses or owns property in Michigan as a homestead, you could be facing high property tax bills. Luckily, disabled veterans and disabled veterans' surviving spouses are fully exempt from paying property taxes in Michigan under the General Property Tax Act.
The list below contains some key points regarding the disabled veterans' property tax exemption:
Disabled veteran or their surviving spouse must file an affidavit and other additional documents with their local unit every year to claim the exemption

Property must be used or owned by the disabled veteran or their surviving spouse

Disability must be service-caused

Exemption is not for the benefit of the property but of the qualifying veteran or their surviving spouse
Qualifications for the Michigan Veteran Property Tax Exemption
To be granted a disabled veteran property tax exemption in Michigan, you must meet certain requirements. Having at least one of these qualifications will exempt you from paying your property taxes:
U.S. Department of Veterans Affairs

has determined that the disability is:

Complete and permanent

Directly related to the military service

Enough to qualify you for a 100% property tax relief

You have a confirmation from the U.S. Veteran's Administration that you are receiving financial assistance for specially adapted housing

U.S. Department of Veterans' Affairs has deemed you individually unemployable
Apply for the Veterans' Property Tax Exemption in Michigan With DoNotPay
Michigan offers a substantial property tax benefit to its disabled veterans. Collecting evidence to present to the Michigan Tax Commission can be a serious undertaking. It involves you rummaging through websites and trying not to miss out on an important piece of information. Any mistake can cause disqualification, and you don't want to risk that.
DoNotPay has an easier way! Our app will use some essential information from you to generate a personalized guide that will save you a lot of time and effort. 
The guide contains information on:
Forms you need to fill out

Documents you must gather and present

Steps you are required to take before you apply

Course of the application process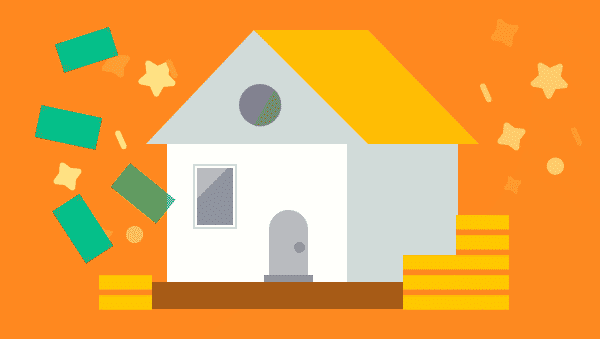 All you have to do is:
Open DoNotPay in your

web browser

Answer questions regarding your situation and the property 

Wait for our app to create a tailor-made guide just for you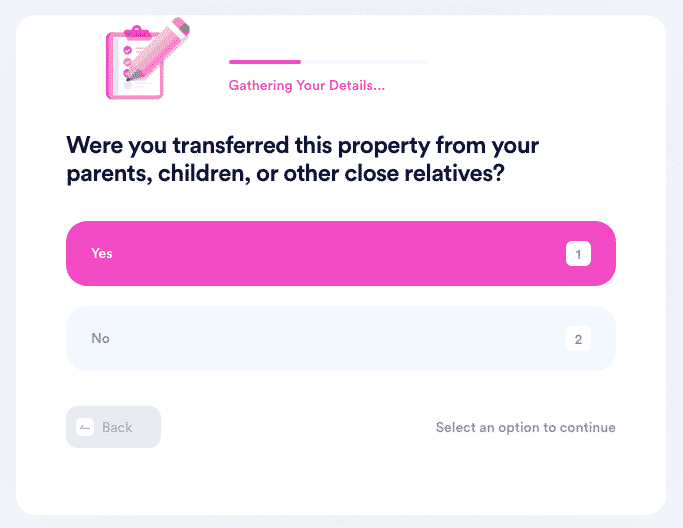 DoNotPay Can Provide More Relevant Property Tax Info
Our knowledge base is an invaluable source of property tax-related information. You can learn how to file a property tax appeal and which states have low property tax rates. DoNotPay has info about how other states handle the most common property tax exemptions as well. Take a look at the table below for more details:
Forget About Bureaucracy With DoNotPay
There's no end to what our app can help you do. From drafting legal documents and asking for bill extensions and reducing property taxes to connecting with an inmate in a federal prison and contesting parking citations, DoNotPay can handle it all and cut through the red tape.
Need to pass a government test? Use our practice tests database to nail it. Looking to file an insurance claim? You've come to the right place. College applications drained your accounts? Request college fee waivers with our assistance.
The DoNotPay app is so versatile that it can easily locate any unclaimed funds under your name or any clinical trials that you're eligible to participate in. We can also schedule DMV appointments and take care of your small claims court documents.
Check Out What Else DoNotPay Has in Store
DoNotPay never stops upping the game. You can explore some of our latest features and see how you can access public records, receive free online fax, submit a warranty claim, or get compensation if you were a victim of a crime.
Alternatively, check out some of our most popular products that aim to reclaim your funds—from getting airline flight compensation and submitting refund and chargeback claims to canceling your unused subscriptions and getting class action cash from email, text, and robocall scammers.