Drafting a Michigan Rental Agreement Has Never Been Easier
Hiring a lawyer to draw up a basic rental agreement for you that would take them no more than an hour seems like a waste of money. Why not download a contract template, such as a free printable basic rental agreement? While writing a contract doesn't always require a lawyer's expertise, resorting to online templates is not a good idea. If you want a professional legal document with the terms tailored to the landlord and tenant in question, as well as Michigan rental laws, DoNotPay is the way to go!
Count on our app to generate your customized Michigan rental agreement in no time! We'll also walk you through the relevant Michigan laws and break down rental agreements so that you understand what you're entering into.
Understanding Rental Agreements
A rental or a lease agreement is a document between a landlord and a tenant that should be drawn up to specify the terms of the rental. Although rental and lease agreements are used interchangeably, some people view them separately as a rental agreement is typically short-term or month to month, while standard lease agreements are usually for a one-year period or longer.
If you're renting a property for business, you need a commercial lease agreement, and if you're renting a residential property, a residential lease agreement is for you.
Laws Regarding the Rental Agreement in Michigan
Understanding Michigan residential laws regarding rental is crucial for both the landlord and the tenant. By familiarizing yourself with the regulations, you'll know you are abiding by the law and that both parties are protected.
Here are the most important guidelines to follow before drafting and signing your Michigan rental agreement:
Regulation

Details

Michigan Truth in Renting Act

A landlord has to include a notification of the

Michigan Truth in Renting Act

in the rental agreement

Disclosure—domestic violence victims

A landlord must disclose in a notice or rental agreement that tenants may break the lease in case of domestic violence, sexual assault, or stalking

Disclosure—lead-based hazards

The federal law requires a landlord to disclose the existence of lead-based hazards in residences built before 1978

Disclosure—rental inspection checklist

A landlord must provide a rental inspection or inventory checklist for moving in and vacating a property. Tenants have seven days to review the list and the property and give the list back to the landlord

Security deposit notice

Tenants must receive a security deposit notice from the landlord within 14 days after they move in. The notice should include the bank's name and address where the deposit will be held

Security deposit

A landlord can request a maximum of one and a half month's rent as a security deposit. Within 30 days after vacating, they need to return the deposit to the tenant
What Should a Standard Lease Agreement in Michigan Include?
A standard Michigan lease agreement should consist of the following terms:
Landlord and tenants' names, addresses, and contact info

Date of the agreement and move-in date

Description of the rented property

Term of the tenancy—the start and end date

Rent amount and payment

Other costs, additional expenses, and late fees

Security deposit details

Responsibilities for repairs and maintenance

Pet rules

Lead-based hazard disclosure

Landlord's access to the rented property

Dispute resolution

Signatures
Use DoNotPay To Write Up a Michigan Residential Lease Agreement
Writing up your Michigan residential lease agreement with DoNotPay is a piece of cake! After a few answers and clicks on your end, we'll take care of the rest. Here's how it works:
Access our app from your

Type in

Lease Agreement

Answer several questions to personalize your agreement
Once we generate your document, you can print it out or fax it to the other party and even e-sign it through our app.
If you run into any trouble during your rental, you can rely on DoNotPay for help. We can assist you in regards to: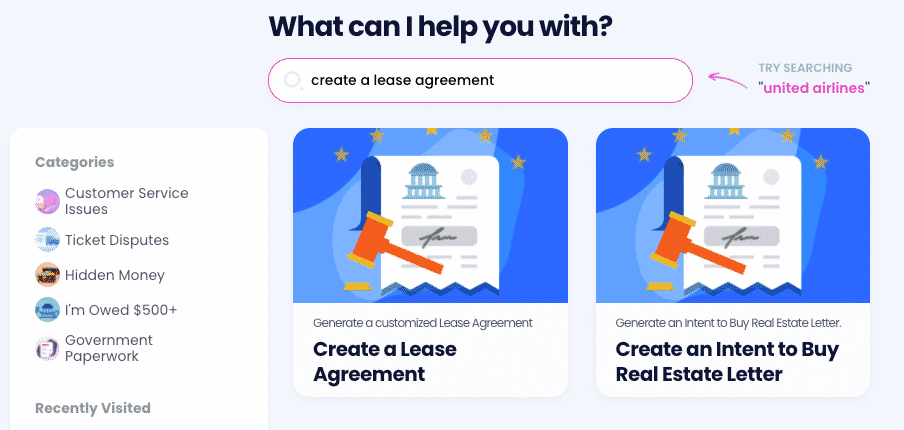 In case you need more Michigan-specific legal documents, we can help you with a Michigan land contract.
DoNotPay is well-versed in creating a variety of legal documents for you, including:
General affidavit

Promissory note

Estoppel certificate

Intent to purchase real estate

General business contract

Quitclaim deed
Drawing Up Various Real Estate Agreements
Whether you're a landlord or a tenant, you may need additional real estate or rental agreements in the future, and can help you with them. As a tenant, you may want to sublease the rented property or get a roommate. Browse our learning center and find tips and guidelines for drafting the following documents:
Use Our Robot Lawyer To Eliminate Pesky Tasks
Administrative tasks are often time-consuming, which is why many people give up on them before even trying to tackle them. Requesting refunds, canceling services, signing up for clinical trials, reporting stalkers and robocalls, and trying to find unclaimed money are all processes that would usually take a long time to resolve.
With the help of DoNotPay, though, all of these admin hurdles become a piece of cake. In just a few minutes, our app can assist you in appealing parking tickets, getting in touch with your imprisoned loved one, getting an extended warranty, reporting copyright infringement, and so much more!
Don't Break the Bank—Sign Up for DoNotPay!
Our app can save you lots of money by helping you get a refund from any airline, sign up for a free trial without your credit card info, earn off persistent and illegal spam emails, and get an application fee waiver for a college you apply to.
With DoNotPay, you can even schedule a DMV appointment or jump the phone queue when getting in touch with a customer service representative without breaking a sweat!