A Guide to Filling Out a Michigan Property Tax Poverty Exemption Form
Michigan is a state with poverty issues. Even before the pandemic hit in 2020, the state reported about 14% of residents living in poverty and another 28% struggling to make ends meet.
Annual property tax bills add to your financial woes in Michigan as the state has some of the highest tax rates in the nation, with an average of 1.45%. Compared to the U.S. average rate of 1.07%, there are definitely cheaper places to live.
High poverty and high property taxes add up to one thing—the need for a Michigan property tax poverty exemption to help ease the financial burden for state residents. Fortunately, such a thing exists, and DoNotPay can help you access it.
How Is Michigan Property Tax Calculated?
In Michigan, your local authority calculates your property tax by multiplying the local tax rate by the assessed taxable value of your real property. Property tax is unavoidable for the majority of property owners in Michigan, but there are a number of exemptions and discount schemes in place to help you.
The tax rate in Michigan is determined at a county level and based on the budgets submitted by each service that requires funding. The services include local amenities, schools, the police and fire departments, and maintenance services. Property tax rates can vary widely from county to county, depending on the amount of funding needed.
The second part of the property tax equation is the assessed taxable value of your property. This is also determined at a local level and takes three approaches into account:
| | |
| --- | --- |
| Approach | Explanation |
| Sales comparison approach | A comparison of the property with the prices achieved by other similar properties in the area that have sold recently |
| Cost approach | An estimate of what a property would cost to build at today's prices |
| Income approach | A fair value based on the income a property generates; this approach is typically used for commercial properties |
When you purchase property in Michigan, the fair market value is determined using one of the above methods, and this becomes the basis for your property tax bill for the first year after purchase. In subsequent years, the value on which you are taxed is set at 50% of the market value, and increases are limited to the inflation rate, irrespective of your property's increase in value.
Poverty in Michigan is a serious problem, with many people needing help with paying their property tax. Fortunately, DoNotPay can help you take advantage of all the exemptions on offer in the state.
What Is the Michigan Property Tax Poverty Exemption?
Michigan realizes that an increasing number of residents need a property tax break and has instituted a poverty exemption for property tax that is available if you are unable to contribute to the public purse.
Everyone's situation is unique. Each case is treated on its own merits, and your local authority will determine whether you are eligible. You can check out the process and get a Michigan property tax poverty exemption form on the Michigan Department of Treasury website. 
The criteria for the exemption are as follows:
| | |
| --- | --- |
| Criterion | Explanation |
| Income level | Local tax units set an income level each year, below which a household may be eligible for a property tax poverty exemption |
| Asset test | All applicants are subjected to an asset test to determine whether they own any significant assets other than the principal property. Each local tax unit is allowed to determine whether any assets rule out the eligibility for a property tax poverty exemption |
| Partial or full exemption | Local tax units can offer either full or partial exemptions on a principal residence, depending on the outcome of the above two tests |
To apply, you need to fill out the Michigan property tax poverty exemption form.
Other Property Tax Exemptions in Michigan
Michigan also offers property tax exemptions in the following categories:
Principal residence exemption

Senior citizens

and disabled persons exemption

Disabled veterans exemption

Veterans surviving spouse exemption
How Can You Get a Michigan Property Tax Exemption?
All applications for property tax exemptions are handled by your local tax authority, who will also adjudicate your case.
The Michigan Department of Treasury has a page that can assist you with information for your exemption applications, but DoNotPay makes the process much easier. 
DoNotPay is here to help you check your eligibility for a property tax poverty exemption in Michigan and start the application procedure.
DoNotPay Can Help You Fill Out a Property Tax Poverty Exemption Form in Michigan
Applying for any property tax exemption is a convoluted process, but DoNotPay can help you understand what needs to be done.
Our app determines where you are, asks for some basic information about you, and gives you customized recommendations on how you can secure all the exemptions you are eligible for. The app has two sections—property tax exemptions and property assessment appeals.
We'll list all the property tax exemptions available for you in Michigan, the forms you need to fill in, and instructions on how to submit them. If you want to lodge an appeal, we'll provide instructions on how to negotiate with a property assessor and appeal an incorrect assessment.
How Do I Get DoNotPay's Property Tax Guide?
Getting our property tax guide is as easy as one, two, three:
Sign up with DoNotPay using any

web browser

and look for the

Property Tax

feature

Answer the questions about yourself and your property

Wait while the app generates a customized guide to your property tax reductions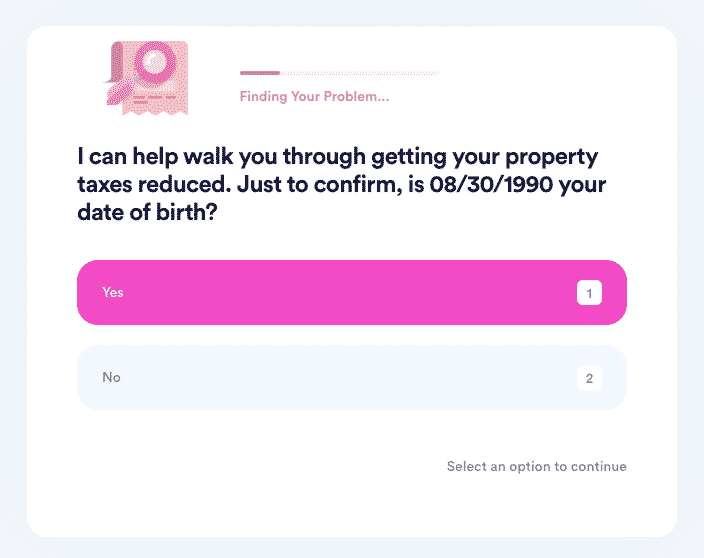 Use DoNotPay To Help You Lodge an Appeal in Michigan
There are other actions you can take to lower your property tax bill in Michigan. Take a look at these options:
Avoid renovations or improvements to your home that may increase your property's assessed value

Ensure that your property tax bill is 100% accurate

Make sure you are present when your property is assessed
If you feel your property assessment is wrong, you can contest or appeal it, but this should be your final step after all other avenues have been investigated. DoNotPay is here to help you understand the Michigan appeal procedure, get the necessary documents together, and launch your appeal.
Falling for Scams Is Less Likely With DoNotPay
Thanks to AI technology, DoNotPay is a great resource for protecting your privacy and finances from potential scammers. Our bots can help you report robocalls, keep your inbox clean from spam email and shady text messages, or even deal with stalking and harassment, if it comes to that. 
In case the issues escalate, skip the expensive lawyers and sue the offenders in small claims court with ease. 
Another great way to increase your online security is to use our virtual credit cards and sign up for any free trial without risking unwanted charges. You can even avoid sharing your contact info with our Burner Phone feature. 
The Solution to Your Driving Woes
DoNotPay provides invaluable help to future and current drivers. By helping you ace that driver's license test, scheduling a DMV appointment the easy way, or contesting parking tickets, our app saves you money and time. 
If you need to file a car warranty or an insurance claim, we will help you deal with the necessary paperwork within minutes. Trying to get out of a car wash membership? DoNotPay can cancel it in an instant. 
Our platform works above ground as well. You can use DoNotPay to secure refunds from airline companies or compensation for delayed and canceled flights.