A Rundown on Michigan Property Tax Exemption for Seniors
Michigan doesn't belong to states with low property tax rates, as the average annual tax exceeds $2,000. Many residents keep struggling with paying their property tax bills, including seniors who usually live on their retirement savings.
Luckily, most states provide certain benefits to help elderly citizens lower their tax expenses. If you want to know how Michigan property tax exemptions for seniors work and apply for them the easy way, this article will answer your questions.
What Are Property Tax Exemptions?
Property tax exemptions are specific programs created by state and local authorities to help people reduce their tax bills. 
Not all citizens are entitled to receive such benefits. Property tax exemptions usually apply only to:
Agricultural property holders
Details of Michigan Property Tax Exemption for Senior Citizens
The state of Michigan offers a homestead property tax credit for senior citizens and their surviving spouses. You can check out the application requirements below:
Criteria
Details

Persons who can apply for the senior tax credit

A senior turning 65 or more by the end of the current tax year

Surviving spouse of the person who was 65 or older at the time of their death

The minimum time the applicant must have spent in Michigan before applying for the tax credit

Six months of the current tax year

The maximum household income in the current tax year

The maximum homestead taxable value
How Is Your Michigan Property Tax Credit Calculated?
If you want to determine the amount of your senior property tax credit, you need to consider two factors:
Total household income

Non-refundable property taxes you paid
Here is a table showing how to calculate it:
Household Income
Calculation Details

< $3,000

The government gives you a refund of all property taxes paid up to $1,200

$3,001–$21,000

Consider the percentage of non-refundable paid taxes:

$3,001 to $4,000—1%

$4,001 to $5,000—2%

$5,001 to $6,000—3%

$6,001 to $21,000—3,5%

You will get your tax credit amount if you subtract the product of your total household income and the convenient percentage from your paid property taxes. This is how tax credit should be calculated for any household income unless it's below $3,000

$21,001–$41,000

Your tax credit will be lowered by 4% for each thousand that exceeds this amount, starting from $21,001 (100%), $21,001 to $22,000 (96%), and so on

$41,001–$50,000

Your tax credit will be phased out.

After calculating your tax credit amount, you should multiply it with the applicable phase-out percentage, which is minus 10% for each thousand that exceeds $41,001, starting from $41,001 to $42,000 (90%), $42,001 to $43,000 (80%), etc.
Get Available Benefits the Easy Way With DoNotPay
Government bodies that collect property taxes never inform citizens about the available tax benefits. The only way to find out more about the property exemptions you may be entitled to as a senior is to search through multiple websites. Such endeavors can be tiring, especially for older adults, as most of them are not tech-savvy.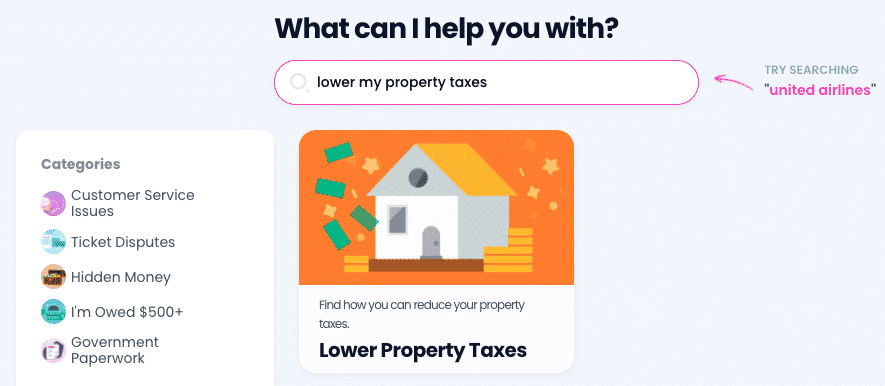 DoNotPay has come up with a user-friendly solution to help you find out if there are any tax exemptions you can apply for. 
Here are the steps you should follow:
Log in to DoNotPay in any

web browser

Navigate to the

Property Tax

section

Enter the details related to your property, such as the state where it's located, your age, annual income, etc.
After completing this questionnaire, DoNotPay will create a comprehensive guide with all the necessary instructions for finding convenient tax exemptions and applying for them. All you need to do is download it and explore all the tips!
We will gladly share with you the best advice on applying for senior tax exemptions in other states, including: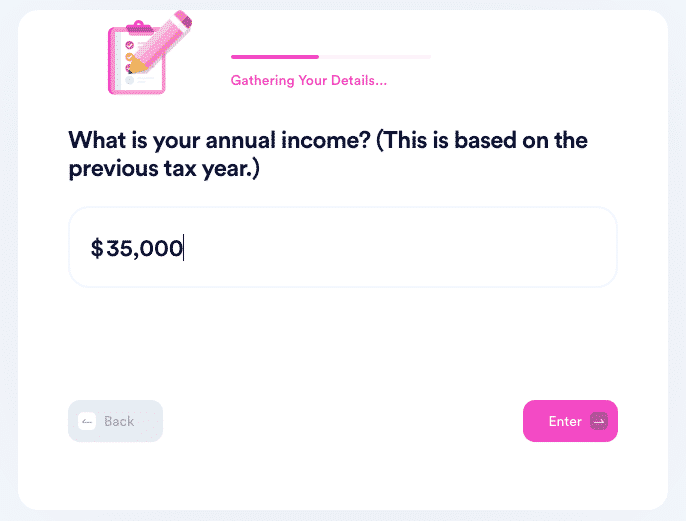 Appeal Your Previous Property Tax Assessments Easily
Assessors make mistakes. If you think they made a wrong estimate, you should appeal their assessment. 
Filing an appeal on your own may be challenging, and many people don't know what paperwork they need or how to submit their request.
If you don't know where to start, give DoNotPay a go! You can use our app to get a customized manual to guide you through the appeal process. It contains concrete strategies for communicating with your assessor effectively and getting the best appeal service.
Interested in appealing inaccurate assessments in other states? Check out our guides to the appeal procedures in many counties across the USA, including:
Need Help Fighting Bureaucracy? Use DoNotPay!
As the world's first robot lawyer, DoNotPay can help you resolve a plethora of tedious administrative issues. Our app will assist you in getting justice in small claims court, getting refunds from merchants, reporting annoying spam emails and text messages, reporting copyright infringement, bypassing phone number verification, and so much more!
You can also rely on DoNotPay's help when it comes to subscriptions. If you want to sign up for a free trial, cancel a service you no longer use, and skip the phone queue when doing so, our app will provide its assistance.
Our App Saves You Time and Money
Are you unable to pay your bills? Use the world's first robot lawyer app to cover them! Do you want to appeal your traffic or parking tickets? DoNotPay will help you appeal them in the blink of an eye.
Our app can do so much more than that, though—with DoNotPay by your side, you can sign up for clinical trials, ace government tests, claim any type of warranty, schedule an appointment with the DMV, and handle any other bureaucratic task.