All About Michigan Property Tax Assessment Rules

Compared to other states with low tax rates, Michigan seems to be a pricey terrain for homeowners with a tax rate of 1.58%. If you aren't familiar with the property tax assessment and how it works, you may get confused by the numbers stated on your tax bill. 
In this article, we will explain all Michigan property tax assessment rules and help you save some money on your tax expenses. 
Michigan Property Taxes in a Nutshell
Like in any other U.S. state, Michigan property owners must pay annual taxes. The government allows them to pay off the debt in two installments—usually in July and December of the current year. Once the tax money is collected, the local authorities use it to improve and finance public properties and services, such as:
Parks

Libraries

Public hospitals

School systems

Recreational facilities

Sewage treatment and sanitation

Public safety—police, fire stations, and other emergency services

Streets and roadways—traffic light repairs, sidewalk replacement, etc.
Michiganians can apply for property tax exemptions to lower their tax bills if they belong to specific social categories, such as veterans, disabled people, or senior citizens.
How Does Michigan Property Tax Assessment Work?
The local government organizes property tax assessments annually in all Michigan municipalities. Specialized officials, also known as tax assessors, visit your property to estimate its taxable value. It's usually equal or close to half the market value of your home, depending on numerous factors.
The assessor then multiplies the estimated taxable value with a local tax rate to get the tax amount you need to pay. Tax rates depend on your location, as local governments determine this figure. You can't do much to reduce the rate, but you can always check whether you can lower the taxable value of your home instead. Proving that the assessor estimated it too high can bring you financial relief. 
How To Check if Your Property Tax Was Assessed Properly?
Assessors are professionals, but they can make mistakes or overlook details. Here are the ways to check whether they did a good job:
Revising your tax records

Comparing your home value to the value of similar houses
Revising Your Tax Records
If you suspect that the officials have misestimated the value of your property, the best way to check it is to search through your tax records. The following table shows the details you should check once you access these files:
| | |
| --- | --- |
| Criteria | Details |
| Classification | You can check if the assessor had categorized your property as residential |
| Age | If the age of your home is noted incorrectly, it may be enough to get a higher tax bill |
| Space size | Besides assessing the exact size of the house and the land on which it sits, the officials need to note the correct number of rooms, including multiple bathrooms, bedrooms, and other additional house areas |
| House improvements | It's crucial to check the listed house improvements, as the records may contain mistakes or state renovations you didn't perform |
| House defects | The officials need to note all malfunctions and defects in the house, which may significantly decrease your home value. Make sure each of them is listed in your records |
Comparing Your Home Value to the Value of Similar Houses
Besides checking your records, you can revise the records of other people with similar houses. You can compare the assessed taxable value and sale prices to yours and see the differences.
Another way to reduce your taxes is to consider property tax exemptions. If you belong to one of the categories entitled to them, apply for tax relief.
Cut Your Property Taxes Easily With DoNotPay
Property tax exemptions are the best way to cut your tax bills, but not many people are familiar with such benefits. They don't apply automatically, and getting them requires a specific procedure. You need to submit an application, which can be tiring and complicated if you don't know where to find the required forms and documents and how to fill them out.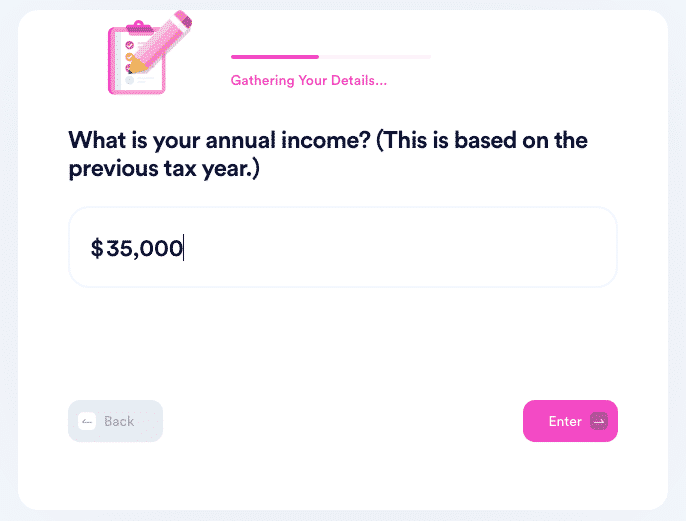 DoNotPay made the application process easier by creating a Property Tax service. You get the full list of the exemptions you can apply for in a snap! 
Here are the steps you need to follow:
Log in to DoNotPay using any

web browser

Locate the

Property Tax

feature by using the search box

Tell us more about your property by completing a short questionnaire
As soon as you finish, we will create a customized guide for you. It will contain step-by-step instructions for gathering the supporting documentation and submitting your application the easy way!
With our help, you can also learn more about the ins and outs of Michigan property tax exemptions for veterans and senior citizens.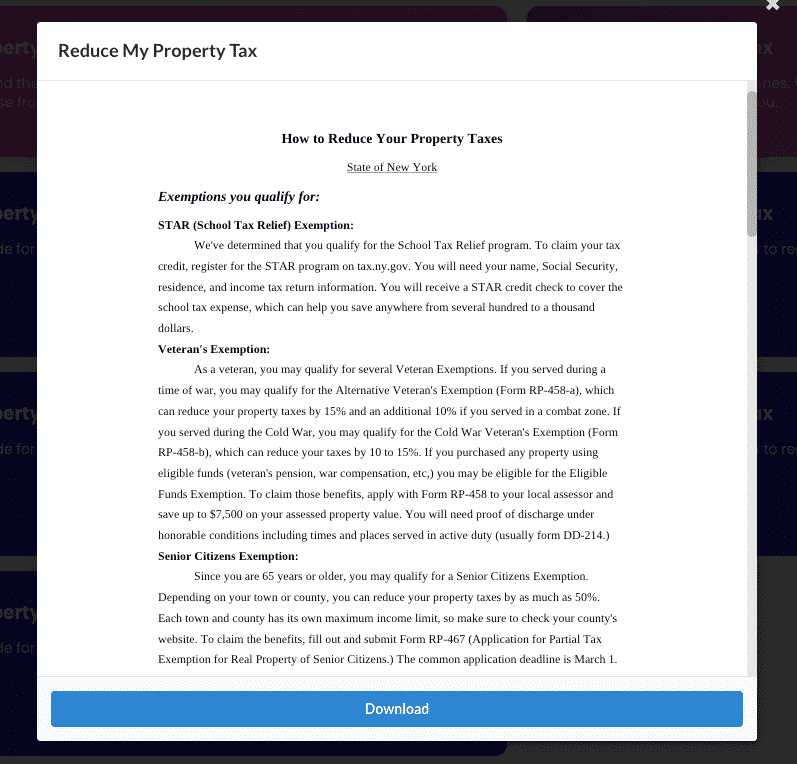 DoNotPay Helps You Appeal Inaccurate Property Tax Assessments
If you noticed any irregularities while checking your tax records, use DoNotPay to get some handy tips on appealing the wrong estimate! Our manual will teach you how to:
Communicate with your assessor

Find convenient appeal forms

Submit your appeal to the right department
Our Robot Lawyer Gets Rid of All Admin Tasks
What makes DoNotPay so unique is that it helps you get back what is rightfully yours in many different ways. You can appeal parking tickets, find unclaimed money, demand a refund for canceled or delayed flights, get help with bills you cannot pay, or get your college application fees waived with the help of our platform.
If you're sick and tired of annoying robocalls, spam emails, copyright violations, text message spam, or stalkers and harassers, DoNotPay can assist you in getting rid of them once and for all.
DoNotPay Can Help You Save Money
Have you ever subscribed to a service's free trial you forgot about after a few days? Many Americans have, which is why DoNotPay has a free trial feature that will help you avoid getting charged once the trial is over.
If you want us to scan all your active memberships and help you not pay for the ones you don't use, connect your email address or credit card to DoNotPay. Our cancel feature will ensure that you don't waste your money on subscriptions you don't even remember exist.
If a merchant charges you once the free trial is over, though, you can use our robot lawyer to request a refund and skip the phone queue when doing so.
In case a company refuses to grant you a refund, you can also use our app to sue them in small claims court.