Michigan Divorce Forms Need To Conform to Certain Norms
Going through a divorce is stressful enough, even if you don't have to worry about the official requirements, paperwork, forms, or cost. If you can't afford or don't want to pay for a lawyer, you should get familiar with the procedure and state law.
In case you'd like to know what Michigan divorce forms you need to complete, DoNotPay deciphers the documents and throws in a few tips to help you with this demanding task.
Divorce Forms in Michigan
If you'd like to file for divorce—no matter how amicable it is—you must comply with Michigan law. The process gets even more complicated in case you have underage children.
The following table shows the list of forms you have to file with a clerk of the circuit court to start the divorce procedure:
Divorce Without Underage Children
Divorce With Underage Children

Summons
Complaint for divorce
Confidential case inventory, if applicable—not used in all cases
Record of divorce or annulment—you might file it at the end of the case in some counties

Summons
Complaint for divorce with children
Confidential case inventory, if necessary
Uniform child custody jurisdiction enforcement act affidavit
Verified statement
Application for IV-D child support services, i.e., form DHS-1201D
Record of divorce or annulment
While you might not need to file all of the above-listed forms at the beginning of your case, you'll have to:
Sign all
Make a sufficient number of copies
Get some documents notarized, e.g., the Uniform child custody jurisdiction enforcement act affidavit
Since your county might have specific requirements, you should contact your circuit court clerk's office to make sure you've got the appropriate forms. You could also use the divorce checklist for additional help.
Where To Get Free Michigan Divorce Forms
The Michigan Legal Help provides a do-it-yourself divorce tool to help you prepare the mandatory forms.
If you're not sure how to fill them out correctly, you could hire a lawyer. While turning to an experienced divorce attorney might be a convenient way, it's also the most expensive one. You should confirm whether the terms and fees are suitable for you.
Should You Pick a DIY Divorce in Michigan?
If you'd like to go through the divorce process without a lawyer, you should try negotiating the major issues with your spouse, including alimony, child custody, and division of property and debt.
In case you can cooperate and agree on all important aspects, go for an uncontested and low-cost divorce because you probably won't need attorneys to complete the process.
Here are the steps to take to prepare all necessary documents:
Prepare and sign the forms—Make sure to check what forms you need to sign in front of a notary public (you can use DoNotPay's Notarize Any Document tool to get all your documents notarized smoothly)
Get your court fees waived—Check if you qualify
Make copies—Since the originals are filed with the court, you must make enough copies for the:

Plaintiff, i.e., you
Defendant, i.e., your spouse
Friend of the court, i.e., a part of the family division of the circuit court involved in child custody, parenting time, and child support decisions
You Have Prepared Michigan Divorce Forms—What Comes Next?
Once you've prepared all the forms and copies, here's what to do next:
File the forms—You'll need to file the forms with the court clerk's office in your county. If you don't qualify for a fee waiver, you must also settle the required fees at this point
Have your spouse served with the divorce papers—While you cannot serve the papers personally, you could ask anyone who is at least 18 years old and not a party in your case, including:

Your friend or relative
The local sheriff's department, police department, or a process server

File a motion for a second summons—If you cannot get your spouse served within 91 days from the issue date on the Summons document, you should file this motion
File a proof of service with the court clerk—The person who served the divorce papers to your spouse must fill out the proof of service, file it with the court, and give you a copy
Enter a default—If your spouse doesn't file a response within the period stated in the Summons, you should file the Default request and entry form to the court clerk's office and mail one copy to your spouse
Schedule your hearing—To enter a Judgment of divorce by default, you'll need to contact the court clerk's office and schedule a hearing
Sounds too complicated and time-consuming? That's because it is. You should also prepare a settlement agreement determining all the aspects of the divorce. If your divorce is uncontested, DoNotPay can draft this sensitive document for you
DoNotPay Provides a Trustworthy Divorce Settlement Agreement Tool
Our AI-powered app scans all state-relevant laws and forms to help you get an agreement suitable for your specific situation.
You can use DoNotPay from the comfort of your home at any time of day or night. We'll streamline the process to make your divorce a little less difficult.
What's your part? Subscribe to DoNotPay and take these steps:
Type in Divorce Settlement Agreement in the search box
Give answers to our chatbot's questions to help us evaluate your situation
Provide information about your property and income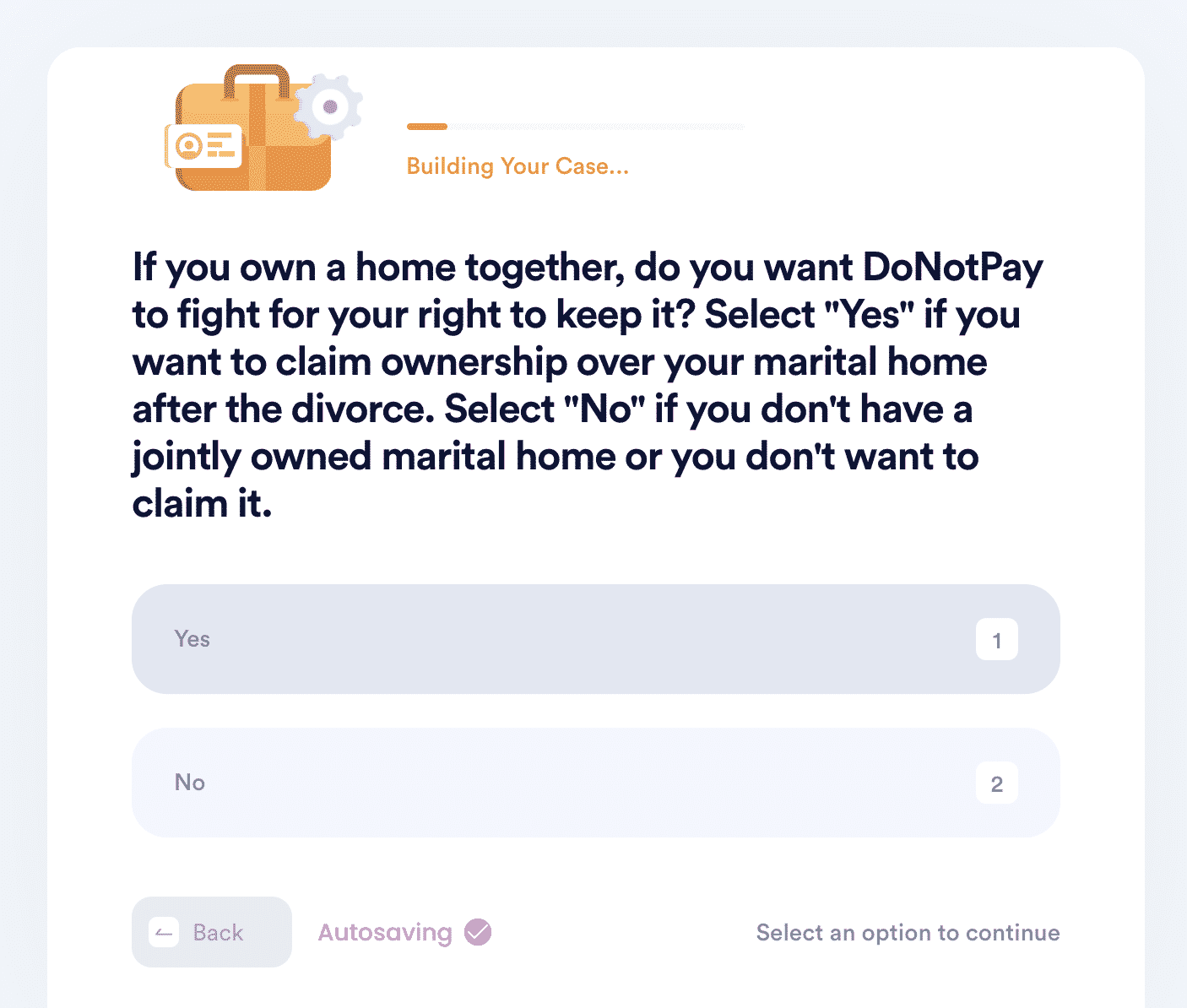 Once you've completed these easy steps, DoNotPay generates a divorce settlement agreement compliant with your state law.
We also offer to have it notarized at the same time. The notaries we cooperate with are available 24/7 and can perform the service remotely via a live video call.
Would You Like To Learn More About Divorce Procedures?
Our website is full of helpful articles covering various divorce-related issues. DoNotPay tackles the following hot topics:
Here are a few that offer the specifics of divorce procedures in Michigan and its counties:
Communication Troubles? Say No More!
Yes, communication is the key, and DoNotPay vows to provide you with the best, most convenient methods to relay or protect your message—whether it's correspondence with your business partner or a loved one who's serving time.
Check out what you get by using our platform:
Use DoNotPay for a Better Shopping Experience
If you have a tendency to shop till you drop, some issues with purchases are bound to happen. Customer rights and satisfaction is what DoNotPay is passionate about.
With your subscription, you will be able to: