A Step-by-Step Guide to Applying for Michigan Crime Victims Compensation
Victims of violent crimes or their dependants frequently have to deal with high crime-related costs, which can cause more stress and make the healing slower. Michigan violent crime victims who are struggling to pay medical treatments, counseling, and other expenses can apply for Michigan crime victims compensation.
To in a matter of minutes, you should rely on DoNotPay. We will tell you all about crime victims compensation programs and funds, including the 9/11 Victims Compensation Fund and emergency funds for domestic violence victims.
Michigan Crime Victim Services Commission Compensation Program Explained
The Crime Victim Services Commission (CVSC) Compensation Program covers the crime-related expenses of:
Victims of a violent crime that occurred in Michigan

Sexual assault victims

Individuals who got hurt while trying to help crime victims

Dependants and family members of homicide victims

Michigan residents who got injured in states that don't offer compensation to non-residents

Victims of international terrorist attacks that took place outside the U.S.
The CVSC Compensation Program is administered by the Michigan Department of Health & Human Services. The commission consists of five members:
Attorney

County prosecutor

Peace officer

Community-based victim advocate

Health professional
Crime victims compensation programs are considered last resorts in all states. You should use your other sources—including Medicaid, insurance, donations, and similar—first, and then apply for the Crime Victim Services Commission (CVSC) Compensation Program for remaining costs.
The Michigan Department of Health & Human Services gets funding for violent crime victims from:
Do You Qualify for Michigan Crime Victims Compensation?
You're eligible to get crime victims compensation in Michigan if you:
Have filed a police report no later than 48 hours from the incident

Cooperate with the police

Apply for the compensation program within one year of the crime

Lost at least $200 or two weeks of work because of crime-related injuries
The Michigan Department of Health & Human Services will reject your application if you:
Were an accomplice in the crime that resulted in injury

Caused the injury

Participated in an illegal and dangerous activity that caused the injury
Sexual Assault Forensic Examiner (SAFE) Program
If you were a victim of sexual assault but you don't want to talk to the police, the Sexual Assault Forensic Examiner (SAFE) Program can help you out. The program will cover your forensic exam expenses. While the SAFE program is useful, it doesn't cover other medical costs or counseling. If you got injured during the assault and need medical treatment, you should consider filing a police report to qualify for the CVSC Program.
Need Help Applying for Crime Victims Compensation in Michigan? Rely on DoNotPay!
When dealing with physical and mental trauma, the last thing you need is to stress over the crime-related costs that keep adding up. If you're eligible to get crime victims compensation in Michigan, you should apply for the Crime Victim Services Commission Compensation Program.
Filing your application on the Michigan Department of Health & Human Services website can be time-consuming. DoNotPay wants to help you go through the process as quickly and effortlessly as possible so that you can concentrate solely on getting better.
To apply for the CVSC Compensation Program in less than five minutes, you should and follow these steps:
Open our

Compensation for Crime Victims

product

Indicate if you're the victim or a family member of the victim

Answer our chatbot's questions regarding the crime and your expenses

Verify your signature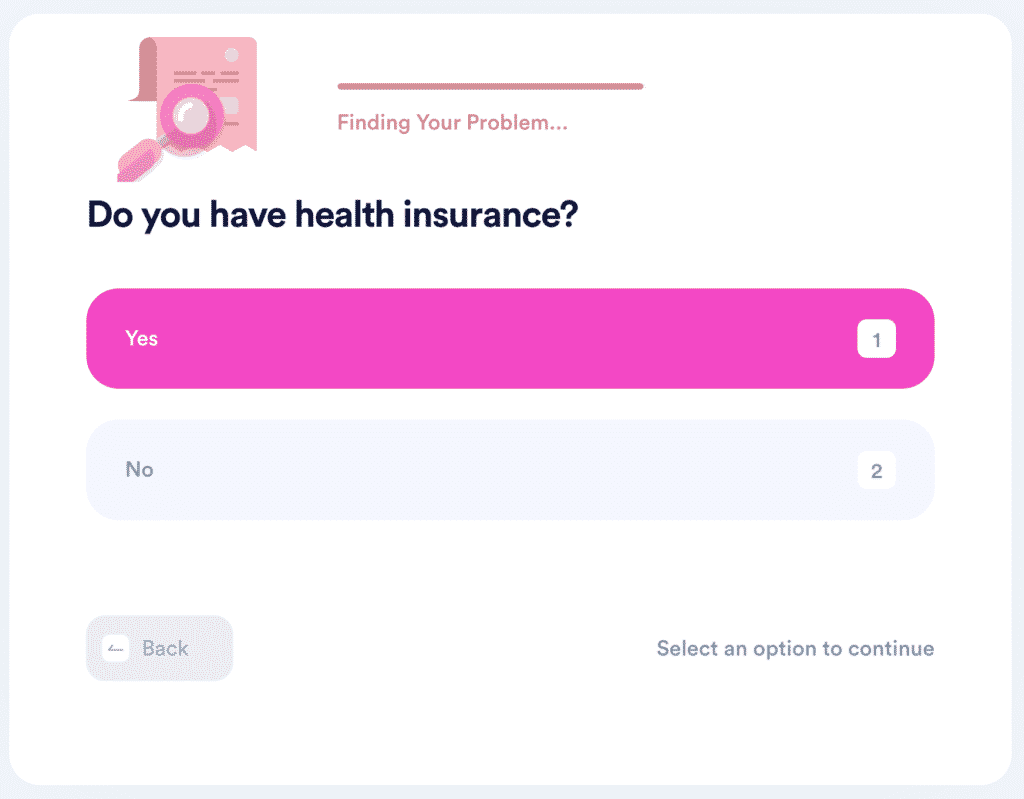 DoNotPay will complete your application and send it to the appropriate office.
Other than in Michigan, you can use our app to apply for crime victims compensation programs in other states, including:
Find Out Which Costs the CVSC Compensation Program Covers
The maximum compensable amount that a victim or another claimant can get is $25,000. To find out which crime-related expenses are covered by the program, consult the following table:
Compensable Costs

Maximum Compensable Amounts

Medical expenses:

Medical and dental treatments

Prescriptions

Ambulance

Hospital fees

Not specified

Mental health counseling (35 sessions)

$80 per session with a therapist

$125 per session with a psychologist

Lost wages or support

$350 a week

Grief counseling for relatives of homicide victims

$500

Funerals

$5,000

Crime scene cleanup in homicides

$500

Replacement services (housekeeping and child care)

Not specified

Rehabilitation

Not specified

Travel expenses if the necessary medical treatment isn't available locally

Not specified
The CVSC Compensation Program doesn't cover the following:
Property loss or damage

Pain and suffering

Living expenses

Relocation costs

Cost of participating in a trial
Can You Appeal the Claim Specialist's Decision?
If your application gets rejected, you can file an appeal within 30 days of being notified about the claim specialist's decision. You can either request a review of the application or a hearing in front of the commission in Lansing. The decision that the commission makes will be final.
DoNotPay Can Do Your Paperwork for You!
Feeling like you're in bureaucratic hell? Our app will draft the paperwork you need and get you out of any hurdle before you know it!
We can compose most of the documents that you require for any administrative purpose in your jurisdiction, most notably:
More of What We Can Do for You
Our multifaceted app can call and record the conversation with the customer service of the company that just won't let you go! If you are having trouble canceling an unwanted service via the traditional channels, use DoNotPay to get it over and done with!
We can help you stop the persistent robocalls and robo texts from the nagging company and request a refund for unused services in a matter of minutes.
We'll also lend a helping hand in stopping spam mail—whether it's electronic or paper. Our Spam Collector product unsubscribes you from unwanted emails and cleans up your physical mailbox too!