Mexico Tourist Visa—Visit the United Mexican States Without Hassle
Mexico is an idyllic tourist destination for a plethora of reasons:
Perfect sand beaches for tropical getaways
Gorgeous swimming, snorkeling, surfing, and diving locations
Rich, gourmet cuisine with fantastic flavors
Traditional tequila blanco
Best chocolate in the Americas
Vast culture and tradition
Religious monuments, cathedrals, and churches
Festive events and mariachi music
Wondering whether you need a Mexico tourist visa when visiting from the U.S.? Find out the answer to that and other relevant questions below and sign up for our service for the quickest visa solutions!
Do U.S. Citizens Need a Tourist Visa in Mexico?
As a U.S. citizen, you do not need a Mexico tourist visa if you want to stay in the country for up to 180 days. You do need a Forma Migratoria Multiple (FMM)—which is a document that justifies the duration of your stay. Every visitor must have this paper ready when entering Mexico, and the same applies to Mexico visa holders.
FMM Application Process Explained With Steps
The FMM is a Government of Mexico document that is valid for six months from the expected date of entering Mexico. You can enter the country with it only once. You cannot work in Mexico with this document.
The process for receiving an FMM is easy if you follow the instructions below:
Go to the FMM application page
Enter the required info
Confirm the prompts
Click on Next
Print out the FMM from your email inbox
How To Submit a Mexico Tourist Visa Application Form Fast
If you plan on staying in Mexico for more than 180 days, you will need to obtain a visa. To do so, you must complete an application form and visit a nearby Mexican consulate or embassy. No third-party service, online or physical, can issue Mexican visas. Note that you will need to book an appointment for your application due to COVID-19.
You can make an appointment by sending an email to info@mexico.org.za. You should also send email copies to consular@mexico.org.za and local2@mexico.org.za.
The Mexico tourist visa costs $36. Military service, official, or diplomat visas are free.
Other Requirements You Should Know About When Traveling to Mexico
Even though you don't need a tourist visa for a vacation in Mexico, there are other requirements you must fulfill. You still need to:
Have a valid U.S. passport with one blank page (the passport must remain valid for at least six months after you leave the country)
Prepare the required documents for any other destination if you're traveling to another country from Mexico
Prove that you have enough money for your stay (usually with a bank statement)
Have proof of return and onward flights
Mexico COVID-19 Information for Tourists
At the moment of writing this article, Mexico was a Level 3 COVID-19 country, which means that there's a high risk of infection for all unvaccinated visitors.
While a negative COVID-19 test is not required for entry to Mexico, you may be subject to health screening upon arrival if you travel by plane. This doesn't apply to arriving by land or sea.
When returning to the U.S. by air, you'll need a negative PCR test not older than 72 hours. The testing doesn't apply to sea or land passengers.
Use DoNotPay To Get Quick Answers About Any Visa
If you are struggling to find info on whether or not you need a tourist visa or to submit a request for it online, don't worry—DoNotPay has your back. We can check the visa requirements, list the required paperwork, contact embassies, and show you the specific application forms!
Your only task is to follow the prompts below:
Select our Tourist Visa Guide product
Confirm that you are a U.S. passport holder
Enter your destination country
After that, we will:
Tell you whether you need a visa in a matter of seconds
Provide you with a direct link to the application or send you a PDF form you need to fill out if the process isn't digitized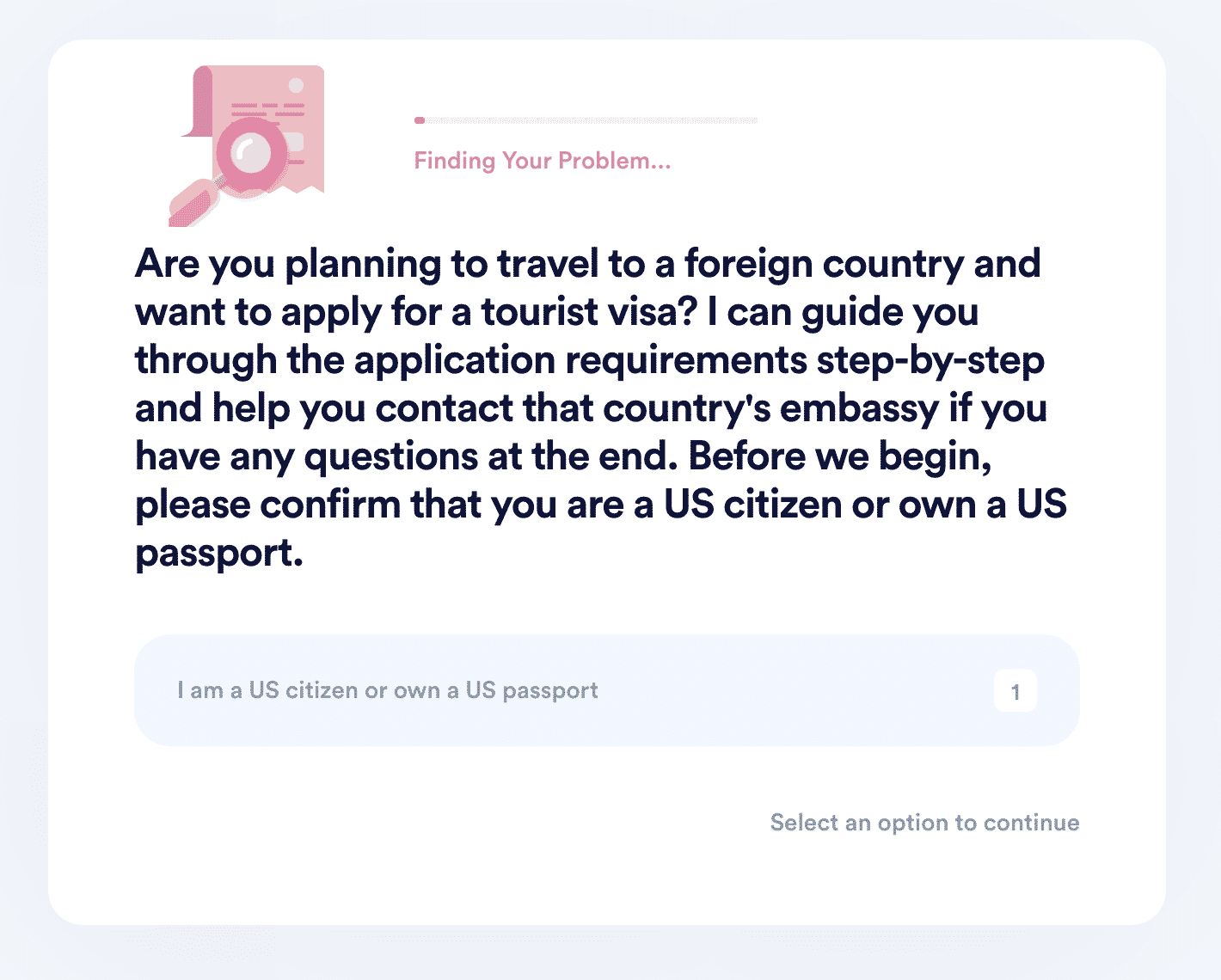 The Hottest Mexico Tourist Recommendations
If you're not sure where to go, here are some of the most popular vacation destinations in Mexico:
| Destination | Brief Explanation |
| --- | --- |
| Cancun | Cancun is renowned for its amazing weather, pristine beaches, tourist attractions, and world-class hotels, making it the best location for some R&R |
| Tulum | Tulum has a perfect combination of historical monuments, mesmerizing beaches, and breath-taking views for an otherworldly holiday |
| Puerto Vallarta | Puerto Vallarta is well-suited for tourists because of its nightlife, beautiful resorts, gourmet food, and other urban and maritime activities |
DoNotPay Provides Assistance With Tourist Visa Application Processes for Other Countries in the Region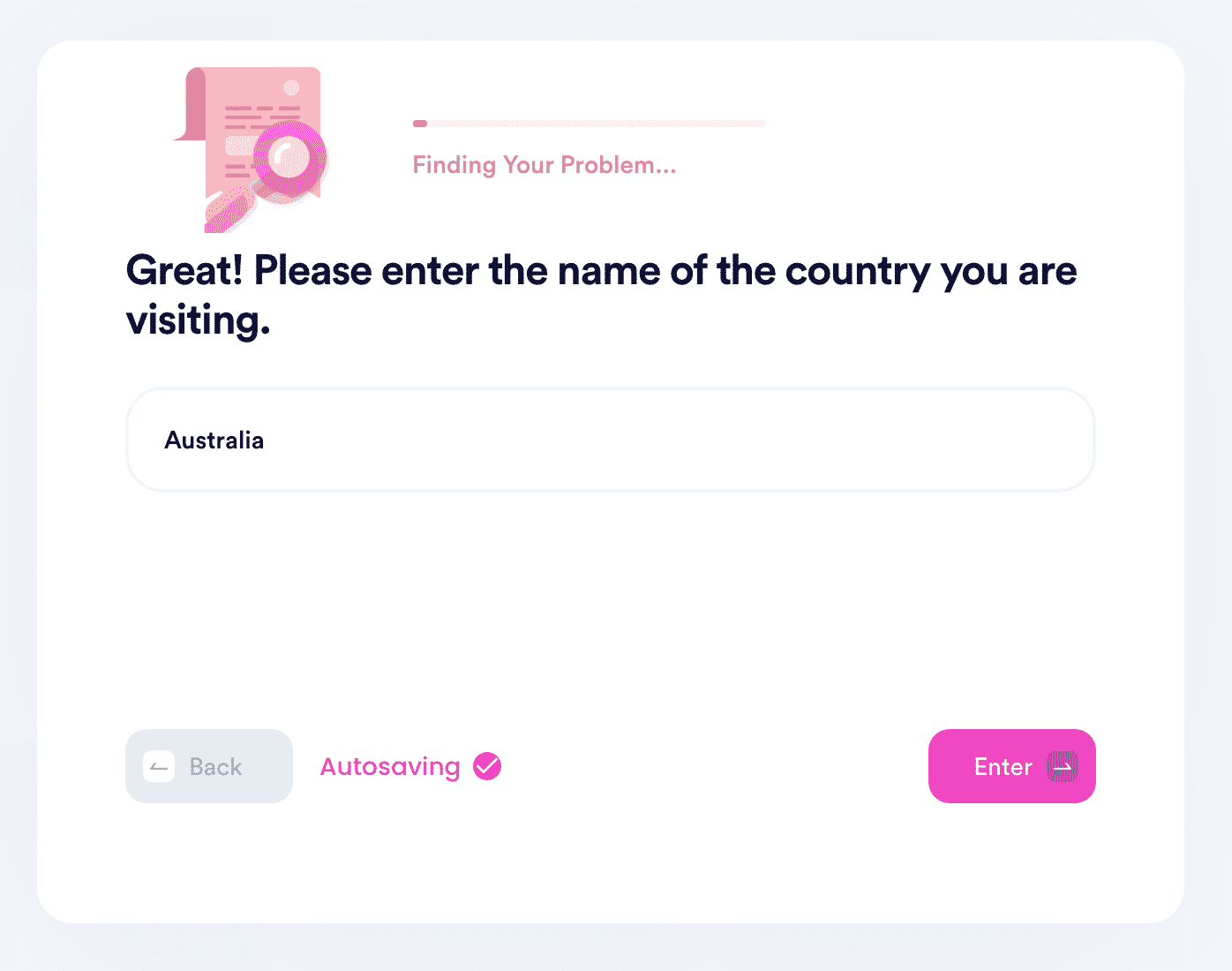 Visiting Mexico can be fun, but while you're around, why not visit the rest of Central America? We have the visa guides for all of the countries in North and Central America regions, as follows:
Discover the Entire Spectrum of Our Features
A click or two will be enough to discover the amazing universe of DoNotPay's tools and products. Our app is here to show you the best way to get:
Financial Issues? Let DoNotPay Take Care of Them!
DoNotPay can track down your unclaimed money, submit insurance claims, or request compensation for delayed flights on your behalf. This way, you can save some money and get what you're owed. Our app can also make it easier for you to lower your utility bills, cancel active subscriptions and stop further charges, or appeal parking tickets.