Get in Touch with The Mexican Consulate in Fresno, California
The Mexican Consulate in Fresno, California was founded in 1931, making it one of the earliest Mexican Consulates in California. Currently, Minister Adriana González Carrillo sits as the Titular Consul, following her vast repertoire of experience working within the Mexican government for foreign relations.
Jurisdiction of the Mexican Consulate in Fresno
The Consulate General of Mexico in Fresno serves the following counties:
Fresno
Inyo
Kern
Kings
Madera
Mariposa
Merced
Tulare
If you live outside of the jurisdiction of the Mexican Consulate in Fresno, please refer to this list of consulates in California to find one that applies to you.
What Does the Mexican Consulate in Fresno Have the Ability to Do?
In general, Mexican Consulate can provide assistance with the following:
A violation of your human rights by authorities in the foreign country
Detention by immigration agents
In the event of an arrest by the authorities
Recovering personal items that have been lost
Locating important people
Repatriating the remains of family members, returning sick Mexicans, and relocating people who are vulnerable
Distributing humanitarian permits
Assistance navigating DACA
Filing complaints for unpaid wages
Claiming minors that have been detained
Facilitating alimony pensions
Protecting and bringing justice for victims of domestic violence, hate crimes, and human trafficking of any kind
Preventing extradition or transfer of prisoners
Provide background checks and letters of blank criminal record
Civil Registration
The Consulate in Fresno can provide the following documents of civil registration:
A birth certificate
A marriage certificate
An official will
Documentation for the power of attorney
Stand in as a notary for document signing
Certificates acknowledging survival
Nationality declaration documentation
Visas and How to Apply for One
If you are a citizen of Japan, Canada, the UK, the United States, or Schengen, you do not need to apply for a visa to travel. If you are a non-US citizen who holds documentation allowing entry into the United States, you must apply for a visa.
In order to obtain your visa:
Write a letter to the consulate confirming that you are going to Mexico as a visitor, and do not intend on staying for longer than 6 months (180 days)
State exactly where you intend to visit in Mexico, the dates that you will be in the country, and any restrictions that may apply to your work
Provide an original copy of a document proving your legal status.
Provide a letter from your employer proving your regular employment (if applicable)
If you are a minor, present your birth certificate and a copy of the IDs of both of your parents
If you intend to study abroad, provide proof of enrollment
Provide documentation proving that you are financially stable and able to support yourself
Ensure that your passport will be valid for the duration of the visa (180 days)
Provide a copy of your passport's information page
Provide both the original and a copy of another identifying document
Provide a passport photo taken recently
Supply proof of an upcoming consular appointment
Go to the consulate and apply in-person
Forms of Identification Issued by the Mexican Consulate
The Mexican Consulate can generate several kinds of identifying documents for you upon your request: 
A New of Renewed Passport
Registration with a Consulate
A Valid Voting Cart
A Certificate of Birth
An OP7
A Military Primer
Passport Applications and Passport Renewal
How to obtain a passport for the first time?
Passports must be applied for in person.
Submit an identifying document to prove your Mexican Nationality:

Mexican Certificate of Nationality
Mexican Birth Certificate
Naturalization Letter
Registration with the High Security Consular (only valid if issued after 2005)

Provide a copy of an identifying document that contains a recent photo:

Precartilla of the National Military Service or an Identity Card
Professional License
Mexican Nationality Certificate
Driver's License
United States Resident Card
How to apply for a passport renewal
Passport renewals can only be completed at a consulate in person. Make sure you book an appointment and follow all COVID regulations
Provide your passport that has expired. If your passport was stolen or lost, file a police report then provide a copy of it to the consulate.
Follow the same procedure as a first-time passport application: provide both a document that proves your Mexican nationality and a copy of a supporting document with a photo.
Contact Information for the Mexican Consulate in Fresno, California
Address
Mexican Consulate General in Fresno

7435 N Ingram Avenue

Fresno, CA

93711

Phone
Telephone Number:

(559) 233-3065

Emergency:

(+1) 559 233-4241

Email Address
General Inquiries:

consulado@consulmexfresno.net or proteccion@consulmexfresno.net

Fax
(559) 354-0109
Office Hours
Monday to Friday

8:00 a.m. — 2:00 p.m.
Directions to the Mexican Consulate in Fresno
How to get to the Mexican Consulate from Fresno County Superior Court
Get on the bus on Van Ness Avenue, adjacent to the courthouse
Exit the bus at El Paso Station
Walk South for one minute, then take a right on West El Paso Avenue
Note that West El Paso Avenue turns into West Alluvial Avenue
After walking several blocks, take a left on North Ingram Avenue
The Mexican Consulate in Fresno will be the first building on your right
What is the Best Way to Contact the Consulate?
Contacting a consulate can be difficult and frustrating. Finding the correct addresses, including the right information in your email, and hoping for a timely reply is stressful, especially if English is not your first language. DoNotPay makes all of this extremely easy with an AI-powered robot lawyer! In order to contact your local consulate efficiently with DoNotPay, follow the steps outlined below:
1. Select "Contact Embassy" on DoNotPay.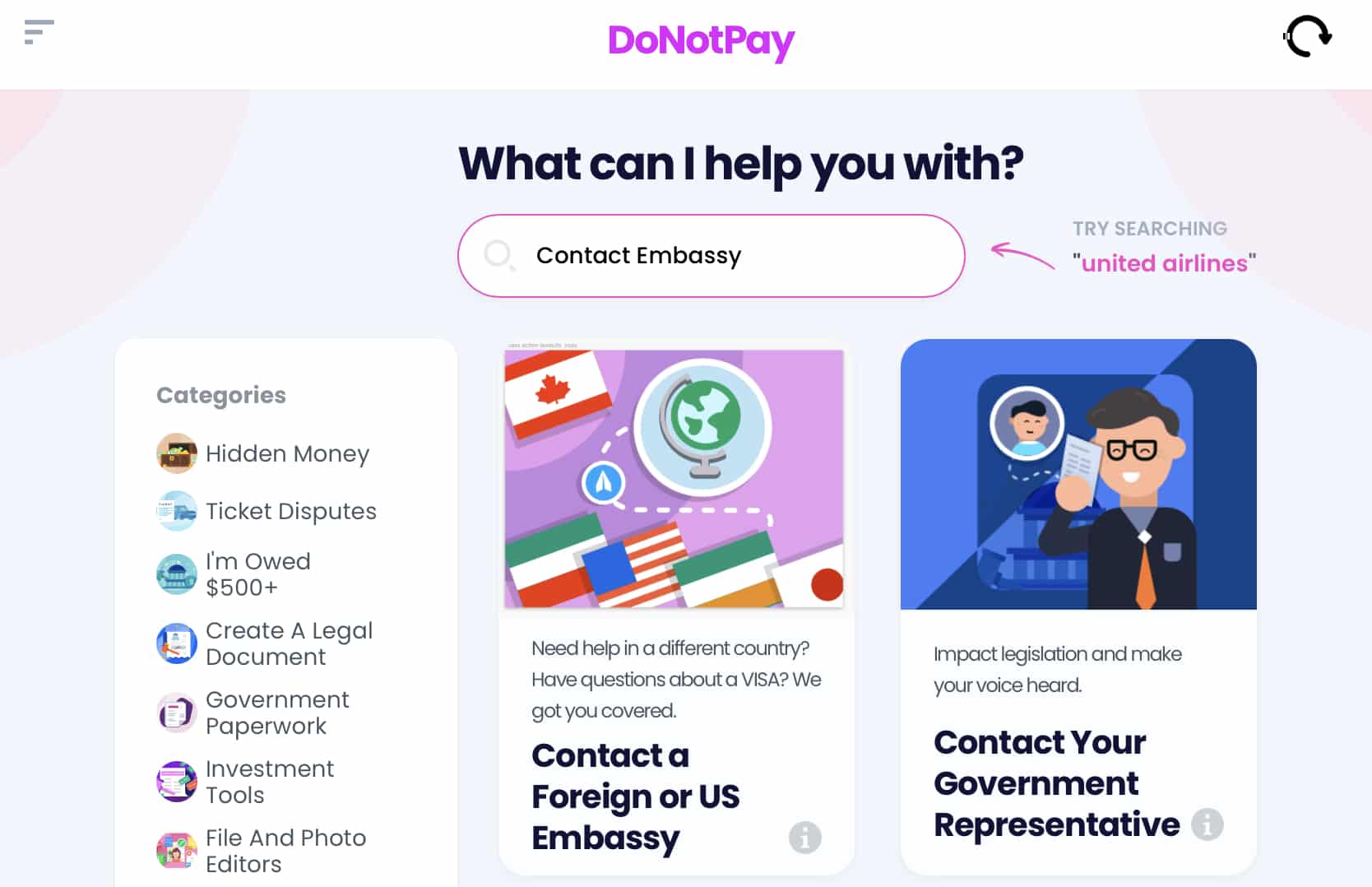 2. Select "Foreign Embassy in the US".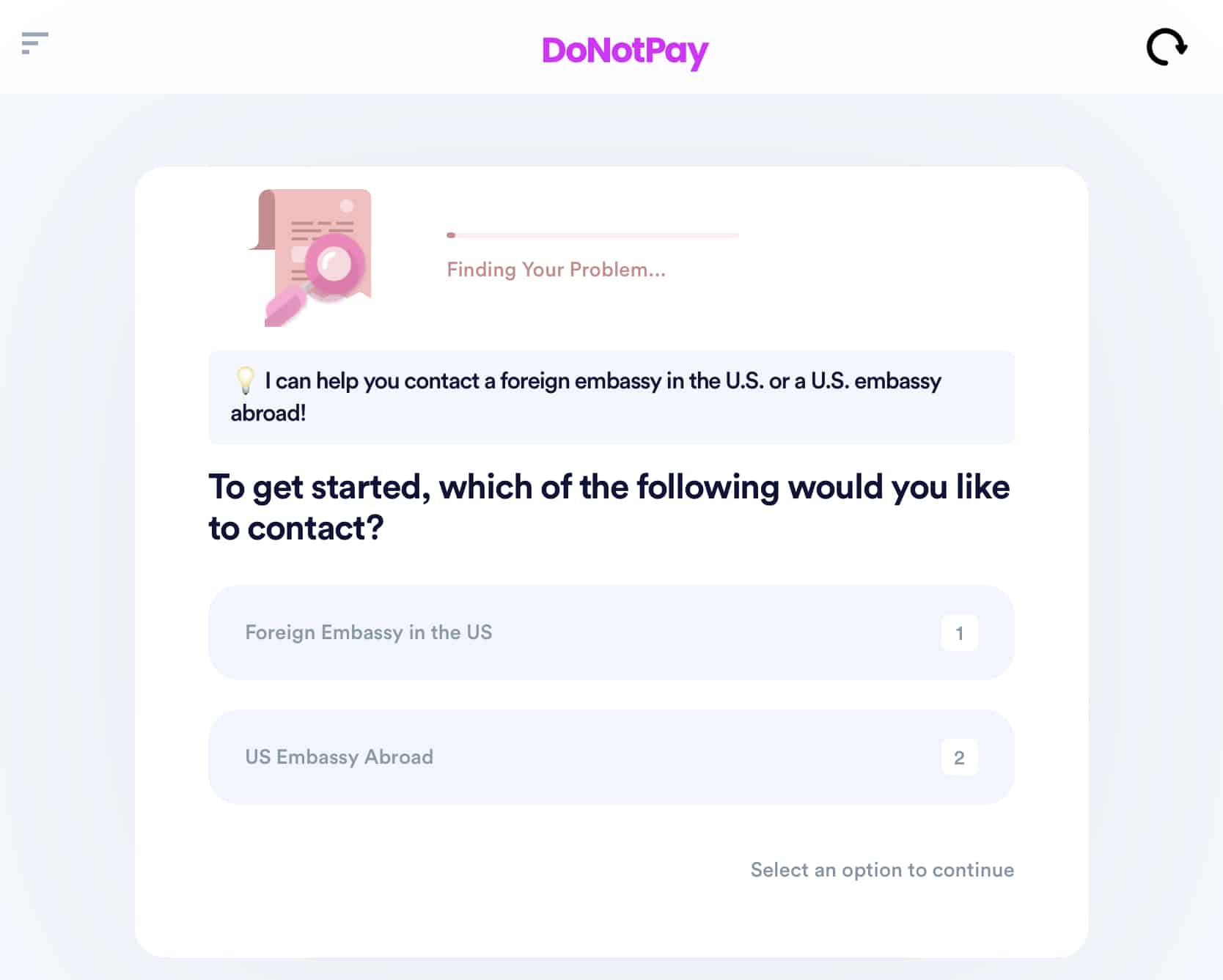 3. Write any concerns, questions, or issues that you need assistance with.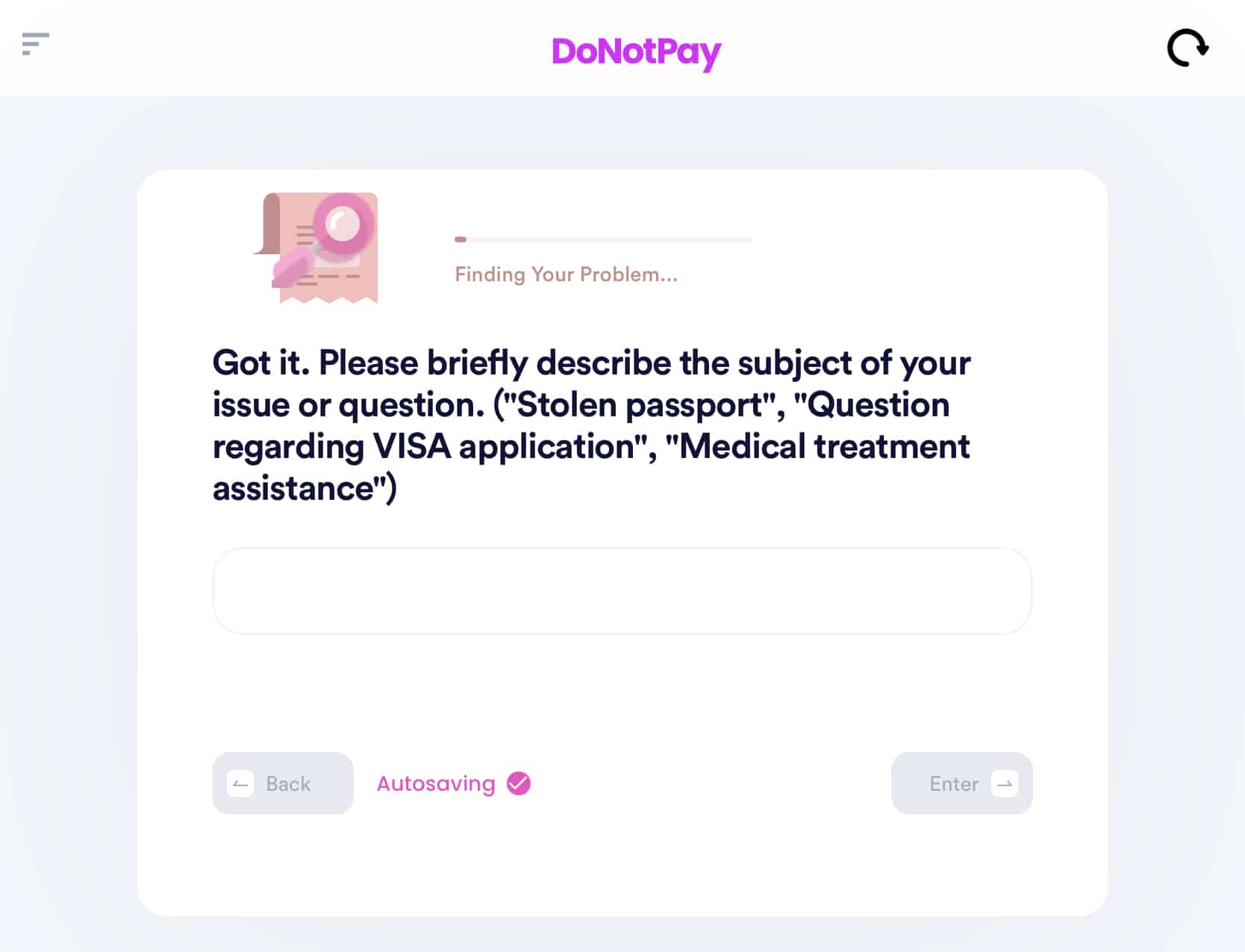 4. Enter the country name of the embassy/consulate you'd like to contact.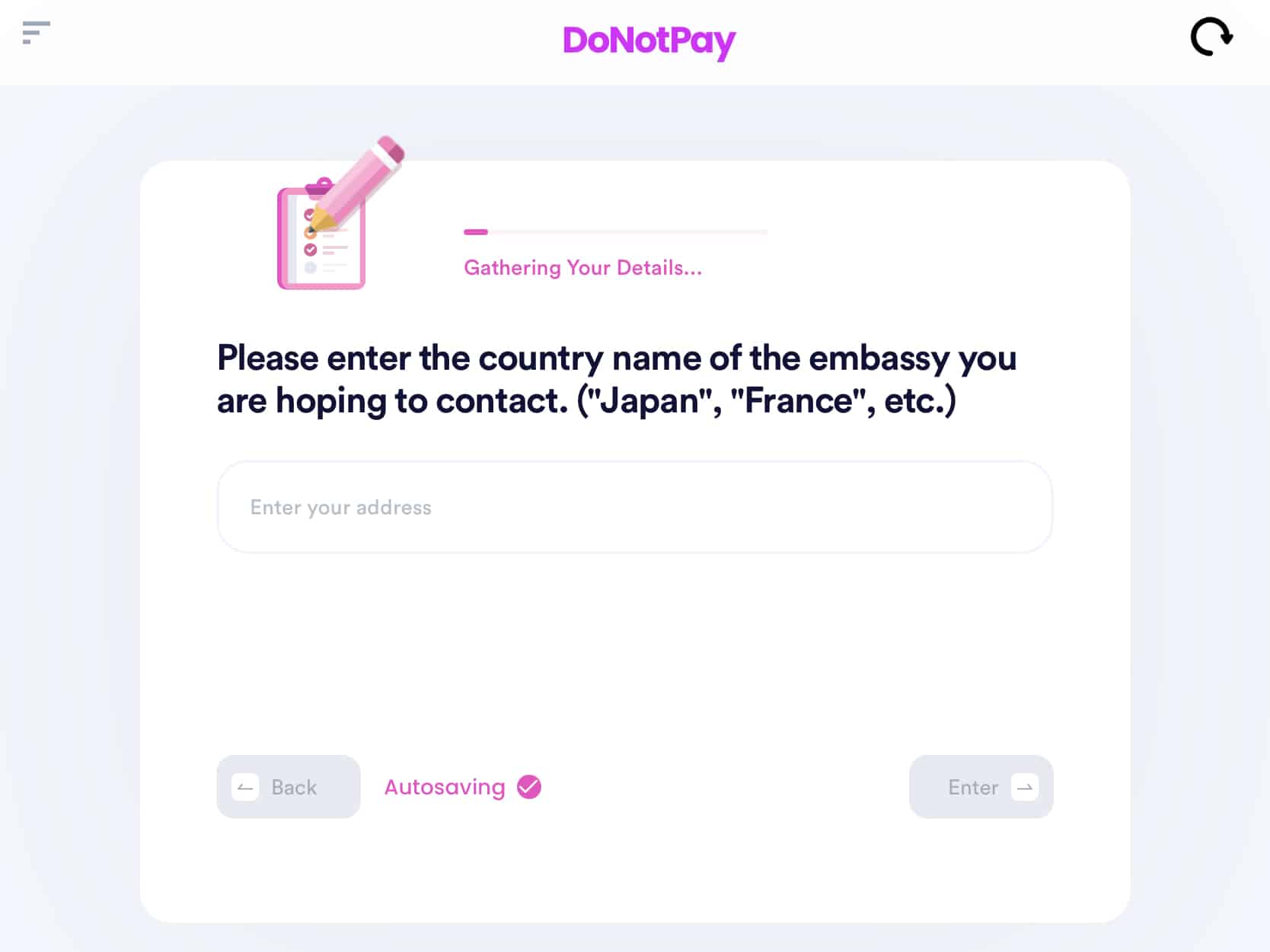 By completing these four simple steps, DoNotPay will contact the embassy of your choice immediately! You can expect a response in your inbox very soon!
Who Else Can DoNotPay Help You Contact?