How to Get in Touch with the Mexican Consulate in Detroit
The Mexican Consulate in Detroit serves Mexican-Americans in the following states and American regions:
Michigan
Northern Ohio

Allen
Ashland
Ashtabula
Columbiana
Crawford
Cuyahoga
Defiance
Erie
Fulton
Geauga
Hancock
Henry
Huron
Lake
Lorain
Lucas
Mahoning
Medina
Ottawa
Paulding
Portage
Putnam
Richland
Sandusky
Seneca
Stark
Summit
Trumbull
Van Wert
Wayne
Williams
Wood
Wyandot
If you do not live in any of the listed states or counties, other consulates can assist with your consular needs!
What the Mexican Consulate in Detroit Can Do For You
Generally, the Mexican Consulate in Detroit provides the following consular services that include but are not limited to:
Denouncing human rights violations by foreign authorities
Detaining illegal migrants and preventing illegal immigration to Mexico or abroad
Arresting individuals wanted on foreign warrants or those on the FBI's most-wanted list
Recovering personal items that were lost or stolen or have been extorted as a product of crime
Locating humans who have been missing in Mexico or those who have been lost or kidnapped
Repatriating human remains, sick people, or vulnerable individuals in Mexico
Giving out permits for humanitarian purposes in Mexico, for various organizations and causes
Aiding recipients of DACA in the United States, who is of Mexican citizenship
Repaying or recovering unpaid wages for Mexican workers
Retaining minors in foreign custody and bringing them back to Mexico
Providing alimony pensions for those who are Mexican citizens
Restituting minors in vulnerable situations that could jeopardize their lives or well-being
Assisting victims of sex trafficking, hate crimes, or domestic violence in Mexico
Extraditing, transferring, and transporting criminals to foreign nations
Providing letters that prove you do not have a criminal background in the Mexican system
Services Associated With The Civil Registrar
The Mexican Consulate in Detroit provides services through the civil registrar. These services include:
Registering and verifying births and proofs of children
Creating and issuing death records for personal and financial reasons
Officiating and supporting marriages
Issuing wills, legal documents, and other proofs of wealth distribution for living or deceased Mexicans
Proving that notarial acts occurred and providing physical proof
Creating survival certificates for financial or personal reasons
Helping Mexicans declare nationality and proving Mexican citizenship
Getting a Visa, And More!
If you are a dual or current citizen/permanent resident of the following nations, you will not need to obtain a visa when entering Mexico. This is true unless you are not a permanent resident and are a resident with a re-entry permit, verify your legal status to see which one is more applicable to your specific situation. 
Mexico
United States of America
The United Kingdom
Canada
Japan
The Schengen Area
Steps to Obtaining A Visa
Write a letter that is addressed to the Mexican Consulate, it must prove that you are a visitor that will not stay in Mexico for more than 180 days
Include information consisting of which town you'll be visiting, the days you'll be in Mexico, and prove that you are familiar with the restrictions on your type of travel
Attach a copy of travel-specific identifying documents that validate your legal status within the United States; birth certificates, passports, legal documentation
Also include a letter from your employer if you will be working, specifying the fixed period that you will be in Mexico and that the dates will coincide with your desired visa
If you are under 18, present your birth certificate with identification from both parents
If you are planning on being a foreign student with the intent of studying in Mexico, provide proof of enrollment or an acceptance letter
You must also include a passport that will expire in no less than 6 months
Consular-Provided Identification
The Mexican Consulate in Detroit can issue five documents that can prove citizenship and consular association:
Issuing and Renewing Passports for Work or Travel
Assisting with Consular Registration and Identification
Completing and Distributing Voting Cards for Elections
Providing and Authorizing Birth Certificates for Legal Reasons
Creating OP7 Cards for Military-eligible men for Military Purposes
Introducing Military Primers for US Residents Interested in Serving in the Mexican Army
Passports: How to Get One For the 1st Time
How to get a passport for the 1st time:
To get a passport, you must begin by appearing in person at a Consulate
You need to authenticate your nationality by submitting one of the identifying documents listed:

Birth Certificate
Certificate of Mexican Nationality
Declaration of Mexican Nationality at Birth
Letter of Naturalization
High Security Consular Registration that was issued after 2005

You must validate the fact that the documents provided are genuine and add a photo-identifying document:

An Identity Card or Precartilla of the National Military Service
A Professional license
A Certificate of Mexican nationality
A Letter of naturalization
A Driver's license
A Residence card of the United States
Renewing An Expired Mexican Passport: 
First, you must apply in-person at a Consulate

Follow local COVID-19 regulations to prove you're preserving safety through booking appointments if you are required to

Then, you have to present the passport that needs to be renewed if it is in your possession
In the case that, a passport has been stolen, you first need to file a police report and bring a copy of it to the Consulate for verification
Last, follow the requirements for a first-time issue, bringing a proof of identification that is a photo-identifiable example of identification

Passport, birth certificate, naturalization certificate, and an accessory form of identification; a driver's license, consulate card, or status card
Contact Information for the Mexican Consulate in Detroit, Michigan
Address
Mexican Consulate General in Detroit

1403 East 12 Mile Road

Building E

Madison Heights

Michigan, USA

48072

Phone
248-336-0320
Email
General Inquiries: 

detroit@sre.gob.mx

Fax
248-336-0315
Office Hours
Monday to Friday

By appointment only, call for inquiries.
How to Get to the Mexican Consulate in Detroit
Directions to the Consulate from Downtown Detroit, Michigan:
Board the 461 Bus towards Fast Woodward to Troy Park+Ride
Ride the bus for 13 stops
DIsembark at Woodward and Hendrie
Walk 3 minutes
Enter "The Consulate General of Mexico in Detroit"
Discover How DoNotPay Works for You
DoNotPay is the perfect solution to many problems; how time-consuming it is to write emails, find correct addresses, and not receive timely replies to urgent matters that concern you. Let our AI-powered robot lawyer handle everything in an expedited manner, for you! To contact any Consulate or Embassy, all you need to do is:
1. Enter "Contact Embassy" on DoNotPay.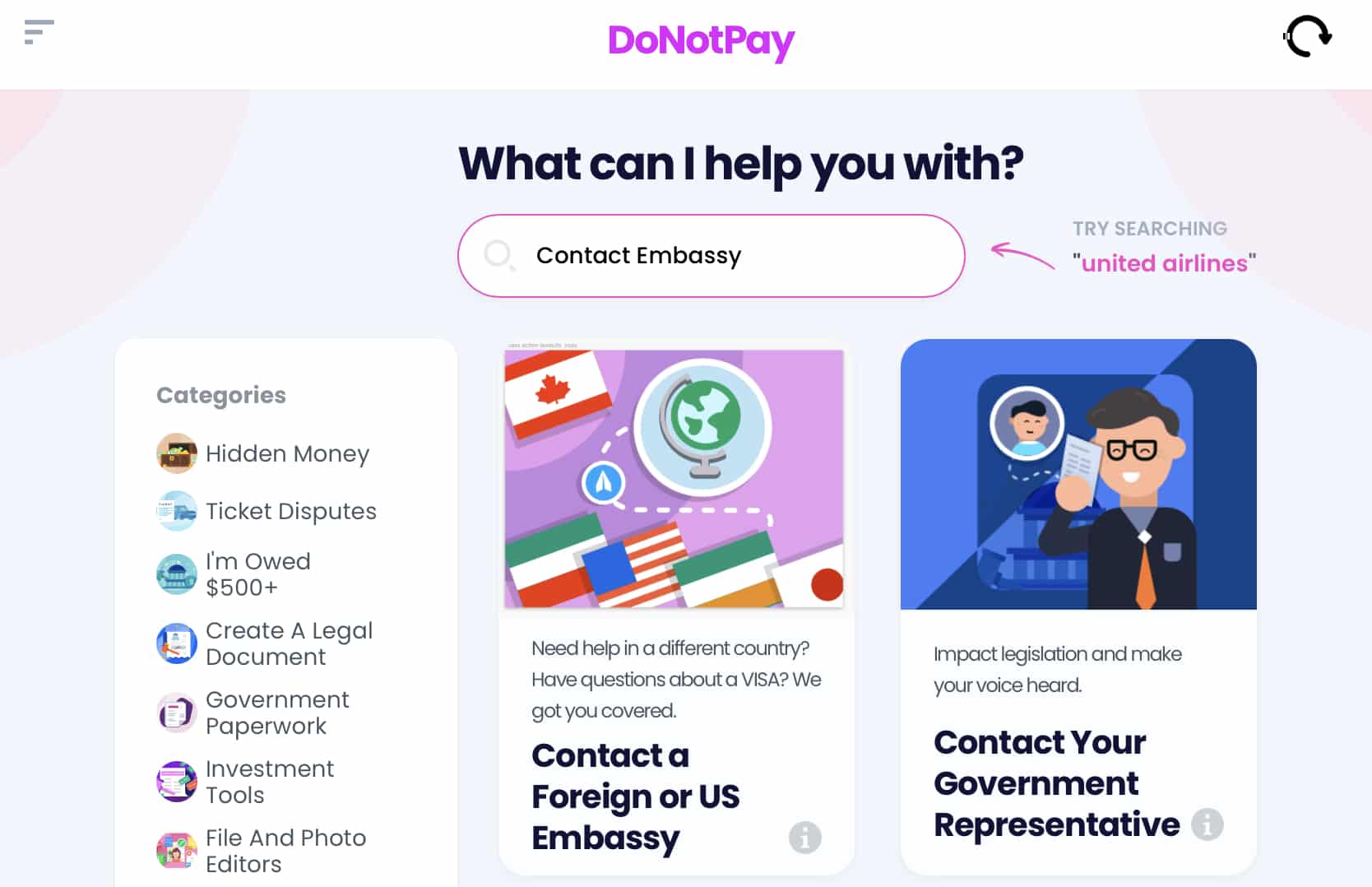 2. Choose if you want to contact a foreign embassy or consulate in the U.S.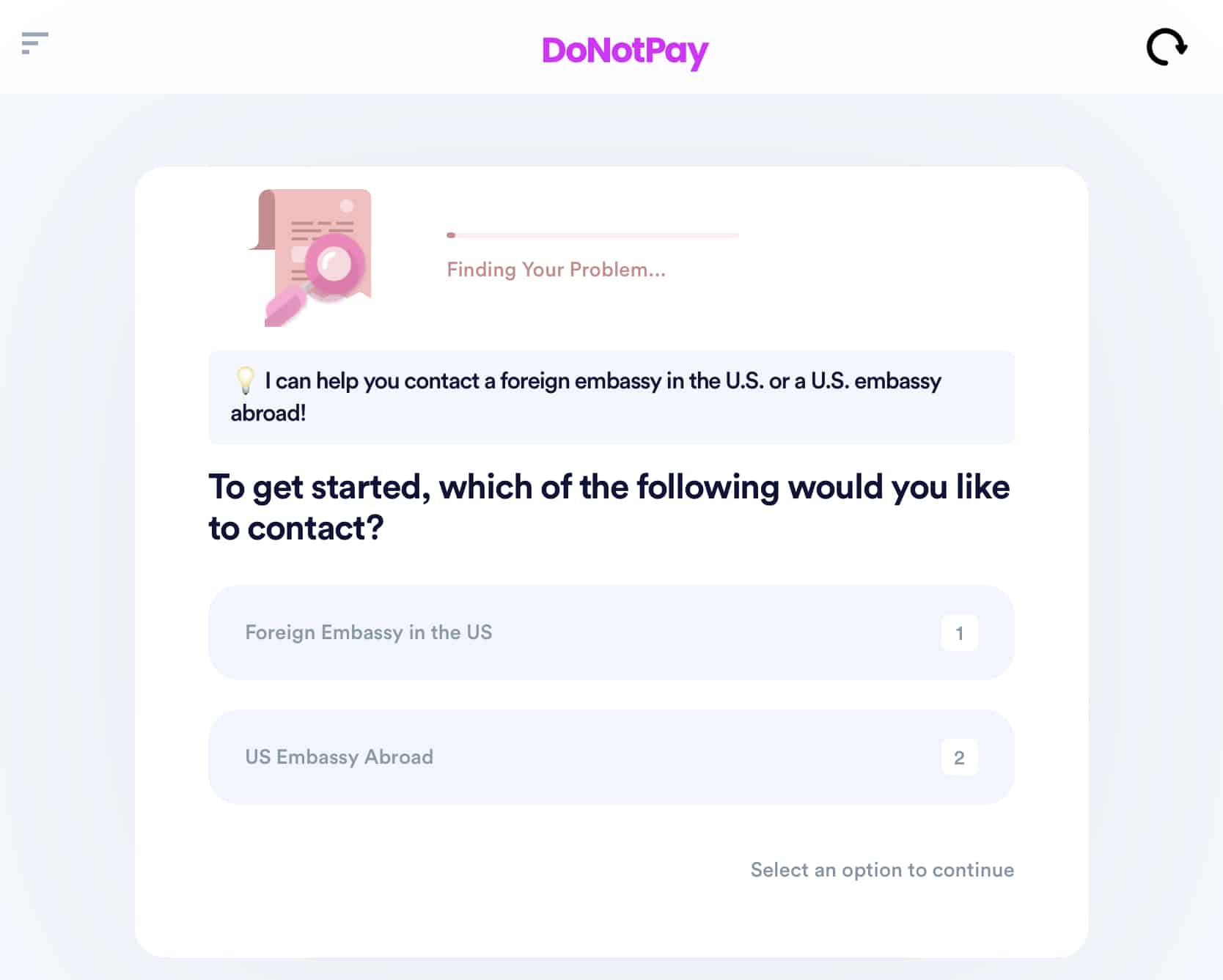 3. Explain your issue and any questions you may have.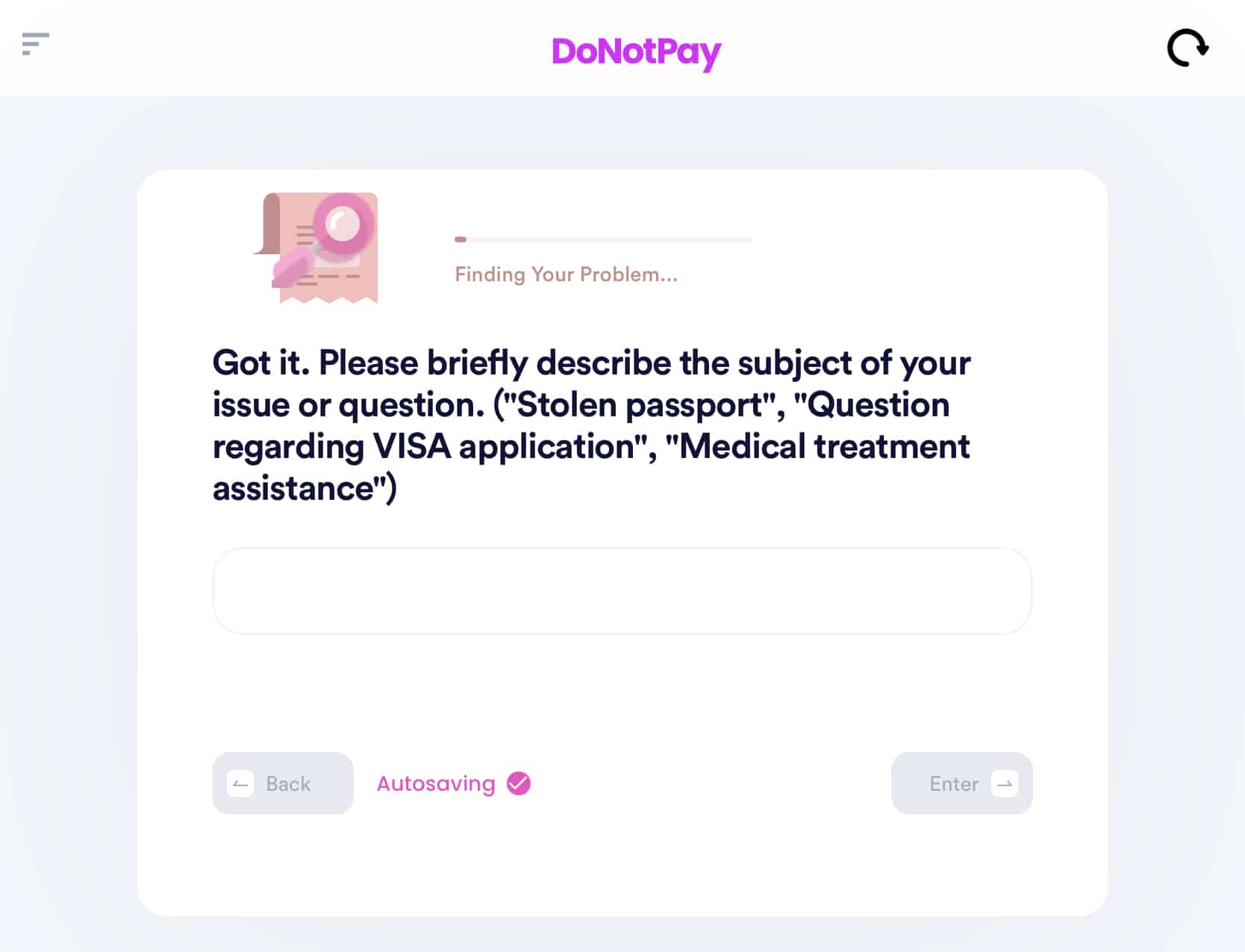 4. Tell DoNotPay which embassy or consulate you want to contact by typing in the country.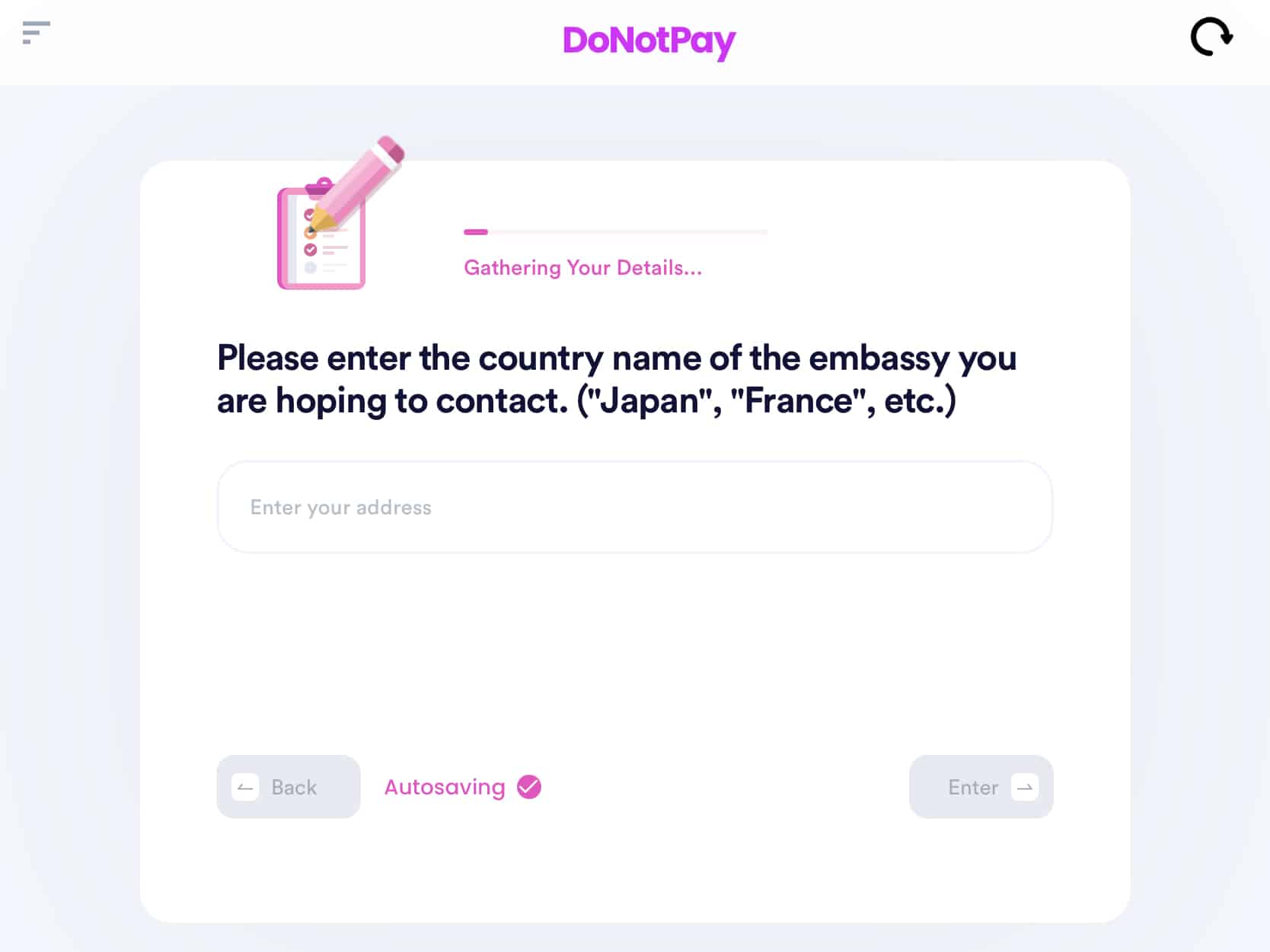 That's all! With DoNotPay's reliable services, you can expect a quick response from any consulate or embassy to your issue by email!
Who Else Can DoNotPay Help You Contact?