How to Reach the Mexican Consulate in San Francisco, California With Ease
The Mexican consulate in San Francisco was founded in 1848 with Consul Andres Castillero at its helm. This consulate also had a satellite office in Portland, Oregon, which was closed in 1996. Currently, the Consul General of Mexico in San Francisco is Remedios Gomez Arnau, a legislator and author of several books regarding Mexican immigration to the United States.
To What Jurisdictions Does Mexican Consulate in San Francisco Provide Services?
The Consulate General of Mexico in Austin serves the following areas and states:
San Francisco
Hawaii
Alameda

Alameda City, Albany, Berkely, Dublin City, Emeryville, Fremont, Hayward City, Livermore, Newark, Oakland City, Piedmont, Pleasanton, San Leandro City, Union City

Contra Costa

Antioch City, Brentwood, Clayton, Concord, Danville City, El Cerrito, Hercules, Lafayette, Martinez City, Moraga, Orinda, Pinole City, Pittsburg, Pleasant Hill, Richmond, San Pablo City, San Ramon, Walnut Creek City

Crescent City
Humboldt

Arcata, Blue Lake City, Eureka, Ferndale City, Fortuna, Rio Dell, Trinidad City

Lake
Marin

Belvedere, Corte Madera, Fairfax City, Larkspur, Mill Valley City, Novato, Ross City, San Anselmo, San Rafael City, Sausalito, Tiburon City

Mendocino

Fort Braga, Point Arena, Ukiah, Willits City

Napa

American-Canyon, Calistoga City, Napa, St. Helena, Yountville City

San Mateo

Atherton, Belmont City, Brisbane, Burlingame City, Colma City, Daly City, East Palo Alto City, Foster City, Half Moon Bay City, Hillsborough, Menlo Park City, Millbrae, Pacifica, Portola Valley City, Redwood City, San Bruno City

Solano

Benicia, Dixon City, Fairfield, The Theo Vista, Suisun City, Vacaville City, Vallejo

Sonoma

Cloverdate, Cotati City, Healdsburg, Petaluma, Rohnert Park City, Santa Rosa, Sevastopol, Sonoma

Trinity
Please refer to this document of other consulates in California if you do not reside in these jurisdictions.
What Can the Mexican Consulate in San Francisco Do For Me?
Typically, the Mexican Consulate aids in the process of:
Violations of your rights by foreign authorities
Detention by immigration authorities
Detention by local authorities
Locating and returning personal items
Finding people
Return of human remains, ill citizens, or those in vulnerable circumstances to their home country
Permission for humanitarian work
Deferred Action for Childhood Arrival (DACA)
Failure to receive work compensation
Facilitation of alimony pensions
Supporting victims of hate crimes, domestic violence, or trafficking
Assistance navigating extradition or transfer
Provide letters of evidence for a clear criminal record
Visas, Non-Visa Requirements, and More!
If you are a Citizen of the UK, Japan, the USA, Canada, or the Schengen area, you do not need to apply for a Visa. If you are not a US citizen but a holder of a valid US re-entry permit, refugee travel document, or advance parole travel document, you must apply for a Visa.
Follow these steps to obtain your visa:
Write a letter to your local Consulate that identifies you as a visitor without intentions to remain in Mexico longer than 180 days.
Declare the precise town or city that you intend to visit, your travel dates, and state awareness of provisions limiting working in the country
Provide the original copy of a valid identifying document that proves your legal status
Attach a letter from your employer if you intend on working that outlines your regular employment
If you are a minor, the birth certificate and identification of both of the minor's parents must be provided
Provide proof of enrollment if you intend to study internationally
Provide documents that prove financial stability and the economic solvency to live comfortably
Ensure that the passport is valid for at least the following six months (180 days)
Provide a copy of your passport information page
Provide an original and copy of another identifying document
Add a recent passport photo
Prove you have a confirmed consular appointment
Apply in-person at the Consulate
Forms of Consulate-Issued Identification
At a Mexican Consulate, you can apply for the following identifying documents
Renewal of Passports and first-time issuance
Registration for consular services
A voting card
An official certificate of birth
OP7
A military primer
Passports: Renewal and How to Get One For The First Time
First-time passport applicants
Arrive at the consulate in-person
One of the following identifying documents is required to prove Mexican nationality

Certificate of Birth in Mexico
Mexican Nationality Certificate
Your declaration of Mexican Nationality recorded at Birth
An official letter certifying naturalization
A High Security Consular Registration (only valid issued after 2005)

An official document containing a photograph is required to certify the previous document

Identity Card or Precartilla of the National Military Service
A license of profession
A certificate of your Mexican nationality
An official letter certifying naturalization
A valid driver's license
The United States Residence Card
How to renew your passport:
Appear to a consulate in-person

Your consulate may require an appointment due to COVID regulations, so check your consulate's website

Provide the expired passport
If your passport was stolen, file a report with the police and bring a copy of the report to the consulate
Follow steps outlined for a first-time applicant:

Bring proof of identification and an accessory form of identification that contains a photo
Contact Information for the Mexican Consulate General in Austin
Address
Mexican Consulate General in Austin

532 Folsom St

San Francisco, CA

94105

Email
Telephone Number:

(415) 354-1700

Consular Services:

(877)-639-4835

Phone
General Inquiries: 
Fax
(415)-495-3971
Office Hours
Office Hours, Monday to Friday

7:30 a.m. — 2:45 p.m.
Directions to the Mexican Consulate General in Austin
How to get to the Mexican Consulate from San Francisco City Hall
Walk south two blocks and take a left on Hayes Street
Get on the bus headed East at the intersection of Hayes Street and 9th Street
Exit the bus at the intersection of Hayes Street and 1st Street
Walk three blocks to the right down 1st Street
Take a right on Folsom Street, and the consulate will be the second building on your right
Let DoNotPay Do the Work For You!
Writing official emails to places like consulates and hoping they arrive at the right place and receive a response promptly can be a stressful process.DoNotPay is a robot lawyer that can manage all of that stress for you! To contact any Consulate or Embassy through DoNot Pay, follow these steps:
1. Enter "Contact Embassy" on DoNotPay.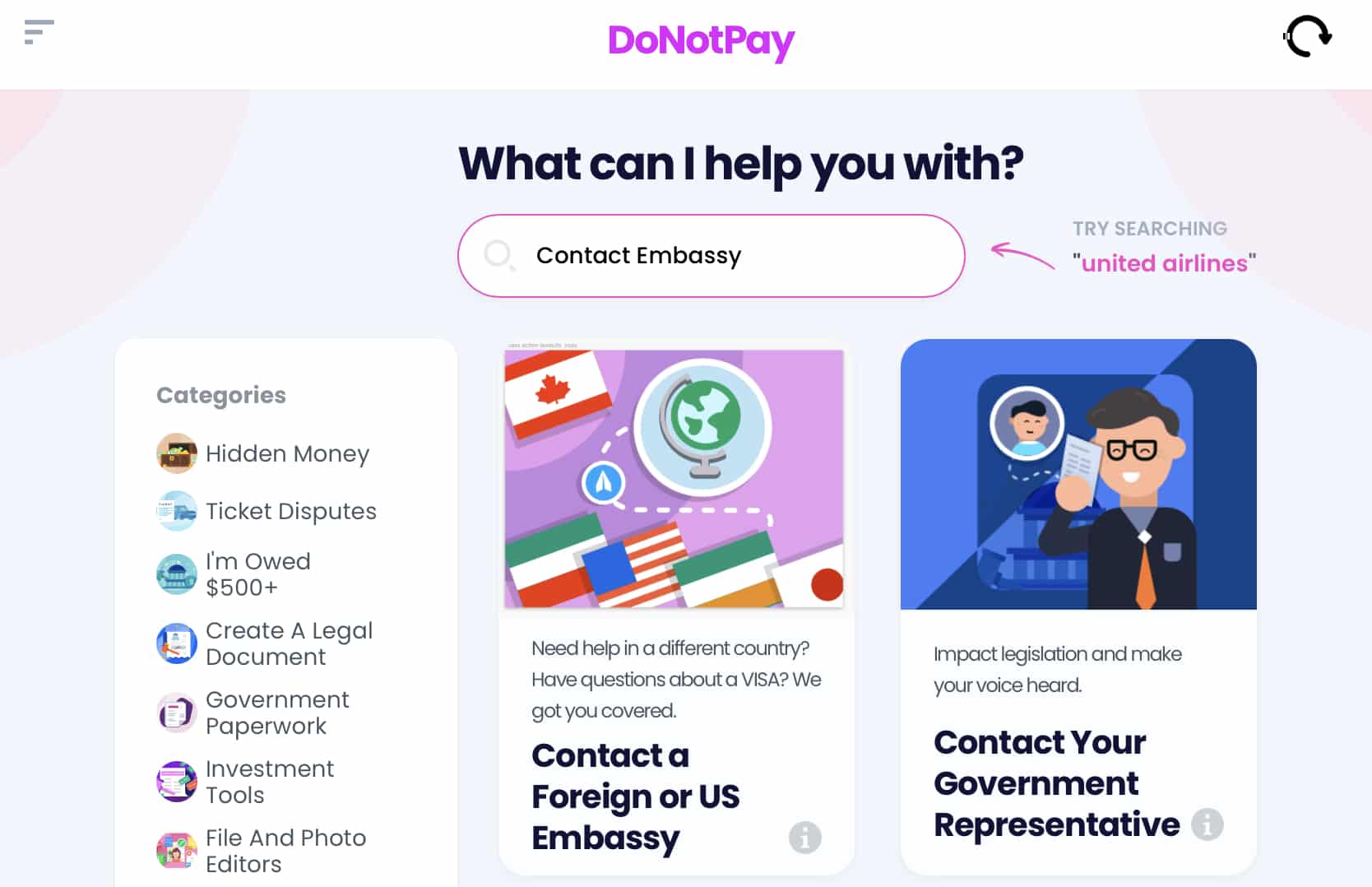 2. Choose "foreign embassy" or "consulate in the U.S".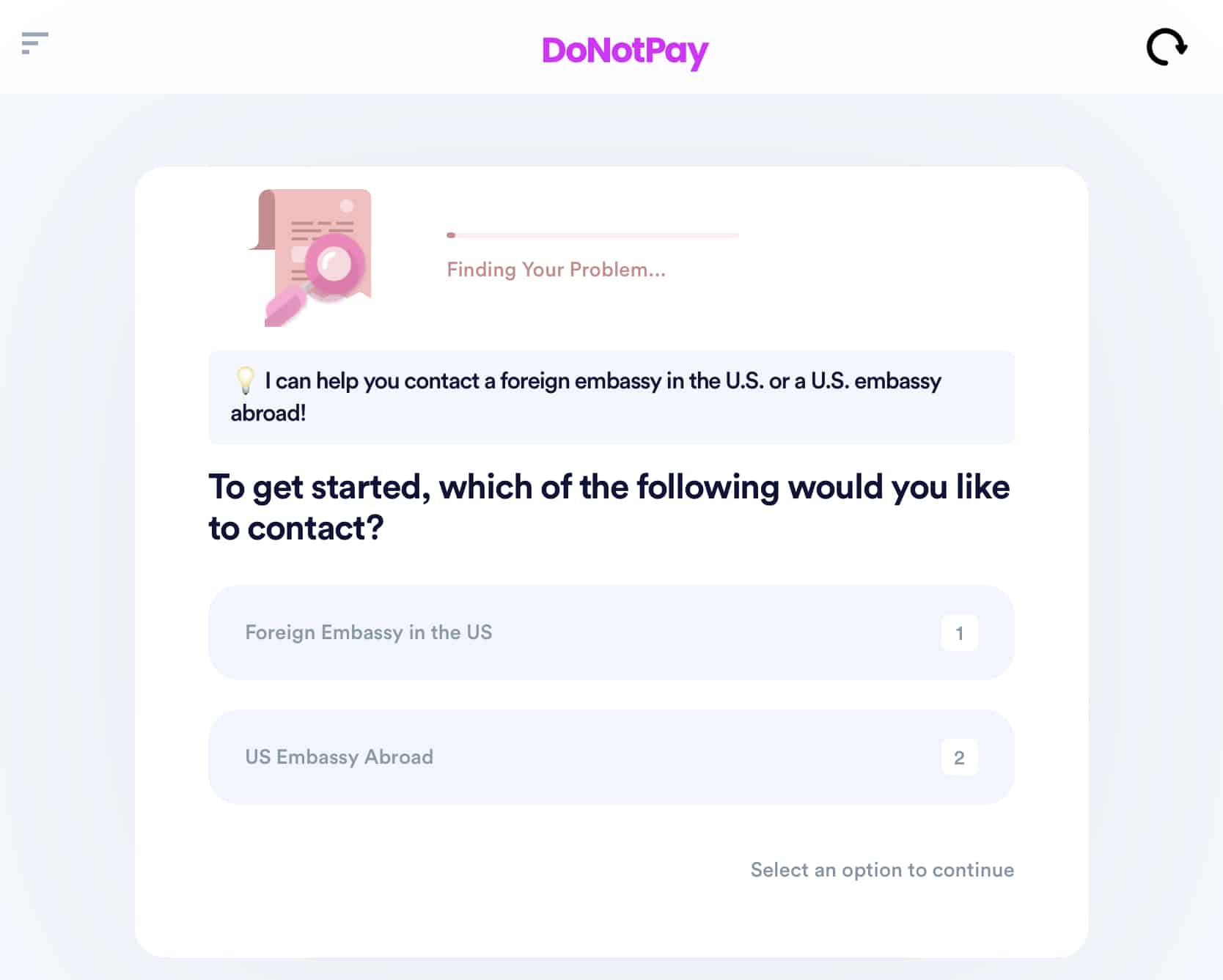 3. In the description box, pose your question, problem, or request.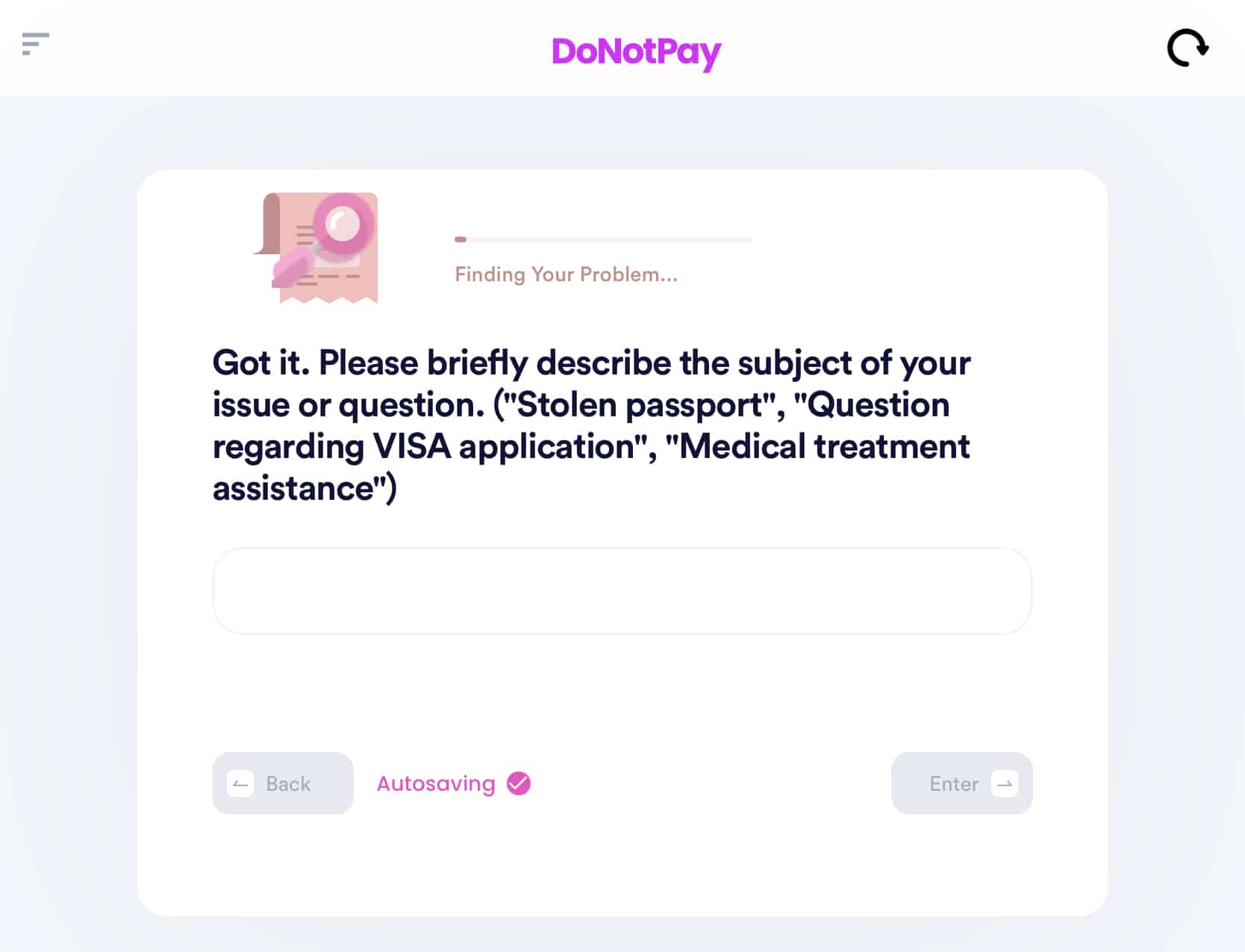 4. Type the country in which you would like to contact an embassy or consulate, and DoNotPay will automatically find the best location.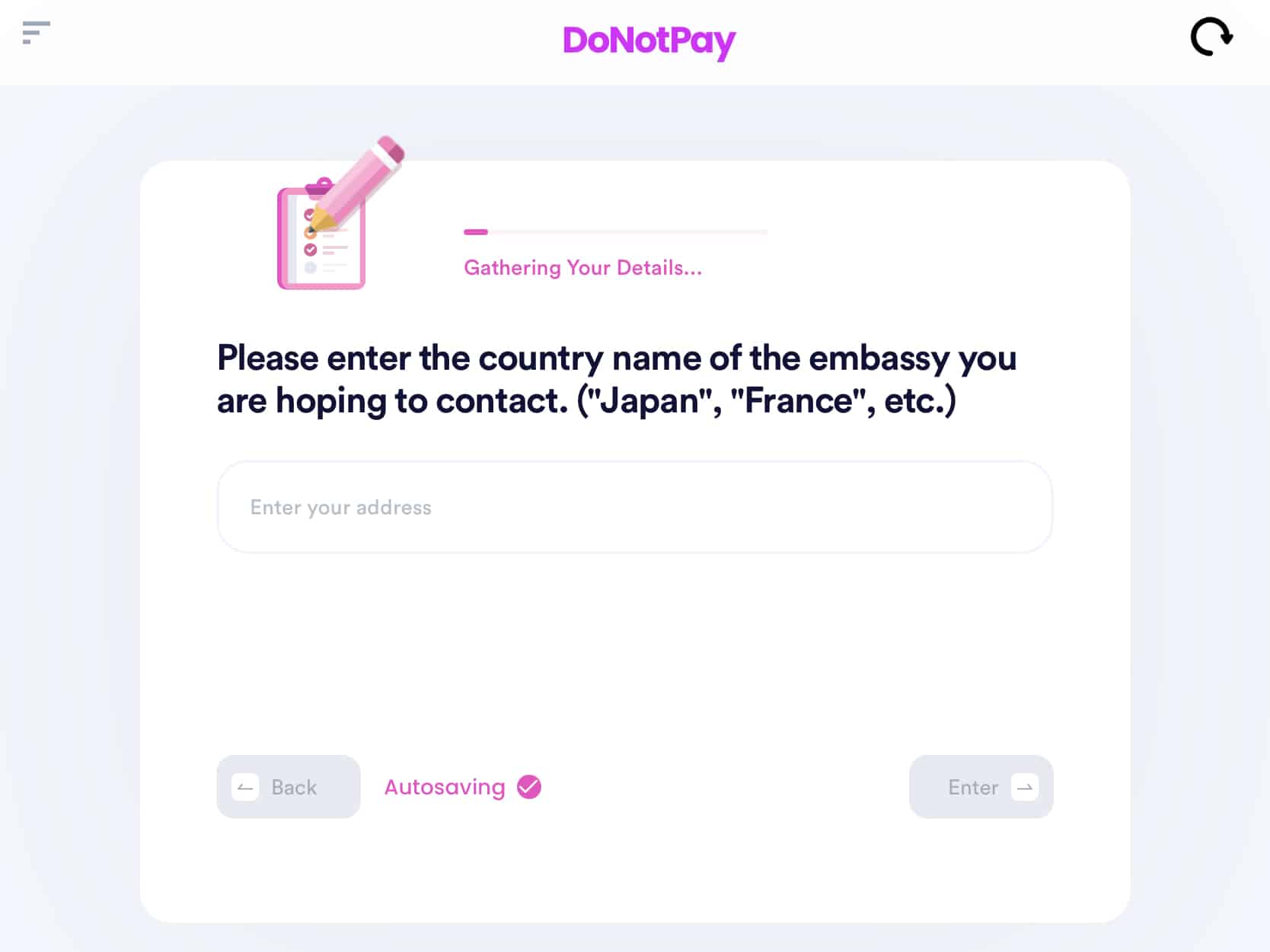 By following these simple steps, you will shortly receive a response from the consulate or embassy directly to your email, with none of the stress!
Who Else Can DoNotPay Help You Contact?