How to Contact the Consulate of Mexico in San Diego
The Consulate General of Mexico in San Diego offers a plethora of services to Mexican Citizens or Nationals residing within the United States. Primarily, the Consulate deals with citizens from the following regions:
San Diego
Imperial County

Bard City
Brawley City
Calexico City
Calipatria City
El Centro City
Heber City
Holtville City
Imperial City
Niland City
Ocotillo City
Palo Verde City
Salton City
Seeley City
Westmorland City
Winterhaven City
If you do not live in any of the listed cities or San Diego, other consulates can better address your concerns. 
What Can the Mexican Consulate in San Diego Do For Me?
Typically, the Mexican Consulate aids in the process of:
Foreign authorities violating your rights
immigration authorities detaining you or someone you know
Detention by police or other officials
Finding and returning personal items to you
Locating people of interest
Return if deceased family members, ill persons, or those in dire situations to their home country
Authentication for humanitarian work
Deferred Action for Childhood Arrival (DACA)
Claiming unpaid wages from an employer
Alimony pension support
Assisting victims of hate crimes, domestic violence, or trafficking
Consular services regarding extradition or prisoner transfer
Carrying out background checks and providing official letters declaring a clean record
Civil Registration
The Consulate provides services regarding:
Birth certification
Death certification
Distributing official marriage certifications
Writing a will
A power of attorney officiation
Notary services in document signing
Survival certificates
Facilitating nationality declarations
Visas and More
British, American, Japanese, Canadian, and Schengen area citizens are not required to apply for a visa. Non-US citizens that hold a re-entry permit, refugee travel document, or parole travel documents can apply for a visa by doing the following steps below:
Write a letter to your Consulate that identifies you as a visitor without any intentions to remain in Mexico longer than 180 days
Declare the town or city that you will be visiting, your travel dates, state awareness of provisions, and limiting working in the country
Attach the original copy of a valid identifying document that validates your legal status
Include a letter from your employer if you intend on working that outlines your employment and duration intended
In the case of children under the age of 18, the birth certificate and identification of both of the minor's parents must be included
Attach proof of enrollment if you want to study internationally
Attach documents that prove financial stability and economic solvency to live comfortably
Ensure the passport is valid for the following six months (180 days)
Include a copy of your passport information page
Include an original and copy of another identifying document like a drivers license
Attach a recent passport photo
Validate that you have a confirmed consular appointment
Go in-person at the Consulate to "lodge" your application
Consulate-Issued Identification
At a Mexican Consulate, you can apply for the following documents:
Renewal of Passports and first-time issuance
Registration for consular services
Voting card for elections
Official certificate of birth
OP7
Military primer
Passports: Renewal and How to Get One For The First Time
First-time passport applicants:
Get to the consulate in-person
Include one of the following identifying documents is required to prove Mexican nationality

A Certificate of Birth in Mexico
A Mexican Nationality Certificate
A declaration of Mexican Nationality recorded at Birth
An official letter certifying naturalization
A High Security Consular Registration (only valid issued after 2005)

An official document containing a photograph is required to certify any previous documents

An Identity Card or Precartilla of the National Military Service
A license of profession
A certificate of your Mexican nationality
An official letter certifying naturalization
A valid driver's license
A United States Residence Card, if applicable
How to renew your passport:
Appear to a consulate in person. Your consulate may require an appointment due to COVID regulations, so check your consulate's website.
Provide the expired passport.
If your passport was stolen, file a report with the police and bring a copy of the report to the consulate.
Follow steps outlined for a first-time applicant: bring proof of identification and an accessory form of identification that contains a photo piece of identification.
Contact Information for the Mexican Consulate General in San Diego
Address
1549 India Street

San Diego, CA 

92101

Email
Telephone Number:

(619) 231-8414 or (619) 308-9926

Phone
Email Address for General Inquiries:
Fax
Fax Machine:

(+1) (619) 231 4802

Office Hours
Office Hours, Monday to Friday

8:00 a.m. — 6:00 p.m.
Directions to the Mexican Consulate General in San Diego
How to get to the Mexican Consulate from Horton Plaza Park
Walk west down West Broadway
Get on the bus headed west at the intersection of West Broadway and 2nd Avenue
Exit the bus at the intersection of Hayes Street and 1st Street
Walk west across the park and down West Cedar Street
Walk two blocks and the consulate will be the first building to the right on India Street
Contact the Mexican Consulate in San Diego With DoNotPay
The process of writing official emails to places like consulates and hoping they arrive at the right place and receive a response promptly can be a stressful process. DoNotPay offers a robot lawyer that can manage all of that stress for you! To contact any Consulate or Embassy through DoNot Pay, follow these steps:
1. Enter "Contact Embassy" on DoNotPay.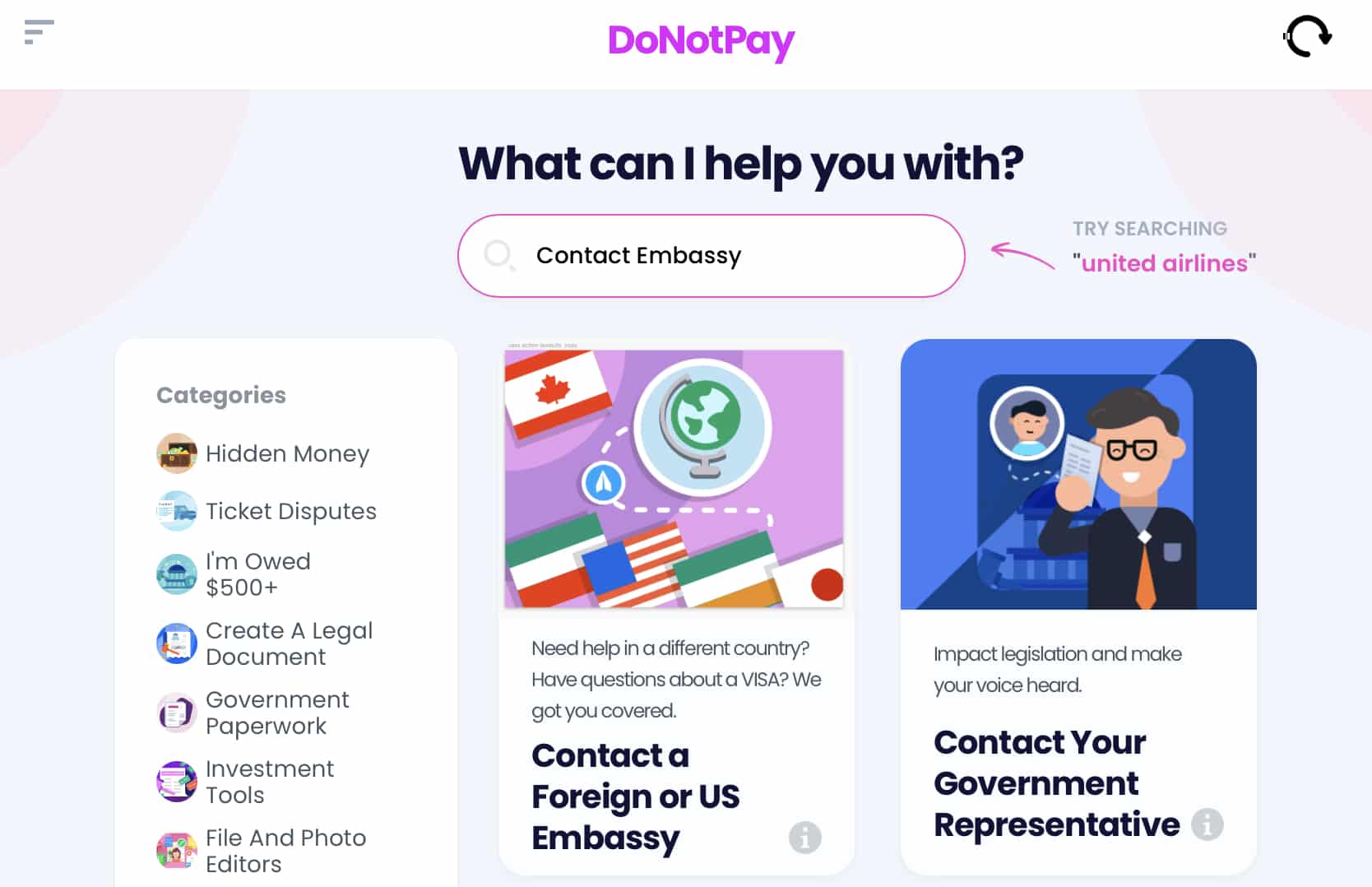 2. Choose "Foreign Embassy in the US".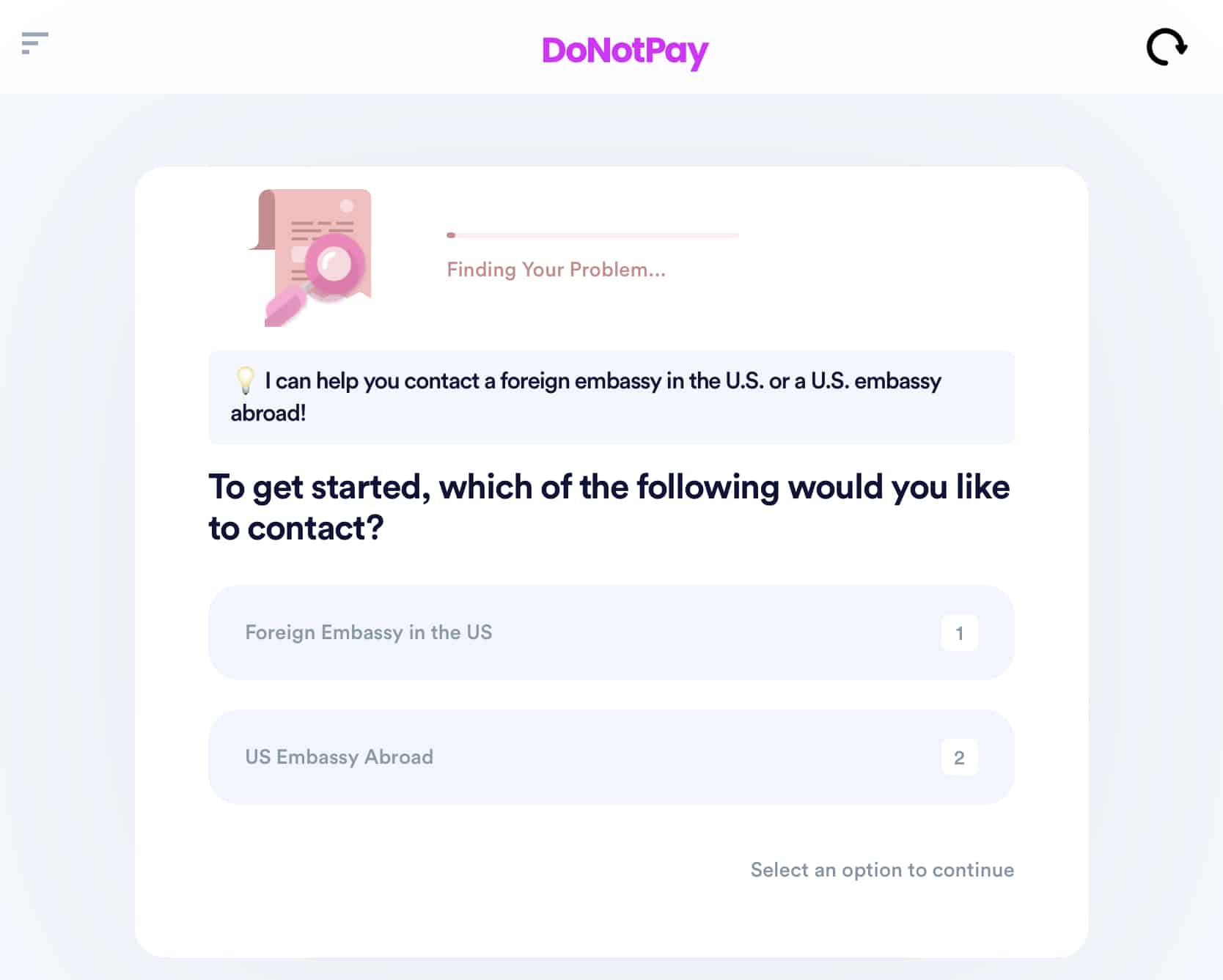 3. In the description box, pose your question, problem, or request.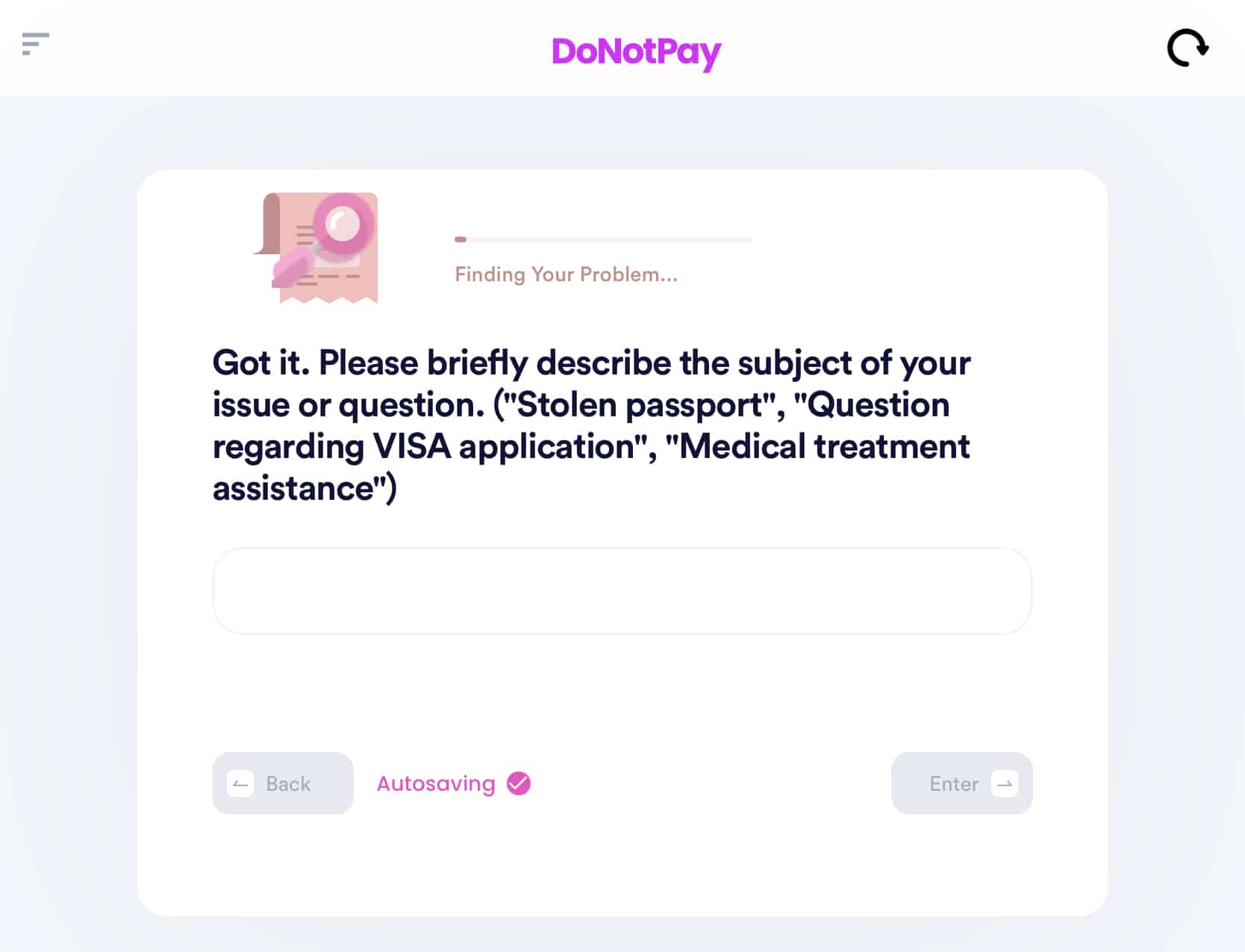 4. Type the country in which you would like to contact an embassy or consulate, and DoNotPay will automatically find the best consulate to suit your needs.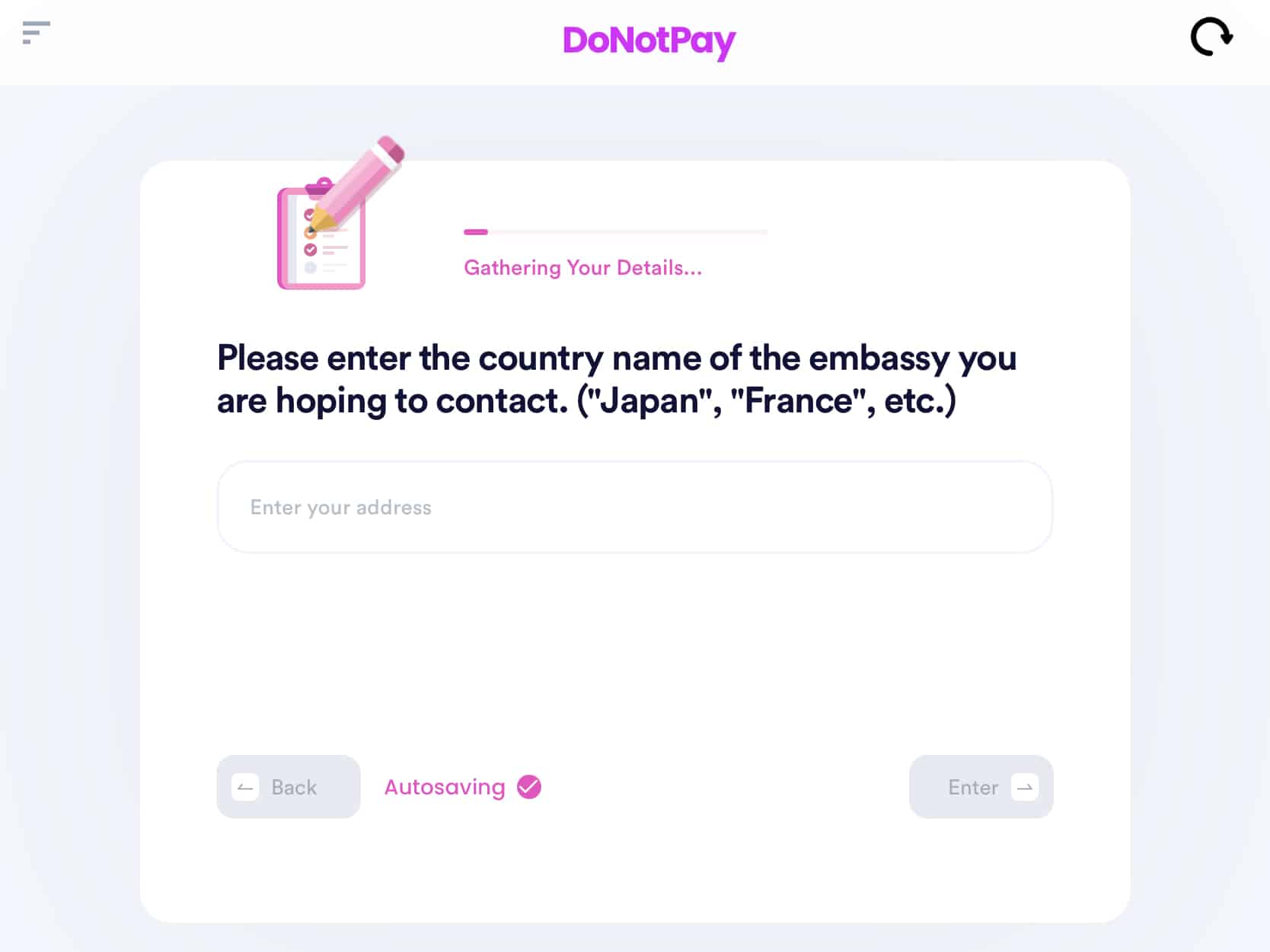 By following these simple steps, you will shortly receive a response from the consulate to your email, with none of the stress! 
Other Consulates DoNotPay Can Help You Contact