How to Contact the Mexican Consulate in Sacramento, California
The Mexican Consulate of Sacramento is one of 5 statewide Mexican missions intended to service the Mexican population living in Northern California:
Alpine
Amador
Butte
Calaveras
Colusa
El Dorado
Glenn
Lassen
Modoc
Mono
Nevada
Placer
Plumas
Sacramento
San Joaquin
Shasta
Sierra
Siskiyou
Stanislaus
Sutter
Tehama
Tuolumne
Yolo
Yuba
If you do not reside in any of the listed counties, other consulates can assist with your consular needs!
How Can the Mexican Consulate in Sacramento Help You?
Usually, the Mexican Consulate in Sacramento helps U.S. citizens by providing the following consular services:
Recognizing and speaking out against human rights violations by foreign authorities
Arresting illegal migrants and preventing illegal immigration to foreign nations or Mexico
Tracking down and capturing individuals wanted on foreign or international warrants
Finding personal items that were lost or stolen in Mexico
Finding humans who have been missing or have been lost
Recovering human remains, sick people, or vulnerable individuals in Mexico
Giving out permits for humanitarian purposes or non-governmental organizations
Helping recipients of DACA in the United States gain legal advice
Compensating workers or recovering unpaid wages
Recovering minors in foreign custody or prisons
Creating alimony pensions
Recovering minors in vulnerable situations (custody battles)
Helping victims of sex trafficking, hate crimes, or domestic violence get to safety and helping their perpetrators get punished
Extraditing, transferring, and transporting criminals abroad
Creating letters that prove you do not have a criminal background and/or a criminal record in Mexico
How to Get a Mexican Visa?
In the case that you are a dual or current citizen/permanent resident of the following countries, you will not need to obtain a visa of any kind when entering Mexico.
Mexico
United States of America
The United Kingdom
Canada
Japan
The Schengen Area
If you are not a permanent resident and are a resident with a re-entry permit, verify your legal status to see which one is more relevant to your specific status. 
The Process of Obtaining A Visa
Create a letter that is addressed to the Mexican Consulate, this letter must prove that you are a visitor that will not stay in Mexico for more than 180 days
Include accessory information consisting of which town you'll be visiting, the days you'll be in Mexico, and prove that you are familiar with the restrictions on your type of travel; the specifics of your travel plans, and any itinerary if possible
Attach a copy of travel-specific identifying documents that validate your legal status within the United States; birth certificates, passports, legal documentation
As a note, include a letter from your employer if you will be working, this letter must be specifying the fixed period that you will be in Mexico and that the dates that will coincide with your desired visa
If you are representing a child under 18, present their birth certificate with identification from both parents, if possible
If you want to be a foreign student that has the intent of studying in Mexico, provide additional proof of enrollment or an acceptance letter
You must also attach a passport that will expire in no less than 6 months
Passport Services at the Mexican Consulate, Sacramento
How to obtain a Mexican passport for the first time?
Appear in-person at a Consulate
Authenticate your nationality by submitting one of the identifying documents listed:

Birth Certificate
Certificate of Mexican Nationality
Declaration of Mexican Nationality at Birth
Letter of Naturalization
High Security Consular Registration that was issued after 2005

Prove the fact that the documents provided are original and add a photo-identifying document:

Identity Card or Precartilla of the National Military Service
Professional license
Certificate of Mexican nationality
Driver's license
Residence card of the United States
How to Renew an Expired Mexican Passport?
Apply in-person at a Consulate. Follow local COVID-19 regulations to prove you're preserving safety through booking appointments if you are required to.
Present the passport that needs to be renewed if it is in your possession.
If a passport has been stolen, file a police report and bring a copy of it to the Consulate for verification.
Follow the requirements for a first-time issue, bringing proof of identification that is a first-tier example of identification.
How to Contact the Mexican Consulate in Sacramento?
Address
Mexican Consulate General in Sacramento

2093 Arena Boulevard

Sacramento

California

95834

Telephone Number
916-329-3500
Email Address
sacramento@sre.gob.mx
Fax
916-397-8686
Office Hours
Monday to Friday

8:00 a.m. — 5:00 p.m.
Directions from Downtown Sacramento
Board the 86 Green Bus at Marconi/Arcade Station
Ride for 12 stops
Disembark at San Juan Road and Truxel Road
Walk 4 minutes
Enter the Consulate General of California in Sacramento
Discover How DoNotPay Does the Work For You in Seconds
DoNotPay understands how lengthy it is to write emails, find correct addresses, and how frustrating it can be to not receive timely replies to urgent matters that concern you. Let our AI-powered robot lawyer handle everything quickly, for you! To contact any Consulate or Embassy, all you need to do is:
1. Enter "Contact Embassy" on DoNotPay.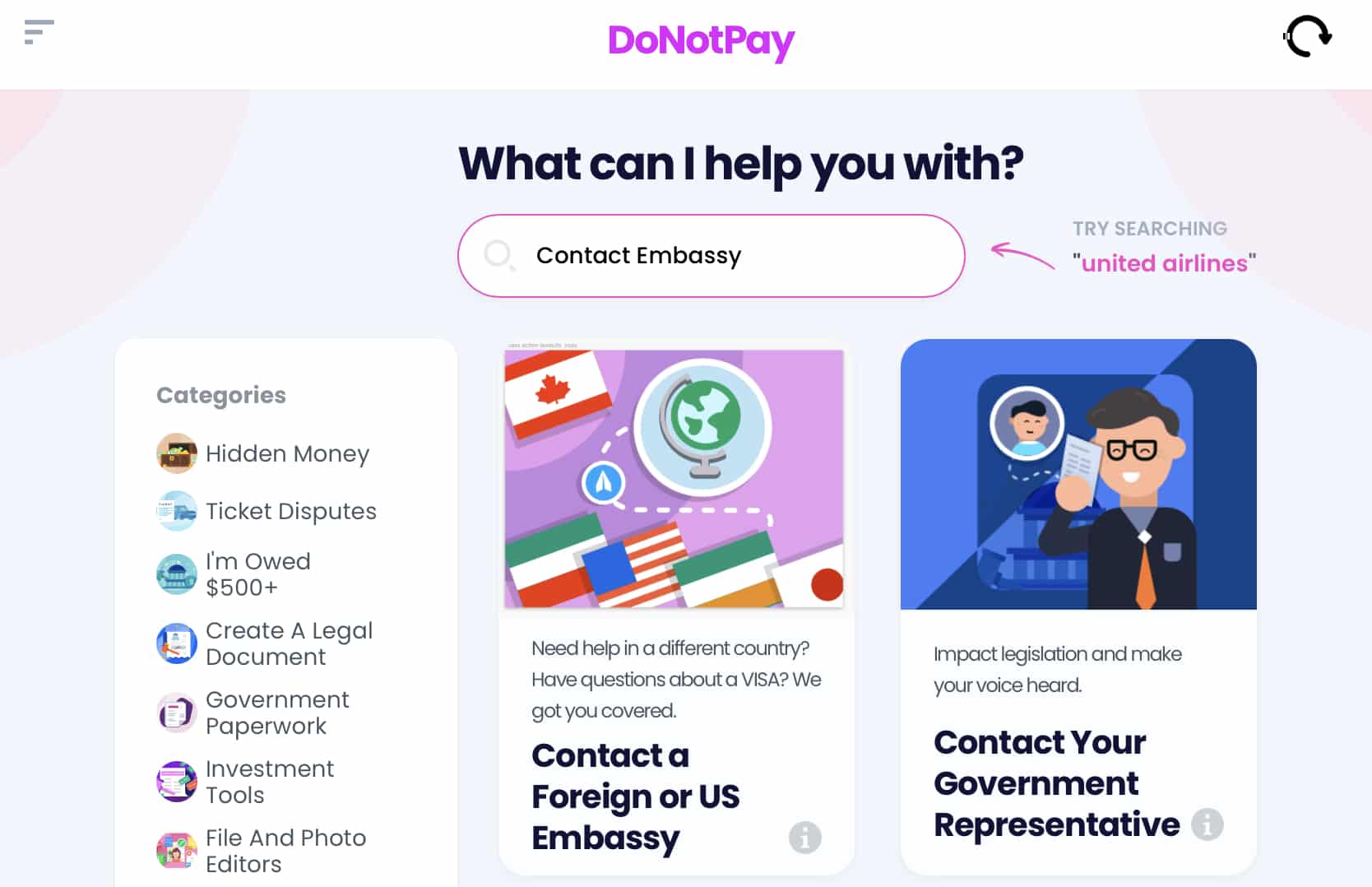 2. Choose if you want to contact a foreign embassy or consulate in the U.S.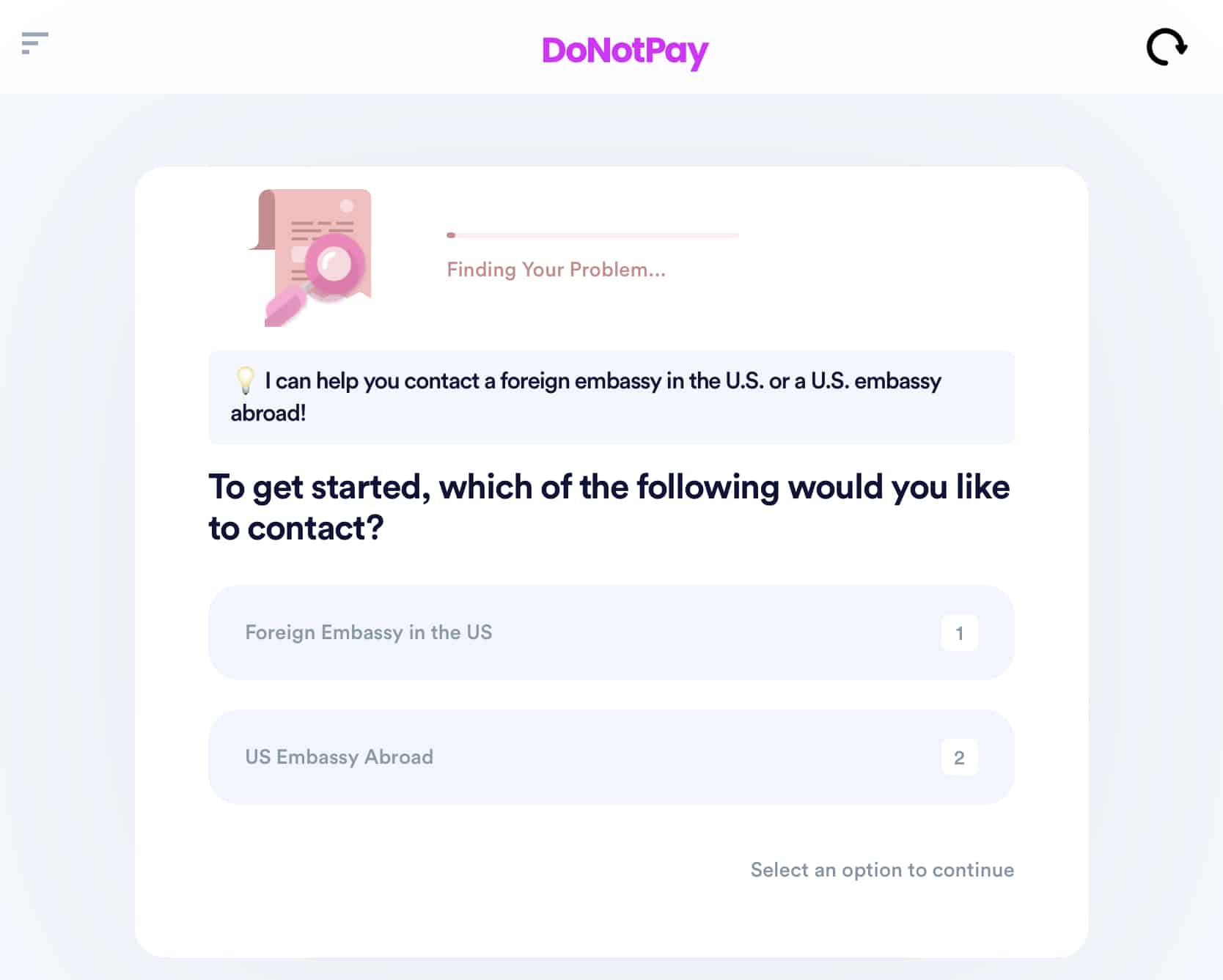 3. Explain your issue and any questions you may have.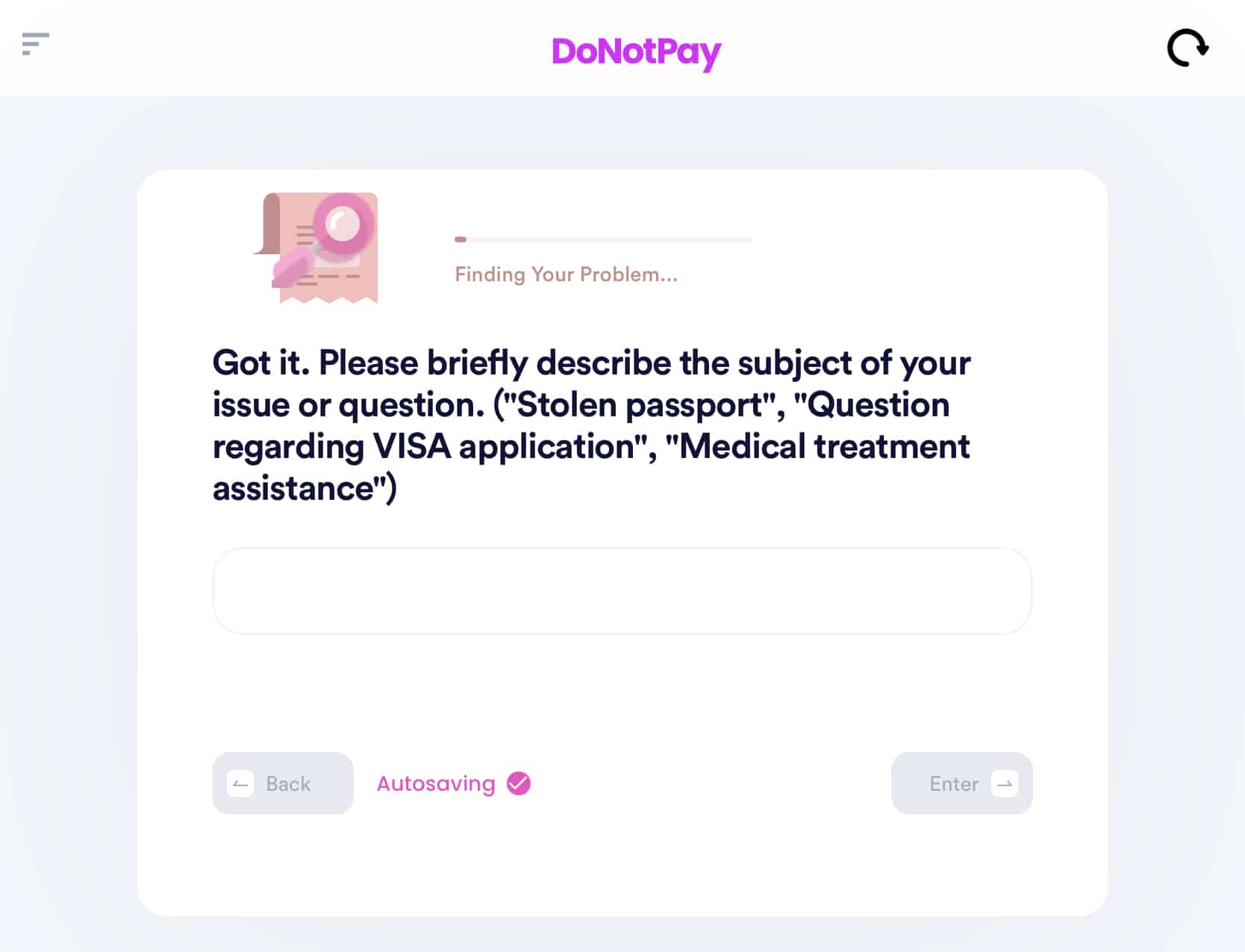 4. Tell DoNotPay which embassy or consulate you want to contact by typing in the country.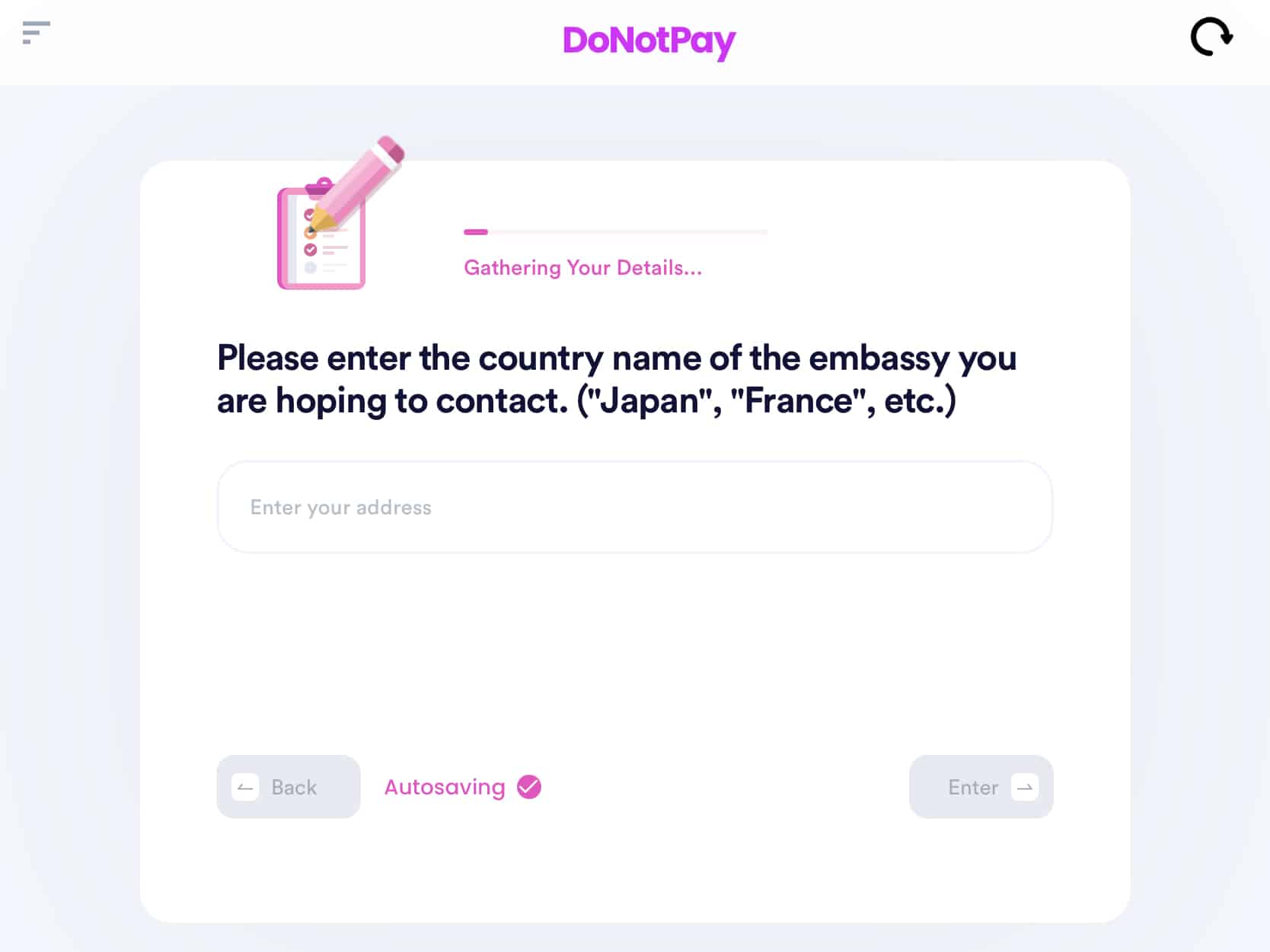 That's all! With the inclusion of DoNotPay's reliable services, you can expect a timely response from any consulate or embassy to your issue by email!
Who Else Can DoNotPay Help You Contact?