Understand the MetroPCS Startup Cost and Join the Cellphone Revolution
Metro® by T-Mobile—formerly MetroPCS—dealers enjoy a growing market in the world of prepaid, zero-hassle cell phones.
With a strong brand and fast-growing customer base, a Metro® by T-Mobile franchise can be an opportunity to make serious money in a highly competitive environment.
Getting started as a Metro® by T-Mobile dealer requires solid finances, though.
DoNotPay has all the info you need to understand how to meet the MetroPCS startup costs and secure any financing required.
How Do You Become a Metro® by T-Mobile Partner?
Metro® by T-Mobile is a proven business model that offers consumers high-quality handsets at considerable discounts, as well as contract-free prepaid plans on a fast 4G and 5G LTE network.
As a partner, you can generate revenue from:
Handset sales
Accessories
Commissions on prepaid plan sales and residuals
Locations are available across the U.S., so a careful search may allow you to secure an outlet with a strong catchment area and low levels of competitor activity.
The financial barriers to entry are significant—you will have to jump through several financial hoops to qualify for a dealership.
The most important startup costs in acquiring a Metro® by T-Mobile dealership are:
Net worth requirement
Initial investment
Liquid assets
Franchise fee
Net Worth Requirement
T-Mobile requires proof of your net worth of at least $150,000.
For private individuals, you will need to provide evidence of your assets and liabilities when applying for a dealership.
Initial Investment
Depending on the location you are aiming for, T-Mobile will require an initial investment of between $40,000 and $100,000.
This investment goes towards store branding, refurbishment, and set-up expenses to maintain a uniform market presence across all the company's outlets.
Liquid Assets
Liquid assets or cash on hand to the value of $100,000 are needed to secure a Metro® by T-Mobile dealership.
The company does not specify any time for which the assets have to be available, but you should be able to prove you have had the cash on hand for the last six months.
Franchise Fee
A once-off franchise fee of $25,000 is payable at startup.
How Can You Finance a Metro® by T-Mobile Dealership?
Your total startup costs to secure a Metro® by T-Mobile dealership could come to anything between $315,000 and $375,000, split between:
$165,000 to $225,000 in cash
$150,000 in net assets
The upside to a Metro® by T-Mobile dealership is that you will be able to generate revenue almost immediately. Your overheads and ongoing other expenses should, therefore, be covered by profit generated from day one.
If you are looking to open a dealership in a location that Metro® by T-Mobile considers desirable, the company may be willing to offer financing to help with your startup costs.
Failing this—and failing sufficient cash or having qualified for credit lines—you may have to look at a small business loan or startup finance from:
Most financial institutions will be prepared to consider a loan to fund the startup costs of a Metro® by T-Mobile dealership, and there is a multitude of products available with varying:
You may even qualify for a specialized product such as a:
USDA loan if you are planning dealership servicing a rural area
To secure a loan, you will need to provide:
Your chosen financier will want to know that the risk in granting you the best loan is minimal.
This is where DoNotPay can help by creating the perfect small business loan application letter for you!
DoNotPay Helps Secure Your Metro® by T-Mobile Dealership Deal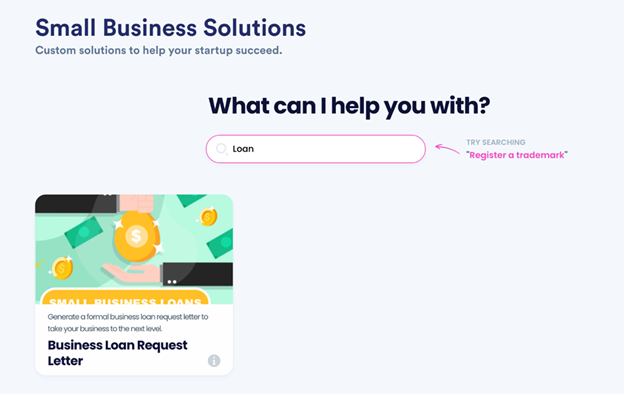 DoNotPay is the expert at making small business plans come to fruition—getting startup finance for your Metro® by T-Mobile dealership is a few clicks away!
Our Business Loan Request Letter product is designed to give your financier all the information required logically and convincingly. All you need to do is give us the details of your business plan and the necessary supporting documentation—your request letter will be ready in no time.
The steps you need to take to start your application for startup financing are:
Go to our Business Loan Request Letter feature
Collate your documentation and upload it, including your:

Credit scores
Financial history

Give us the details of the loan you need, your business plan, and your financial projections
We will take your information and generate the perfect loan request letter for you to present to your chosen financial services provider.
If you want us to, we can even put you in touch with prospective lenders.
Our integrated feature—Find Online Business Loan Lender—can source potential financiers for your business loan and put you in contact with them. Your business loan can be sorted from A to Z in a few clicks!
If your numbers stack up, your journey towards your Metro® by T-Mobile dealership can begin!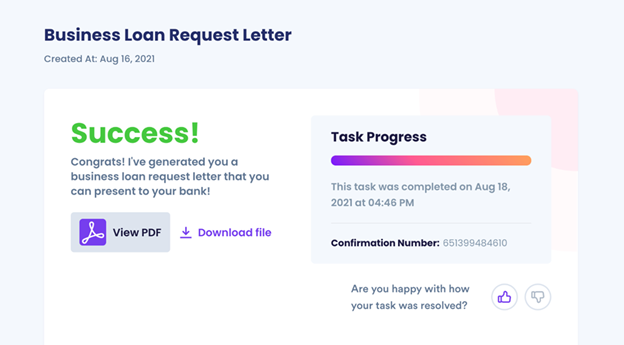 Use Our App To Deal With Clients
Owning a business can be a big financial risk. You probably want to save money whenever you can, and we can help you make it possible.
To make communication easier and cheaper, use our faxing and mailing service.
If you are losing money due to bad reviews or unexpected chargebacks, we can help you out. Sometimes, negative feedback online is fake and incorrect. You can rely on DoNotPay to remove it swiftly. When it comes to chargebacks, if you suspect foul play, our app can assist you in disputing them and getting what you deserve.
Get Ahead of the Game With DoNotPay
Our app can help you cut through the red tape successfully. Whether you need to file 83(b) election forms, apply for an Employer Identification Number (EIN), apply for a business loan, or join the Privacy Shield program, we have got it covered.
If you want to keep your business safe in the long run, you may want to use DoNotPay to register a DMCA agent, trademark your company name, and protect your trademark.
In case a customer breaches a contract and you do not know what to do, count on the world's first robot lawyer. Sending a formal demand letter or taking the issue to court—we can help you with both.