A Rundown on Mercury Insurance Claims
Mercury Insurance is an insurance company with headquarters in Los Angeles. The company offers different types of insurance, including car, home, and renters' insurance.
While Mercury brags about Forbes Magazine dubbing it one of "America's most trustworthy companies," many dissatisfied customers wouldn't agree. Most complaints are about poor customer service and the slow claiming process, which is not something you want to hear when you need to claim your insurance.
No need to despair—DoNotPay is here to assist you in claiming your Mercury insurance effortlessly.
What Does Mercury Insurance Cover?
One of the most important details to know when filing an insurance claim is the coverage. Here's an overview of Mercury's insurance types and what they cover:
Insurance
Coverage

Rental car

Liability protection

Collision protection

Medical payments coverage

Personal injury protection

Comprehensive coverage

Uninsured/Underinsured

Roadside assistance (additional coverage)

Ride-hailing insurance (additional coverage)

Dwelling protection

Personal property

Guest medical protection

Identity theft protection

Extended replacement cost

Additional living expenses

Personal liability protection

Additional personal property coverage—jewelry, antiques, and fine art

Personal property

Loss assessment

Improvements

Guest medical protection

Workers' compensation coverage

Condos rented to others

Additional living expenses

Personal liability protection

Personal property

Guest medical protection

Workers' compensation coverage

Personal liability protection

Dwelling

Personal injury

Fair rental value

Premises liability

Loss assessment

Other structures

Personal property

Medical payments

Service line protection

Home systems protection

Additional replacement cost
Use DoNotPay To File Your
Mercury Insurance Claim
With Ease
DoNotPay's Insurance Claim feature is all about saving time and rescuing you from dealing with customer service. Whether you need to file a vehicle, home, or health insurance claims, we've got it covered! Check out how easy it is to claim insurance with our app:
Open DoNotPay in a

Enter the type of insurance you want to claim

Answer a few questions

Submit your claim
If the company needs more info to process your claim, its customer service rep will contact you directly via email or phone.
Aside from streamlining the claiming process with Mercury Insurance, we can handle other companies as well, including: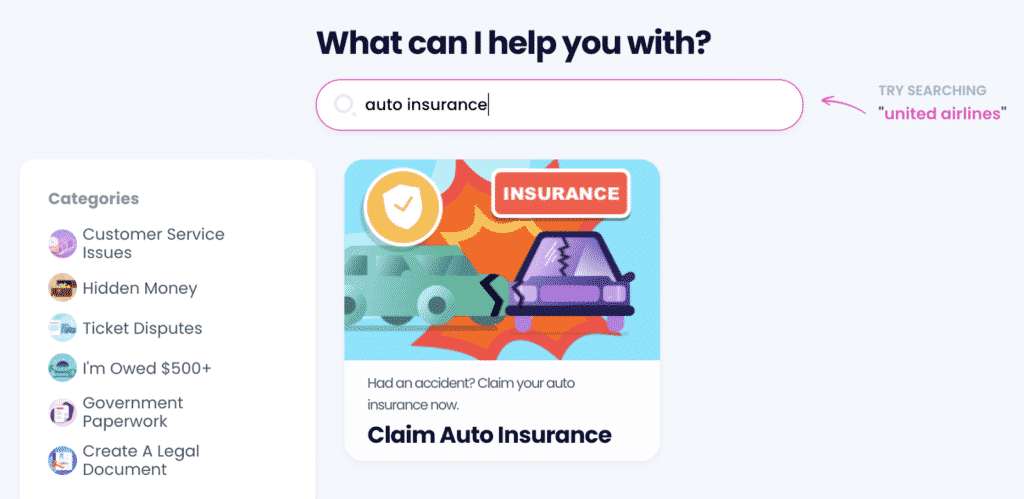 How To Submit Mercury Insurance Claims on Your Own
You can file insurance claims with Mercury Insurance 24/7 over the phone by dialing (800) 503-3724. You'll need to prepare some info for the claims rep. Check out the details in the table below:
Insurance Type
Information To Provide

Auto/Vehicle

Accident info

Property damage

Police report number

Time, date, and location

Description of the accident, damage, and injuries

Auto info

Year of your car

License plate number

Car make and model and color

Number of passengers in each vehicle

Witness info (e.g., a pedestrian)

Name, address, and phone number

Personal info

Name, phone number, and date of birth

Driver's license number

Owner of vehicle(s)

Insurance policy number

Location and condition of your vehicle

Residence

Insurance policy number

Date, time, and location

Damage description

Police report number (if it was taken)

Name of the Police Department
Checking Your
Mercury Insurance Claims Status
Claiming your insurance is a lengthy process. Checking in frequently to see if there is any progress with your claim could ease your mind for a moment.
You can check your Mercury Insurance claim history by logging into your account. Another option is to call the company or send an email and ask about your claim.
What Happens After Filing an Insurance Claim With Mercury?
The information about what the next steps entail after submitting an insurance claim is elusive or vague at best.
On the Mercury Insurance website, it says that once your call to file a claim, an agent will collect your info and explain relevant policy coverage. The conversation could be recorded for the sake of faster processing. You'll receive further instructions and assistance—for example, recommending a car rental company or arranging a car towing.
Did Mercury Deny Your Insurance Claim? DoNotPay Helps You Appeal It!
More often than not, companies reject insurance claims, which can be overwhelming. If you filed an accident or unemployment insurance claim, the last thing you want to do is deal with appealing the company's decision.
A common reason why companies deny insurance claims is making mistakes or not providing enough info. Our article about sample letters to insurance companies for claim settlement may come in handy next time, while our rundown on health insurance claim denial reasons will help you understand the company's perspective more.
Luckily, we can swoop in! With our help, you'll learn all about insurance appeals letters. You don't even have to do it alone—DoNotPay can fast-track the appeal process in several clicks.
Here's how it works:
Visit DoNotPay in any

Search for your insurance type

Tap on

Appeal Denied Insurance Claim

Provide the necessary info
We will use your info to generate the best appeal letter and send it Mercury's way as soon as possible.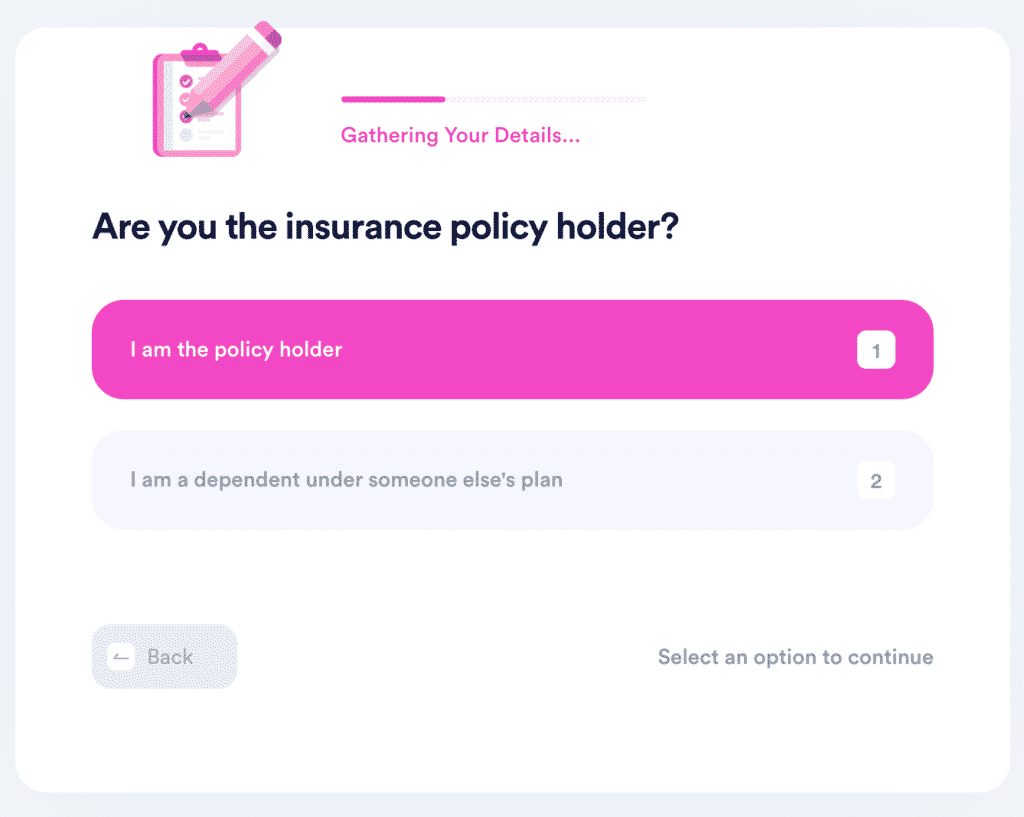 Use Our Robot Lawyer To Eliminate Pesky Tasks
Administrative tasks are often time-consuming, which is why many people give up on them before even trying to tackle them. Requesting refunds, canceling services, signing up for clinical trials, reporting stalkers and robocalls, and trying to find unclaimed money are all processes that would usually take a long time to resolve.
With the help of DoNotPay, though, all of these admin hurdles become a piece of cake. In just a few minutes, our app can assist you in appealing parking tickets, getting in touch with your imprisoned loved one, getting an extended warranty, reporting copyright infringement, and so much more!
Don't Break the Bank—Sign Up for DoNotPay!
Our app can save you lots of money by helping you get a refund from any airline, sign up for a free trial without your credit card info, earn off persistent and illegal spam emails, and get an application fee waiver for a college you apply to.
With DoNotPay, you can even schedule a DMV appointment or jump the phone queue when getting in touch with a customer service representative without breaking a sweat!